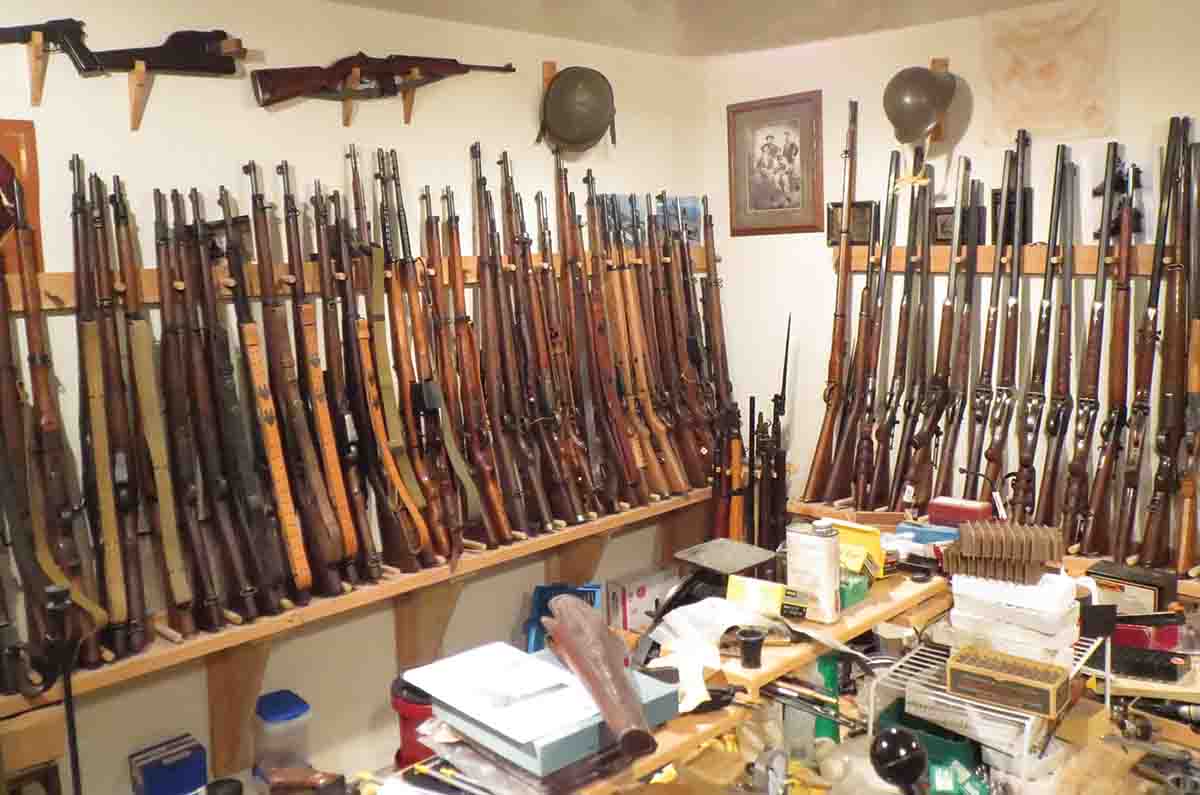 Although I've been a student of military history since my preteens, until the year 2000, my familiarity with World War II rifles was cursory. Then, a rifle encountered at a Montana gun show triggered something in me. Standing at a friend's display table and visiting with him, I happened to glance down at his offerings. My eye caught a fine condition '98 military Mauser. I knew not what country it had belonged to or what cartridge for which it was chambered. Asking him about its origin and price, he replied that it was a German K98k, 8mm made in 1937 and he'd take $300 for it. He also added that it had all numbers matching except for its bolt, adding, "It's pretty hard to find them with matching bolts anymore." Puzzled by that latter comment, I still bought it.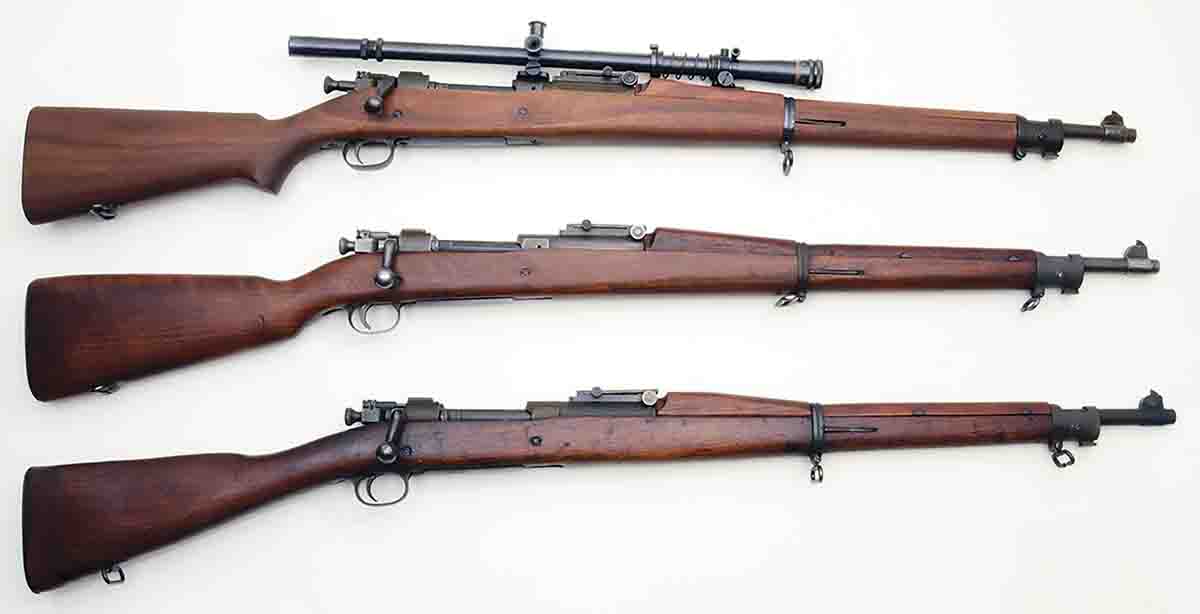 As I found out, the explanation for mixed bolts is perfectly understandable. At the end of World War II when German infantrymen were surrendering to American forces by the hundreds of thousands, U.S. soldiers ordered them to toss their rifle bolts in one pile and the remainder of the rifle in another. In those days, it was perfectly fine for GIs to bring back enemy rifles as souvenirs. In fact, the army would even supply cardboard shipping boxes for them. Therefore, souvenir hunters would pick a rifle from one pile and then pick through bolts until one slid home and turned down. (Such is why headspace should be checked on old military rifles before firing.) A German rifle with a matching bolt number was most likely one picked up by our forces when policing up an area after fighting ended.

That first K98k started a 20-year near obsession with World War II military rifles (and carbines), of which I now have more than 50 in my racks. Perhaps some of the things I've learned will help others when looking into these historical rifles and carbines.
My first chore in 2000 was to find what K98k meant. Of course, 98 is short for Mauser Model 1898, "K" is for Karabiner (aka) short rifle and "k" happened to be the version finally settled upon as standard for the German Wehrmacht in 1935. (Various trial versions started with "a" and progressed until the "k" version was finally adopted.) By the way, my first K98k turned out to be a fine shooter and I still have it.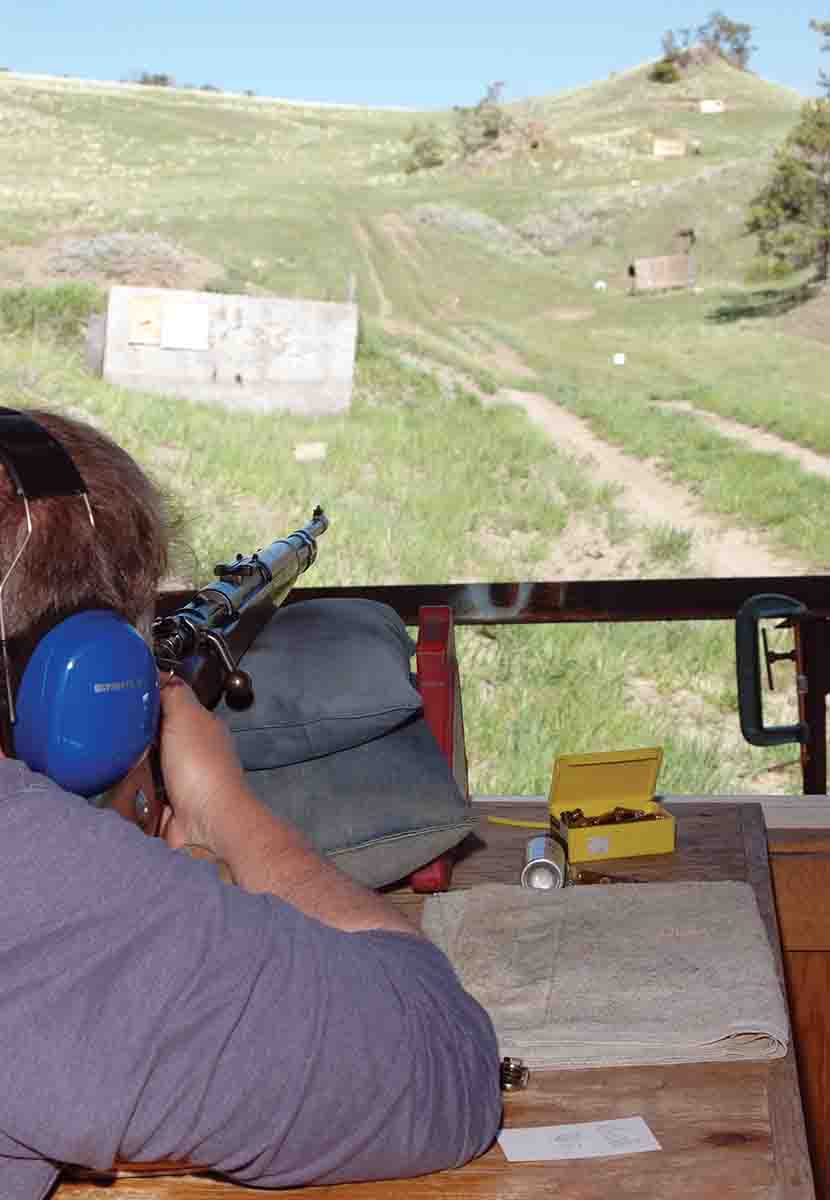 As my interest intensified, more and more military surplus rifles (and carbines) were purchased. Because of my ignorance, I was not always as lucky as with the first one. For example, my first attempt to add a Japanese Type 38 "Arisaka" 6.5mm to the collection was a failure. I failed to notice that its original 31.5-inch barrel had been cut back a few inches and then a sight reinstalled. What I did notice after the first shot, was that the fired primer simply fell out of its cartridge case. Right! Its headspace was that bad. It was sold for parts.
More lessons were learned from Japanese "Arisakas." One was how to differentiate "battlefield pickups" from post-war arsenal "handouts." It's all about the "mum" as in chrysanthemum, which is the stamp atop every "Arisaka" receiver denoting it belonged to the Japanese Emperor. So as not to insult the Emperor, that "mum" was ground from all rifles passed out from arsenals as souvenirs. Conversely, if the "mum" is intact, it means that most likely the rifle was picked up off a battlefield. It's a small thing but as a rule "mum-less" Japanese rifles do bring less money.
Earlier, I mentioned that post-war GIs could get boxes from U.S. Army post offices in which to mail home their souvenir rifles. That did not always work out to a soldier's benefit. A long box, obviously with a rifle inside, was easy picking for less than honest mail handlers. Many didn't make it back to a soldier's home address. Hence was born the "duffle bag cut." Once soldiers generally learned that their souvenir rifles were not making it home, they took matters in hand. It was common for them to remove barreled actions from stocks and cut stocks so they would fit in duffle bags in which their personal belongings were carried, in turn, ensuring their rifle made it home with them.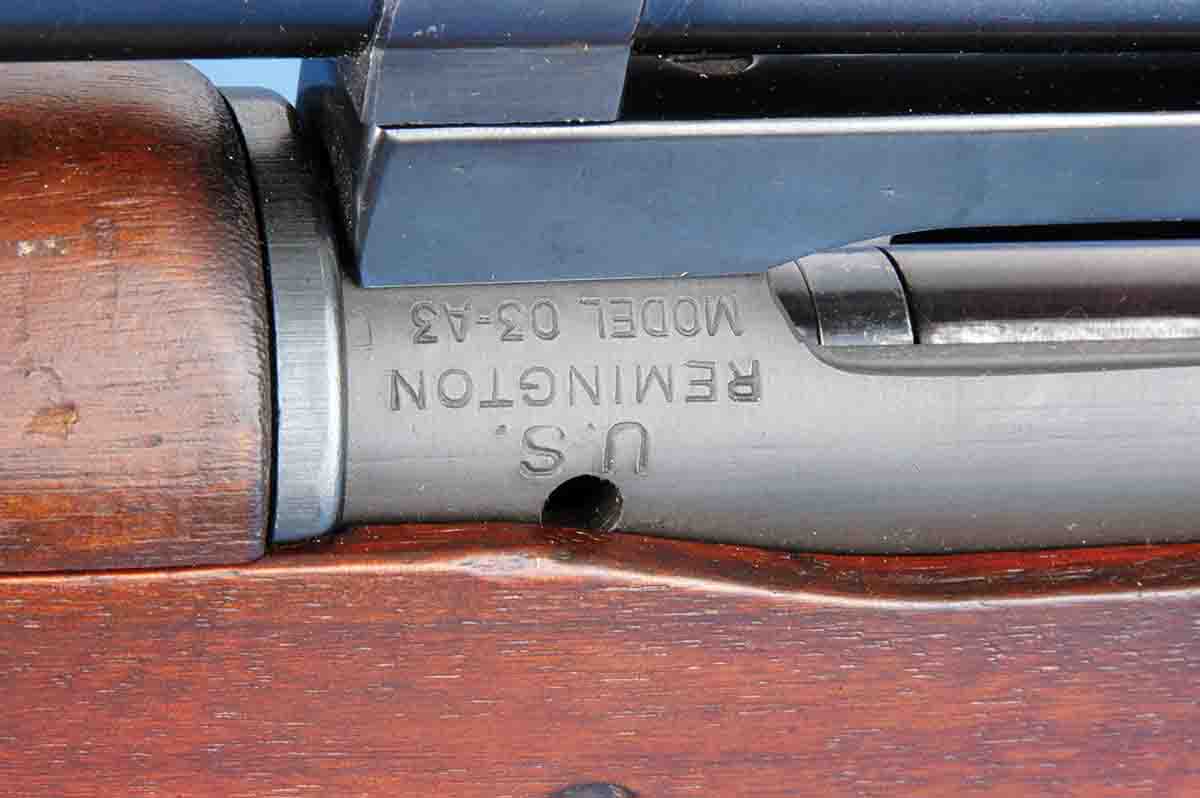 Some gun stocks were cut exactly under the front sling swivel. The second Type 38 6.5mm I bought looked just fine at the gun store. However, at the first shot, the front of the stock fell off. Some soldier had cut it under the front barrel band and then glued it back. The old glue had dried. It is now reglued and dowelled and is still together after plenty of shooting. My other "duffle bag cut" rifle is more unusual. It is one of the relatively rare German semiauto K43s (Some of the same rifles were earlier marked G43). Whoever captured it, cut 5 inches off the buttstock. It was reattached by inletting two brass strips on top and bottom, then screwing them solidly. Unsightly, but effective; they remain perfectly tight. Reproduction stocks for G/K43s are available, but I'd rather have mine the way it appears.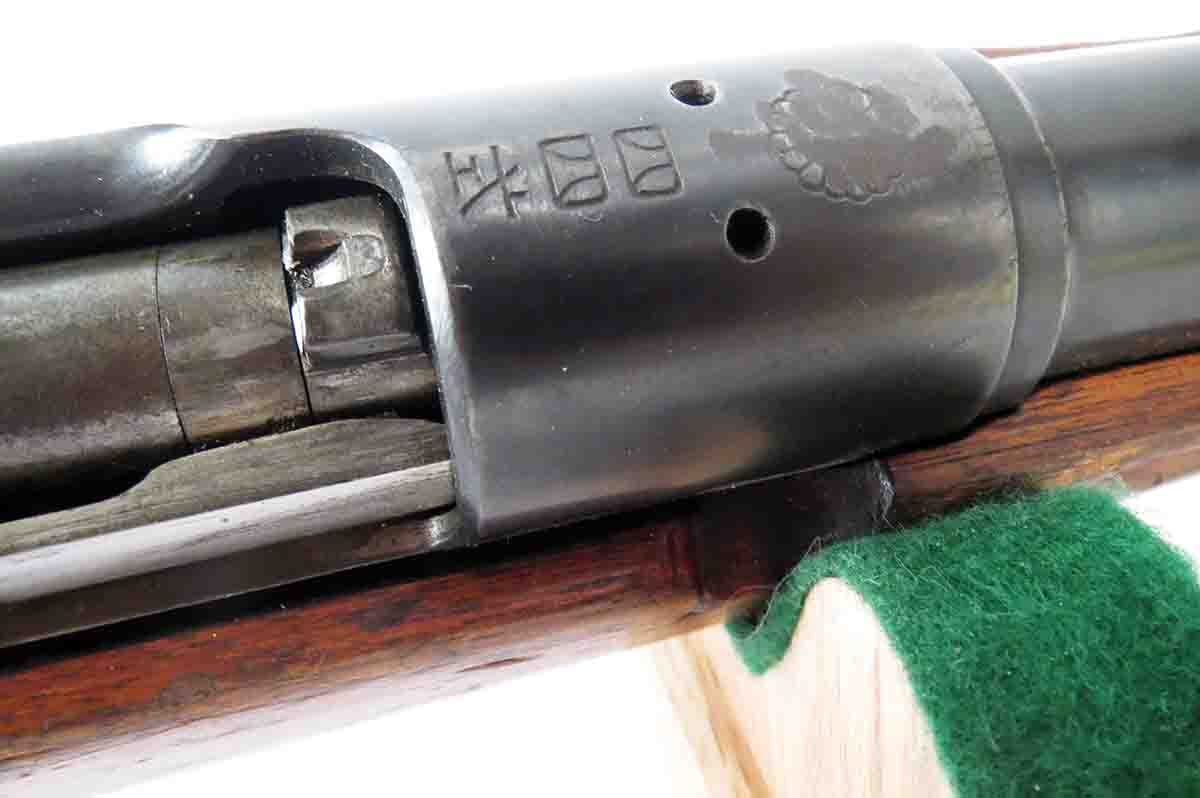 When it comes to buying vintage military rifles there are two types of people: shooters and collectors. Shooters just want something functionally safe and hopefully accurate. On the other hand, collectors want pristine examples with all stamps and numbers correct. My psyche is a combination of both groups. As for collecting, I happened on a pristine Model 1903A3 made by Remington. Its barrel is dated 9/43 and its stock cartouche is FJA with an RA. Those are as an unaltered '03A3 should be. I doubt it was ever fired before falling into my hands. Another great find was a Winchester-produced M1 .30 Carbine. It is still as issued circa 1943 and one day I wasted a gunsmith buddy's time by having him tear it down to its bare essentials. All its parts are correct. Unless you are dealing with a legitimate dealer in high-end military rifles finding such all matching, good condition rifles and carbines is sheer luck.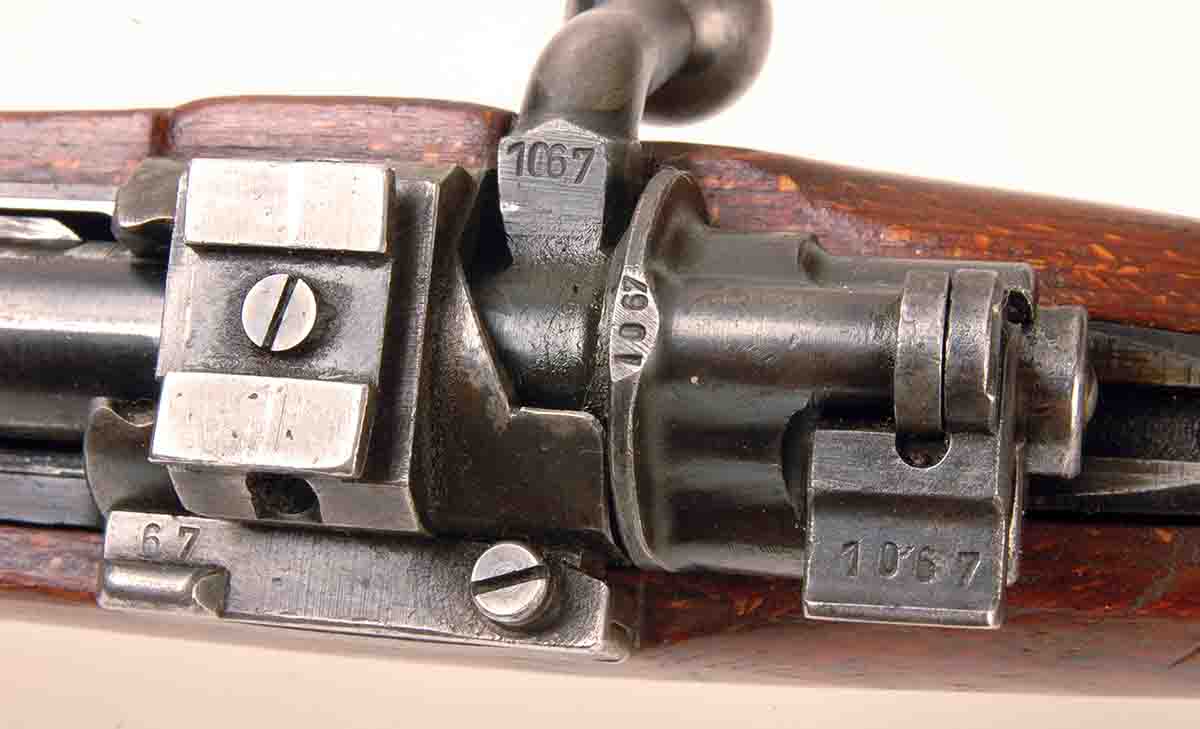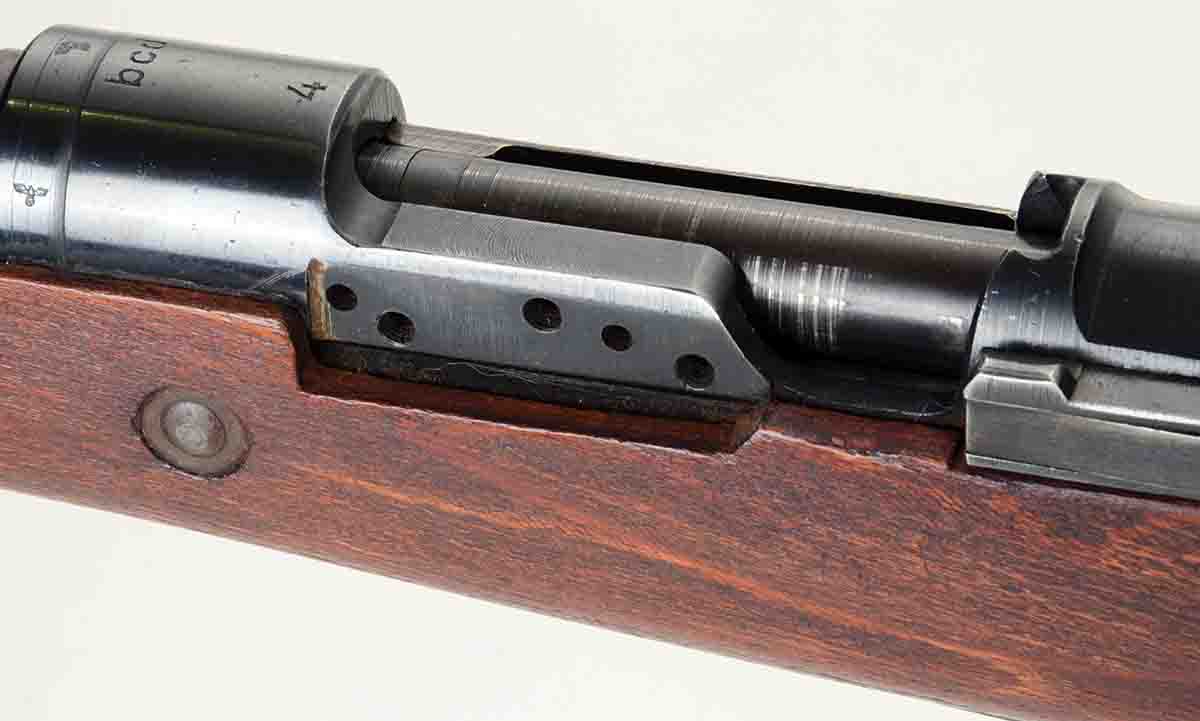 Regarding shooting samples, my most accurate U.S. military rifle is a Model 1903 that was assembled from parts by an acquaintance, who sold it to me when in a pinch. Nothing on it would pass a collector's inspection. Its barrel is dated 10/44, its stock is a modern reproduction and barrel bands are stamped instead of forged. It was a perfect candidate for having it drilled and tapped for mounting a Montana Vintage Arms B5 scope. They are patterned after Winchester 5A and Lyman A5 originals, which the U.S. Marine Corps used on its early war sniper rifles in South Pacific island battles. I think it would be the last of my vintage military rifles to be sold.
One often misunderstood factor in American rifles from Model 1903s through M1 .30 Carbines is their barrel dates of manufacture. Most of the U.S. rifles have a month, year and maker's name or initials stamped on the barrels. That does not pertain to the year the rifle was made; only to its barrel.
A fact that must be understood when buying vintage American military rifles is that few escaped either battlefield repair during the war or refurbishment postwar. Troops or civilian employees of domestic arsenals did not give a whit about matching various rifles and carbine parts by manufacturer for future collectors. Stocks were inlet so that barreled actions were drop-in items. Tolerances were purposely made loose so that say a Winchester M1 .30 Carbine bolt would fit right in an Inland-made receiver. That's why most parts on American-produced rifles and carbines are not numbered to a specific sample. That's not to say that all parts are unmarked. Beneath the bolt handle on U.S. Model 1917s, there is an R, W or E. Those letters stand for Remington, Winchester or Eddystone; all factories where Model 1917s were made. I have three Model 1903A3s. All have an R under the bolt handle, but only two were made by Remington. Obviously, my '03 made by Smith-Corona has had its original bolt replaced. It does have an RRA cartouche on the stock, which I understand stands for Red River Arsenal. Likely then, the stock is not the same one it was shipped with circa 1943 or 1944.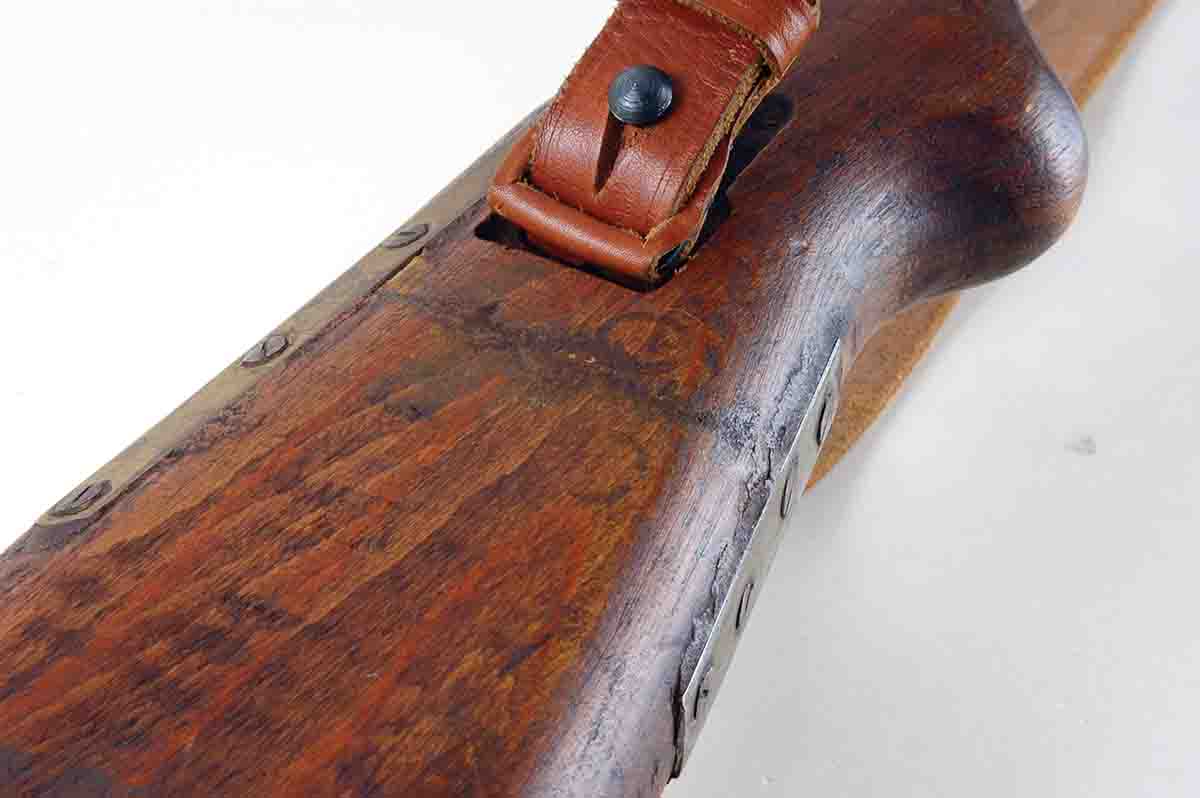 Two American World War II firearms are very valuable today. One is impossible to counterfeit and the other is plain easy. The impossible one is the Model 1903A4, all of which were made by Remington for scope mounting. What foils fakers is that its maker and model stamping is upside down on the left front receiver ring. For some reason the U.S. military did not want that stamp covered by the front scope mount. However, all Model 1903A4s were still marked as 03A3 and were shipped from the Remington factory with pistol grip stocks.
Speaking of stocks; one thing to remember is U.S. Models 1903, 1903A3 and 1903A4s can be found with three basic styles of stock. Collectors call them S-stock, C-stock and scant C-stock. S-stocks are straight grip and C-stocks are pistol grip. Scant C-stocks have a barely discernible pistol grip. If you really want to get confused, consider this. After 1929, the U.S. Army determined that all Model 1903s should have pistol grip stocks and were then officially Model 1903A1s but were never marked other than Model 1903.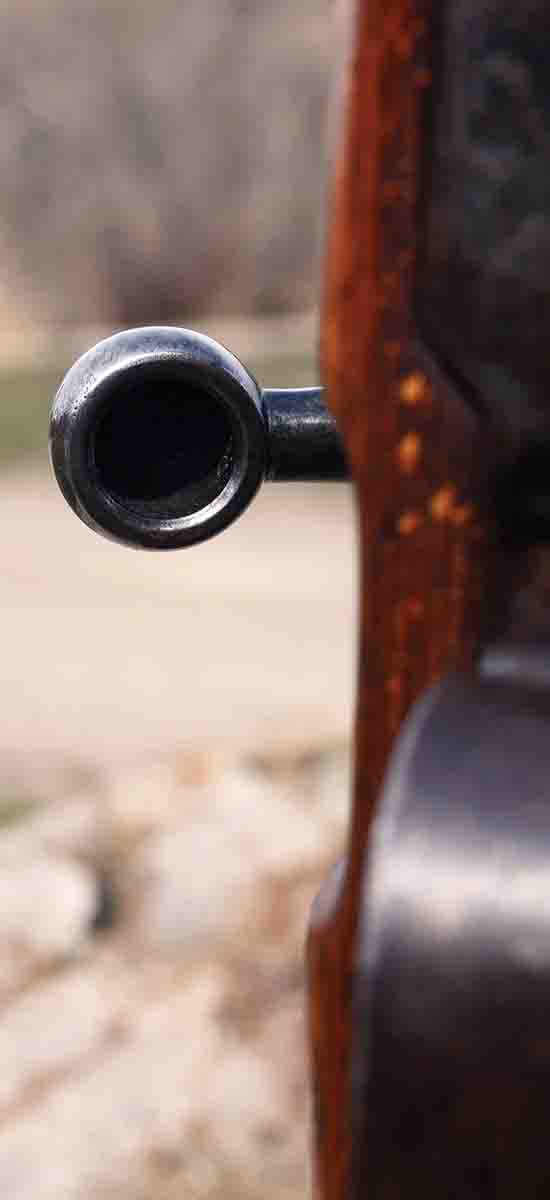 The valuable, but easy to fake, American World War II firearm is the M1A1 .30 Carbine. Those had the metal folding stock for paratrooper use and all such were manufactured by the Inland Mfg. Corp. However, Inland also made standard M1 .30 Carbines the barreled actions of which will drop right into M1A1 paratrooper stocks. To the best of my knowledge, the only way to discern if an M1A1 is faked is if its barreled action predates the manufacture of M1A1s, which started in 1943.
Sniper rifles are military rifles that should be carefully examined before purchase. Faking a German or Soviet sniper rifle is simple because with respectively standard K98ks or Mosin Nagant Model 91/30s were picked after accuracy testing and mounted with scopes. There was one exception to the K98ks. Those were the BCD4s, which had a one-eighth inch thicker left receiver rail on the actions and checkered steel buttplates. These K98ks were built from the ground up to become sniper rifles. I found one, sans scope and mount in a pawn shop with its forestock cut off just ahead of the barrel band. I had a replacement piece glued in and fitted with a bayonet lug. Aftermarket scope and mounts were purchased. So I guess I'm a faker too, but would never consider selling it as original.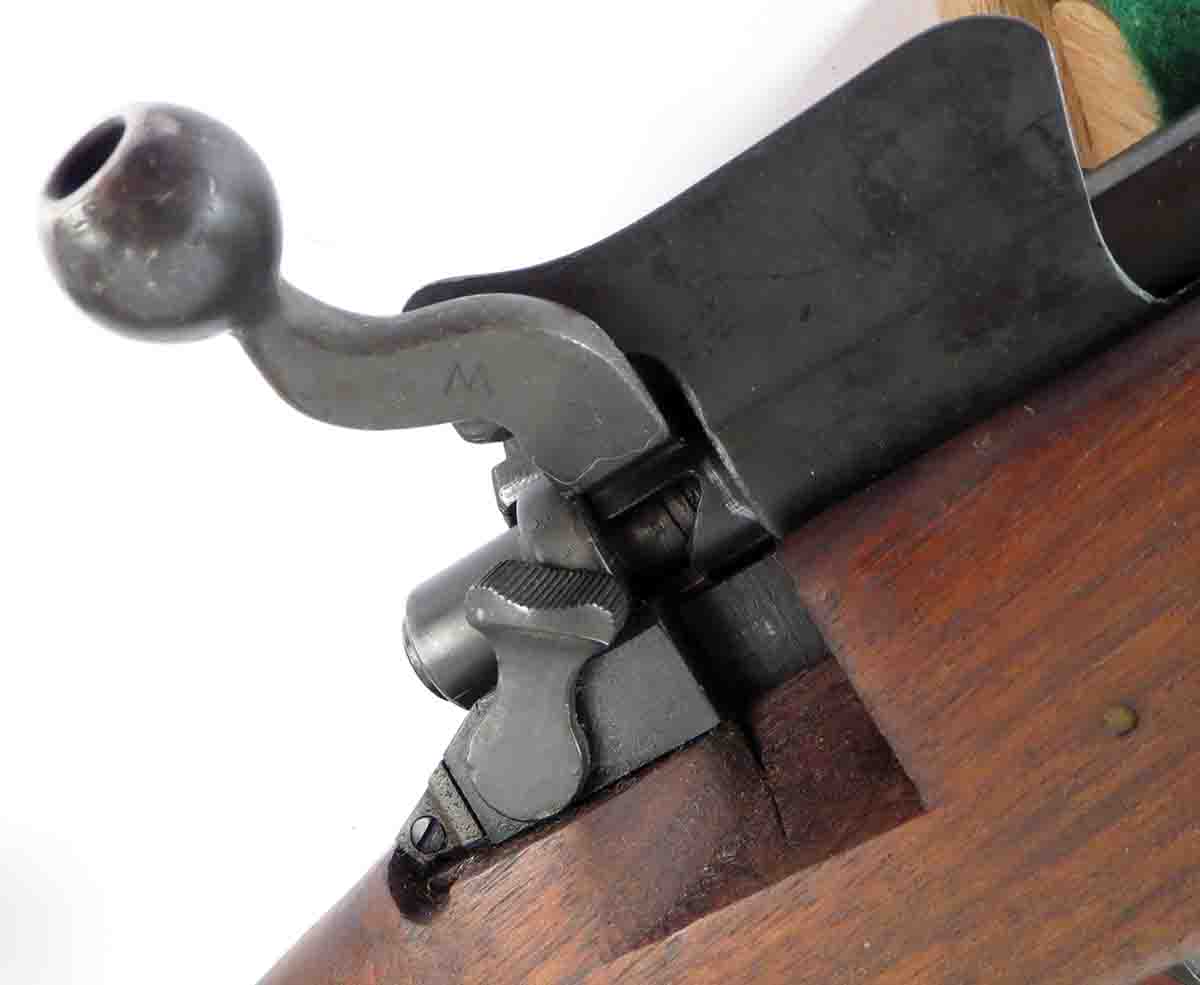 My Mosin Nagant Model 91/30 sniper rifle has the scent of fakery about it although there is no outward appearance of such. It's just that its trigger pull is the most horrendous of any firearm of my acquaintance. Given that if a shooter can master that trigger, the rifle does shoot well. I cannot understand that rifle being chosen for precision shooting and handed out with such an awful trigger.
It is often said that British World War II No. 4 Mk I sniper rifles cannot be faked as they will have a "T" on the metal stock coupling ring. However, in the book With British Snipers to the Reich by Captain C. Shore, the author wrote that at their first sniper school held in early 1945, some attendees who had already been serving as snipers showed up with their rifles painted green for camouflage. My No 4 Mk I has no "T," but in sunlight, green paint can be discerned in its wood pores. That satisfies me that it's the real deal.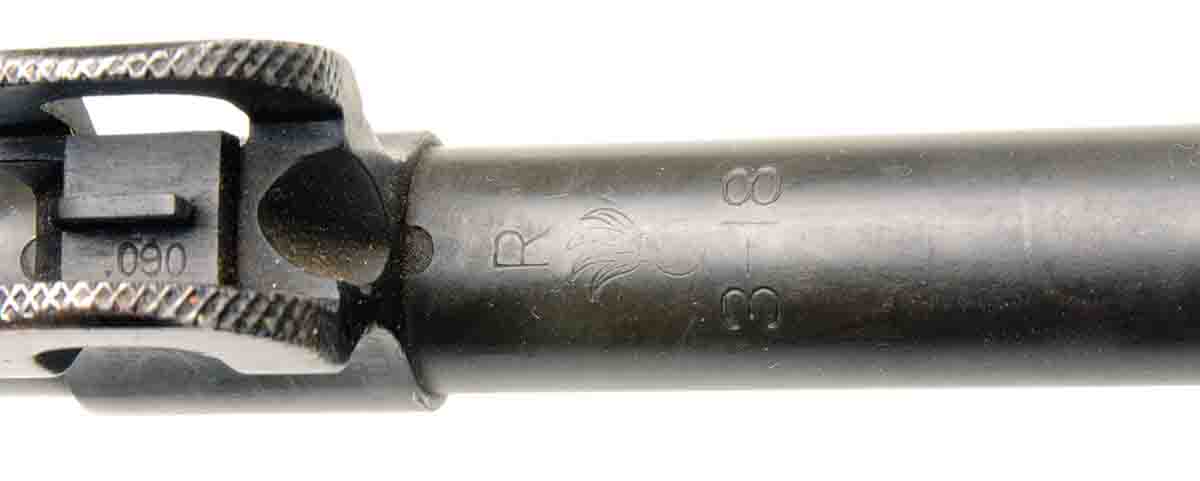 German World War II rifles and carbines are among the most stamped upon of military rifles. Those markings consist of a year on the front receiver ring of their actions and a code consisting of letters or letters and numbers. Codes stand for one of the many locations where K98k were made and there are two codes for G33/40 carbines made in Czechoslovakia at the BRNO factory. The code on my first K98k is S147 along with 1937 meaning it was made in 1937 in the Sauer & Sohn factory. Germans were also fond of stamping serial numbers or parts thereof on just about any surface large enough. They also used
Waffenampts
(inspection stamps) on metal and wood.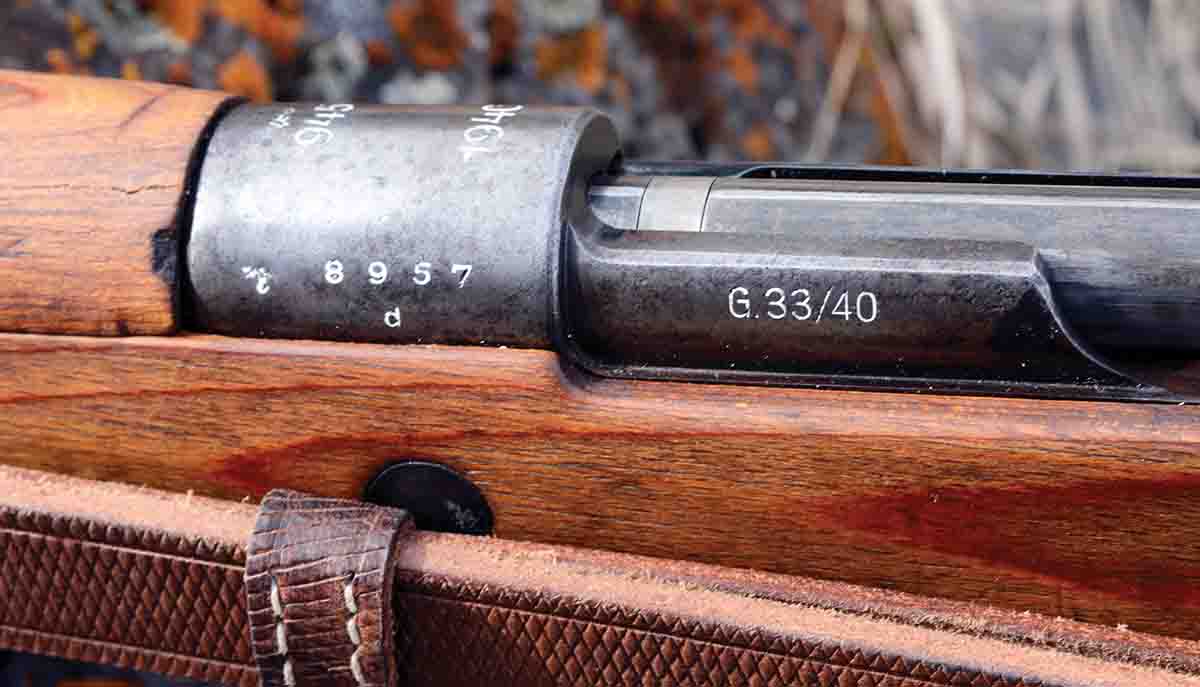 Something to watch out for with regard to G33/40s and British No. 5 "Jungle" Carbines is the bolt handles. They were hollow. If one is found solid, it's a fake. Also take note of the buttplates. The British are hard rubber. The G33/40 has a steel plate that extends 1½ inches upwards on the buttstock's left side.
In wrapping up, something I would like to stress is that uncountable tons of vintage military rifles have been "sporterized" or often butchered. Except for the very rarest replacement stocks and even metal parts have been manufactured in recent times. A butchered military rifle retaining a decent bore can be restored to appear original with some effort in searching out the proper items. They won't pass for collectibles, but they do make good shooters.