The late Bill Ruger (1916-2002) boasted of many talents that included patenting a significant number of new firearm designs, but also, he often improved upon previous designs, developed innovative manufacturing methods and maintained savvy, ethical business practices. He also seemed to have a certain knack or intuition to identify a void in the marketplace. He would then either design the gun himself or employ the proper engineers to design it. Such was the case with the Ruger M77 bolt-action rifle that was first offered in 1968. While it has undergone several design changes and improvements, the basic rifle has been in continuous production for nearly 55 years. It has been offered in many variations and calibers, boasts of a very loyal following and has production numbers that are impressive by any standard.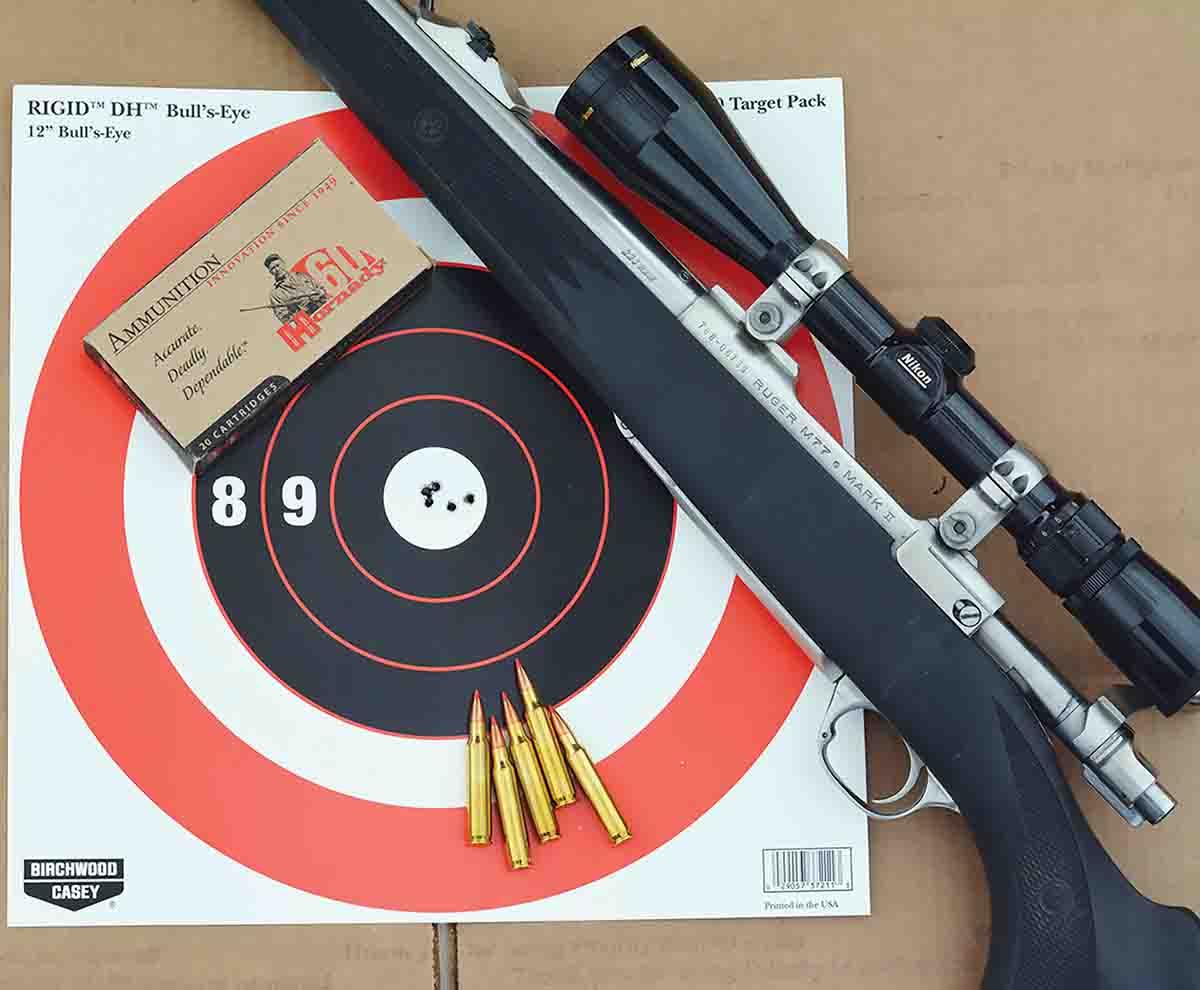 The best place to begin this story is in 1965, when the talented Jim Sullivan joined Sturm, Ruger & Company at the personal invitation of Bill Ruger. Sullivan had already racked up an impressive track record in designing firearms and had worked for Eugene Stoner (at Armalite) in designing the M16 rifle. After working on some of the final design aspects of the excellent Ruger No. 1 rifle, he set out to design a new sporting bolt-action rifle. While Ruger outlined some of his design ideas, it was primarily Sullivan who was the designer and driving force behind the project. Both Ruger and Sullivan admired the Mauser 98 design as it offers smooth, ultra-reliable operation, controlled-round feed, excellent shooter protection in the event of a catastrophic failure and is especially robust, making it highly unlikely to break under the harshest conditions. In short, it is tough as nails, is battle proven and is a standard by which other bolt rifles are judged. Sullivan made certain to retain many of the same features as the 98, but would further modernize it to appeal to modern sportsmen and hunters.
Because the new Ruger would be competing directly with the Remington Model 700 and the Winchester Model 70 rifles, the two sevens were taken from those models to become appropriately the "77." It would be offered in two action lengths and from the beginning, was designed to feature a cast receiver and bolt. In its "as cast" billet form, the roughly shaped (long action) receiver weighed around 20 ounces, which only required approximately 3.7 ounces to be machined off to its final form. For comparison, the Winchester pre-'64 Model 70 required more than 100 ounces to be machined off the solid bar stock and the Remington Model 700 required 49 ounces of steel be machined off the bar stock to its final form. Clearly, the Ruger team successfully engineered modern manufacturing processes to keep costs in check and give the consumer considerable bang for the buck so to speak.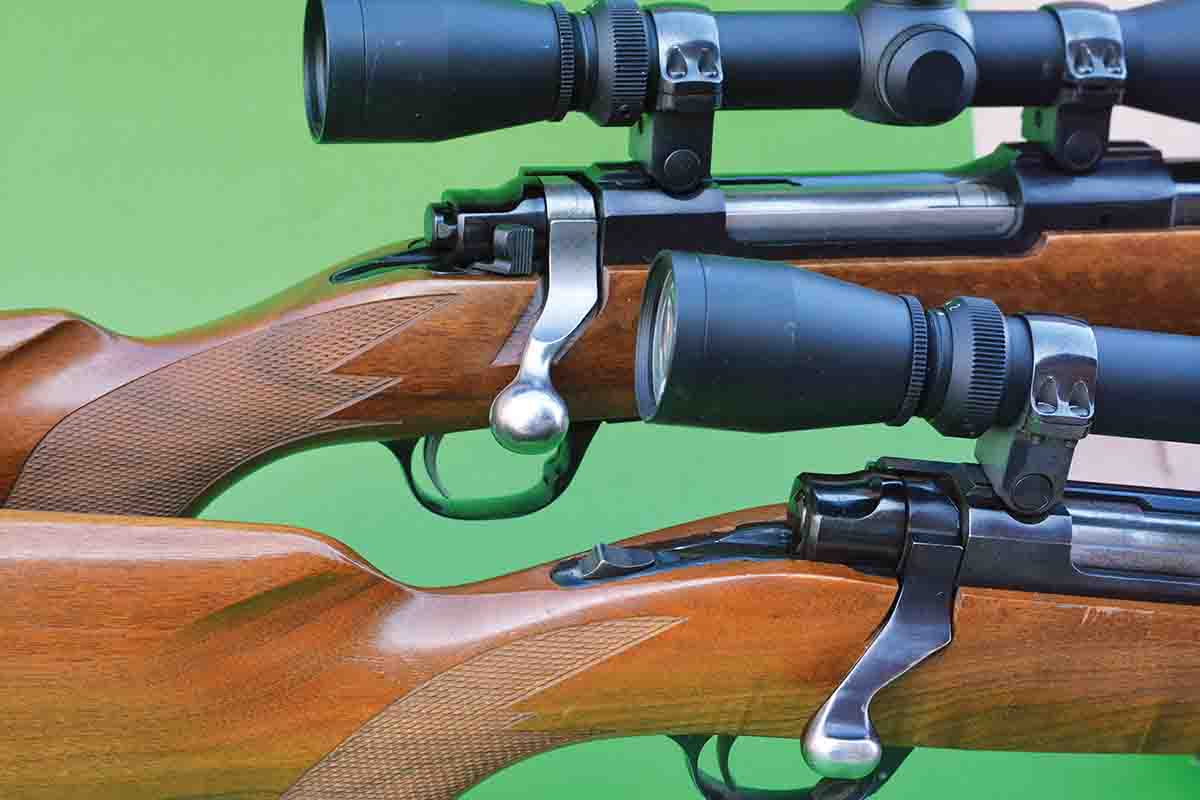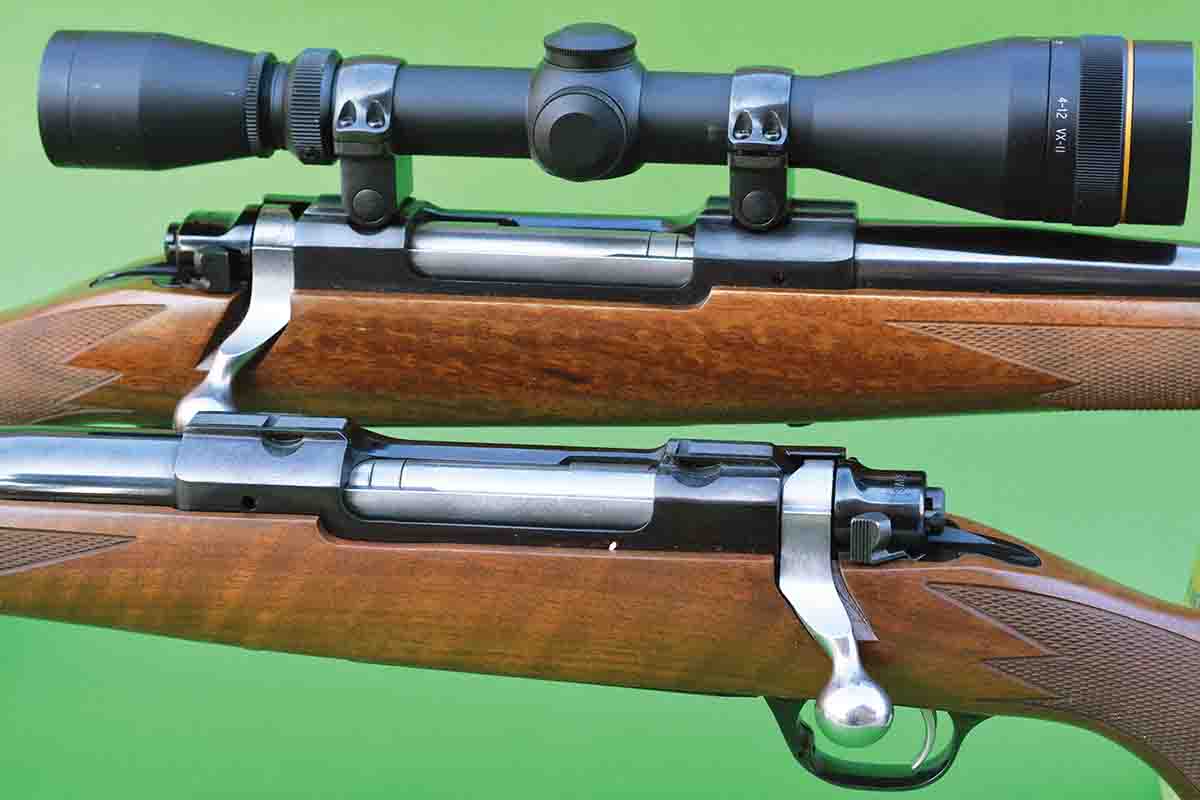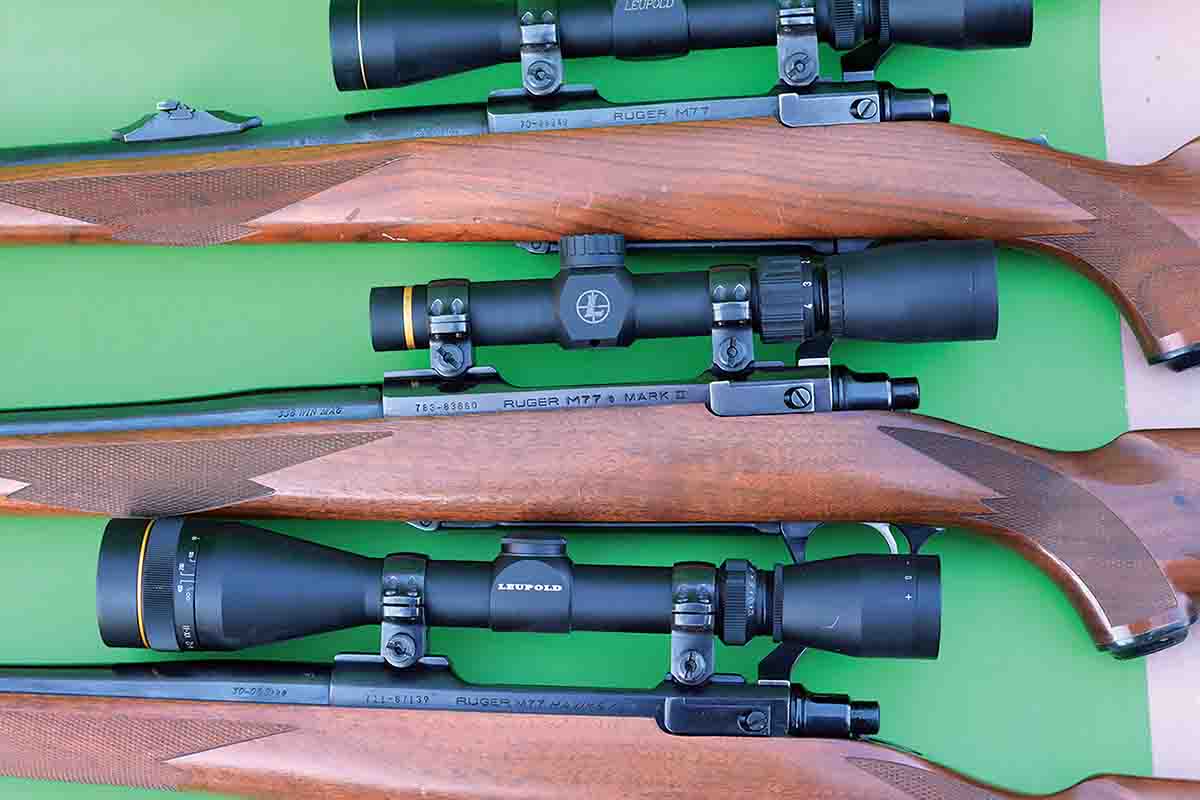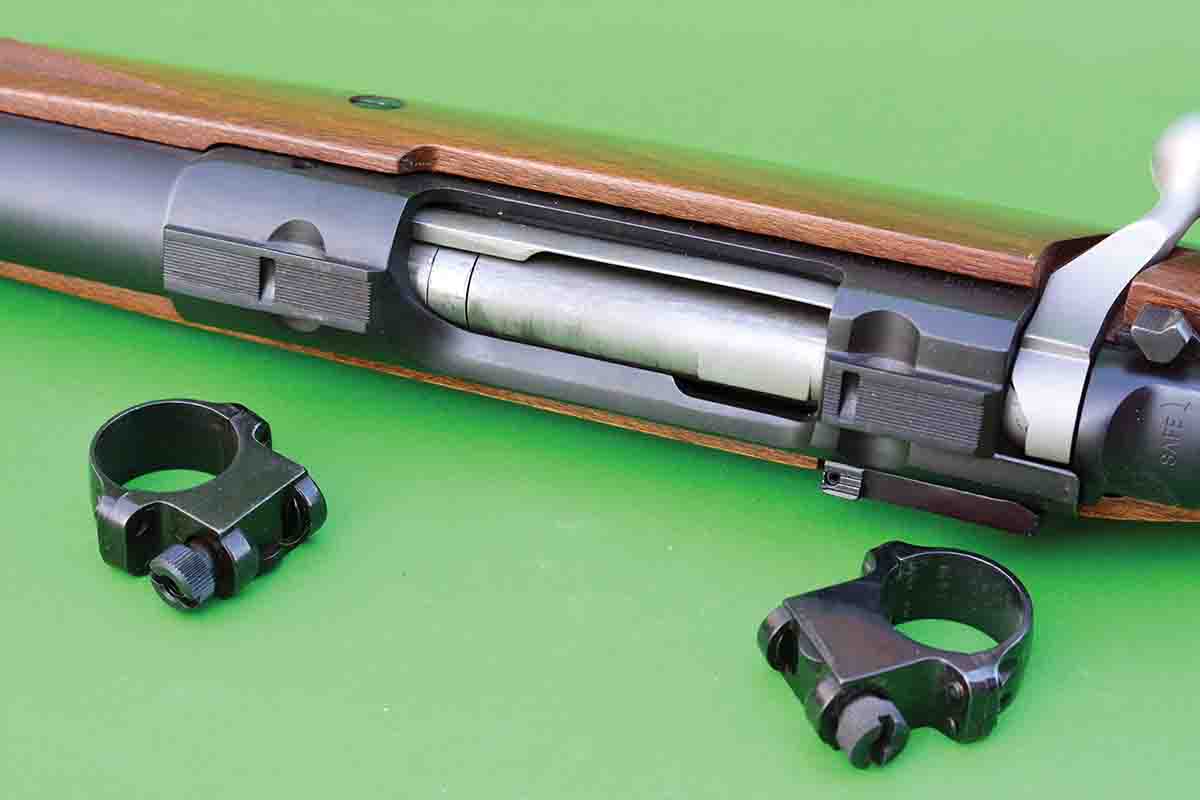 The receiver is constructed of AISI 4140 series chrome-moly steel and boasts of a rather distinguished profile with flat sides and a flat bottom, which I find attractive. It is secured to the stock via three guard screws; however, the front guard screw is uniquely angled at 62 degrees, which serves to pull the receiver down and back at the same time. Ruger was especially fond of this aspect of the design. However, many custom gun builders dislike this feature as it is difficult to achieve perfect bedding and neither is it conducive to the popular aluminum pillar bedding that is so often used in conjunction with round receivers such as the Remington Model 700 and Savage 110 to maximize accuracy. (Note: I have glass-bedded the actions of many M77s and if done correctly, it can result in excellent accuracy, but it also reduces the chance of stock splitting, especially with heavier recoiling calibers.)
The basic Ruger action was patterned after the Mauser 98 with twin forward locking lugs, a 90-degree bolt rotation, while the bolt handle served as a third locking lug. But here is where it gets a bit confusing; the original M77R ("R" indicating with factory rings) features a long, claw-style extractor; however, it is not a controlled-round feed action. Rather than offering a traditional blade-style ejector, it features a spring-loaded plunger ejector mounted in the bolt and the bolt face is countersunk with a two-step arrangement measuring .120 inch and .030 inch respectively. As a result, when a cartridge is stripped from the magazine, it stays in front of the claw extractor and is "pushed" into the chamber. As the bolt closes, the beveled extractor slips over the case rim. After firing, and the case is being extracted, as the case mouth clears the receiver ring, the ejector automatically kicks the case out of the ejection port. The bolt body features an anti-bind lug (aka bolt guide) that assists with smooth operation. Early rifles featured a bolt handle that was flat (known to collectors as flat bolt) and was uniquely S-shaped.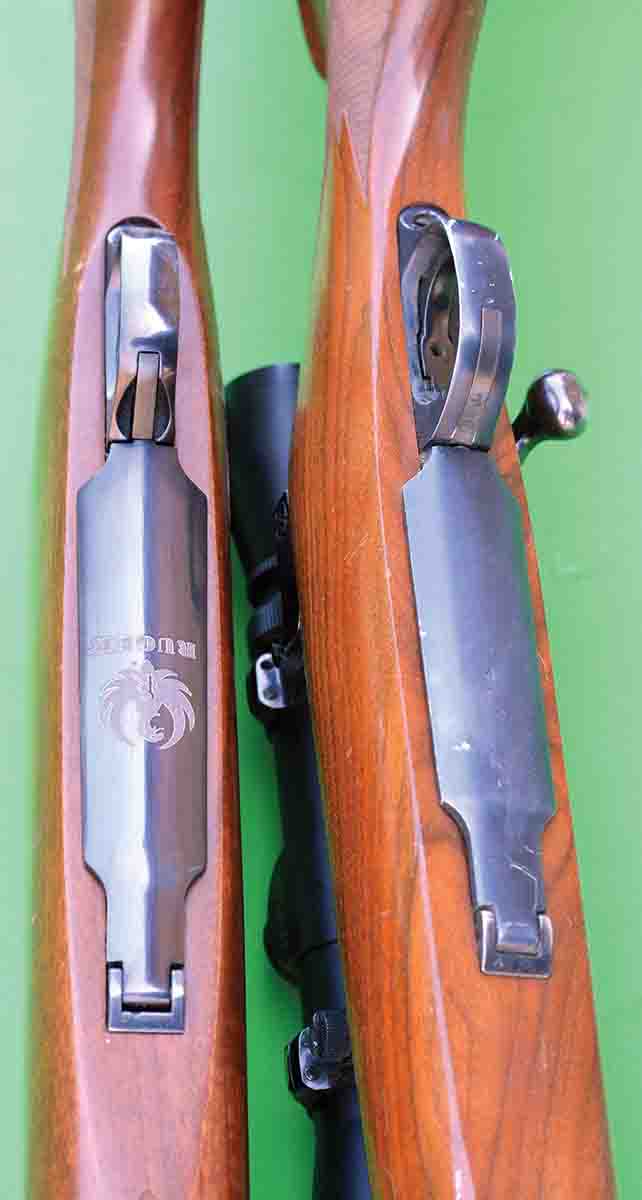 The bolt body and handle are one piece and cast of high-strength chrome-moly steel. With the rearranged steel grain structure associated with investment castings, the bolt proved stronger than all competition that utilized twin forward locking lugs (which was scientifically measured using a Tinnius-Olsen dynometer with hydraulic ram). The receiver and bolt were carefully designed to offer unusually high protection to the shooter in the event of a ruptured case or catastrophic failure.
The M77 also features a hinged floorplate, tang-mounted safety and a fairly simple trigger mechanism that is adjustable for pull weight and aftertravel. The firing pin is one piece and robust and housed conventionally within a coil spring that has a 3.5 millisecond (ms) lock time. I am always hesitant to make comparisons, but the Remington Model 700 (long action) has a 3.0 ms lock time, while the Winchester pre-'64 Model 70 is the same as the Ruger at 3.5 ms. One of the rifles most distinguishing features includes its incredibly strong scope mounting system, wherein the factory supplied steel rings are dovetail mounted directly to the receiver. This not only serves to keep costs down for the purchaser, but was one of the most rugged and reliable mount systems ever devised on a sporting rifle. (Note: The M77PL and M77ST feature a round top receiver that accommodates aftermarket bases and rings.)
When the M77 was formally announced in 1968, trends in rifle stocks were toward the Monte Carlo design with raised cheekpiece, white line spacers, contrasting forend cap and high-gloss finish. By contrast, the Ruger rifle was fit with a classic-style American walnut stock and was void of white spacers and forend cap. It featured cut checkering and a low-glare, semi-gloss finish, which was refreshing. The steel was beautifully polished and finished in a deep bluing. The M77 was handsome and appealed to hunters and rifleman that favored a more conservative look and didn't want to pay for any unnecessary frills. It was very well-received and sales soared.
I have hunted, owned and tested many M77's. So briefly, I will share some observations. Ruger obtained barrel stock from several sources. Some barrels on their best day will only produce mediocre accuracy with 1½- to 2-inch groups common (even with careful handload development, bedding the rifles action and barrel and other accuracy procedures). However, other barrels that were literally supplied by high-quality custom barrel makers, will give outstanding accuracy (especially when compared to other period competing rifles). I have M77's chambered in .220 Swift, .243 Winchester, .257 Roberts, .280 Remington, 7mm Remington Magnum, .30-06 Springfield, .338 and .458 Winchester Magnum (and I am probably forgetting some calibers) that are capable of sub ¾-inch groups and in some instances below ½-MOA.
Most cartridges generally feed reliably in the M77. However, some calibers will occasionally allow the head end of the cartridge to jump up to contact the receiver just above the left raceway and as the bolt is being closed the cartridge binds, or fails to feed properly. This problem seems most common with belted magnums such as the 7mm Remington Magnum and .338 and .458 Winchester Magnums. Nonetheless, most cartridges feed perfectly and the action works slick and smooth as butter.
I have hunted extensively with M77's under some harsh conditions, used them as test guns to fire many thousands of rounds in at least a dozen calibers and have seen them take extreme abuse. Generally speaking, they are highly reliable and rarely need repair. Sales for the original M77 during the 24-year period from 1968 through 1992 exceeded one million rifles, which is very impressive and attests to the widespread popularity of this great rifle. Furthermore, Ruger was new kid on the block so to speak, but he managed to give very strong competition to long established companies such as Remington, Savage and Winchester.
The M77 MK II and Hawkeye Era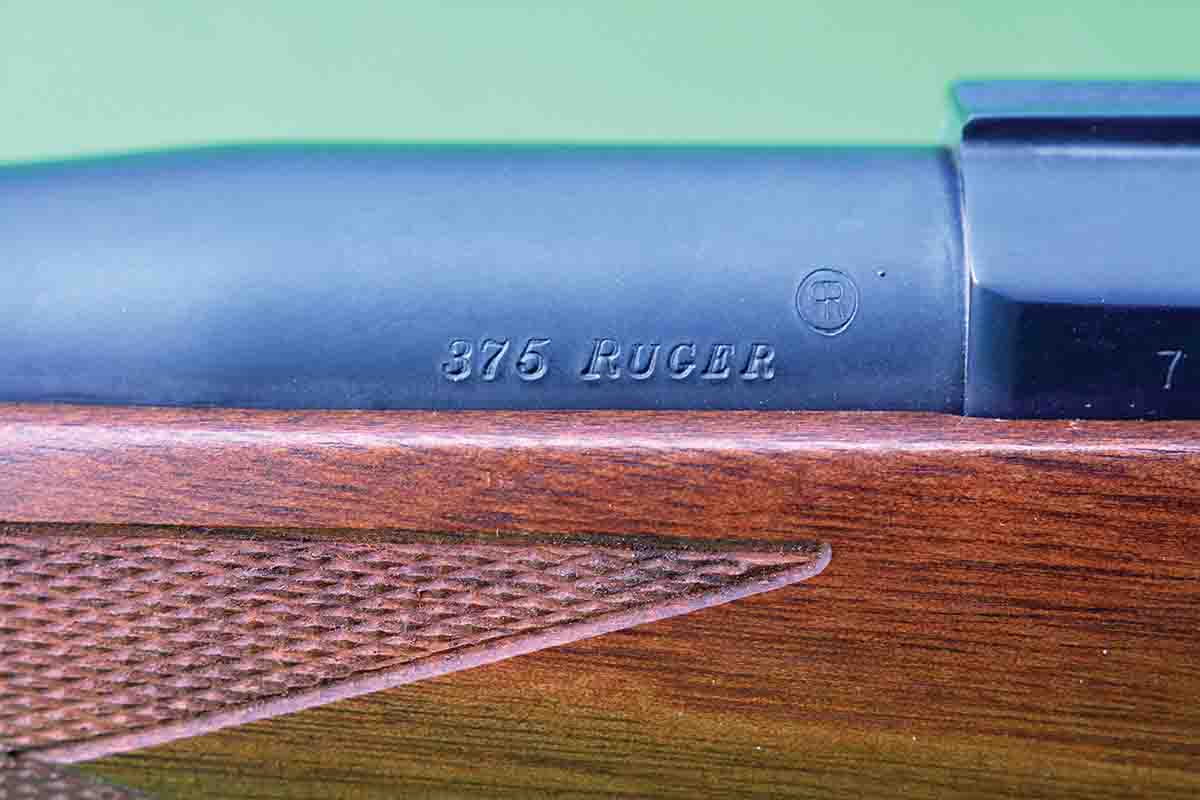 By 1989, Ruger developed an improved 77 known as the M77 Mark II (or MK II). While collectors get very excited about early versions of the original M77, along with rare variants and calibers, the fact is that the MK II was a better, more accurate and even more reliable rifle. The bolt face was changed, along with a blade-style ejector, to become a true Mauser 98-style control-round feed system that has proven to work smooth and flawlessly. The bolt and integral handle were constructed of stainless steel. The tang safety was replaced with a three-position wing-style that locked the bolt closed when in the ON position, but allowed the bolt to open when placed in the middle position; however, the firing pin is blocked in either position. Naturally, when the safety is placed in the forward position, it is ready to fire. The trigger guard (now constructed of steel rather than the aluminum found on the original M77) and hinged floorplate were redesigned with a more positive latch. A new trigger appeared that was no longer adjustable, but it is simple and reliable. Incidentally, a qualified gunsmith can make the necessary changes to achieve a light, crisp pull and control aftertravel.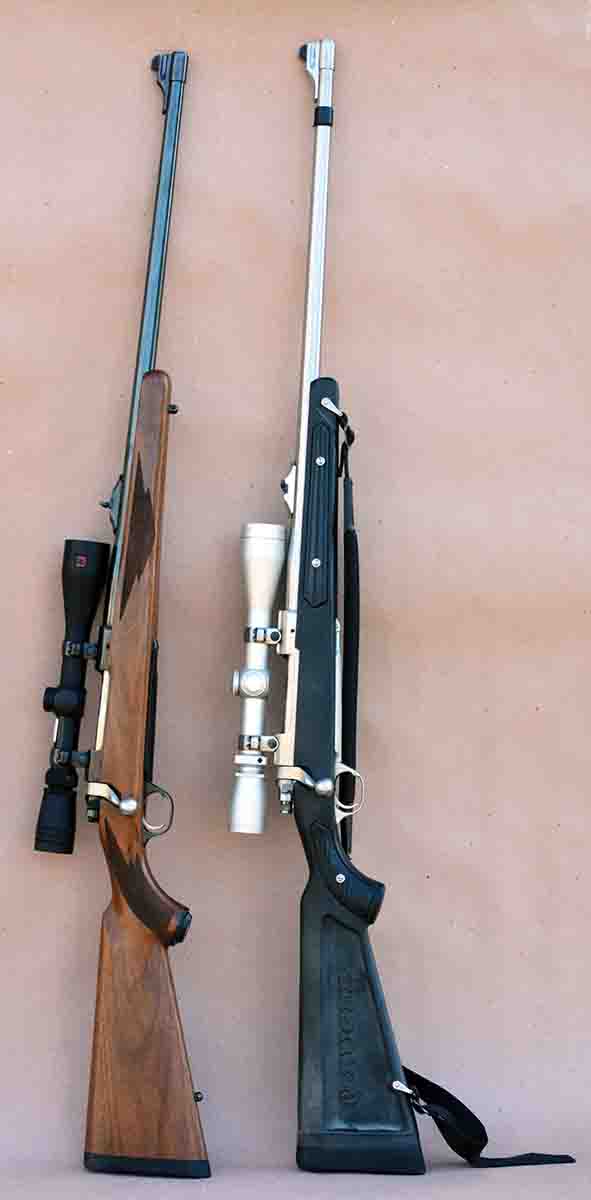 During the 1980s, Ruger began acquiring the tooling to begin producing its own hammer-forged barrels, which would allow them to better control quality and accuracy. These Ruger produced barrels can be found on almost all MK II production (with select early rifles being the exception). From the onset, the hammer-forged barrels were pretty good, however, with time, they have become better and better. Generally speaking, most rifles are capable of sub-MOA right out of the box and with tailored handloads, many rifles will easily produce sub-1⁄2-inch groups. In some instances, we (my family and I) have rifles that have been accurized with bedding that will consistently produce sub-¼-inch groups with our tailored handloads.
During the M77 MK II production period from 1989 through 2006, many variations appeared including the popular stainless steel, synthetic stock, All-Weather, Compact, Frontier, Target and others. An especially desirable variation includes the M77RS and M77RSM Express rifles that were patterned after vintage big-game rifles and included calibers from .270 Winchester to .458 Lott as well as the large .416 Rigby cartridge. They featured a handsome Circassian walnut classic-style stock, ebony forend tip, folding-leaf express rear sight that is mounted on the quarter rib that is integral with the barrel and banded front sight.
The M77 MK II was replaced by the M77 Hawkeye in 2007 that shared the same action, but was fitted with a steel floorplate, a trimmer walnut stock, a new checkering pattern, the metal finish was changed, the trigger was upgraded (known as the LC6) to offer a lighter pull weight along with a couple of other minor changes. There have also been many Hawkeye variants that fill almost any practical sporting application. One notable variation during this era (2011) includes the Gunsite Scout, which has become widely popular and has earned a highly-loyal following. It has been offered in stainless and blued in multiple calibers (.308 being most popular) and with different stock options. In its most common format, it features a 16.10- to 18.70-inch barrel, detachable box magazine (holding up to 10 rounds), top-mounted Picatinny rail aperture sight, threaded barrel with flash suppressor and adjustable length of pull. It boasts of being highly versatile and can serve well as a sporting rifle for field use or defense purposes. Also, during this era, a left-hand action was offered.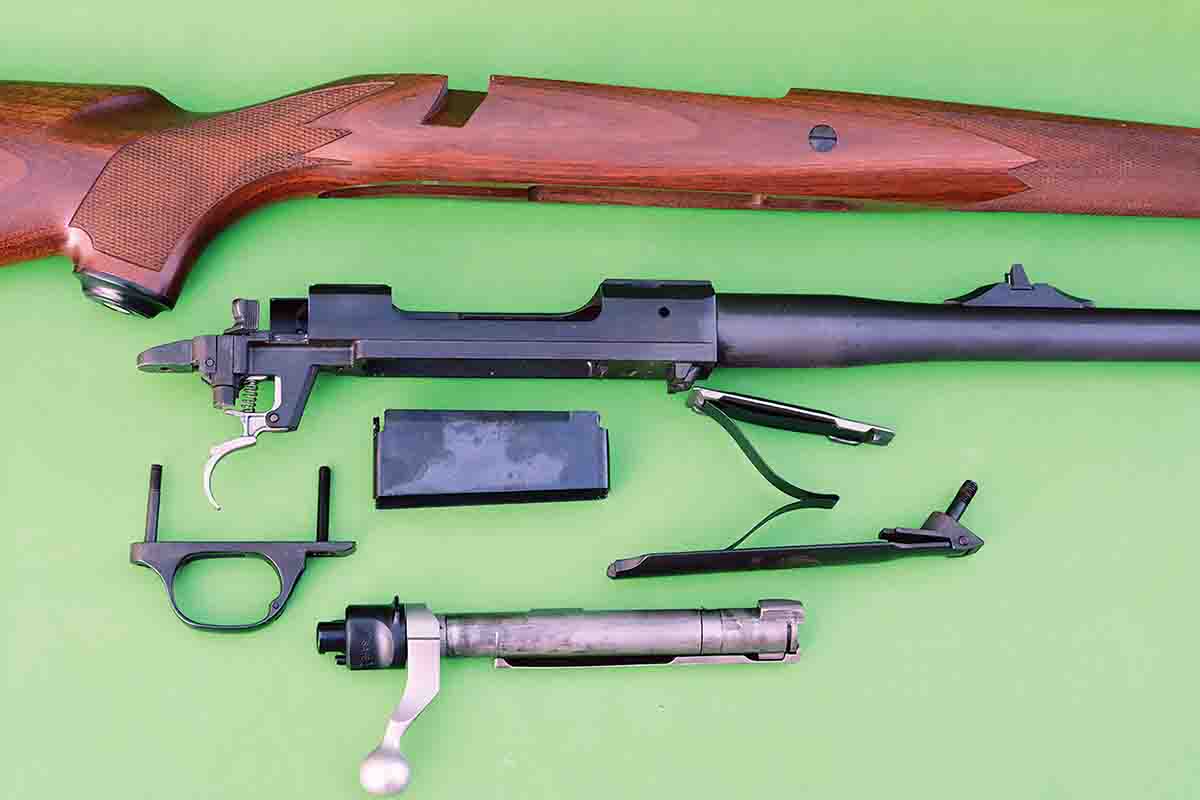 The MK II and Hawkeye rifles receive top-of-the-line ratings in terms of rugged reliability. I have seen them exposed to the salty air of fishing boats, abused for many years by Alaskan guides, independently tested and torture tested wherein it has passed with unusually high marks. When the Ruger rifle was chosen as the basis for the "Gunsite Scout," it was chosen by one of the masterminds behind the project due to it being "by far the most rugged and reliable bolt actions readily available." That remains a true statement!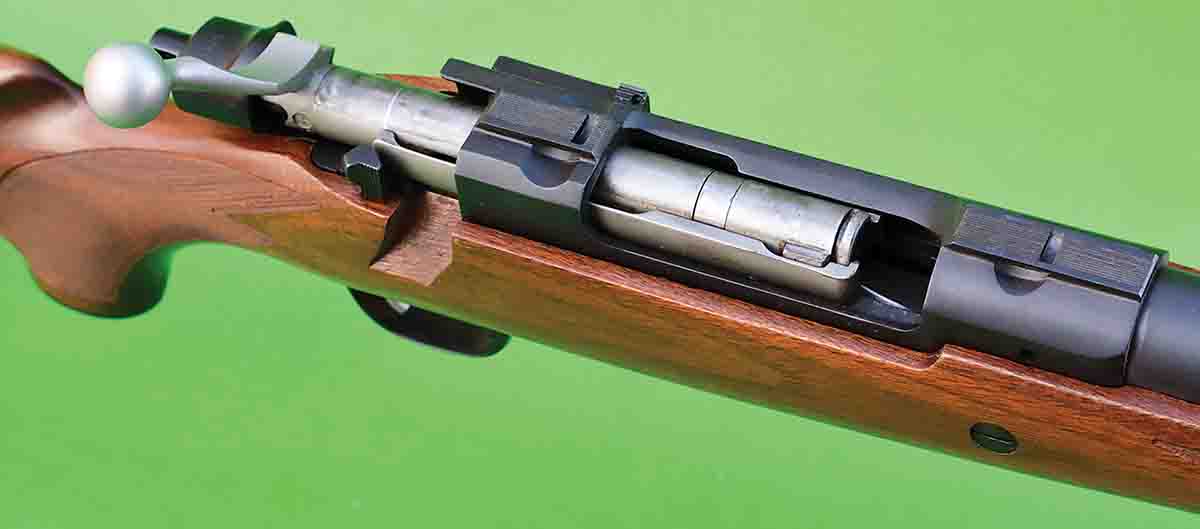 While the original M77 was innovative in its production methodology, manufacturing has changed. In essence, costs are rising and prices of the M77 Hawkeye have been steadily climbing in recent years (as are most other competing bolt-action rifles). Many shooters and hunters are finding favor with competitively priced rifles such as the Ruger American that are very accurate and were designed from the very beginning to be manufactured at a very competitive price. Nonetheless, there is demand for the highly reliable and robust M77.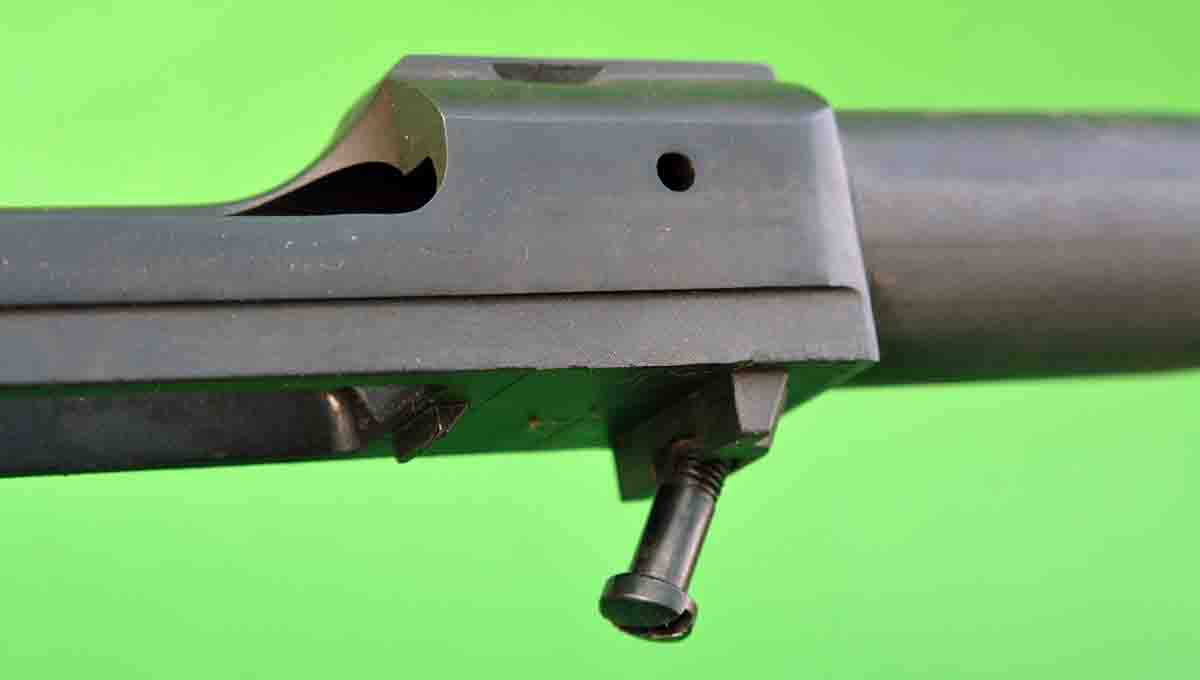 One of the problems that raise production costs includes the high reject rate of receivers due to the top-of-receiver dovetails that are designed to accommodate Ruger rings. Prior to COVID-19, Ruger was considering the next iteration of the M77 to resolve these issues and would include new manufacturing methodology, however, after COVID-19 and the resultant huge demand for all Ruger firearms wherein virtually every gun that they can build is already sold, that project is on the back burner. When the next generation of the M77 appears, it is uncertain what design changes will be incorporated, as it is hard to improve upon a design that works flawlessly, is tough as nails and shares many of the design features as great classic rifles such as the Mauser 98, Winchester pre-'64 Model 70 and others. If Ruger engineers were to ask for my input (and it is highly unlikely that they will), I would encourage them to leave it as close to its current design as possible, while incorporating very small changes that might make it better and would serve to further its appeal with modern shooters. The primary focus should be on new and more efficient manufacturing processes. Sources suggest that the next generation M77 will probably be produced in Mayodan, North Carolina, the same plant that the new Marlin lever-action rifles are being built. But at this date, that manufacturing move is still on the back burner.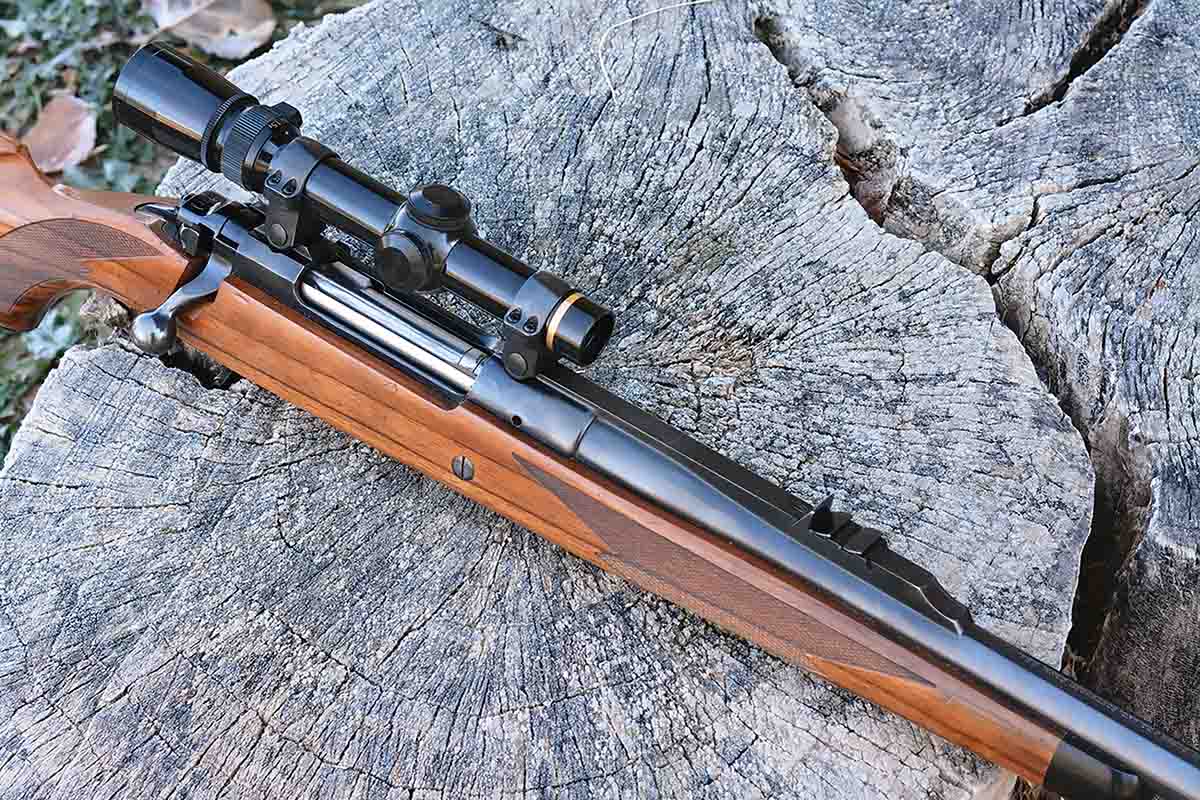 The Ruger M77 is a truly outstanding modern sporting rifle, with the MK II and Hawkeye versions being especially tough and durable. Since its inception nearly 55 years ago, it has been a true bargain, however, in recent years its manufacturers' suggested retail price has steadily increased (like everything else). But in my opinion, considering its design, features and quality, it is still a bargain!