Watching cartridge fads come and go has been an interesting pastime. When I bought my first gun magazine in 1962, we were in the middle of the belted magnum craze. It seemed like new cartridges appeared every few months: .264 Winchester Magnum, .350 Remington Magnum, .224 Weatherby Magnum and so forth. Popular wildcat cartridges have also been "legitimized" as factory rounds like the .22-250 Remington, .25-06 Remington and .35 Whelen. (Seems like Remington was most active at the time.)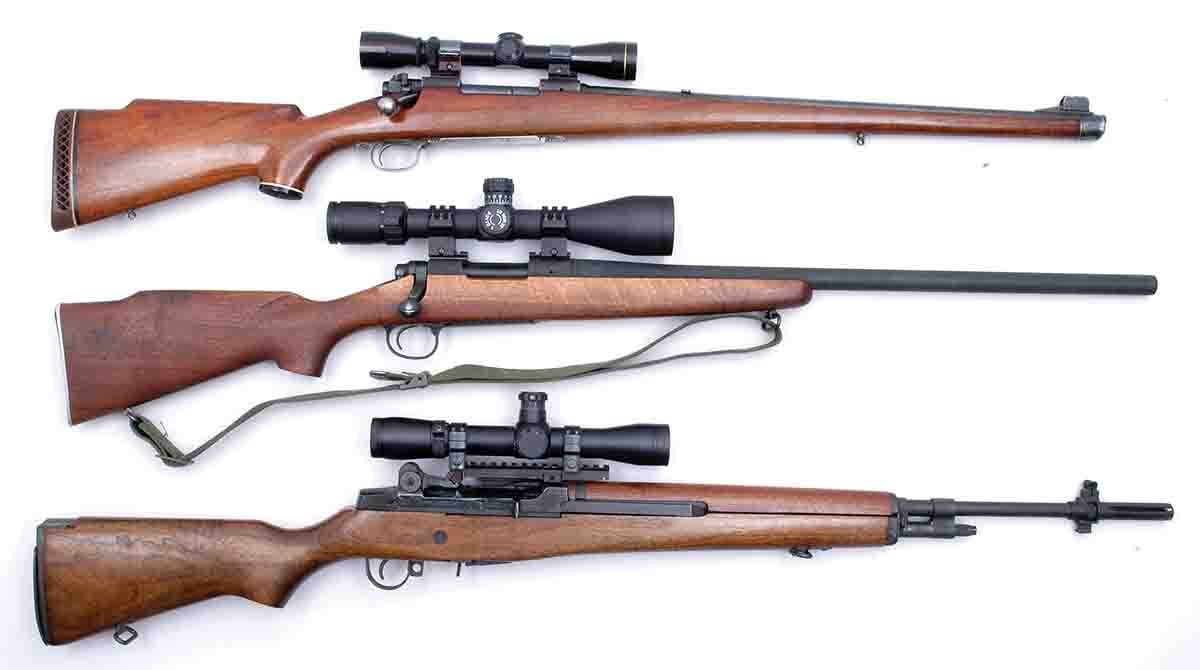 More recently, there have been the Winchester Short Magnums, Remington Ultra Mags, and too many for AR rifles to keep track of. I even shot a .50 Beowulf that belonged to a friend. The current fad is new cartridge case shapes all based on 6.5mm bullets. Watching Internet and printed magazine debates about which case shapes and bullet diameters are superior is hilarious to me.
That's because I don't care. I know what is best; at least what is best for me. No matter what cartridges zing to incredible heights of popularity, no matter what sort of rifle in which such rounds might become available, my mind has long been made up. I chose the .308 Winchester. Many .308 rifles have come and gone from my racks over the years; bolt actions, semiautomatics, leverguns and single shots.
The .308 rifle that has stuck is a Winchester Model 70 Featherweight barreled action that its previous owner put into a full-length, Mannlicher-style stock. By its serial number, the Model 70 dates back to 1952, which coincidentally was the same year Winchester unveiled its .308 and Featherweight rifle configuration. The U.S. military didn't officially adopt the 7.62mm NATO until a few years later.
In November of 1980, I wandered into the Powder Horn, a very well-stocked gun store in Bozeman, Montana. My habit was to make a beeline to the used gun rack. Thereupon sat what soon became my favorite hunting rifle. One of the co-owners of the store stopped to visit. More than a merchant, he was an amazing wealth of firearms knowledge, so when he said, "That's my own rifle. I just put it out today," I took it straight to the cash register.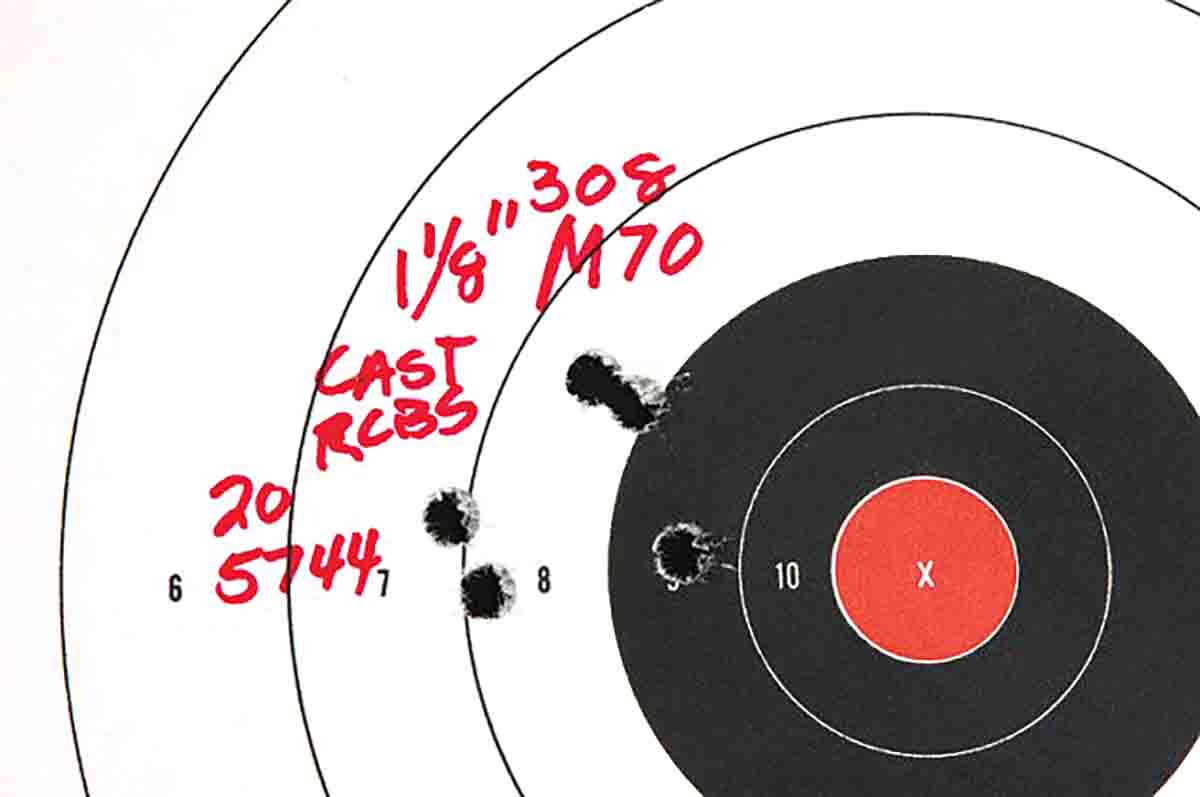 As purchased, it included a Weaver 4x scope in a set of quick detachable mounts, the name of which I've long forgotten. With the new rifle stowed in our pickup's rifle rack on the drive home, I babbled to a mostly disinterested Yvonne about my new prize. One thing I remember saying was that it might get rechambered to .30-06. Like many rifle enthusiasts, my mind contained doubts about the .308 Winchester being adequate for elk. In fact, within a few days I was at the range sighting in the Model 70 when another friend showed up with his sporterized Model 1903A3 .30-06. He commented how it was a shame my new rifle was .308, and perhaps it would benefit from a rechambering to .30-06.
We chronographed our handloads in our respective rifles. Both of us had Sierra 150-grain spitzers loaded. His charge was 59 grains of IMR-4350, and mine was 44 grains of IMR-3031. Both handloads exceeded maximum charges in Lyman's Reloading Handbook, 50th Edition, but they did not go beyond maximum loads in Lyman's Reloading Handbook, 45th Edition, which was the one I used back then. My .308 handload combination was chosen because it was listed in the manual as Lyman's "accuracy load" with a rated velocity of 2,800 fps. My friend and I were both befuddled when the .308's velocity was 100 fps faster from its 22-inch barrel than his .30-06 loads were from a 24-inch barrel. The velocity figures were roughly 2,800 fps for the .308 compared to about 2,700 fps from the .30-06.
After gaining some knowledge and experience, the mystery evaporated. SAAMI specifications set .308 Winchester pressure levels a bit above .30-06 levels, and Lyman was abiding by those levels. Military rifle chambers are also generously dimensioned compared to sporting rifle chambers, which reduces muzzle velocity a bit. Regardless, never again was a moment's thought given to rechambering my .308 to .30-06.
Within a week of plunking down the cash for the Model 70 .308, I shot the largest mule deer of my life with it. And if that didn't cement the deal, more deer, elk, pronghorn and even a coyote or two have fallen to it over the years. During a trip to Africa in the 1980s, it was the only scoped rifle I took along, although it was used on only two animals. However, by then the scope had been swapped out for a Leupold 2-7x in Weaver mounts and rings, because the detachable mounts "detached themselves" a few times.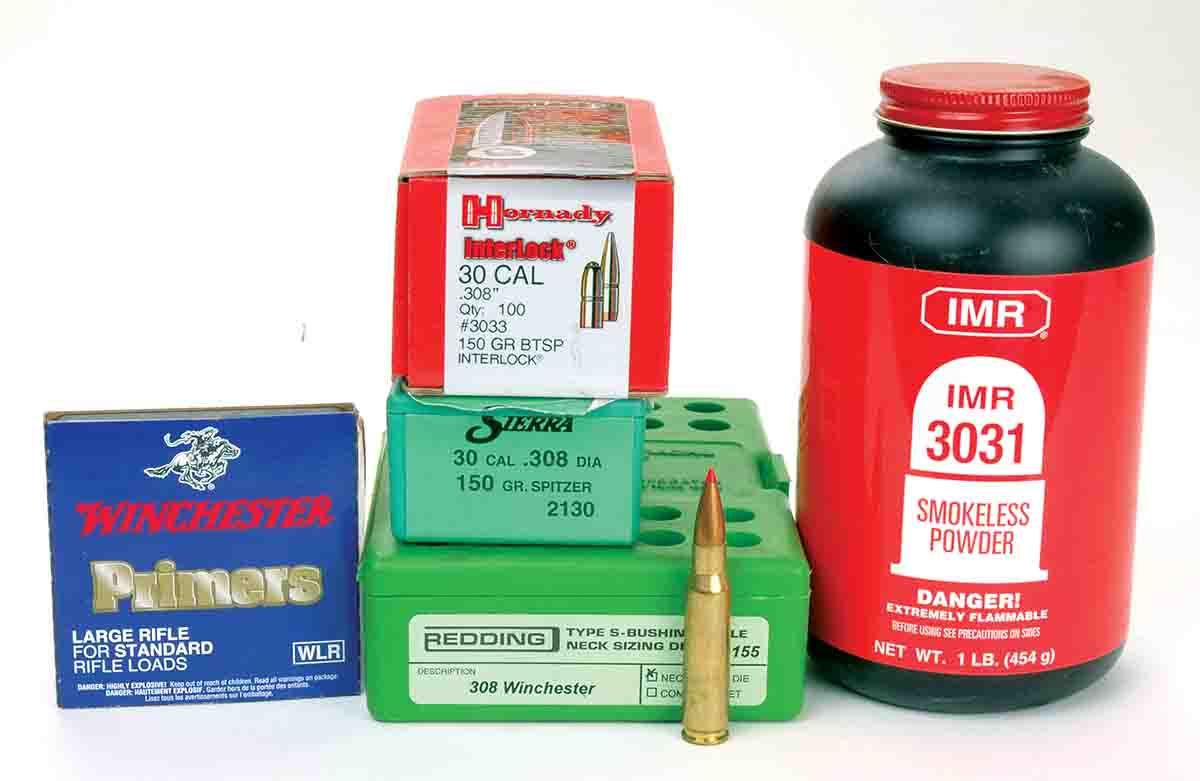 In my book, a benefit of the .308 Winchester is that, in suitable rifles, it's a fine cast-bullet cartridge. Once as a test, I tried a bullet design never used before, an RCBS 308-200-SIL with a randomly chosen charge of Accurate 5744. Bullets were poured of Lino-type and sized .310 inch, lubed with SPG and fitted with Hornady gas checks. From the Model 70 with no special loading efforts, the first five cast-bullet loads printed a 1.125-inch group. No matter what load has been tried, it seems to always put three or five shots somewhere between an inch and 1.50 inches.
For every animal shot with this rifle, the same powder charge of 44.0 grains IMR-3031 was used with either Hornady or Sierra 150-grain bullets. In my hunting years, nearly every big-game cartridge from .243 Winchester to .300 Weatherby Magnum was tried. Now I don't hunt much, but my property here in Montana has plenty of deer about, along with an occasional elk. So when all my big-game rifles were sold off, one stayed "just in case." Picking it was a no-brainer.