It's a given that consistent accuracy largely stems from the minimization or outright elimination of controllable variables, including any glitch in shooting form or the rifle itself. Unfortunately, the quality of shooting platforms is all too often ignored. Disregard for a moment the idea that a rifleman should be able to shoot while standing on his own two feet (rightly so), and consider instead that most load testing, downrange ballistics evaluation and scope or sight adjustments take place from a "bench." If said support is not up to snuff, the fellow behind the trigger may be at a disadvantage before the first shot is fired.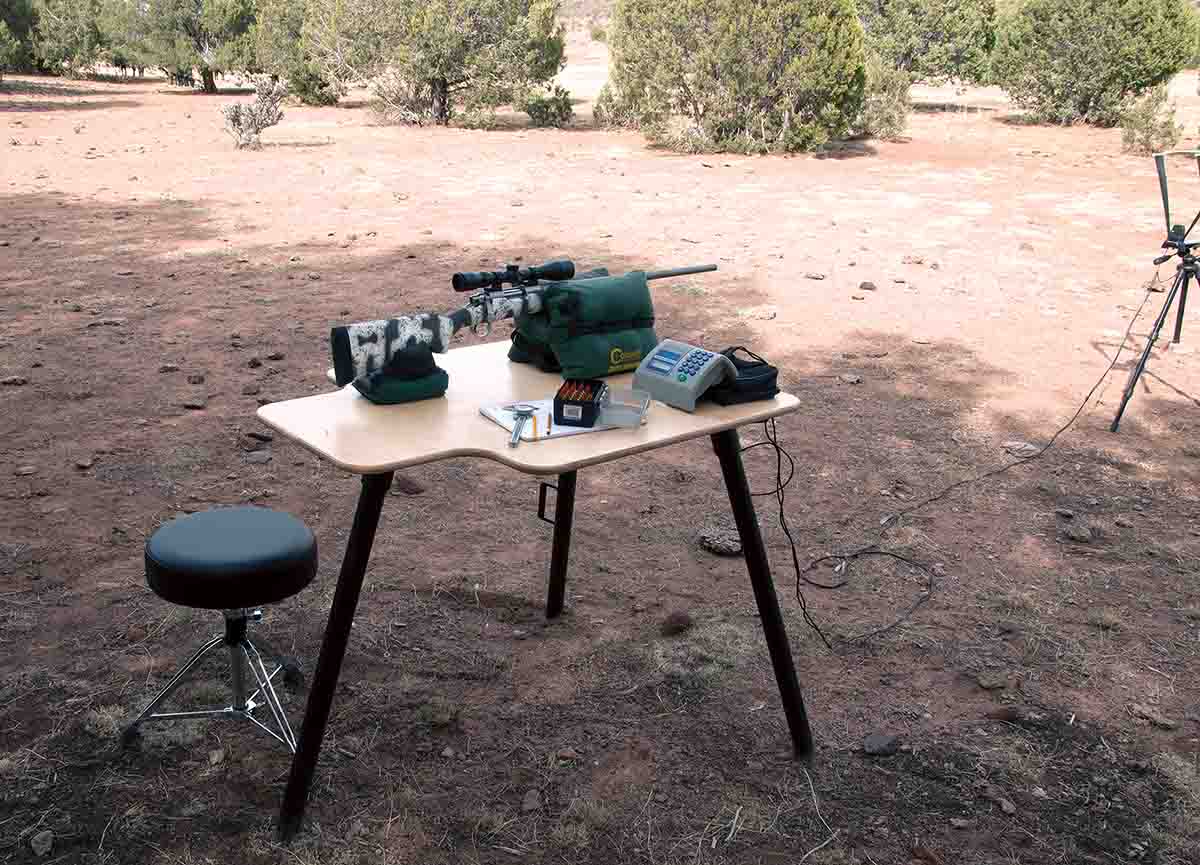 On the cusp of an elk hunt a couple of seasons back, for example, I stood by as several hunters assembled to take turns at an outfitter's portable bench to check their rifles' zero after traveling hundreds of miles by vehicle and/or commercial flights. This routine procedure is almost insisted upon these days because it provides some indication as to a client's ability to handle their hunting rig, and shooting a few rounds allows for fine sight adjustments if necessary, instilling confidence when bullets land where expected. Conversely, test firing from a rickety bench may in fact lead to uncertainty.
On that fall evening, one fellow was having a heck of a time adjusting the windage and elevation turrets on a scope designed for long-range shooting, nearly burning through his ammunition brought along for the hunt. This situation could not have left him (or anyone) highly confident. In his defense, the tired, dilapidated bench had seen many years of rough use, was quite rickety and needed to be replaced.
Recognizing the familiar situation when taking a turn to check zero, and the second and third shots hit roughly 2 inches high and about 1.5 inches left of point of aim, almost touching, the scope was adjusted to cut that horizontal margin in half. I called it good then, knowing that trying to shoot smaller groups or get a "perfect zero" would have been a waste of time and ammunition. I had no interest in shooting "way out there" anyway, and there were others who still needed to check their rifles in the waning light.
That experience served as a reminder of other such situations encountered in the past. Whether using factory ammunition or handloads, shooting from a truly solid bench is preferable in all situations where benches are used. It's the only way to gain early confidence in a rifle, scope and load, or to test various combinations for consistency over time. A wiggling, wobbling table is of little help and is the main reason most public ranges provide benches made partially (or completely) of cement.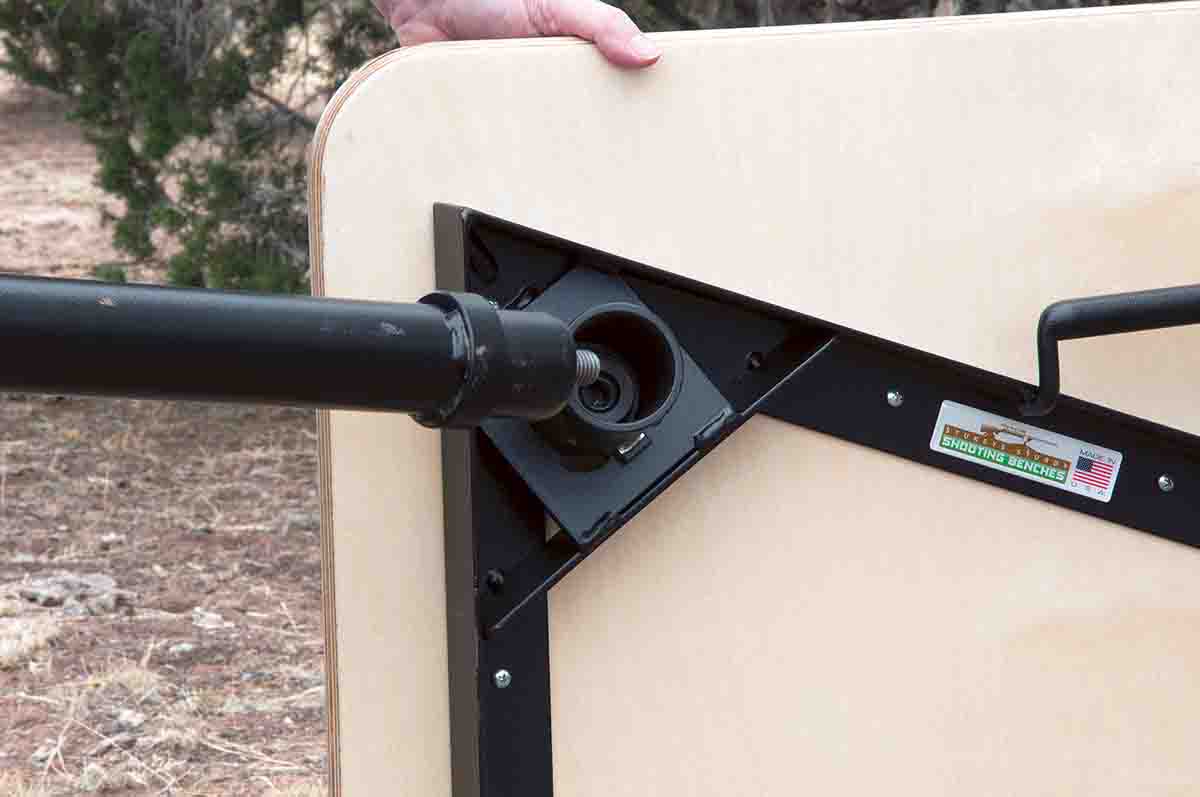 A block-and-mortar bench obviously lacks portability. The value in being able to haul around a shooting bench is the reason large retailers mail out catalogs full of options – most of which do not provide enough stability to ascertain consistency. Any slight wiggling of the bench is likely to detract from accuracy, hence the use of concrete at public ranges where competitive matches are held. Without a solid platform from which to shoot, consistency is left to chance.
Most riflemen are not terribly obsessive over the tiniest groups when it comes to rifles and loads for field use, and I am one such shooter. It is nice to know, however, that a certain load meshes with a given rifle, and that it does so consistently. Most of my shooting takes place on public land a few miles from home, both for convenience and solitude (the local public range can be crowded during certain months of the year.) As such, several so-called portable benches have been tried. All of them have come up lacking in some way – usually in regard to remaining "concrete steady."
The last bench used during the past several years cost me about $600 shipped. It was a nicely crafted pedestal-type bench with the seat attached to the center post that likewise supported the bench top. The hanging seat showed up as a flaw fairly early on due to the shooter's body weight putting stress on the center post; step away from the bench, then return, and there's no way to be certain the bench will be stressed the same each time. I even set the rifle on bags with the reticle precisely on target, then carefully stepped away from the bench only to return and find that adjustments were needed to realign the reticle to point of aim. It was easy to haul around in the back of a pickup, but over time it became increasingly apparent the hanging seat lead to inconsistencies.
Following a fair amount of research, snooping around at trade shows and speaking with friends who had similar experiences, a decision was made to buy a Stukeys Sturdy Shooting Bench, of which I had become aware roughly 15 years previously after using one on a prairie dog shoot in (if memory serves) Colorado. At that time it appeared to be the most stable, portable bench available, as well as the most expensive. Little has changed (the cost of the bench alone is $685 plus shipping), but consider the well-known axiom: "You get what you pay for."
Royal Stukey is a Wyoming cowboy through and through, a family man, an experienced big-game hunter and an enthusiastic long-range shooter bent on shattering the smallest rocks on the Cowboy State's prairie. His bench may be the steadiest portable option available on the market because there is nothing flimsy or flexible about it.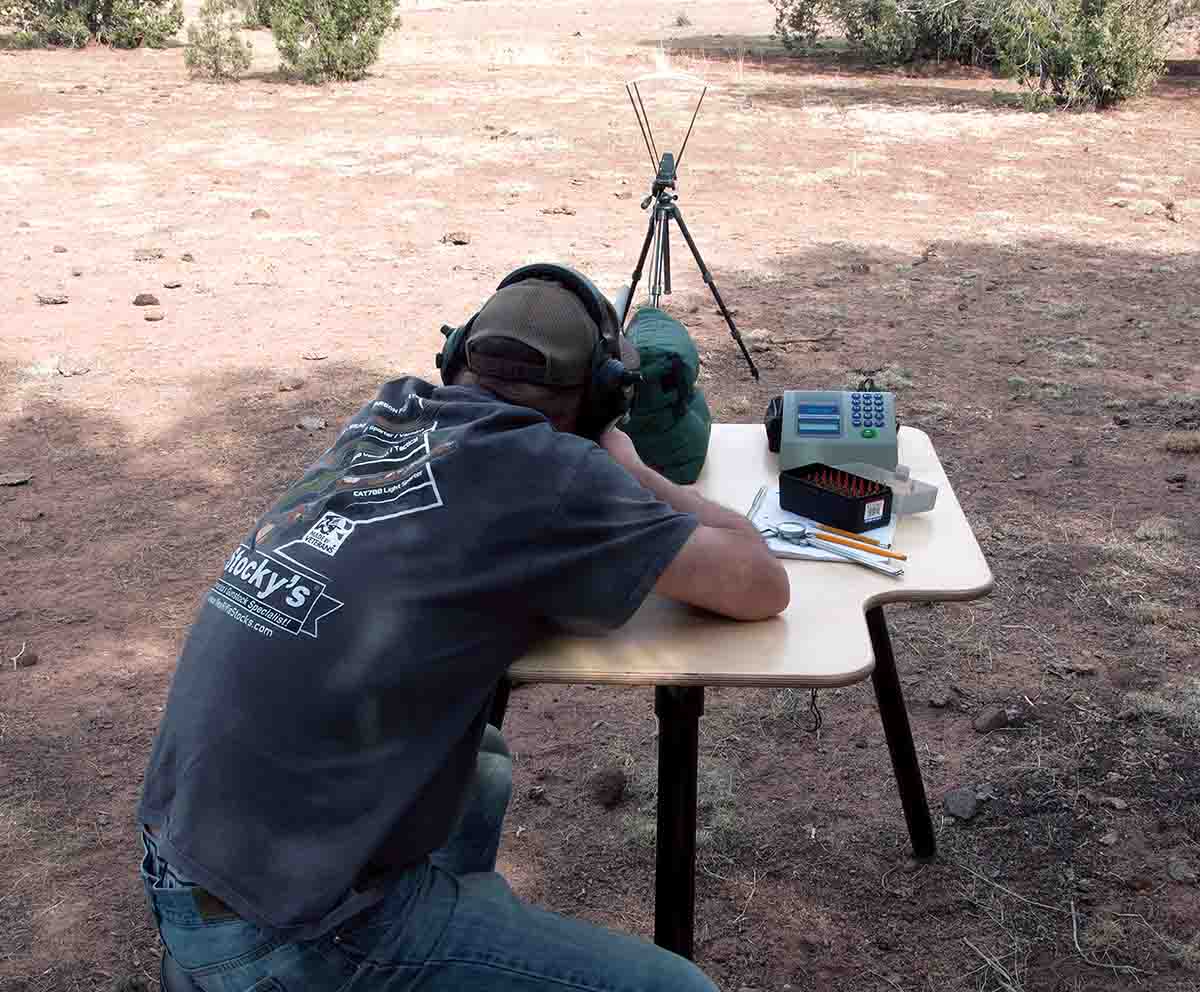 Its .75-inch-thick top is made of 13 laminated layers of what Stukey calls "cabinet grade exterior" birch plywood sealed with three coats of conversion varnish, a lacquer that is used with a hardener. The top measures 32 inches wide and 40 inches front to back. It features cutouts to accommodate either left- or right-handed shooters. The cutouts allow the user to sit against the bench top without the center of the chest pressing against it, apparently to isolate the shooter's heartbeat from bench.
While benchtop dimensions are relevant to portability and utility, it's the powder-coated tripod support system that sets this bench apart from others. Under the plywood is a triangular frame made of 1⁄8-inch angle iron measuring 2 inches wide (against the table top) by 11⁄2 inches. Fourteen screws hold the frame to the birch top. In each corner is a welded plate of steel and a socket that contains a floating nut into which the legs' bolts are fastened. The floating nuts allow the legs to automatically center in the socket.
Both the socket and matching leg collar are made from 2-inch DOM steel tubing, meaning the steel is cold-drawn over a mandrel for more precise tolerances, allowing a snug, wobble-free fit of the leg and a solid lock-up when tightened by hand. With the exception of the collar, the bench legs are made of 11⁄2-inch schedule 40 pipe, and a handy carry handle is welded to the bench frame and one leg for ease of portability. The entire set-up weighs roughly 70 pounds.
A portable shooting table with three legs is preferable when shooting in broken country, where truly flat ground can be found only rarely. For instance, the nearby national forest land where I typically test loads and rifles is mostly comprised of rolling hills and granite ridgelines, and the somewhat rough terrain is littered with rocks. Trying to keep four-legged tables or benches from rocking is more trouble than it's worth and generally proves to be a waste of time. A three-legged bench can almost always be placed on uneven ground, where it will remain steady.
The same is true when it comes to resting your rear. For years Stukey supplied a hard-sided, portable box that served as a seat and storage for shooting gear until the supplier quit manufacturing them. Today he sells a high-quality, comfortable drummer's stool with, you guessed it, three legs and large rubber "feet." It is by far the most comfortable, adjustable "shooting stool" I've encountered, and like the bench, it easily accommodates uneven earth.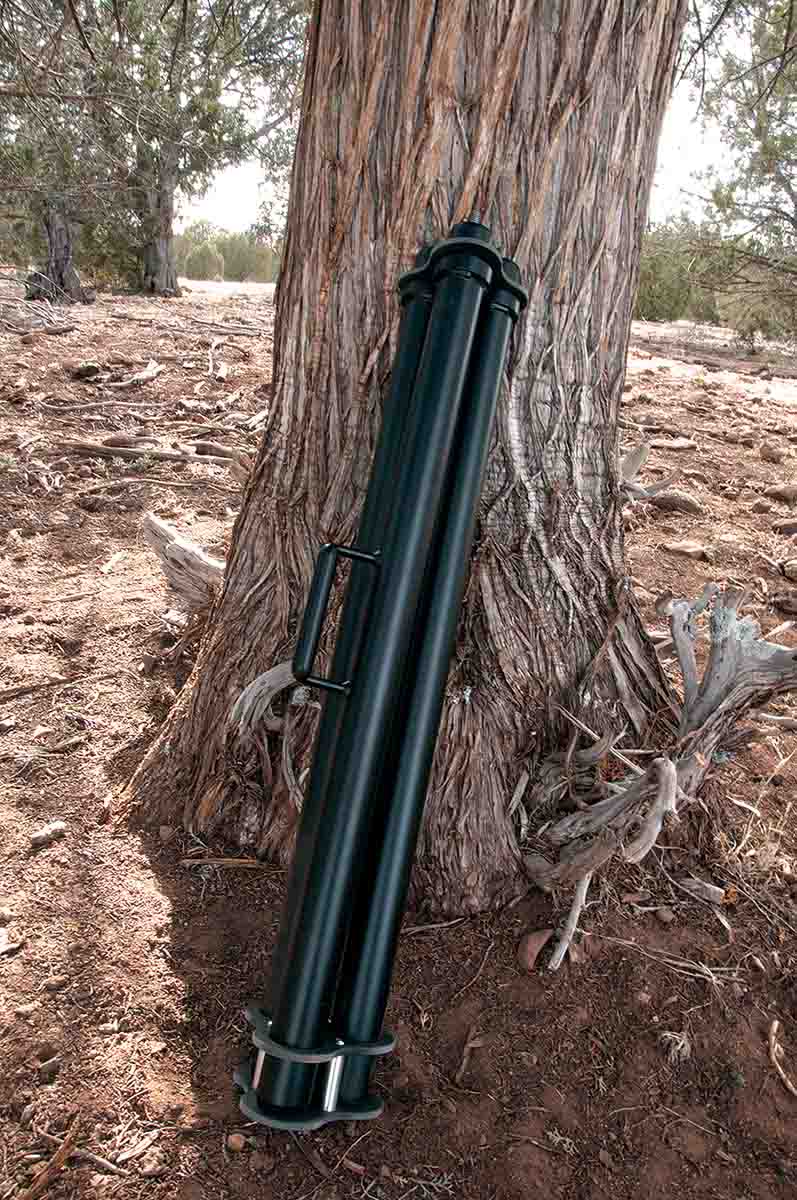 More than a few riflemen buy portable benches for the singular use of prairie dog shooting, and as such they prefer those that swing left or right when the little rodents (actually large ground squirrels) pop up unexpectedly. While they do not swivel, Stukeys Sturdy Shooting Benches are certainly useful for this type of varminting, provided some fellow is not intending to chronograph load velocities on a dog town. When not cluttered with handloading paraphernalia such as writing utensils, calipers and notebooks, the bench accommodates a 40-degree field of fire, and it takes but one person to lift the bench at the rear end and rotate it in any direction. Here again the three-legged design comes in handy.
There are lighter portable benches on the market that cost less (and one or two that cost significantly more), but after having used several of them over the years, in my humble option, none of them are as steady or functional as a Stukeys Sturdy Shooting Bench. For more information, visit shootingbenches.com or call (307) 754-2060.