New rifle ammunition seems to be directed toward hunters. Bullets lean toward all copper or a copper alloy, or jackets bonded to lead cores. Most all feature a pointed plastic tip to make them sleek as a javelin. If ammunition companies fail to introduce at least a couple of new 6.5 Creedmoor loads, they just are not up with the times. Let's see what's new this season.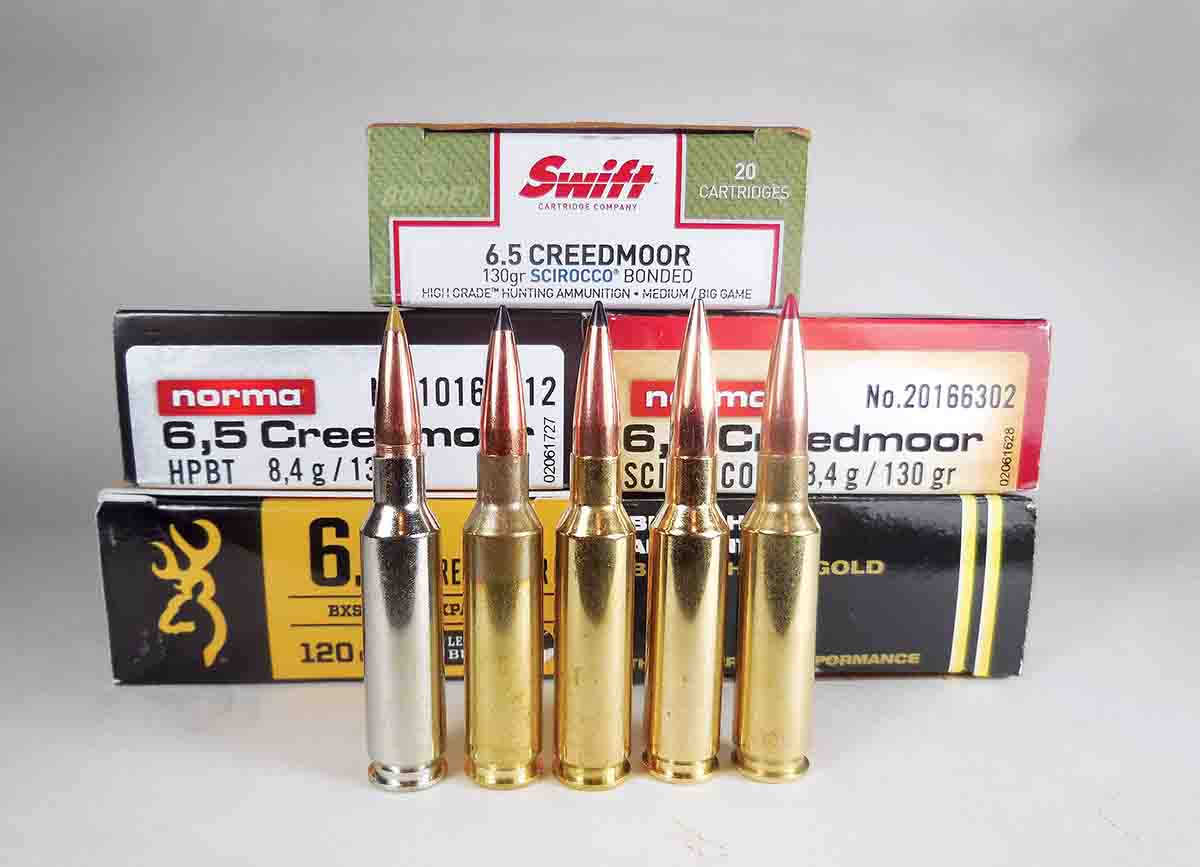 Black Hills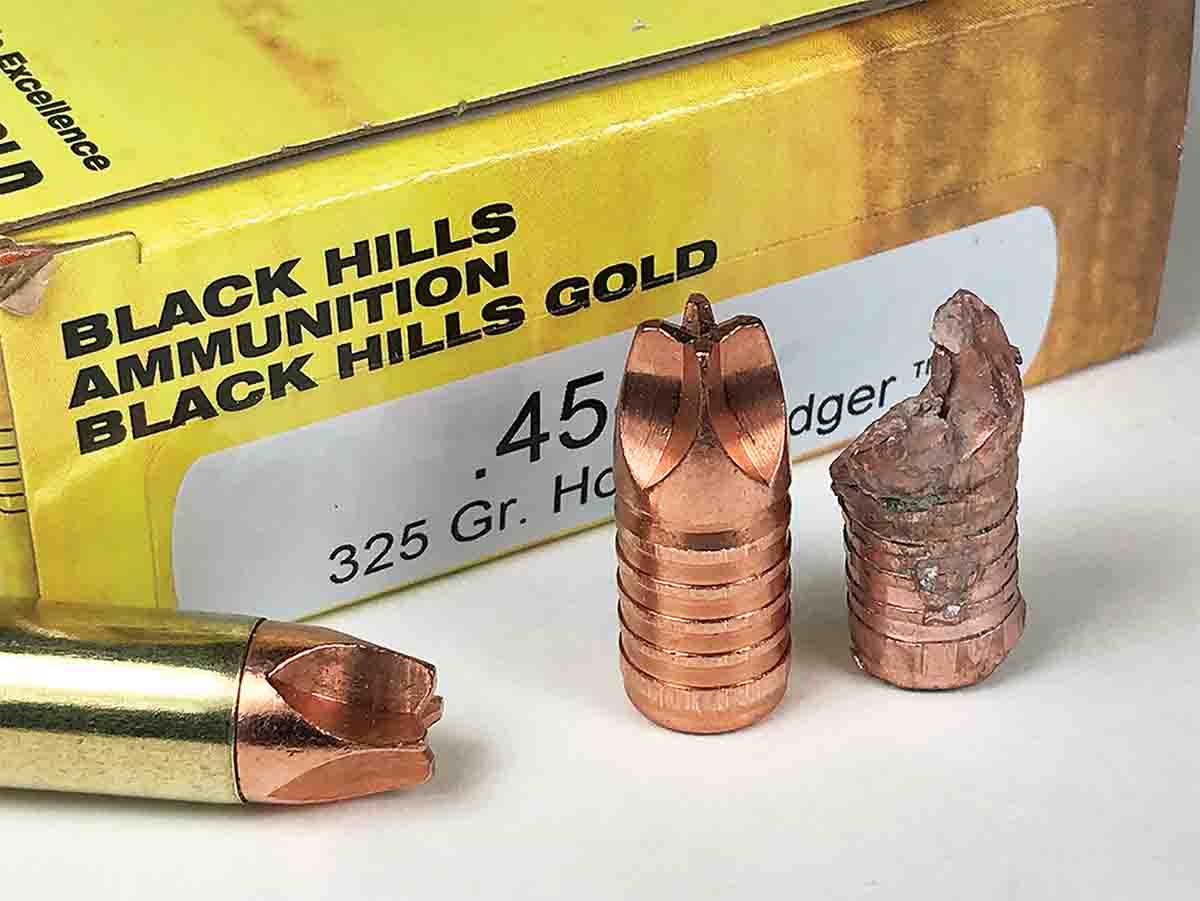 Black Hills is loading Hornady bullets in several cartridges and an innovative solid copper bullet in .45-70. On the long-range side, Black Hills Gold 6.5 Creedmoor ammunition features Hornady 147-grain Extremely Low Drag (ELD) Match bullets at 2,700 fps and 143-grain Extremely Low Drag-eXpanding (ELD-X) bullets at 2,750 fps. The 175-grain ELD-X is loaded in the 7mm Remington Magnum, and a 200-grain bullet is offered in .300 Winchester Magnum.
Black Hills has been loading its HoneyBadger handgun ammunition with Leigh Defense Xtreme Defense bullets for several years, and this year it added a 325-grain Xtreme Defense .45-70 load. These solid copper bullets have four deep scallops around their forward portion that extend to the tip where they form a sharp-edged star. On contact with game, the scallops are said to rotate, creating a wide, deep hole. Listed muzzle velocity is 1,300 fps. Velocity was 1,579 fps from the 18.50-inch barrel of a Marlin Guide Gun. Accuracy was great, with two groups averaging .71 inch.
Browning
Browning is concentrating on hunting ammunition with new magnum rimfire loads and bonded core and copper bullets for centerfire cartridges.Browning's Performance Rimfire line includes a 17-grain plastic-tipped bullet at 2,550 fps from the .17 HMR, and a 40-grain jacketed hollowpoint .22 Winchester Magnum Rimfire (WMR) load at 1,910 fps.
The 6.5 Creedmoor and .270 WSM cartridge have been added to the Controlled Expansion Terminal Tip line. The aluminum-tipped bullets have a jacket bonded to a lead core. The Creedmoor is loaded with 135-grain bullets at 2,780 fps, and 145-grain bullets in the .270 WSM are said to provide 3,130 fps.
BXS Solid Expansion ammunition features a copper hollowpoint bullet with a polymer tip. The bullets are loaded in seven cartridges, including the 6.5 Creedmoor with a 120-grain bullet at 2,850 fps, the 7mm Remington Magnum (139 grains at 3,150 fps) and the .300 Winchester Magnum with a 180 at 3,000 fps. The 120-grain BXS load averaged slightly under an inch for two groups shot from a Ruger Predator 6.5 Creedmoor.
Federal
Unless you've been visiting a distant planet, you've heard of Federal's .224 Valkyrie. According to Federal, the "… 224 Valkyrie takes the long-range precision and ballistic performance of the MSR 15 platform to unheard of heights." The Valkyrie case is based on the 6.8 SPC case necked down to .22 caliber. It is similar to the .22 Nosler but with a shorter body. Federal states the shorter case body gives the Valkyrie "ample ogive space," which I take to mean more of the 60- to 90-grain bullets Federal loads extend out of the case to still achieve a 2.26-inch cartridge length to fit in an AR. The Valkyrie looks like a scaled-down 6.5 Creedmoor.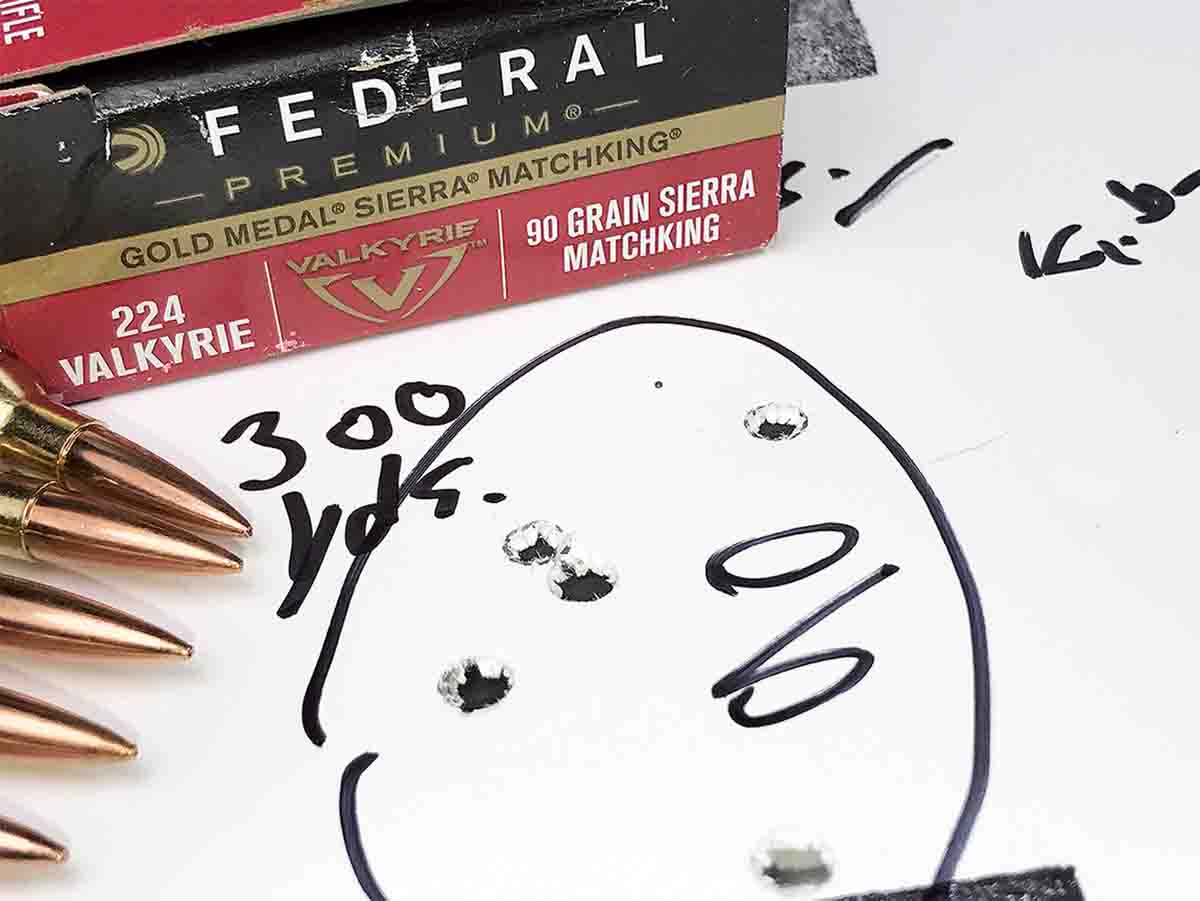 Four Valkyrie loads with stated velocities from a 24-inch barrel include: Premium 60-grain Nosler Ballistic Tip Varmint, 3,300 fps; American Eagle 75-grain Total Metal Jacket, 3,000 fps; Fusion 90-grain Soft Point, 2,700 fps; Premium Gold Medal 90-grain Sierra MatchKing, 2,700 fps.
Velocities of these loads lagged about 100 to 200 fps behind Federal's velocities when shot from the 18-inch barrel of a Savage MSR 15 Valkyrie. Accuracy was great at 300 yards, with most groups well under a minute of angle.
Federal has expanded its Premium line with three more cartridges loaded with its Edge Trophy Long Range (TLR) bullets and 17 loads topped with Nosler AccuBond bullets. Edge TLR bullets include 155s at 3,000 fps in the 7mm Remington Magnum, 140s in the .270 Winchester at 2,950 fps and 3,200 fps fired from the .270 WSM. AccuBonds are loaded in cartridges from the .243 Winchester (a 90-grain bullet at 3,000 fps) to the .30-06 with 150-grain AccuBonds at 2,910 fps and a .338 Winchester Magnum load shooting 225-grain AccuBonds at 2,800 fps.
The Gold Medal line has expanded to include the two Creedmoor cartridges. The 6mm Creedmoor is loaded with Berger 105-grain Hybrid bullets at 3,025 fps and the 6.5 Creedmoor with Sierra 140-grain MatchKings at 2,675 fps.
Hornady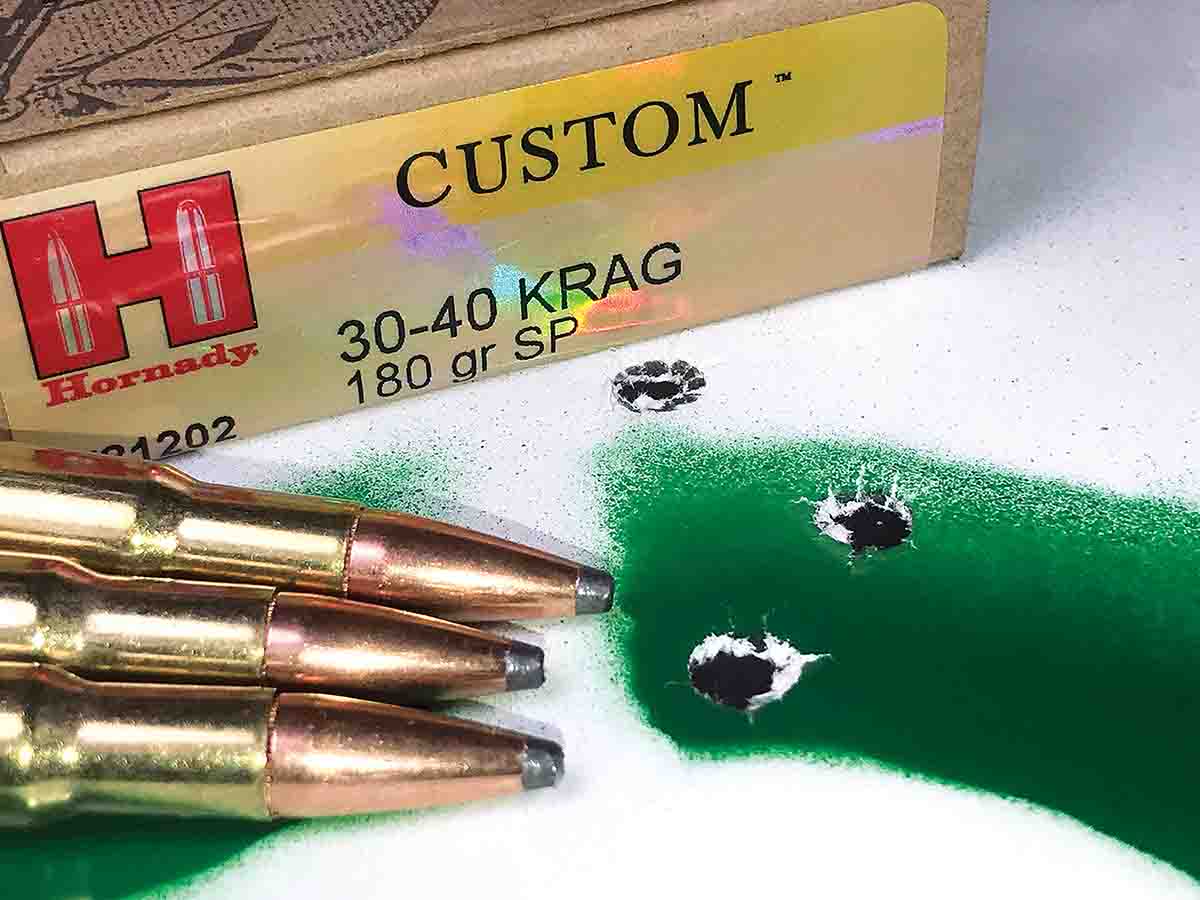 Long ago, when the earth was flat, I shot my first deer with Hornady Frontier .30-06 ammunition that used surplus military cases loaded with Hornady bullets. The company has brought back the Frontier brand for .223 Remington and 5.56 NATO loads. The .223s are loaded with 55-grain FMJ, Spire Point or hollowpoint match bullets and 68-grain HPBT bullets. The 5.56 loads are available with those same bullets, 62-grain FMJs, Spire Points and BTHPs, or 75-grain BTHP bullets. Cartridges come in cartons of 20, 150, 500 or 1,000.
The Precision Hunter line has been expanded by nine cartridges. New ELD-X lead include 103-grain bullets in the 6mm Creedmoor, 162s in the 7mm WSM and 270-grain bullets in the .338 Lapua. I shot 110-grain ELD-X bullets in my Ruger M77 .25-06 Remington, and two groups averaged .84 inches.
The Dangerous Game Series is loaded with 300-grain Dangerous Game Solids in the 9.3x74R and Dangerous Game eXpanding bullets in 14 other cartridges from 300-grain bullets in the .375 H&H to 570-grain bullets in the .500 Nitro Express. The DGX bullets feature a copper-clad steel jacket bonded to a lead core.
Custom Rifle and LEVERevolution ammunition are the saving grace for folks shooting less popular cartridges. LEVERevo-lution .307 Winchester cartridges are loaded with 160-grain FTX bullets, and Custom Rifle .30-40 Krag loads come with 180-grain Spire Point bullets. I shot the Krag loads at 50 yards with a Springfield Model 1898. One group was a touch over an inch and the second a tad under 2 inches.
Norma
A couple of years ago Norma introduced its Tipstrike and Ecostrike bullets in a variety of cartridges in Europe. Norma's Professional Hunter ammunition loaded with these bullets are now making their way to this side of the Atlantic.
Tipstrike bullets are made with a plastic tip in a thin front jacket that quickly expands on contact with game. The jacket and lead core are held together with a narrow belt around the inside of the jacket that grips the core. Tipstrike 7mm bullets weigh 160 grains, and .30-caliber bullets weigh 170 grains. Norma Professional Hunter 170-grain Tipstrike bullets had an average velocity of 2,660 fps fired from the 22-inch barrel of a Ruger American .30-06. Accuracy was great, with two, three-shot groups averaging .73 inch.
Ecostrike bullets are made of copper with a nickel plating to reduce bore fouling. The bullets have a hollow point filled with a plastic tip and a tapered waist to reduce bearing surface. Ecostrike 7mm bullets weigh 140 grains, .30-caliber examples are 150 grains, 8mm bullets are 160 grains and 9.3mm bullets weigh 230 grains. Professional Hunter 140-grain Eco-strike loads averaged 1.13 inches for two groups from a Remington Model 700 7mm Remington Magnum. Ecostrike 150-grain loads fired from the Ruger American .30-06 averaged 1.24 inches for two groups, and 1.07 inches for two groups fired from a Mark X Mauser .300 Winchester Magnum.
Norma has joined the 6.5 Creedmoor trend with Professional Hunter cartridges loaded with Swift 130-grain Scirocco II bullets at a muzzle velocity of 2,789 fps, and Match cartridges loaded with a 130-grain HPBT at a muzzle velocity of 2,850 fps. Sciroccos turned in a velocity of 2,594 fps, and the Match bullets provided 2,627 fps when shot from the 22-inch barrel of a Ruger American Predator. The Match loads shot very well, with two groups averaging .64 inch.
Nosler
Nosler has added Reduced Drag Factor (RDF), AccuBond and E-Tip loads to its .22 Nosler ammunition line. These bullets have also been added to a host of other cartridges.
Match Grade RDF Ammunition includes 70-grain .223 loads, 85-grain .22 Nosler, 140-grain 6.5 Creedmoor, 175-grain .308 Winchester and 210-grain .300 Winchester Magnum loads. The 70-grain RDF Match Grade .223 load has an advertised muzzle velocity of 2,850 fps. Velocity was 2,672 fps from the 22-inch barrel of my Savage bolt action. These bullets have a G1 ballistic coefficient of .416. Zeroed at 100 yards, the bullets dropped 11 inches below point of aim at 300 yards. That's a couple inches less drop than most other 69- and 70-grain bullets fired at the same velocity from the .223. Three-shot groups at 300 yards averaged 1.46 inches.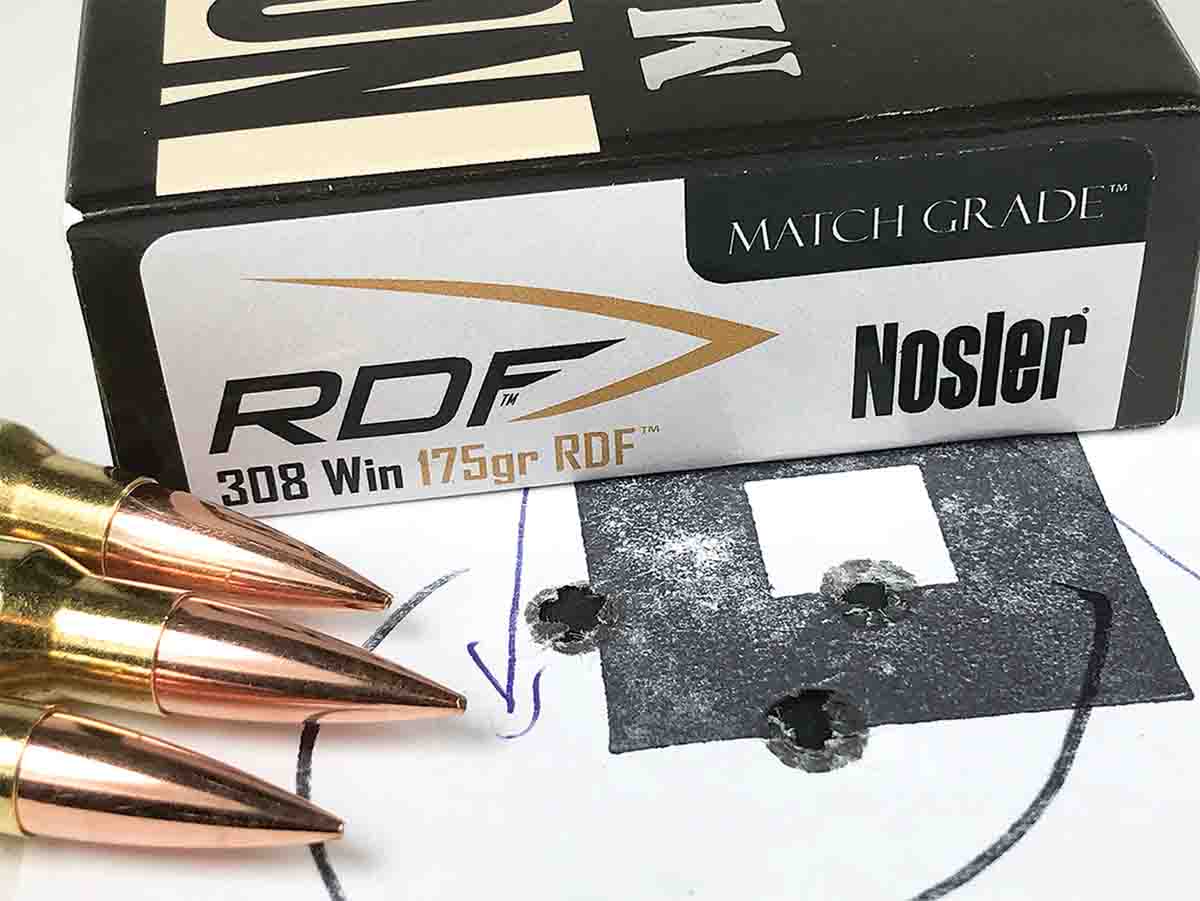 The E-Tip bullet has been added to nine cartridges. Loads range from a 55-grain bullet at 3,300 fps from the .22 Nosler to a 250-grain load in the 9.3x62mm. I shot the .25-06 loads with 100-grain E-Tips. Nosler states a muzzle velocity of 3,200 fps, but they clocked 2,942 fps from the rifle's 24-inch barrel.
Keeping with the popularity of the 6.5 Creedmoor, Nosler's Ballistic Tip ammunition is loaded with 120-grain bullets at a stated muzzle velocity of 2,900 fps. Trophy Grade ammunition for the 6.5 is loaded with 140-grain AccuBonds. Trophy Grade ammunition is also loaded with 70-grain AccuBonds in the .22 Nosler and 250-grain Partitions in the .33 Nosler.

SIG Sauer

SIG has steadily increased its Elite Performance Ammunition offerings, first for handguns, then target and hunting rifle loads. Now .223 Remington, .22-250 Remington and .243 Winchester Varmint & Predator loads are available. Yellow-tipped 40-grain bullets are loaded in the .223 at 3,650 fps, and 3,975 fps in the .22-250. A 55-grain plastic-tip, flatbase bullet is loaded in the .243 at a stated muzzle velocity of 3,880 fps. According to SIG, the three cartridges are loaded with single-base extruded powders that are insensitive to temperature extremes. My Cooper Model 22 .243 averaged .72 inch for two groups with the 55-grain bullets.
Swift
Since Swift started loading ammunition two years ago its line has grown to include nearly every popular cartridge loaded with its A-Frame, Scirocco II or Break-Away Solid bullets. This year, among other options, 140-grain Scirocco IIs are loaded in the 6.5 Creedmoor and 150-grain Scirocco IIs in the 7mm-08. The Creedmoor cartridges shot fine from my Ruger American Predator rifle, and the 7mm-08's ammunition averaged under an inch at 100 yards.
Winchester
Winchester has added two cartridges to its Deer Season XP line, and new Deer Season Copper Impact cartridges with polymer-tip copper bullets. Super Suppressed cartridges fire bullets at subsonic velocities.
Deer Season XP .25-06 loads contain 117-grain bullets at 3,100 fps, and .450 Bushmaster XP 250-grain bullets at 2,200 fps. XP bullets are built with a large polymer tip in a hollow point and a thin jacket for rapid expansion on game.
Deer Season Copper Impact ammunition is loaded with bullets consisting of a Copper Extreme Point with a large plastic tip, but in an all-copper bullet to retain weight. The bullets do not have any relief grooves like most mono-metal bullets. Loads include an 85-grain .243 option, a 130-grain .270 load at 3,060 fps, 150s at 2,810 fps from the .308 Winchester, 2,920 fps for the .30-06 and a 3,260 fps .300 Winchester Magnum offering. The .30-06 load averaged 2,680 fps from a 22-inch barrel.
Super Suppressed ammunition features hollowpoint 168-grain bullets in the .308 Winchester, 200-grain bullets in the .300 Blackout, 45-grain bullets for the .22 WMR and a 45-grain solidnose loaded in the .22 LR. All loads have a muzzle velocity just under the speed of sound.