In assessing a new rifle, the little things count for a great deal. Does it load and unload easily? Does the bolt operate smoothly? If the magazine is detachable, how readily does it go in and out? Is the rifle comfortable to carry?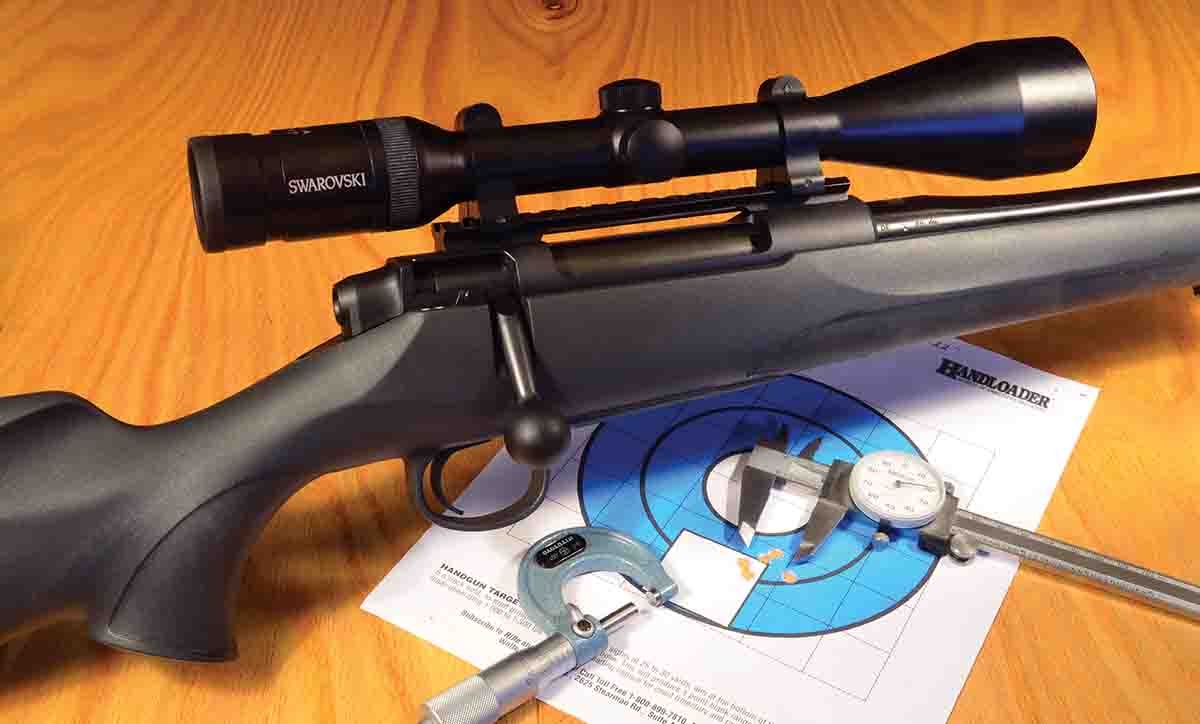 In the past, I've been sent rifles to try that have been undoubtedly accurate, but they were so awkward as to be unusable for hunting. Now, every time I unpack a new rifle and put it together, I'm sizing it up from the moment it's taken out of the box. In those terms, the new Mauser M18 gets an immediate gold star. This is not to say there were not a few glitches – but minor glitches they were, and there were very few of them.
Then there are those two big questions: Accuracy and price. So far the former is very promising, while the latter is unassailable. At a suggested retail price of $699, the M18 is jaw-droppingly affordable.
A year or so ago, Mauser unveiled the latest iteration of its all-time classic, the M98, which at more than $9,000 in its economy configuration is beyond the budget of most guys (me included). The new 98 is undoubtedly a mouth-watering rifle. Out of the box, there was not a single thing I would change about it – not one feature or facet that needed adjusting, polishing or finishing. Not surprisingly, then, the immediate question in my mind when unpacking the M18 was, how would it compare with its vastly more expensive M98 stable mate?

My impression is that, having shown the world what Mauser could do in terms of classic quality and craftsmanship with the new M98, company engineers then decided to see if they could pack all of the M98's best and most usable, functional features into a rifle so inexpensive that anyone except a penniless teenager could afford one. The answer is yes, the company did that. I don't know how, but they did it.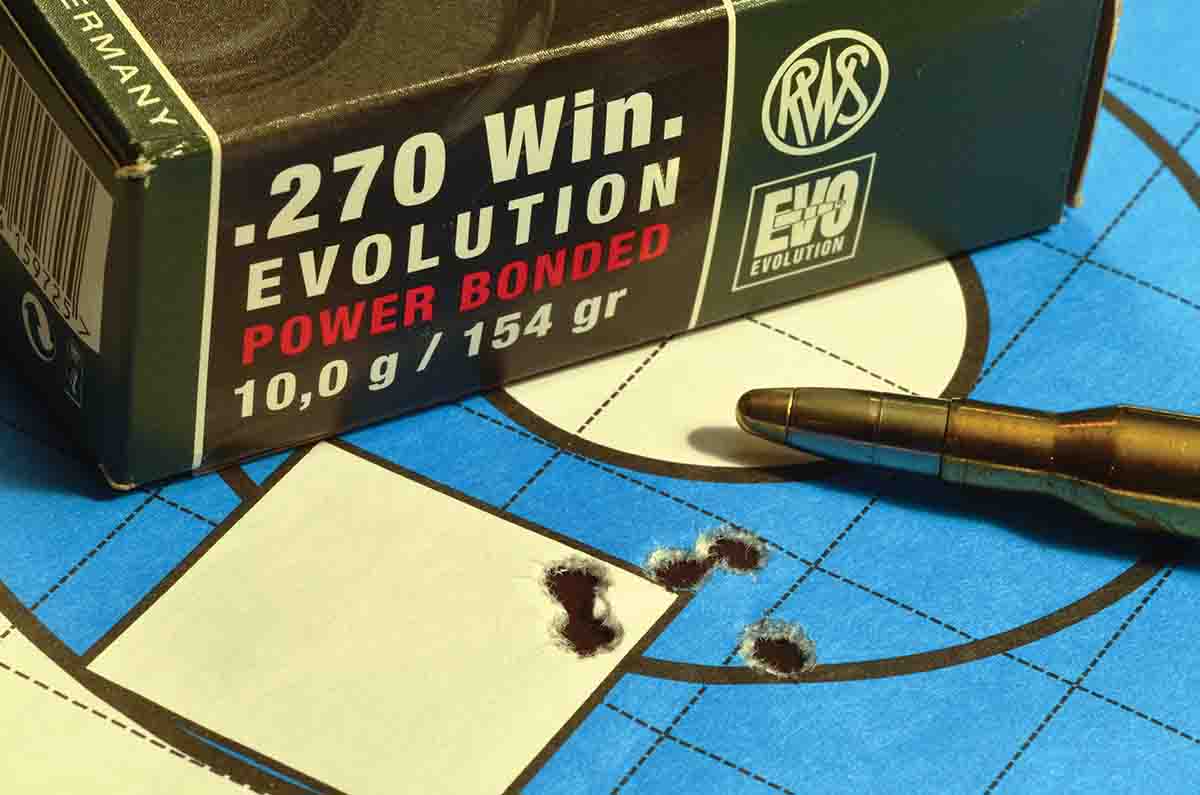 Except for the fact that it's a bolt action, the M18 has little in common with the M98. Like most newer bolt actions, it's based on the economical principle of doing as much as possible on a lathe – creating cylinders that function within cylinders – while reducing the number of costly milling operations.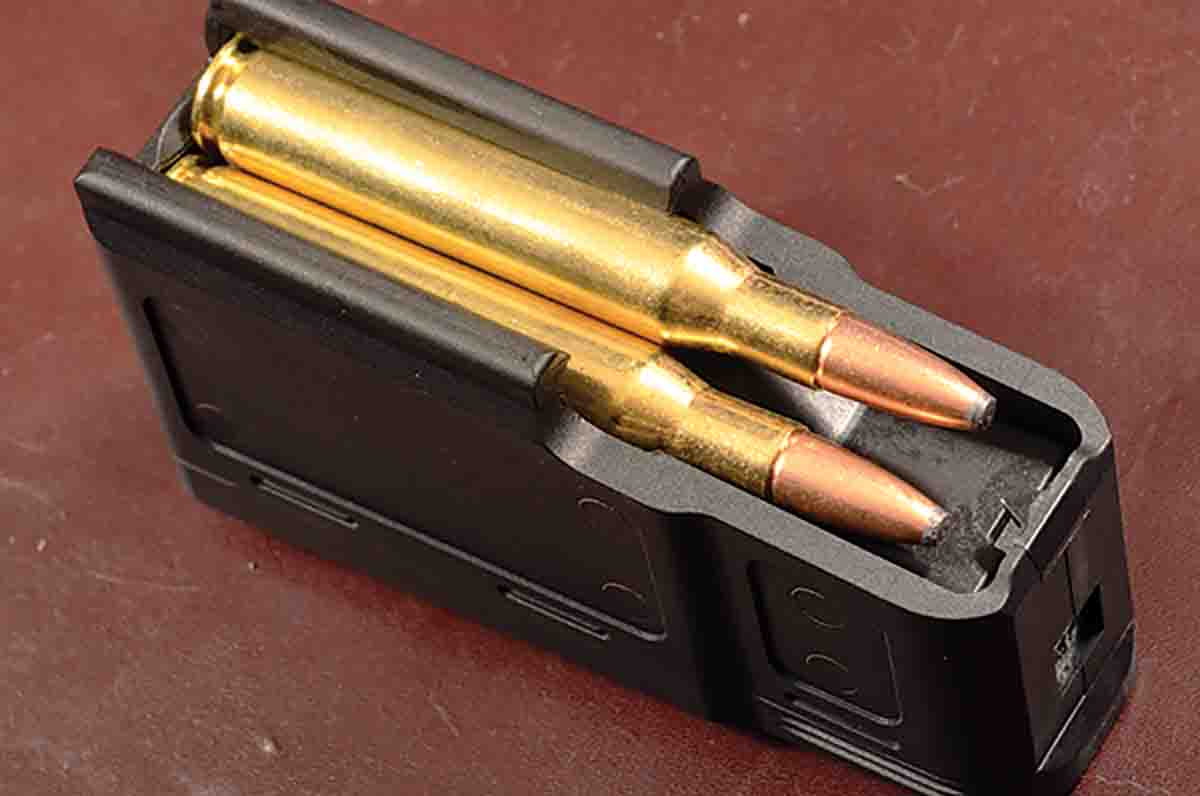 The M18 bolt has three lugs and a low, 60-degree lift – nothing unusual there – with a ring of steel surrounding the case head. The extractor is a small hook built into one lug, thereby eliminating a weak spot, while the twin ejectors are plungers in the bolt face itself. Extraction is authoritative and ejection is positively exuberant. There are those who insist that a Mauser without controlled feed is not a real Mauser, but considering that controlled feeding and the venerated claw extractor came along only in Paul Mauser's later models, this doesn't hold water. Is the ground-breaking Belgian 1889 model not a real Mauser then? Hardly.
The rear of the M18 bolt looks like an extraordinarily simplified Mauser '98 – the same basic shape but with fewer parts and smoother angles. The bolt dismantles in the normal Mauser manner. The shroud has a very solid gas shield, and the striker protrudes slightly from the rear to act as a cocking indicator.
The safety is a forward-and-back rocking mechanism beside the bolt and not part of it, but it has three positions. In the center position, it is on "safe" but the bolt can be removed, while all the way to the rear it is "safe" with the bolt locked shut. As a firm believer, to the point of fanaticism, in three-position safeties, this alone is worth the price of admission.
The receiver is a cylinder with an ejection port, completely enclosed on the left side. The bolt release resembles nothing so much as the old Sako, and it works the same way. The test rifle came with a 6-inch Picatinny rail installed, and elegantly rounded Weaver-style rings. They assemble with one screw, top and bottom. I had a scope on the rifle in nothing flat. Not surprisingly, there are no iron sights. The receiver will accept any mounts made for the Remington 700 long action. Mauser also offers a quick-detachable mount.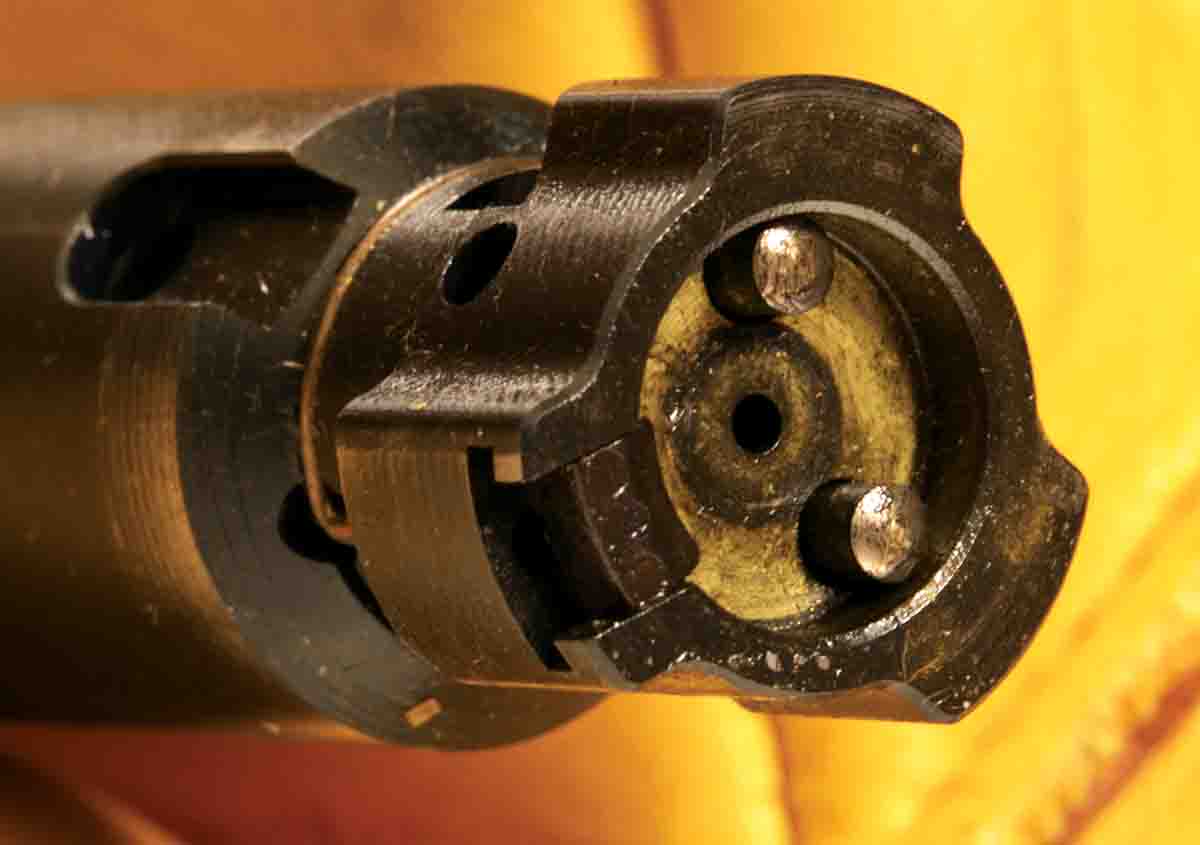 The .270 Winchester test rifle featured a 22-inch barrel with a somewhat hefty muzzle diameter (.665 inch). Loaded and topped with a Swarovski Z3 4-12x 50mm one-inch scope and leather sling, the rifle weighed 8 pounds, 8 ounces. Some hunters like lighter rifles, but that weight seems to be just about perfect to me.
The magazine is a detachable polymer box that holds five staggered rounds. It's the best such magazine of its type I have seen. With most such arrangements, the magazine is either difficult to insert or difficult to remove. This one goes in and out with astonishing eagerness, but it is almost impossible to pop out by accident. It is internally structured in such a way that cartridges stay where they are supposed to, never rocking forward or backward, and they are always in exact position for feeding.
One slight difficulty encountered was the bolt riding over the next cartridge if I failed to stroke it all the way back. Once aware of the problem, however, it disappeared.
The stock is molded synthetic, flat black, with nothing resembling checkering. The basic material is identified as "Polymer 2." The surface is smooth but not polished, and the wrist and forend have rubber inlays that feel like they are gripping your hand. There is little danger of the rifle slipping out of your grasp. Unlike most synthetic stocks, the dimensions are modest, and the stock is slim and comfortable at the wrist and forend. The recoil pad can be removed instantly to reveal a compartment for small articles like a pull-through cleaning tool. This feature would allow Mauser to offer buttplates with pads of different thicknesses to allow instant changes in length of pull. As a rule, I'm not fond of synthetic stocks, but this one . . . well, I would almost say I like it.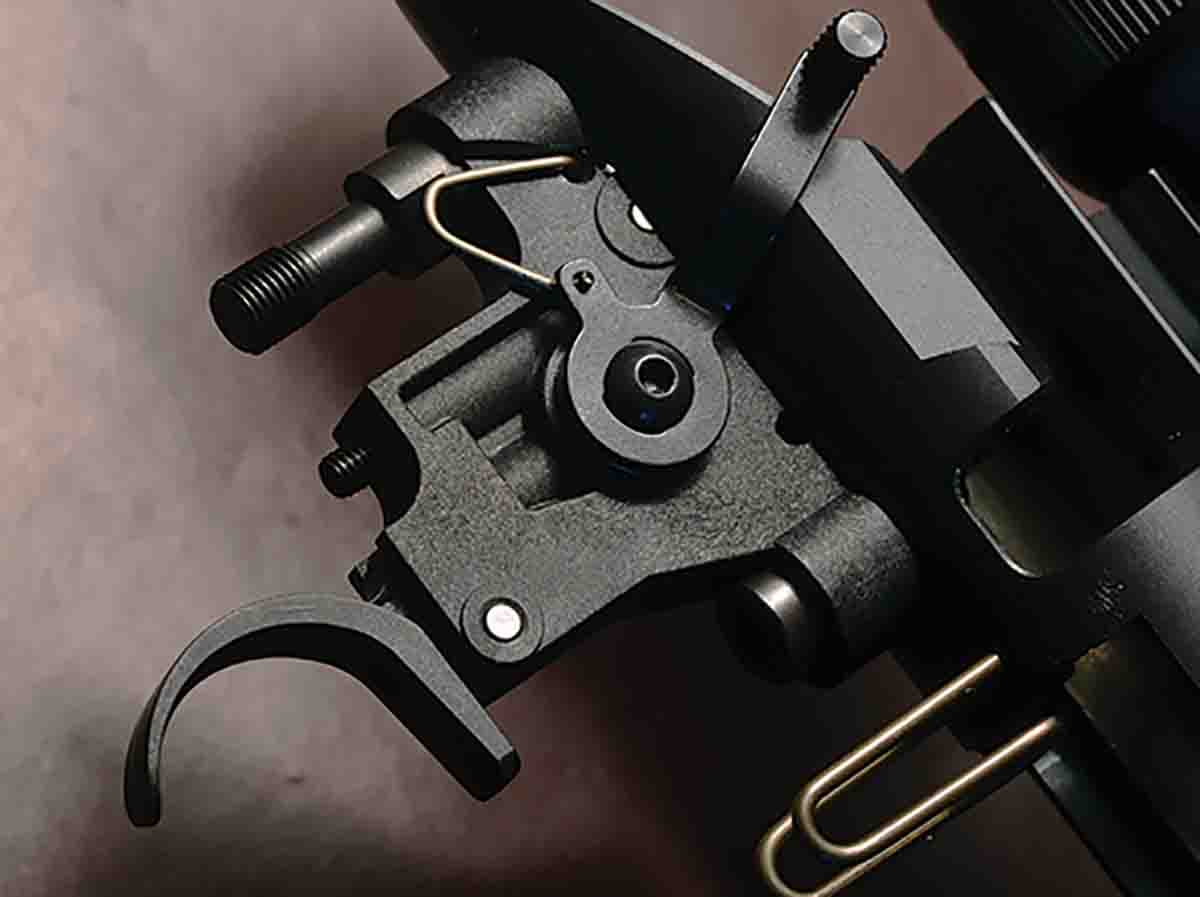 One feature of the M18 deserves special attention, and that is its superb trigger. When I tested the Mauser M98 last year, I reported that it had the finest factory trigger I had ever encountered. So I was curious if the M18 could measure up to that standard, considering its low price.
Like most triggers today, the mechanism is contained within a housing; this one is made of polymer or something similar. The safety is an integral part of the trigger mechanism. Out of the box, it had a pull weight of just under 4 pounds, but it was so crisp it felt lighter. There was no creep, and weight could be adjusted by means of a tiny Allen screw in the center of the trigger itself.
According to the manual, trigger pull weight can be adjusted from 35 to 53 ounces and is supposed to leave the factory set at 2 pounds, 10 ounces. At about 3 pounds, 12 ounces, mine measured heavier than the supposed maximum, but the trigger is so crisp it was difficult to measure accurately with a modern digital pull-weight gauge. Because there is no over-travel, it measures on the heavy side. I adjusted the pull down to a shade over 3 pounds.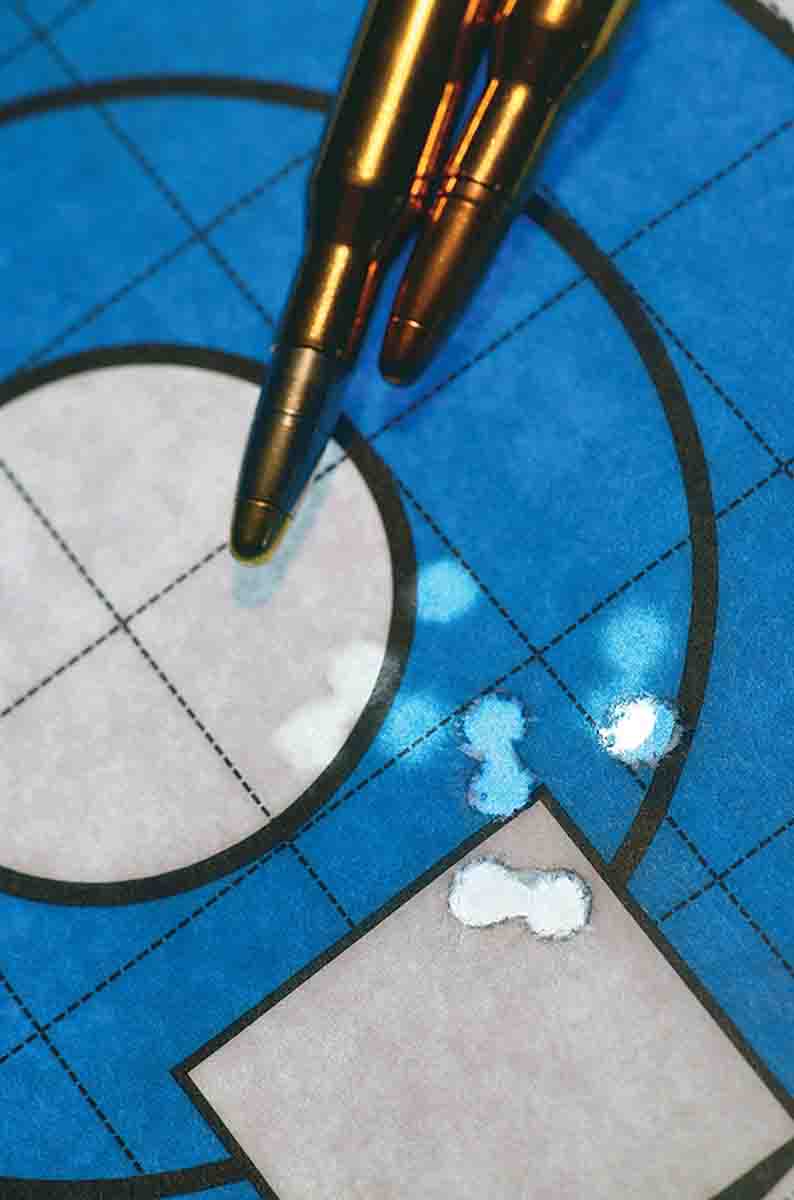 According to the manual, the M18 will be offered in 12 calibers ranging from .222 Remington to .300 Winchester Magnum, with two barrel lengths (22 and 24 inches) depending on the cartridge. Blaser USA, Mauser's importer, is bringing in seven options from .243 Winchester to .300 Winchester Magnum. Other cartridges may eventually be available on special order, but no decision has yet been made. Twist rates for the different calibers are not listed in the literature, but the .270 had a twist of 1:9.
As an experiment, I tried something different in testing this rifle for accuracy. I took to the range whatever remaining boxes or partial boxes of .270 Winchester factory ammunition that happened to be on the shelf, as well as my favorite hunting handload. If there was enough of one load, I shot a 10-shot group. In two cases (RWS ammunition) I had only six rounds of each, so those were used for six-shot groups.
For those riflemen who have never shot a 10-round group with their favorite tack driver, the results are often surprising, and usually not pleasant. A three-shot group of less than an inch is one thing, but a 10-shot group under an inch is something else again – and quite rare outside of benchrest circles. I put up seven targets, then fired three shots at a time with each load, working my way from the first load to the seventh load, then started again. This minimized any advantage or disadvantage from a hot or fouled barrel.
There were two Norma loads, two each from RWS and HSM, and one handload. Bullet weights ranged from 120 to 154 grains.
Norma's 120-grain Kalahari load put 10 bullets into a nice, even 1.8-inch group, while the Norma 150-grain Oryx group measured 2.75 inches. In the latter case, six of the shots made a group of just under an inch, with four strays circling it like planets.
The rifle seemed to dislike Sierra bullets for some reason, putting my hunting handloads of Sierra 130-grain GameKings into a 2.15-inch group, and an HSM light-recoil load with the same bullet into 2.37 inches. HSM's GameKing hunting load printed a 1.86-inch group, which is quite respectable. With the above five loads, the general pattern was to have a nucleus group of five to seven shots, with the rest as fliers.
The RWS ammunition was something else again. With the 154-grain Power Bonded Evolution, six shots went into a group .72 inch across, while with the RWS 130-grain H-Mantle (RWS's classic big-game bullet) six shots grouped into 1.1 inches. What is really interesting is the fact that when the targets are laid over top of one another, the two groups have the same point of impact and together make a 12-shot group of 1.22 inches. This alone indicates that this is one very accurate rifle that would probably respond well to load development with a wide range of bullet weights.
RWS ammunition is expensive, but if I had to go hunting with the rifle tomorrow I would gulp and order a bunch, in both types, from New England Custom Gun, the RWS importer. Alternatively, I could do very well with Norma Kalahari ammunition. Since the rifle is so inexpensive, I see no alternative but to buy the thing, so I will start developing some handloads for it.
It is now 120 years since the Mauser Gewehr '98 burst on the scene, and Paul Mauser unwittingly provided a basic hunting rifle that would become the standard and see service all over the world, with variations manufactured by hundreds of companies. It's impossible to predict what impact the new M18 will have, but based on its performance combined with a reasonably low price, it's hard to see how it would not have a lasting influence.
Mauser has nicknamed the M18 Die Volkswaffe – the "people's gun" – and if affordable price is a key criterion, it certainly merits that name. The Mauser M18 raises the bar for every other hunting rifle.