With the development of Paul Mauser's Model 1898 (M98), the modern bolt-action rifle had truly arrived. In the past 120 years the turn-bolt design has enjoyed additional refinements, including notable improvements in accuracy and better triggers. Its long list of virtues has made it the go-to rifle for many sportsmen.
While enjoying many rifle types, especially single shots and leverguns, the bolt action is a staple when hunting. Good designs can be extremely rugged, reliable, and can house almost all practical cartridges. As much as I work to take game with one shot, there are times that a fast follow-up shot can be extremely valuable, especially with potentially dangerous game.
In a lifetime of shooting, hunting and repairing a variety of guns, I have formed some strong opinions. While not brand loyal nor prejudiced, I do have a dash of sentiment. Nonetheless, it is with great reservation that I share a few of my favorite hunting rifles and cartridges.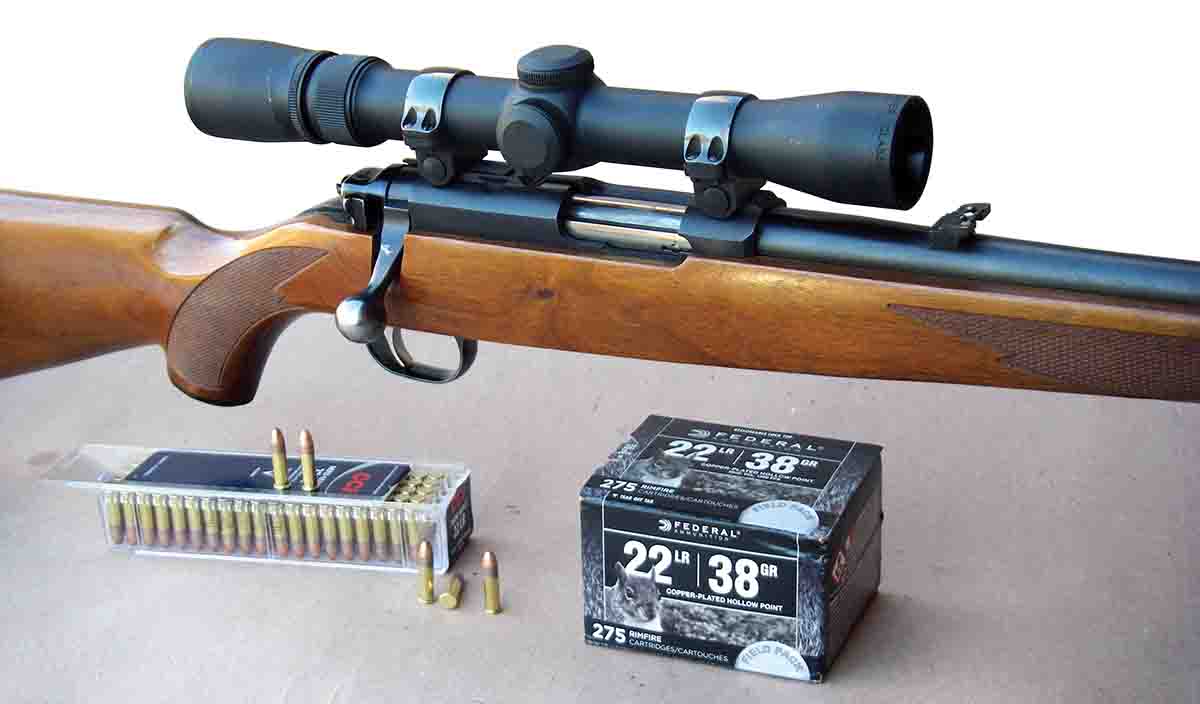 .22 Long Rifle
Most of us learned to shoot with a .22 rimfire and have used it to teach family members and others to shoot, so sentiment probably contributes slightly. I still have my first .22 rifle given to me at age 8, a Winchester Model 67A single shot; however, today I opt for a repeater that is optic ready. For many years I used a number of Winchester Model 52C Sporter rifles that weighed around 7 pounds and were stocked for adults. However, due to escalating value and collectability, they are probably best kept out of my hands. As a substitute, the Miroku-made Model 52 (Browning or Winchester trademark) is an excellent reproduction that can be used without the slightest guilt. They have excellent triggers, look handsome and are unusually accurate.
As good as the above rifles are, I prefer the Ruger 77/22 series as an everyday working rifle. This model conveniently holds more cartridges, accepts interchangeable, 10-shot magazines (or larger capacity after-market versions) and costs much less. At just over 6 pounds without a scope, its weight corresponds nicely with the .22 rimfire cartridge. The rifle features an adult-size stock and is heavy enough for accurate shooting. Additional features include a three-position safety, fast lock time and strong integral scope rings. On hand are both blued and stainless versions, with the latter receiving the most use – which sometimes hinges on the verge of abuse. For more than three decades these rifles have digested many thousands of rounds and have proven trouble free and reliable, with the exception of when the chambers become excessively fouled with bullet lube, which only takes a minute to remove. A very handy trick when shooting ground squirrels is to attach the bottoms of two 10-round magazines. Using this method, one magazine can be used while the other is reloaded.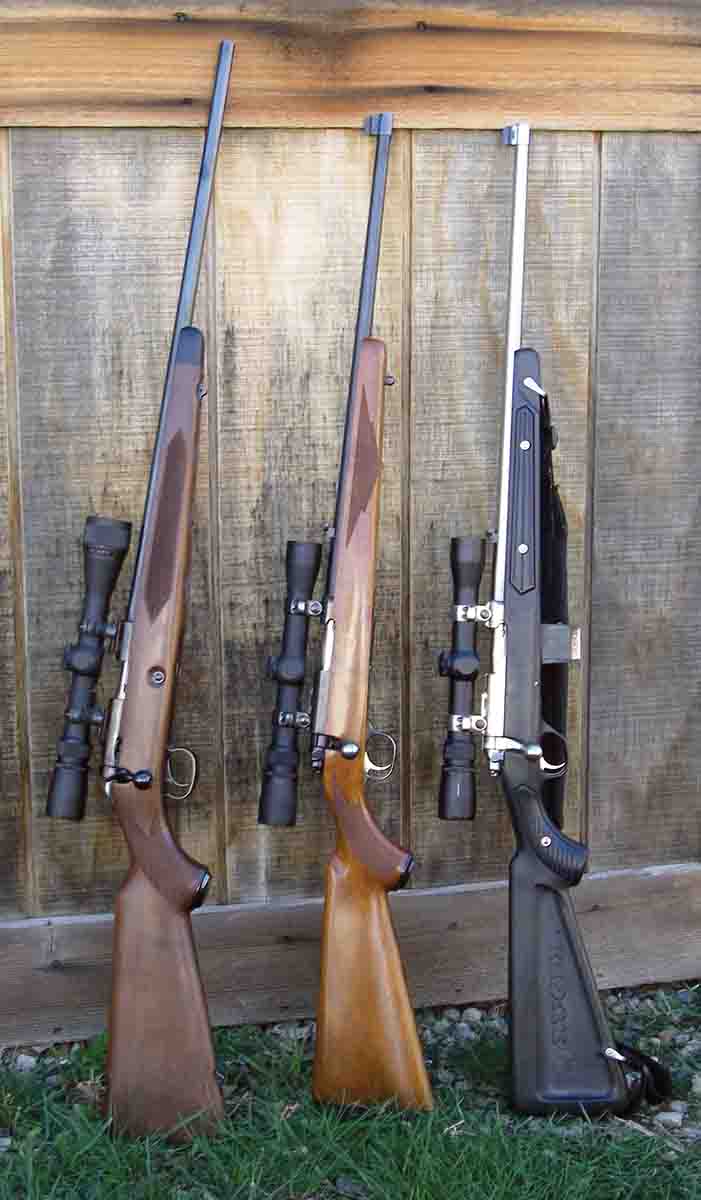 In addition to factory iron sights, both rifles are topped with Weaver 2.5-7x 28mm Classic Rimfire scopes. With careful ammunition selection, each rifle will cut ragged-hole groups at 50 yards. The only modification performed has been tuning the factory triggers' pull weight and after-travel (which should only be done by a qualified gunsmith).
Centerfire Varmint Rifles
As a dedicated varmint shooter, choosing just one rifle and cartridge is a very difficult task. If forced, cartridge choices would be narrowed down to the .223 and .22-250 Remingtons. The .223 uses inexpensive ammunition that is readily available and accurate. Long barrel life is common, and many great rifles are available with a variety of rifling twist rates and features to further increase its versatility.
The .22-250 Remington, however, does offer at least one highly valuable advantage with its notably flatter trajectory at any normal varmint shooting distance. Carefully assembled handloads can push the Hornady 53-grain V-MAX bullet (with its unusually high ballistic coefficient) to over 3,900 fps from most rifles. When a coyote or other predator appears unexpectedly at an unknown distance, its flat trajectory really helps to compensate for small miscalculations in distance. The .22-250 may not offer long barrel life like the .223, but it is certainly respectable. The .22-250 offers outstanding accuracy and truly spectacular terminal performance.
While very fond of my lightweight, sporter-weight rifles, my go-to rifle is a Savage Model 10 Predator Hunter Max with a 24-inch fluted varmint barrel. It is topped with a Leupold VX-3 6.5-20x 50mm Long Range scope with custom reticle. While I still like a nice piece of walnut on my rifles, this Savage is fitted with a synthetic camouflage stock, and the metal work is bead blasted with blue finish to keep reflection to a minimum. It will not win any beauty contests, but it is practical for the tough winter conditions I often hunt in. It will also place five-shots into a ragged hole at 100 yards. With a weight of just over 10 pounds, including scope and mounts, it helps to make reliable hits on coyotes out to 700 yards and beyond.
Other than barrel break-in and handload development, it is used as it came right out of the box. In spite of only having a comparatively modest retail price, it performs on par and even exceeds the accuracy of many rifles that cost much more.
Deer Cartridges and Rifles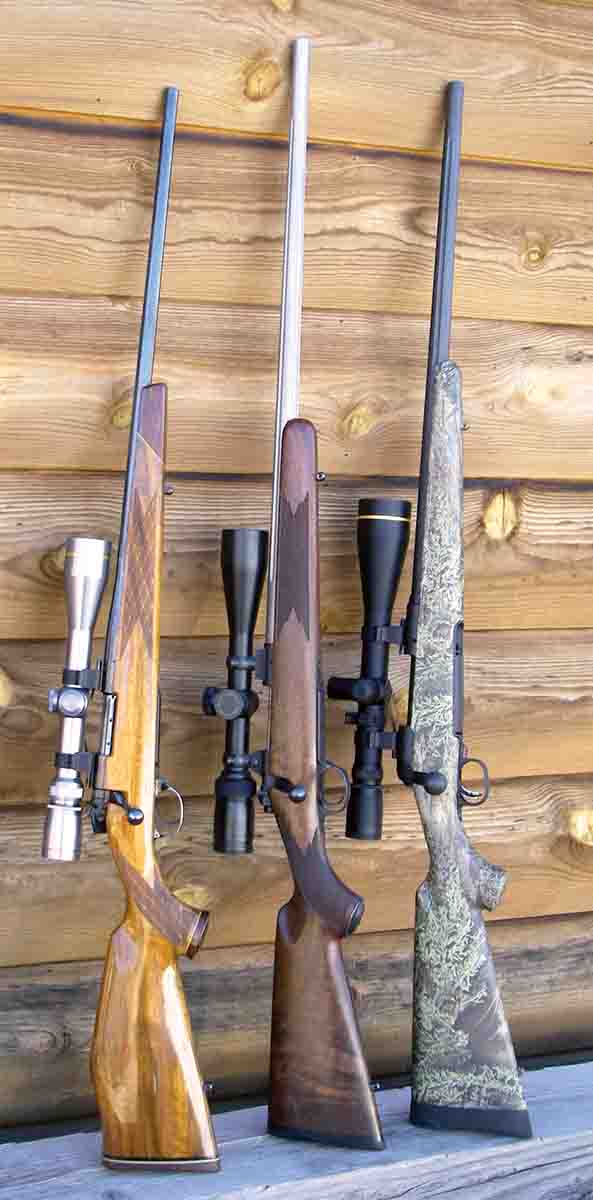 There are many truly great "deer" cartridges, so choosing a favorite seems nearly impossible. This subject is often discussed extensively among friends and enthusiasts, and it is doubtful that a clear winner will ever emerge. A strong case can be made in favor of several other cartridges, but today my choice is the .280 Remington. This cartridge started life as a wildcat prior to World War II as the .285 O.K.H., 7mm-06 Mashburn and 7mm-06. Remington first offered it commercially in 1957, however, for unknown reasons it was loaded below normal pressures when compared with other modern cartridges based on the same case, which left performance on the table. To add further insult, it was initially chambered in pump and autoloading rifles that have never enjoyed the same widespread popularity as good bolt-action rifles. Unfortunately, in competing directly with the well-established and widely popular .270 Winchester, the .280 was poorly marketed, and as a result never achieved the popularity it deserved.
Nonetheless, it is respected among savvy riflemen, popular with custom gun builders and has established an outstanding record in long-range (1,000-yard) competition. It offers versatility and can utilize bullets that typically weigh 110 to 175 grains; the most useful bullets for hunting deer-size game typically weigh 140 to 160 grains. It offers enough horsepower to reliably take deer at any reasonable distance while delivering a flat trajectory, match-grade accuracy and moderate recoil. Due to a huge selection of 7mm (.284-inch) bullets, it is notably more versatile than the .270 Winchester (which I like, too). With appropriate bullets, I have used the .280 to take black bear and elk with excellent results. It has also accounted for record-class whitetail deer, long-range mule deer, pronghorns and even a fine Coues' deer shot in Mexico at well over 500 laser-measured yards.
I have several .280 rifles that should be considered, including a custom Winchester pre-'64 Model 70, a Model 70 Classic Featherweight, Ruger M77R and others, but my go-to rifle is a Beretta Mato purchased in the 1990s. It features a 24-inch barrel (.635 inch at the muzzle), a classic-styled, synthetic stock, controlled-round feeding, a wing-style safety and fine machining.
It is noteworthy that when originally ordering this rifle, I wanted the walnut stock, but it was not available at that time, so I settled on the synthetic. And as much as I enjoy the natural beauty of wood, I have not regretted that decision. The rifle has been used in multiple countries and many states, in temperatures ranging from subzero to over 100 degrees Fahrenheit and has been carried on horses into wilderness mountains. It holds its zero and is the rifle I reach for when hunting game the size of deer. It's topped with Leupold QR bases and rings that allow multiple scopes to be interchanged as needed. In this manner, a scope can be sighted with a given load, then changed in just seconds to another scope zeroed with a different load for another purpose. Many times this rifle has produced sub-quarter to half-inch groups using a variety of loads and bullets, and with specially tailored handloads it will push 150-grain bullets to 3,000 fps.
Unfortunately, Beretta discontinued the Mato rifle. It was manufactured by Dakota Arms for Beretta and is essentially the same rifle as the Model 76, which is readily available and built to order.
A Versatile .30-Caliber Magnum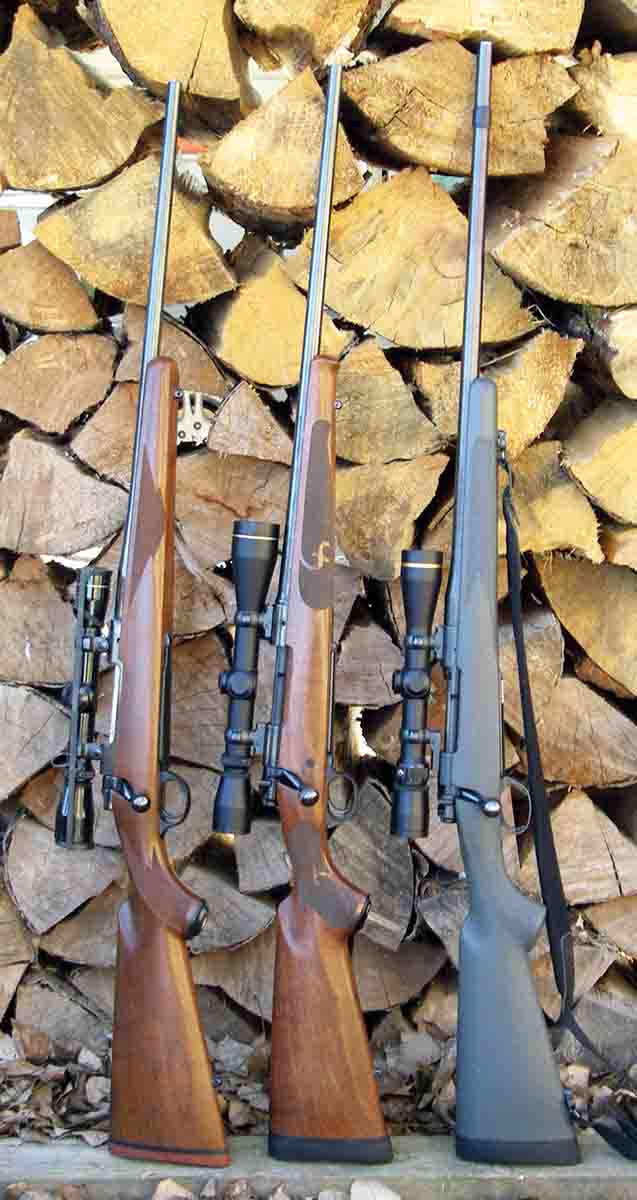 I have always been impressed with the versatility, power and long-range potential of various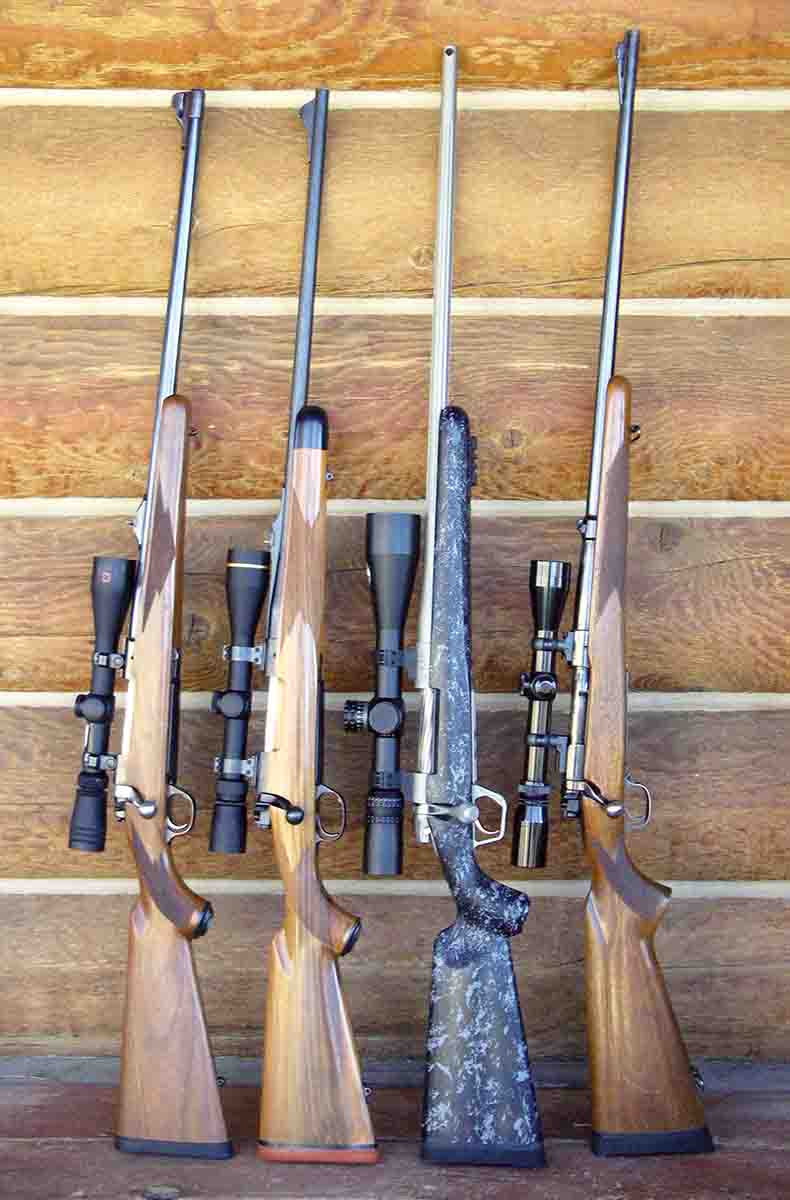 .30-caliber magnum cartridges that I first began using in the 1970s, including the .300 H&H Magnum, .300 Winchester Magnum and .300 Weatherby Magnum. With today's improved bullets, these cartridges are better than ever and are always a top choice for hunting all game in North America. In the last couple of decades there have been many new .30-caliber magnum cartridges introduced, most of which are excellent. The .30 Nosler is especially appealing.
The .300 Winchester Magnum currently remains the most popular, and for good reason. It is offered in many configurations by many rifle manufacturers. It can be housed in any .30-06-length action, and ammunition and brass are readily available and competitively priced. It offers excellent accuracy and has become popular with long-range shooters and hunters. While there are several .30-caliber cartridges that offer higher velocities, its performance is certainly adequate while recoil is comparatively moderate.
The .300 Winchester Magnum is a practical choice, but my favorite is the .300 H&H Magnum, which might come as a surprise. This choice might be influenced by a dash of sentiment, as I started hunting with one at age 16. I grew up around old ranchers and characters that swore by it, but I also read of its significant place in cartridge development and its rather colorful history in the U.S., Europe and Africa. It will more or less duplicate performance of the .300 Winchester Magnum but requires a 3.600-inch action length to house the long-tapered cartridges. While it may be hard to prove, the H&H seems to produce a slower recoil "speed" than cartridges with comparable ballistics.
Regardless, the .300 H&H has capably taken a number of open-country deer, long-range antelope, elk and black bear for me, not to mention a variety of African game, including a large black mamba at over 100 yards with a single, precisely placed shot. With correct load development, this 93-year-old cartridge still delivers excellent accuracy and performance.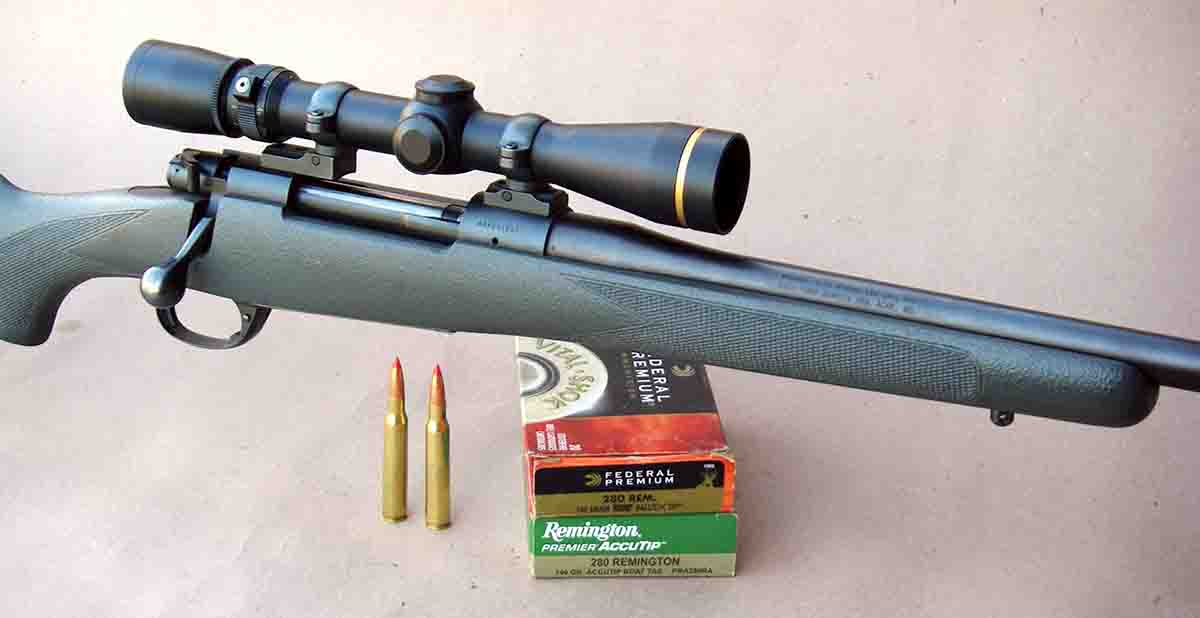 While several .300 H&H rifles are on hand, a favorite is really nothing special: a pre-'64 Model 70 Winchester that has seen considerable use and has been re-blued twice. Not only does it bring back decades of memories, it will also still cut .5-inch groups on demand with several handloads and feeds the long-tapered cartridges smoothly. In spite of being used in unfavorable conditions in multiple countries, it has never hinted at failure. Technically speaking, several modern cartridge developments are better, but the old .300 H&H still works for me.
Favorite Large-Game Rifles
While various .30-caliber magnums are top contenders as all-around cartridges for hunting all game in North America, the .338 Winchester Magnum is a top choice when heavier game such as moose and the great bears are pursued, as well as select African plains game.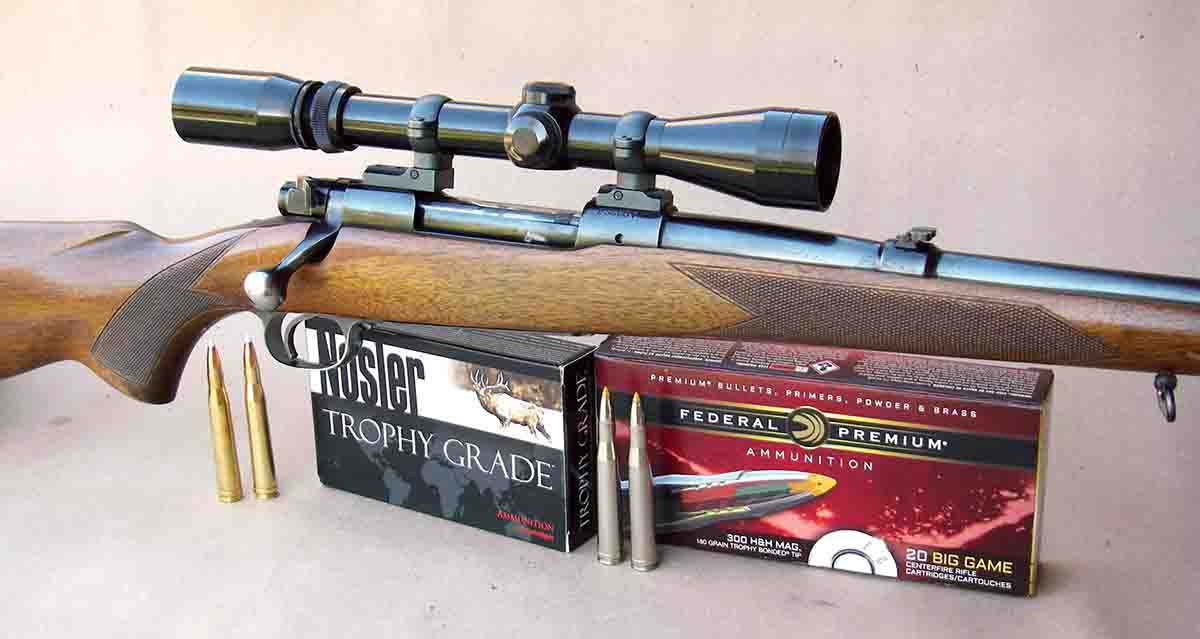 In my youth I hunted elk with a variety of cartridges but developed a special fondness for the .338 based on the downrange muscle that it offered. It delivered almost as much punch as the .375 H&H Magnum at close range and produced a much flatter trajectory and delivered higher downrange energy. Rifles were generally lighter and produced less recoil. Deer, antelope and black bear seasons often overlapped with my elk hunts, so these rifles were used on those species as well. A .338 Winchester always anchored game with authority. One exceptionally large non-typical mule deer with 11x13 antlers that spanned nearly 35 inches was taken across a large draw with a single shot.
As my hunting horizons expanded to Alaska and Canada, I learned firsthand that brown bear and moose guides also held this cartridge in high esteem due to its blend of power and trajectory. I once watched as a guide put down a large bull moose – wounded by another hunter – at over 500 yards using a Ruger M77 .338 with a 1.5-5x Leupold Vari-X III scope. On the same hunt, another hunter wounded a grizzly, and the guide followed it up in the willows, stopping its angry charge at just a few feet with a Nosler 250-grain Partition.
While there are bigger, more modern .338 cartridges available today, the Winchester version offers an excellent blend of power and comparatively modest recoil, and it can be housed in .30-06-length actions. Its trajectory with 225-grain bullets is comparable to the .30-06 loaded with 165-grain bullets, and 250-grain bullets are similar to the .30-06 loaded with 180-grain bullets.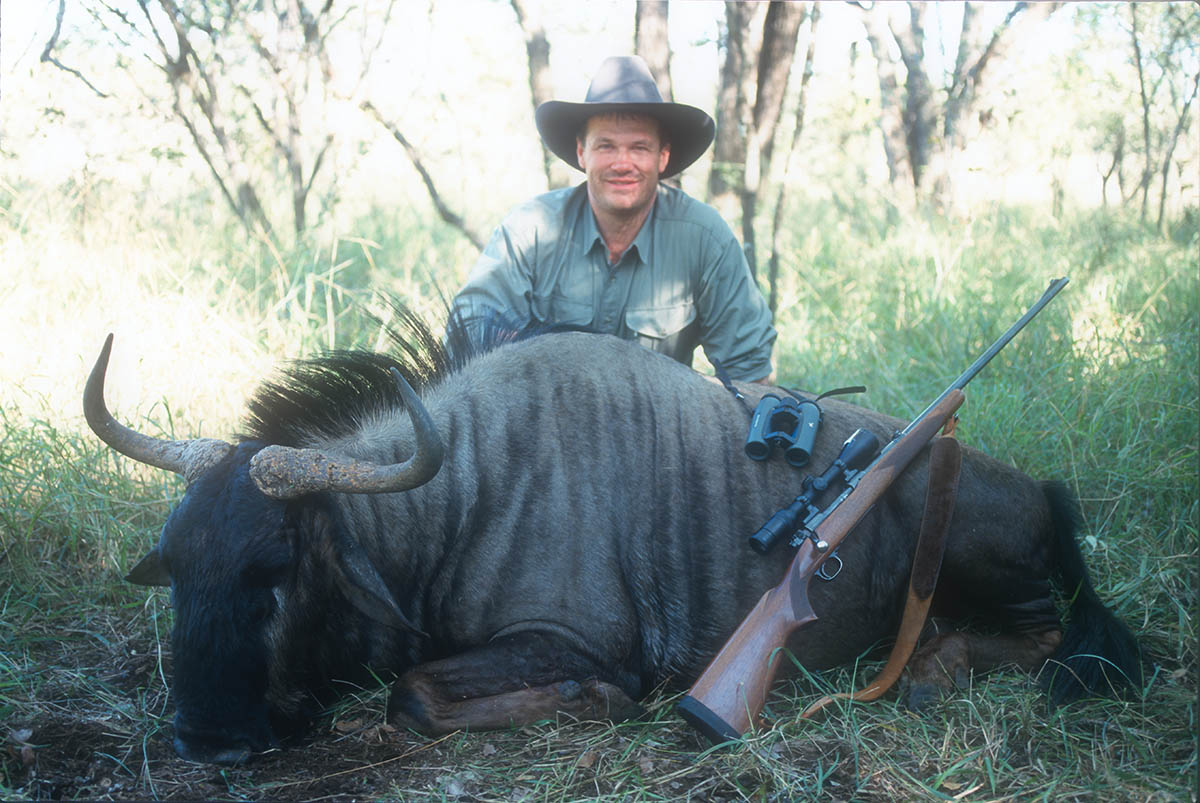 My first .338-caliber rifles consisted of a pre-'64 Winchester Model 70, a Ruger M77RS and a Browning FN Safari Grade with the Mauser '98 action. Of the three, the Ruger was most accurate, as rifles of that era were factory fitted with match-grade Shilen barrels. The Winchester and Browning rifles were favored due to reliable actions and accuracy.
When Ruger introduced the M77 MK II in 1989 with controlled-round feeding, it was a definite improvement, and I ordered an All-Weather version with iron sights. This is a homely rifle, but it has taken elk near timberline and at low elevation in the sagebrush. It has accounted for mule deer, pronghorns and black bear. It has been to Alaska several times, and in spite of being subjected to rain and snow, has performed flawlessly while taking moose, caribou and brown bear – each with a single shot.
In spite of the Ruger rifle being a practical choice in foul weather, I still like rifles with blue steel and walnut stocks. For these reasons my favorite .338 Winchester is a Browning FN Olympian Grade formerly owned by Elmer Keith. It is a stunning rifle that is masterfully engraved with game scenes, including elk, moose, brown bear and mountain lion. Its high-grade walnut stock features hand carved floral patterns and checkering. With an FN Mauser '98 action it receives high marks in reliability. Using carefully tailored handloads, it is capable of placing three shots into .25 inch and is purely a hunting rifle that gets use.