The most common rifles fitted with tubular magazines are lever actions, but can also include pump actions and select autoloaders chambered in centerfire cartridges that have traditionally been used with ammunition containing flatpoint bullets. These bullets can help prevent possible primer detonation of cartridges in the magazine. Nonetheless, this potentially dangerous scenario still occurs from time to time. Let's consider a few cartridge, bullet and rifle combinations that have either proven to be, or can be, potentially problematic.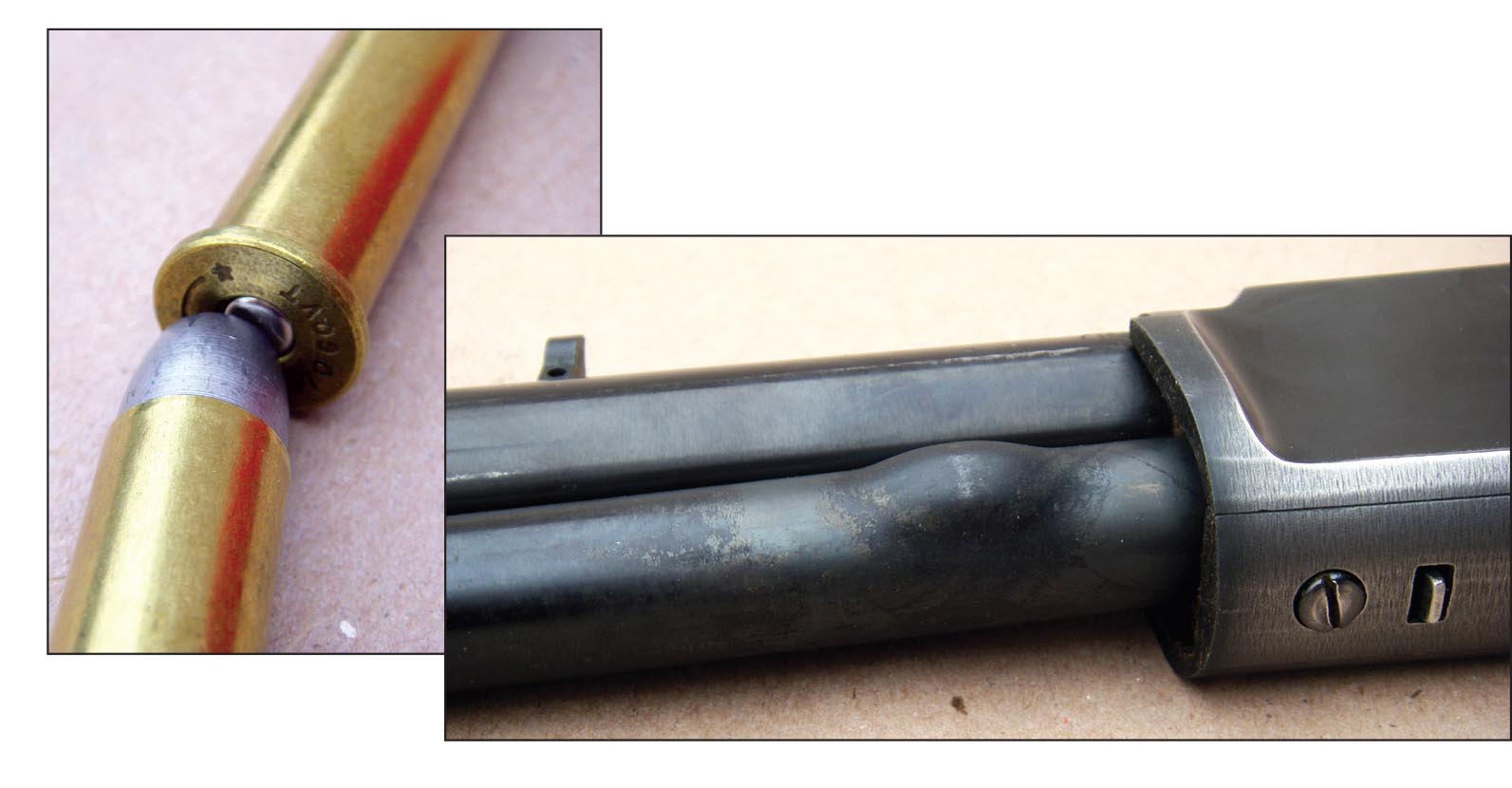 Many years ago I witnessed a Winchester Model 1894 .38-55 WCF magazine tube split from a cartridge being set off. The old cowboy that owned it was prone to neglecting the rifle and allowed it to get extremely dirty. But just a few days prior it had fallen from the scabbard and had been submerged into river sand. In determining the cause, it seems that small rocks and sand had found their way into the tube, which ultimately lead to indenting a primer during recoil and caused the mishap.
In digging through samplings of .30-30 Winchester factory ammunition produced over many decades, it is surprising how many different bullet profiles have been used. Some have featured very flat points, others were rounded and others have been nearly a spitzer configuration. I even have some of the old Remington 55-grain Accelerator loads that contained a sabot and a semi-spitzer .22-caliber bullet. In spite of some of these loads being comparatively pointed rather than flat, there is usually not enough recoil energy to cause a cartridge to ignite in the magazine. Nonetheless, it is strongly suggested to never use spitzer-profile bullets in a tubular magazine, with the exception of Hornady's LEVERevolution ammunition featuring spitzer bullets containing a soft rubber tip to prevent magazine tube detonations; the rubbber tip also facilitates reliable expansion at lower velocities than traditional lead-tip designs.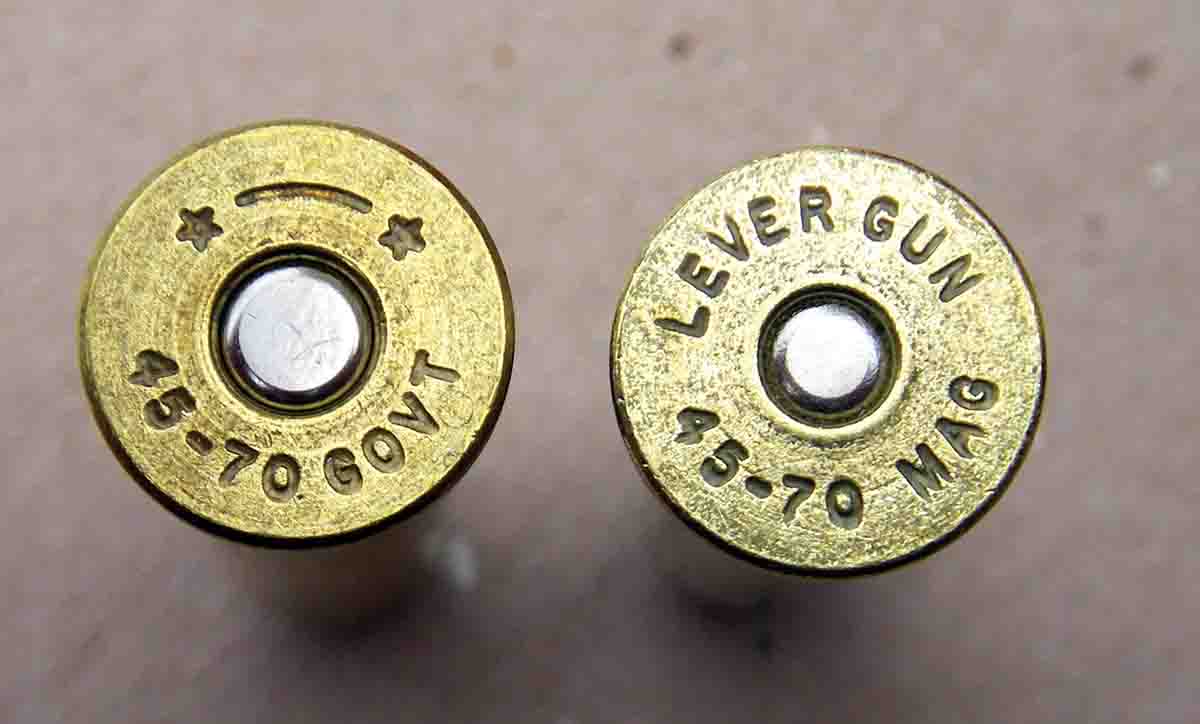 With renewed interest in nineteenth-century firearms during the past few decades, many lever-action reproductions have appeared chambered for non-original cartridges. One example is the Uberti-manufactured 1860 Henry. Original rifles were produced in the rimfire .44 Henry Flat; however, most reproductions are chambered for the .44-40 Winchester or .45 Colt centerfire rounds. There are credible reports of cartridge "set-off" when loading these rifles.
For readers who may not be familiar with this rifle's rather unique loading method, the magazine follower contains an external button that is pushed up a slot to the upper end of the magazine tube, then a sleeve on the outside of the barrel is rotated. Cartridges are then placed directly into the magazine tube. After loading, the sleeve is rotated back into position and the magazine follower is released to apply spring pressure to the cartridges to facilitate proper feeding.
The potential problem comes when "dropping" cartridges into the magazine, especially when the muzzle is pointed directly upward. Even though .44-40 and .45 Colt cartridges feature a flatpoint bullet, their primers are hit with some force when "dropped" directly onto another cartridge, which can cause a primer to ignite – especially if cartridges are loaded with ultrasensitive primers, or if a primer has not been fully seated (which is unfortunately common among handloaders and can occasionally occur with factory loads). It is best to position the rifle with the muzzle pointed at around 15 or 20 degrees, then fill the magazine tube with cartridges, resulting in minimal impact to primers during the loading process.
Moving up to heavy-recoiling, lever-action cartridges, bullet nose design can become critical. I can't help but recall a bad experience that the late Kent Lomont of Salmon, Idaho, had with a magazine tube detonation. Kent was a biochemist and ballistic scientist who spent his life experimenting and extensively shooting a variety of guns. In his younger years he associated with Elmer Keith.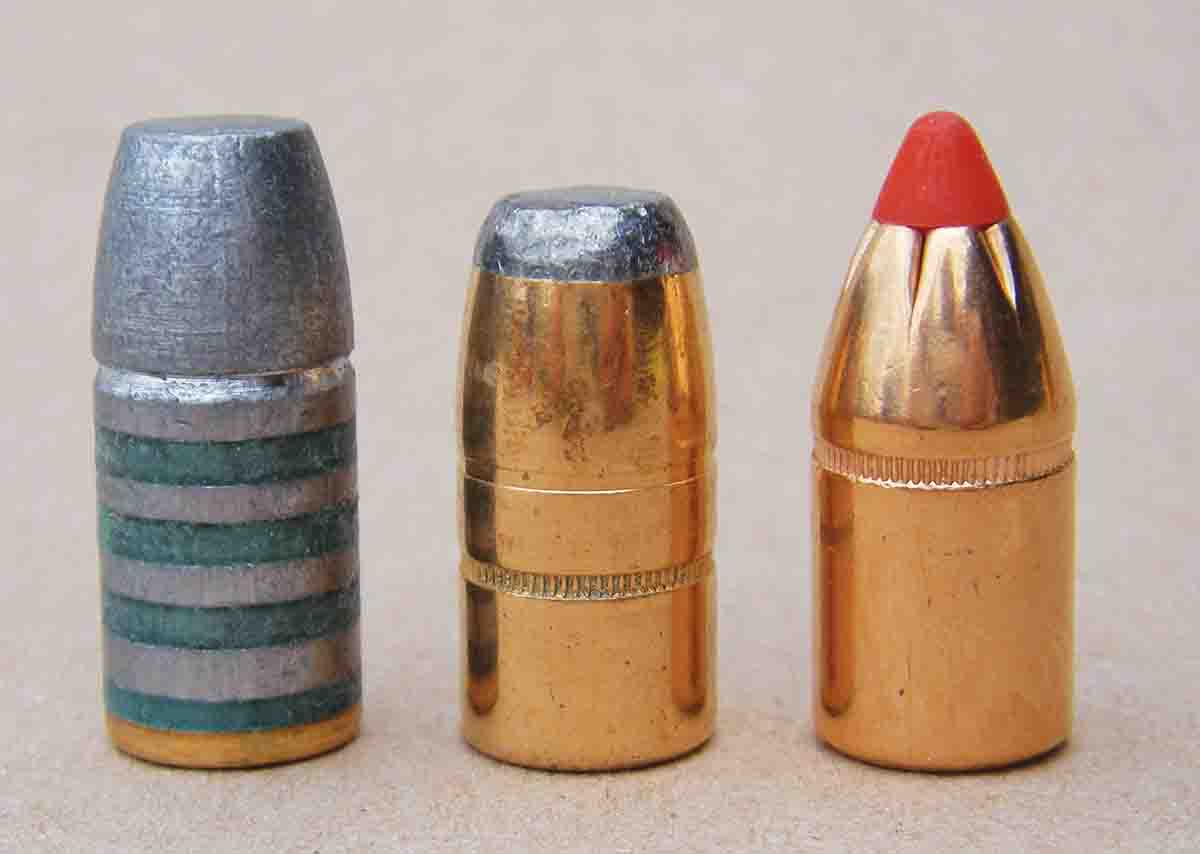 On one occasion the two were shooting together and Kent offered to let Elmer shoot his Winchester Model 71 .450 Alaskan, a wildcat cartridge based on the .348 Winchester case blown out and necked to accept .458-inch bullets. Kent's handloads contained 500-grain, roundnose bullets designed for the .458 Winchester Magnum pushed to around 2,000 fps. Based on his handloads – particularly the bullet profile – Keith declined the offer. A short time later a cartridge ignited in the magazine tube, cutting off fingers from Kent's left hand as it gripped the forend.
The magazine tube detonation was due to the heavy recoil generated by the cartridge, but it was also a combination of a bullet profile that allowed direct contact with the primers. For these reasons, I generally favor flatnose bullet designs in big-bore, heavy- recoiling leverguns.

With that thought in mind, not all flatnose bullet designs are suitable for all lever-action rifles. According to
Marlin Firearms
by Lt. Col William S. Brophy, USAR, Ret., in 1881 the new "Marlin Repeating Rifle" was introduced and chambered for several cartridges including the .45-70 – the first repeating rifle to house that cartridge (though it was not identified as the Model 1881 until 1888). Marlin submitted sample rifles to the "U.S. Military Trials to Select a Magazine Gun" in 1881-1882 for possible military adoption. It was specified, however, that the rifle should only be used with ammunition assembled with small rifle primers. For unknown reasons, the military ignored this request. During testing it experienced "cartridge explosions in the magazine," which was a significant factor in the rifle's rejection for military adoption.
In 1972 Marlin introduced a modern version of its Model 1895 rifle (originally produced 1895-1915). The new version was based on a modified Model 336 action. It worked very well and quickly became popular. In the 1990s the Model 1895 was further popularized among hunters and guides with the introduction of the Guide Gun, followed by the 1895 Cowboy and many other variations. During this same era, several ammunition companies such as Garrett Cartridges, Buffalo Bore, Cor-Bon and others began offering .45-70 loads with increased pressure levels designed specifically to enhance the .45-70 in modern Marlin rifles. A variety of bullets were used in these loads, including jacketed and many cast variations of the LBT Wide Flat Nose (WFN) and Long Flat Nose (LFN) configurations. This was where the problem began.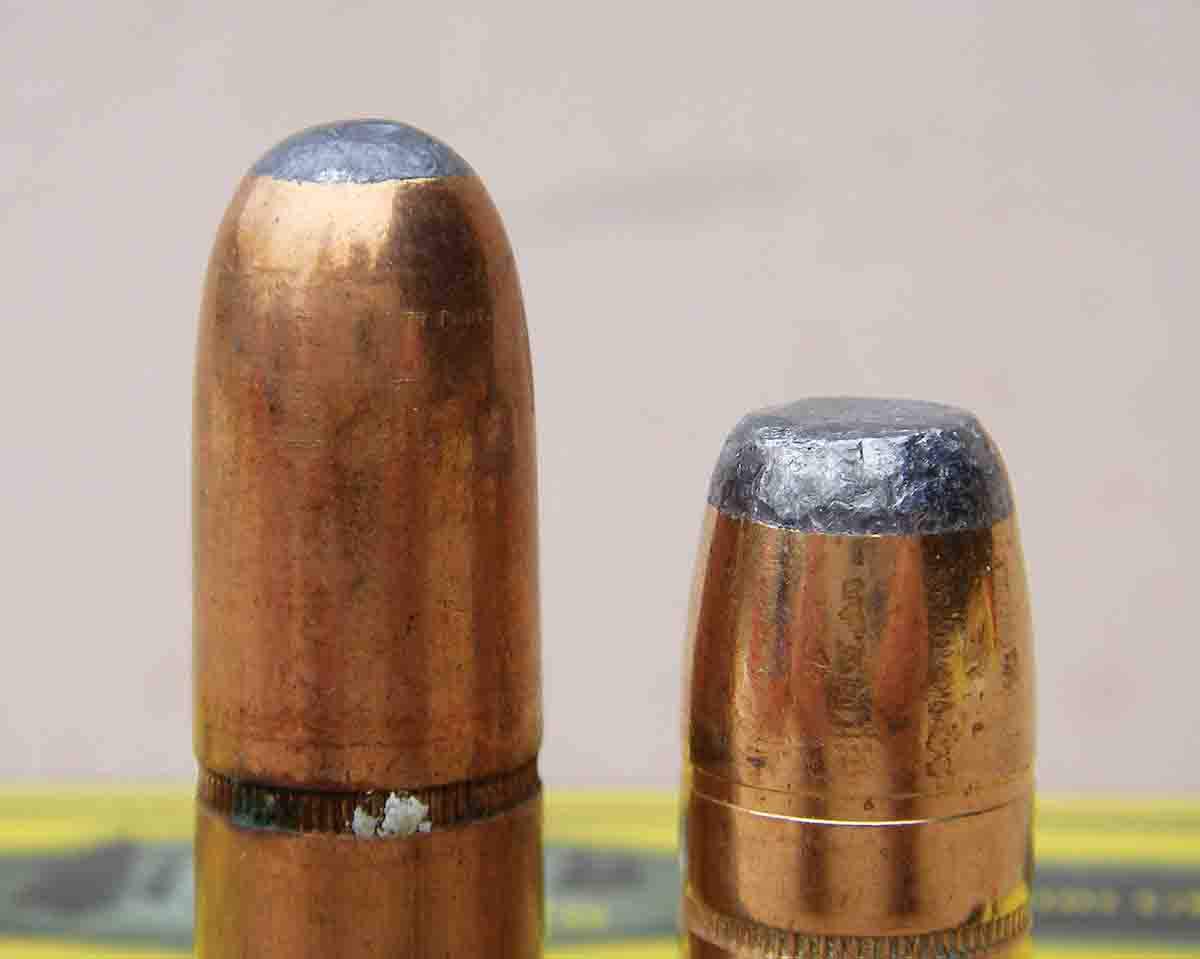 The Marlin 1895 has what is commonly referred to as a magazine tube "belly" just forward of the receiver on the left side of the magazine tube. Its purpose is to facilitate cartridges being pushed into the magazine, and help them make the "corner," so to speak, into the magazine tube. Once the magazine is loaded, the two cartridges positioned within the confines of the magazine tube belly are allowed to set somewhat cockeyed with each other. As a result, the cartridge in the rear places the rather sharp "edge" or "corner" of the bullet's meplat in the center of the primer of the cartridge just in front of it. When fired with heavy-recoiling loads, the potential is there for a magazine tube detonation. I have examined multiple rifles that have been damaged by this occurrence. It must be emphasized that only select flatpoint bullets have the dimensions to produce this result, and most ammunition companies have redesigned their bullet choices and loads to address this issue.
Back in the 1990s, when this problem really began to surface, I suggested to Buffalo Bore to switch its loads to cases with small rifle primer pockets. This was not my idea, rather just repeating a lesson learned many years before. In turn, Buffalo Bore contracted with Starline for .45-70 brass featuring small rifle primer pockets, which more or less allows any flatpoint bullet, even the WFN designs, to be used without risk of magazine tube detonation. While Buffalo Bore had an exclusive agreement with Starline, it kindly opened the option for other companies to use the same brass in their factory loads.
With a proper combination of bullets and loads, the chance of magazine tube detonations can be effectively eliminated.