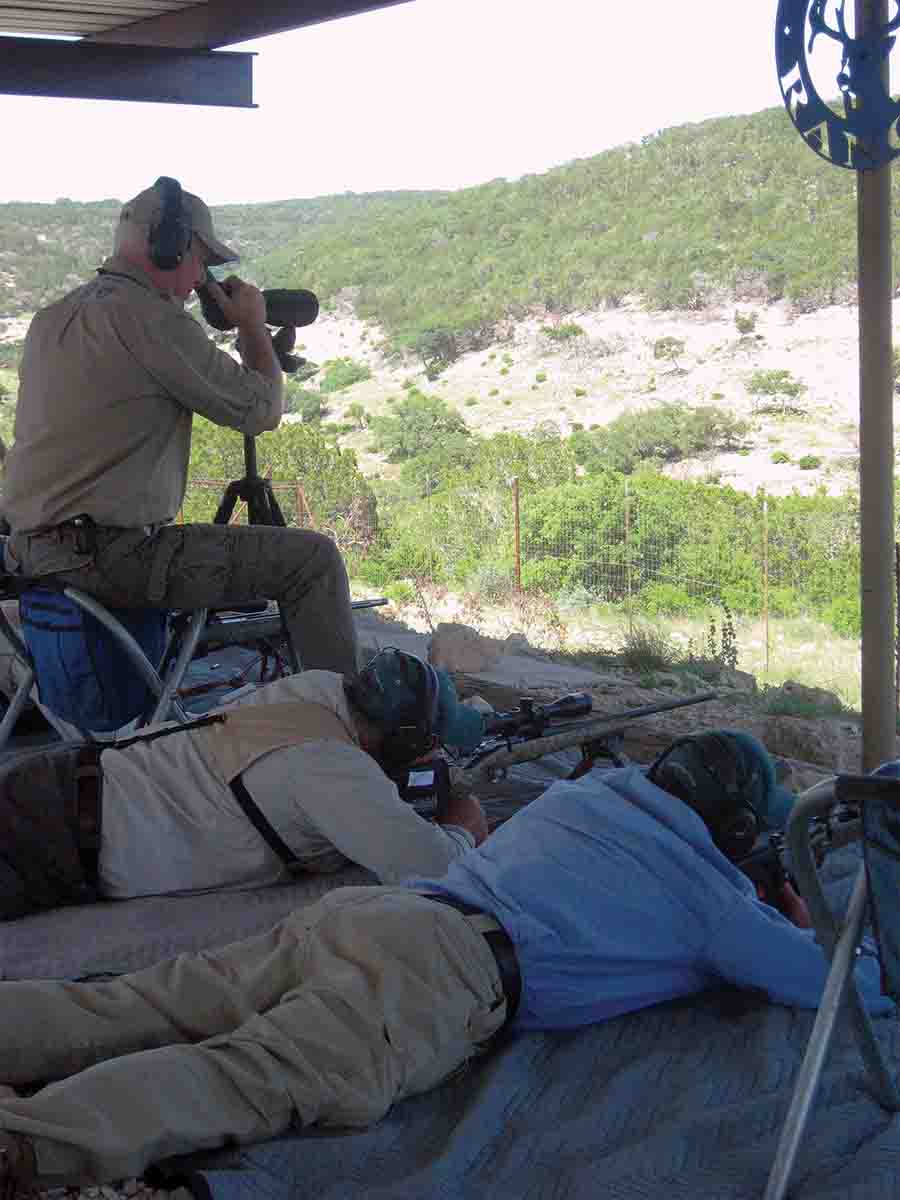 The first instrument for measuring bullet velocity appeared in 1742, when British mathematician Benjamin Robins developed the ballistic pendulum, a weight suspended on swinging arms. Robins calculated velocity based on how far a fired bullet pushed the weight, and published his results in
New Principles of Gunnery
, a book that helped create the science of ballistics. The first partially electric chronograph was developed in 1848, eventually leading to the affordable electronic chronographs shooters use today, but hunters' obsession with muzzle velocity started in the 1890s.
The first practical smokeless rifle powders were loaded in various military rounds in the 1880s, providing such a velocity increase over black-powder cartridges that riflemen immediately noticed the flattened trajectory. (To paraphrase the famous line from The Treasure of the Sierra Madre, they didn't need no stinkin' chronographs.)
Smokeless hunting cartridges started appearing in the 1890s, and their flatter trajectories vastly reduced the effects of range estimation errors. Bullets from most black-powder cartridges dropped at least a couple feet between 100 and 200 yards, but early smokeless velocities of approximately 2,000 fps cut that in half.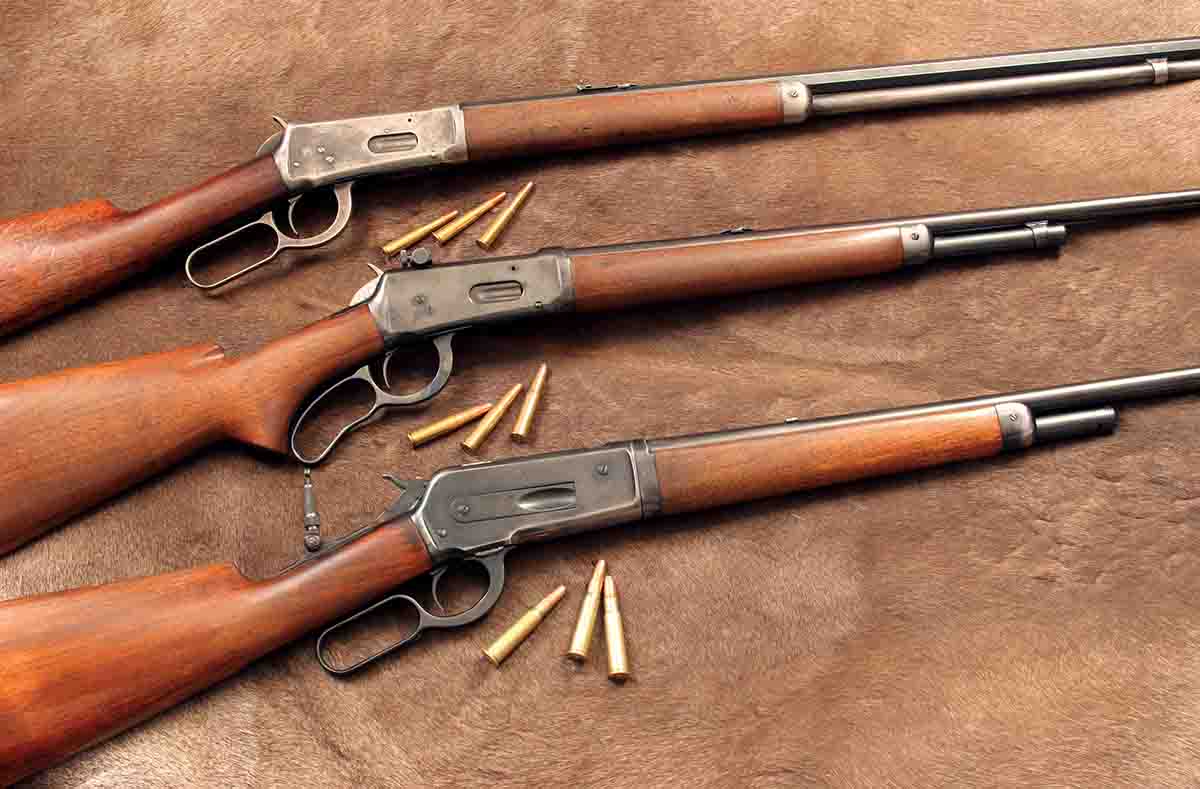 Back then most American hunters preferred what many today call traditional lever-action rifles, and the Model 1894 Winchester in .30 WCF (.30-30 Winchester) became an immediate favorite. The original factory load used roundnose, 160-grain bullets at a claimed 1,970 fps, but compared to the .44-40 and .45-70, the .30-30 seemingly shot almost as a flat as a laser beam out to 200 yards (or would have, if lasers existed; the first functioning laser appeared in 1960).
Most early smokeless rounds featured blunt bullets at similar muzzle velocities, but in 1898 the new "JS" version of the 8x57 Mauser pushed a 154-grain spitzer to 2,880 fps, making 300-yard shots very possible. Similarly, many early high-velocity hunting rounds attained their velocity by using relatively light bullets like the 87-grain spitzer in the .250-3000 Savage. At the time this made sense, as out to 300 yards muzzle velocity flattens trajectory far more than ballistic coefficient (BC) – the measure of a bullet's ability to retain velocity at longer ranges.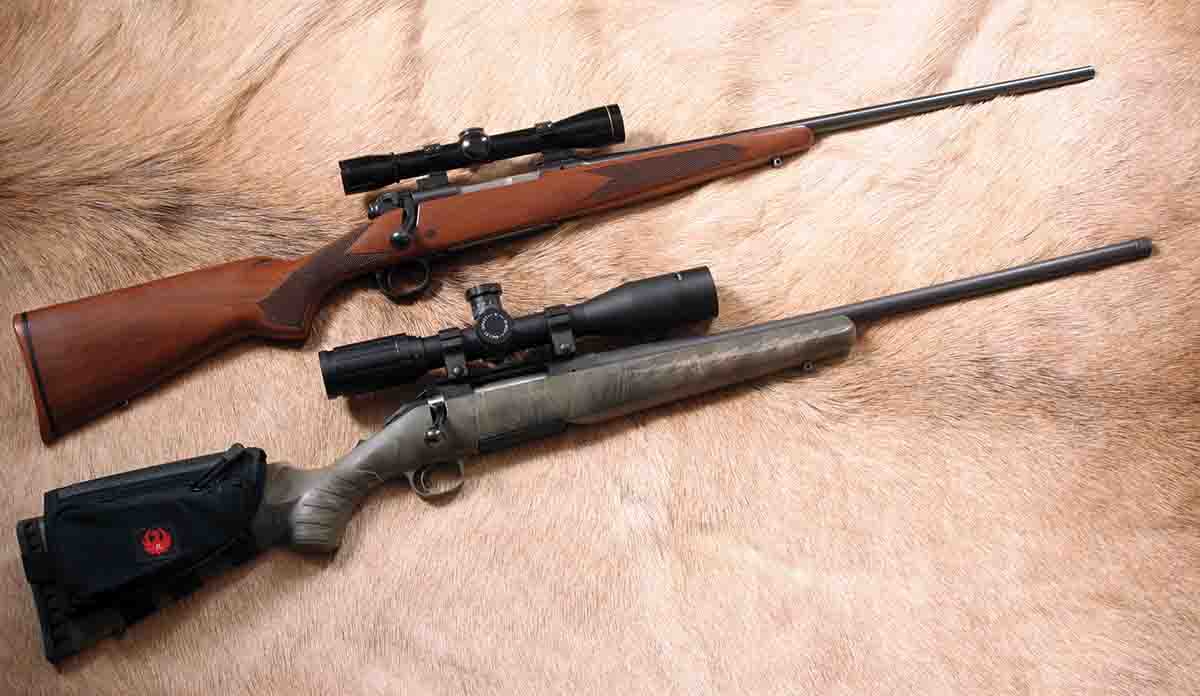 While target shooters realized heavier, high-BC bullets shot flatter and drifted less in the wind at longer ranges, they shot at known distances. Hunters had to estimate ranges, usually by guessing, though a few used the size of their front sight or scope reticle. With many game animals, sight comparison is a far more accurate way to judge range than "guesstimating," but it involves mathematics, and most humans avoid math whenever possible.
During the second half of the twentieth century, muzzle velocities increased considerably due to continuing improvements in slow-burning powders. Consequently, even more large-cased "magnum" cartridges appeared that were able to hold more powder. A few larger bolt-actions were introduced to accommodate them, most notably the Weatherby Mark V, but most magnum rounds were designed to fit existing actions, especially "war-surplus" 1898 Mausers and 1903 Springfields that became a major factor in the postwar rifle industry.
As a result, many new magnums had magazine-length limitations. New spitzer bullets were designed with shorter, blunter noses so they could be seated to fit inside .30-06-length magazines without reducing powder capacity. Among the first were the heaviest Nosler Partitions in calibers from .243 to .375. Originally called "blunt nose" bullets, eventually the term was changed to "semi-spitzer," perhaps to make them sound as if they shot flatter.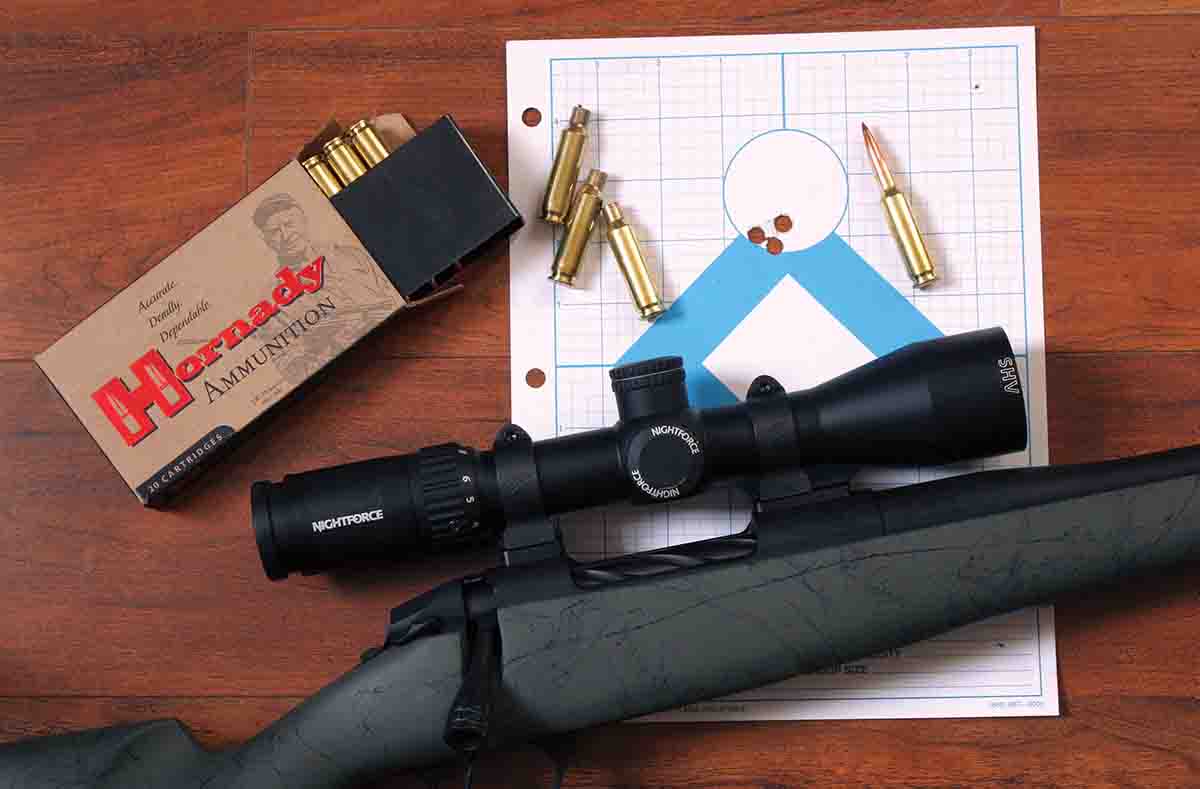 Other spitzers had their lead tips flattened at the factory, partly because the points got smashed flat anyway during magnum recoil. Pre-flattened tips reduced ballistic coefficient (BC) but allowed a little more powder to be crammed into magnum cases, increasing muzzle velocity. Most of these flat-tip spitzers were newer controlled-expansion bullets designed to hold together when impacting big game at magnum velocities, including the Bitterroot Bonded Core, Speer Grand Slam and Swift A-Frame, but some were cup-and-cores, including the Remington Core-Lokt pointed soft-point. Nosler eventually transformed most of its semi-spitzers into real spitzers, but then introduced the 180-grain, .30-caliber Protected Point to "save" powder space for the .300 Winchester Magnum, a belted magnum with a long body and short neck, designed to maximize powder capacity in a .30-06-length magazine. (The .300 Winchester appeared in 1963, long before cartridge designers developed beltless magnums to create even more powder volume.)
Many hunting handloaders formed their opinions during this era. One was a friend named Bob, who passed away in 2017. Bob became obsessed with getting the most velocity possible from a belted 7mm magnum in a .30-06-length magazine. He had a pile of discontinued 160-grain Bitterroot Bonded Core (BBC) bullets because he firmly believed in their performance on anything from big deer to bull elk.
Toward the end, he was shooting the flat-tip BBCs at 3,200 fps from a 7mm Mashburn Super Magnum, a wildcat from the 1950s, originally formed from shortened .300 H&H cases, though today the Mashburn fans simply neck down .300 Winchester Magnum brass. Like Bob, many of today's older hunters remain fixated on muzzle velocity, partly because they're also fixated on bullets with relatively low BCs that must be pushed fast to shoot flat.
Only recently has this started to change, due to another technological advance that appeared just about a century after the .30-30: affordable and eye-safe laser rangefinders (LRFs). LRFs had already existed for decades but were very expensive and (as kids are often warned about BB guns) could "put out an eye." Yes, laser beams could literally fry retinas, the reason cheap LRFs weren't available to hunters.
The initial solution involved widening the laser beam into an elongated cone, diffusing its danger. However, laser rangefinders work by measuring the time it takes for the laser beam to travel to the target then reflect back to a sensor. Instead of ranging a specific deer across a field, the widened beam could also range anything near the deer, whether a tumbleweed or defunct pickup. The first laser rangefinder I tested in the mid-1990s, a prototype from a major optics company, was pretty accurate up to about 400 yards – if the animal stood on a steep, tree-free hillside. On flatter ground it wasn't as accurate as ranging with a plex-type scope reticle.
A better solution turned out to be a pulsing beam, and by the early 2000s most palm-size examples would reliably range pronghorn out to 500 or 600 yards on flat prairie. Nowadays, 800 yards is common, and some accurately range a mile or more. This resulted in less need for a flat trajectory among hunters willing to practice with a multi-point "ballistic" reticle, or a scope with an elevation turret twistable to different ranges.
Such hunters soon discovered what long-range target shooters had known for a long time: Beyond a certain point, muzzle velocity doesn't matter as much as ballistic coefficient. The pull of gravity is constant, making bullet "drop" predictable, but wind is notoriously variable. Bullets with higher BCs drift less in the wind, providing the same margin for error that flat trajectory provided when guesstimating range. Heavier spitzer boat-tails have the highest BCs in any caliber, but due to their weight can't be started as fast as lighter bullets.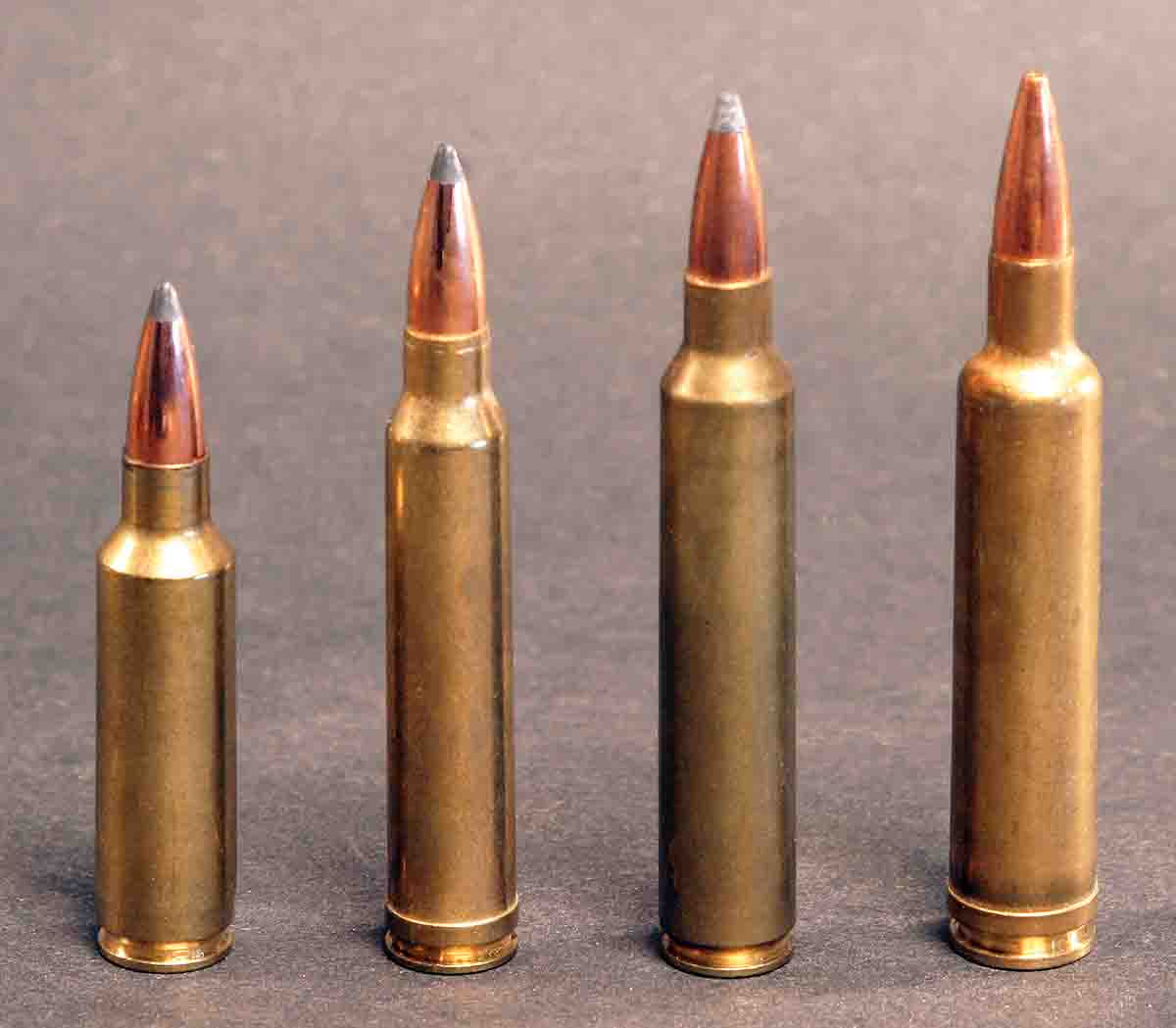 Most older hunters have real problems with this concept, because we've judged cartridges by muzzle velocity for more than a century. In fact, many simply won't believe it, partly because affordable chronographs showed up before affordable LRFs. They can actually see the muzzle velocity of a bullet displayed on their chronograph's screen, so they know when it's "fast enough" – usually meaning over 3,000 fps for open-country, big-game rifles.
Most hunters, however, don't have access to shooting ranges longer than 200 to 300 yards, so they can't "see" any difference in wind drift. Early users of the .30-30 and .30-06 could easily see a trajectory difference at 200 to 300 yards, but most of today's hunters can't (or won't) test beyond 300 yards, where differences in BC really start to make a difference.
This is why the 6.5 Creedmoor became so popular among some hunters – which infuriates others, especially older hunters. It upsets their entire "belief system," like smokeless powder upset the belief system of hunters used to black-powder cartridges. In the 1890s many hunters refused to try smokeless cartridges because they were certain lighter smallbore bullets simply couldn't be as effective as heavier, larger-caliber bullets, no matter how fast and flat the smaller bullets traveled.
The big difference today is an ability to "see" downrange bullet trajectories and velocities through the use of computer ballistic programs, available free to the 90 percent of Americans with Internet access. Plug in ballistic coefficient, muzzle velocity and range conditions, and ballistic programs instantly display the trajectory, wind drift and retained velocity of any bullet. Today's programs are very accurate, as long as the inputs are correct. This is known because there is a 2,000-yard rifle range 10 minutes from my house, where I can easily check computer results by actual shooting.
As a result of LRFs, more than one hunter has observed that "600 yards is the new 400," meaning a competent rifle shot can accurately place bullets on big game at 600 yards as easily as pre-LRF hunters could at 400. This has proven true during my range tests: Unless the wind's blowing pretty hard, it's relatively easy to ring an 8-inch gong at 600 yards with the first shot from a familiar rifle – and even pronghorns or Coues' deer have vital areas 8 inches across.
The trajectory comparisons in Table I were developed with the Berger Bullets Ballistic Calculator, using the latest available BC data, whether from manufacturers or independent tests. Nosler, for example, recently had the BCs for its Accu-Bond Long Range bullets tested with Doppler radar at a facility in New Mexico. Many of the other BCs came from Bryan Litz's fine book Ballistic Performance of Rifle Bullets (appliedballisticsllc.com).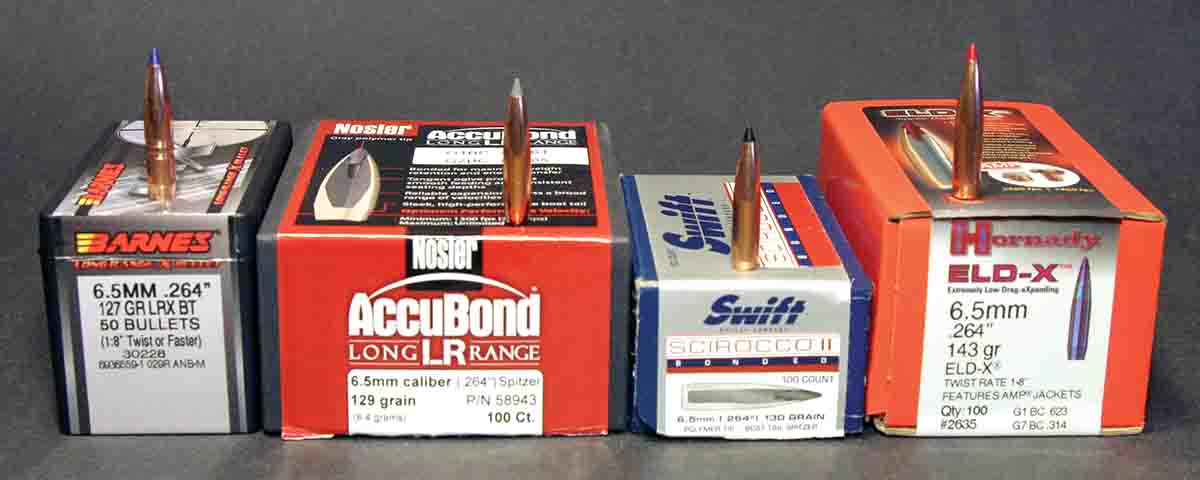 The first pair shown in Table I compares the 6.5 Creedmoor with the .270 Winchester, using typical open-country hunting bullets at typical muzzle velocities. Note that though the 6.5mm 143-grain Hornady ELD-X starts out 263 fps slower than the 130-grain Hornady Spire Point, the 6.5 bullet surpasses the .270 bullet in retained energy at 300 yards. Wind drift is less than the .270 bullet at any range, but the difference becomes far larger at longer ranges. The .270 shoots flatter than the 6.5, but with a laser rangefinder, a few extra inches in bullet drop is irrelevant – with sufficient practice.
Practice is where the Creedmoor has yet another advantage – lighter recoil. According to the Sierra Infinity computer recoil program, the 143-grain bullet with 43.0 grains of powder (the charge used in my own 6.5 Creedmoor) generates 14.3 foot-pounds (ft-lbs) of recoil in an 8-pound rifle. The 130-grain .270 bullet with 61.0 grains of powder (again, the charge used in my own .270) generates 21.4 ft-lbs in an 8-pound rifle, almost exactly 50 percent more than the 6.5 load.
While few hunters consider the .270 Winchester a hard-kicking cartridge, if somebody wants to become proficient beyond 300 yards, lighter recoil makes practice far more pleasant. Three years ago I spent an 8-hour working day, minus a lunch break, shooting a 6.5 Creedmoor at ranges out to 1,000 yards with Hornady 140-grain ammunition. The recoil never became bothersome, but I'd prefer not to repeat that day with my .270 Winchester Model 70 Featherweight that with a scope only weighs 7.25 pounds. Recoil differences become even more meaningful with larger calibers, such a .280 Remington Ackley Improved versus a .300 Winchester Short Magnum.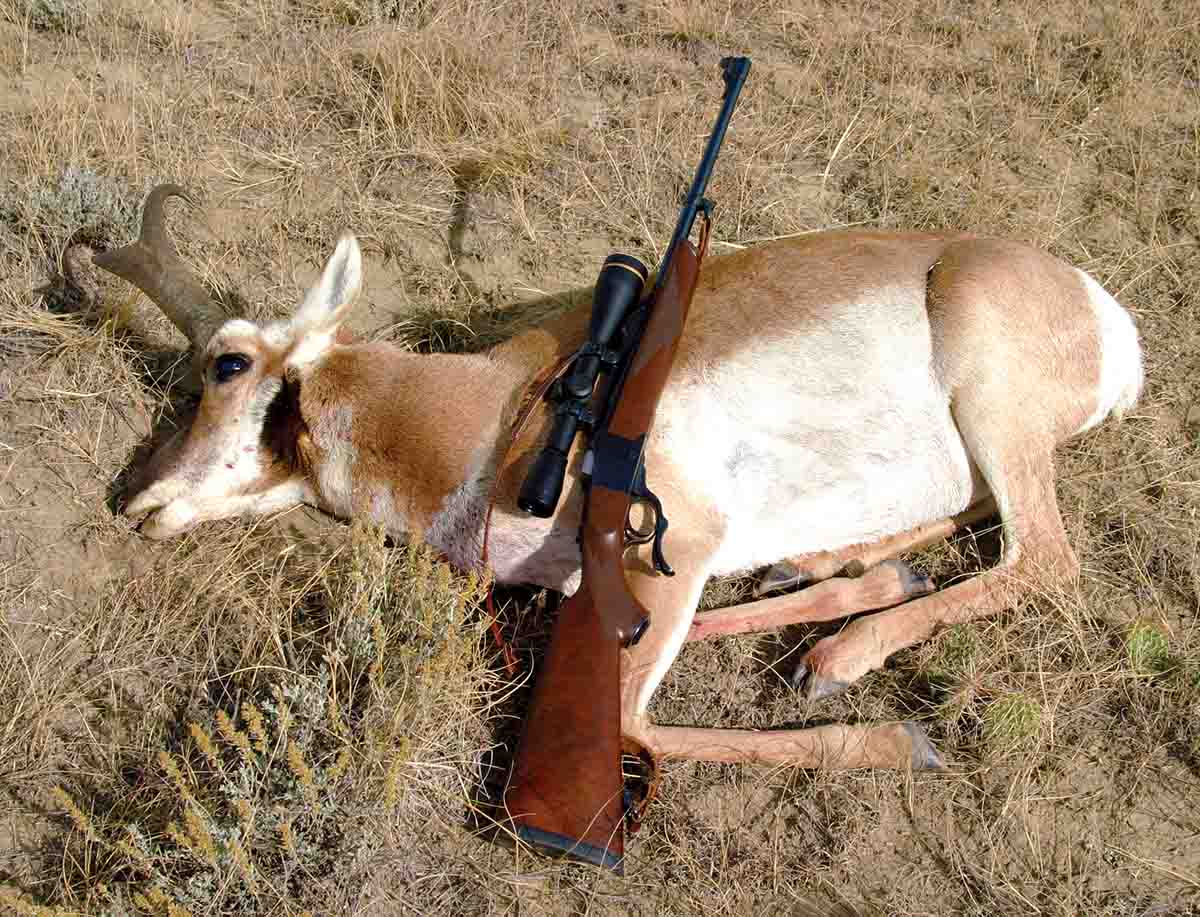 Because of our fixation on muzzle velocity, one problem sometimes occurs with high-BC bullets designed specifically to expand reliably at longer ranges. They can be a little "soft" when started fast, and many hunters still believe "long range" requires a muzzle velocity of at least 3,000 fps.
Another older hunter I'm acquainted with is a Texan who mostly shoots feral pigs at 100 yards, the range from his stand to a corn feeder. He'd heard how Berger Hunting VLDs kill quickly so handloaded some 140s in his .264 Winchester Magnum at 3,200 fps. Exactly why he thought this might work well is a mystery, but hunters have been using cup-and-core bullets inappropriately for more than a century, as Sir George Gray fatally learned in Kenya in 1911 when he whacked a charging lion with his .280 Ross.
My Texas acquaintance aimed at the shoulder of a big hog, and the Berger broke the shoulder but didn't enter the chest cavity. Based on some experience with the same Berger 140-grain 6.5mm, it would have penetrated fine if started at 2,750 fps from a 6.5 Creedmoor, .260 Remington or a 6.5x55. I hunt with very accurate rifles chambered for both the latter two.
For hunters who believe high-BC bullets must be started at more than 3,000 fps, several pretty tough options exist, including the Barnes LRX (probably the toughest); Nosler AccuBond (standard and Long Range) and the Swift Scirocco II. However, there's really no need to start such bullets at 3,000 fps, and in fact, another advantage of high-BC bullets is a narrower "velocity window" from muzzle to game, resulting in more consistent expansion across several hundred yards.
Of course, high-BC bullets started at over 3,000 fps will shoot flatter and drift somewhat less in the wind, the reason more powerful 6.5mm cartridges continue to appear. My own modest collection of sporting rifles includes more chambered for 6.5s than any other bullet diameter, from an aperture-sighted 6.5x54 Mannlicher-Schöenauer carbine to a .26 Nosler and 6.5-.300 Weatherby Magnum. Obviously, the Mannlicher-Schöenauer isn't a long-range rifle, but the other 6.5s all have scopes, and the two biggies perform especially well at long range – but they also kick far more than the 6.5 Creedmoor, .260 Remington and 6.5x55. Recoil with 140-grain bullets is more like a 7mm Mashburn Super Magnum with 160s at 3,200, or a .300 Winchester Magnum with 180s at 3,100 fps.