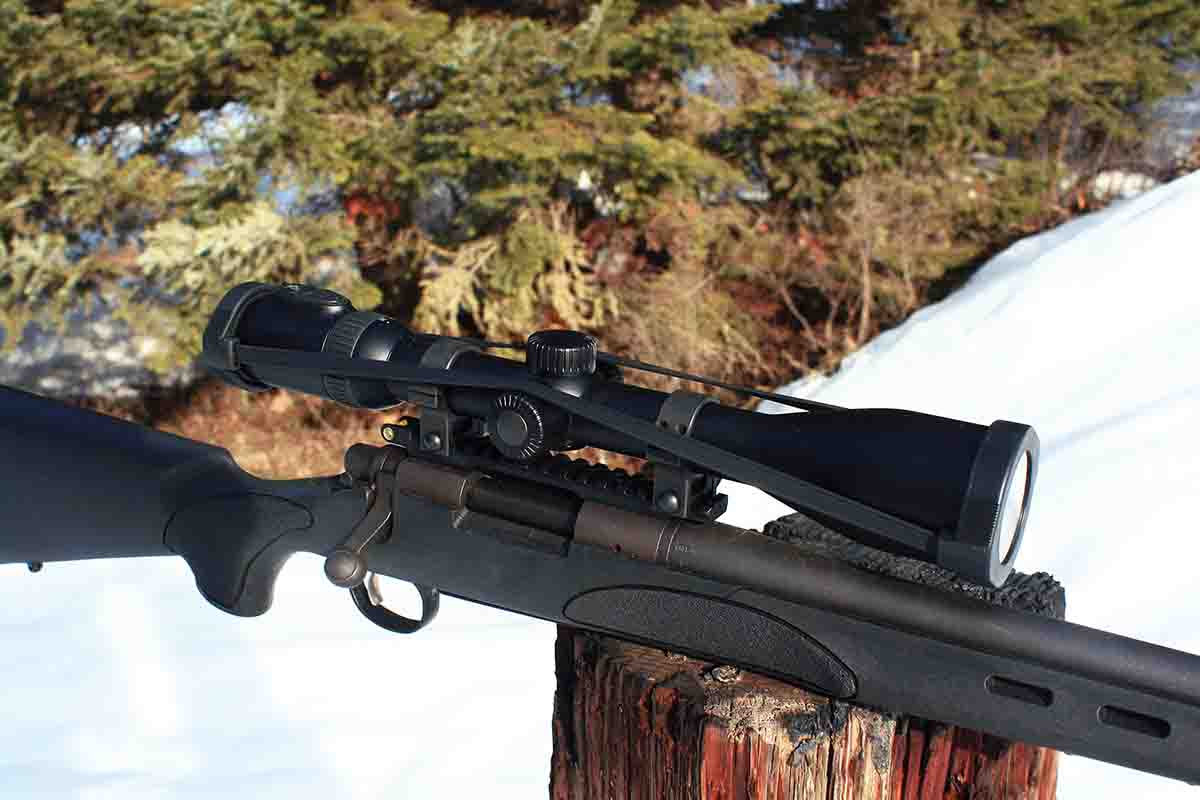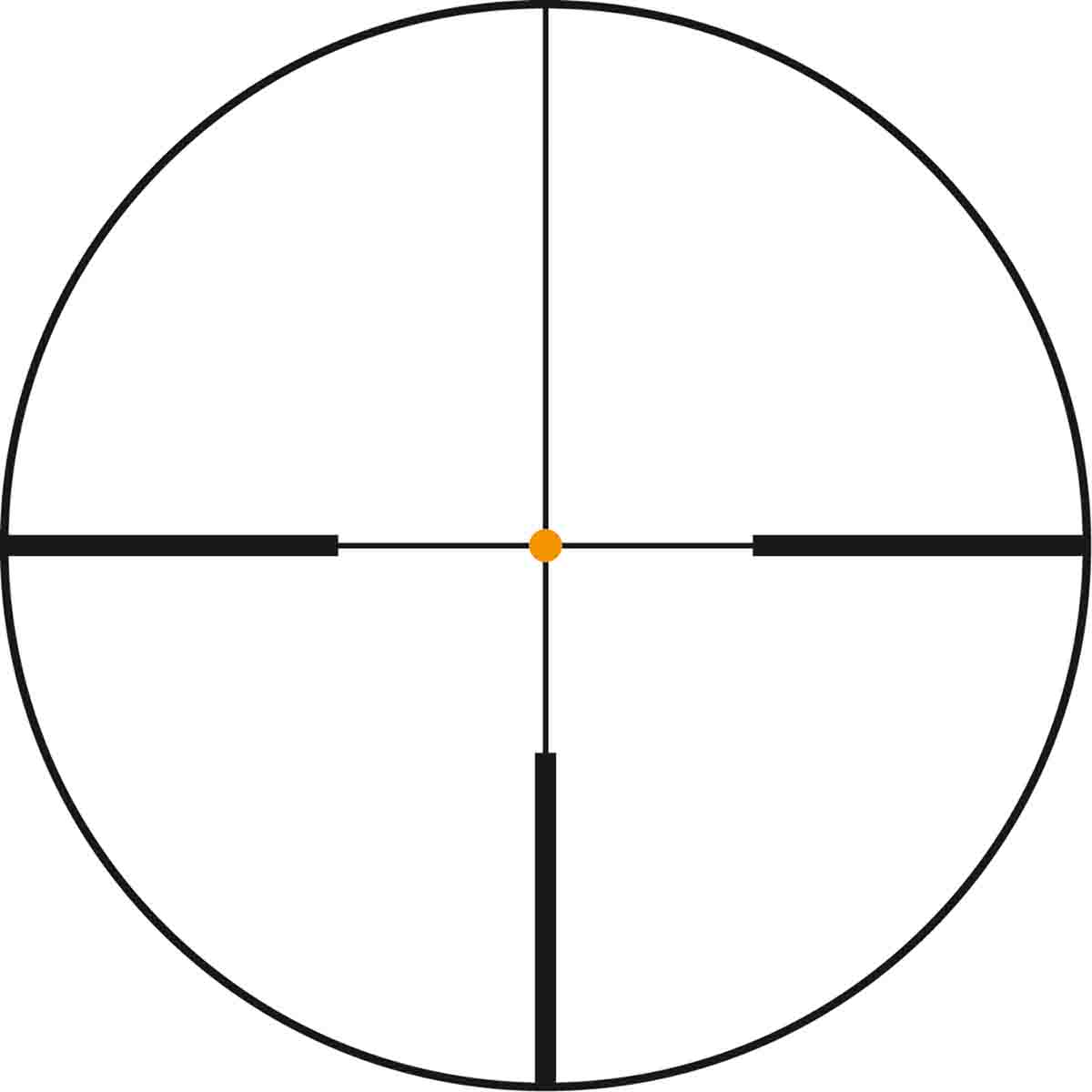 Swarovski Optik North America, a subsidiary of the Absam, Tyrol, Austria, company founded in 1949, is likely familiar to most rifle shooters. Swarovski is inarguably among the "Big Three" of European-made sports optics and is considered by many as producing some of the finest optics technology on the planet. The Z8i line of riflescopes was released in 2016, including four magnification ranges, and the 3.5-28x 50mm P under discussion here is the latest addition to that series.
The Z8i is a streamlined and lightweight riflescope with decidedly elegant lines, especially for an optic designed for long-range applications. The standard Z8i 3.5-28x 50mm P doesn't hold the exposed turrets normally associated with today's long-range pursuits, but it does include an array of high-end features – in addition to 28x maximum magnification – that help extend range without undue confusion. Though, it should be emphasized this scope can be equipped with Swarovski's Ballistic optional Turret Flex features for faster in-field elevation and windage corrections. This option (not tested here) allows shooters to dial up 70 clicks in elevation, or order custom-engraved ballistic turret rings especially calibrated for a very specific cartridge and/or load ballistics.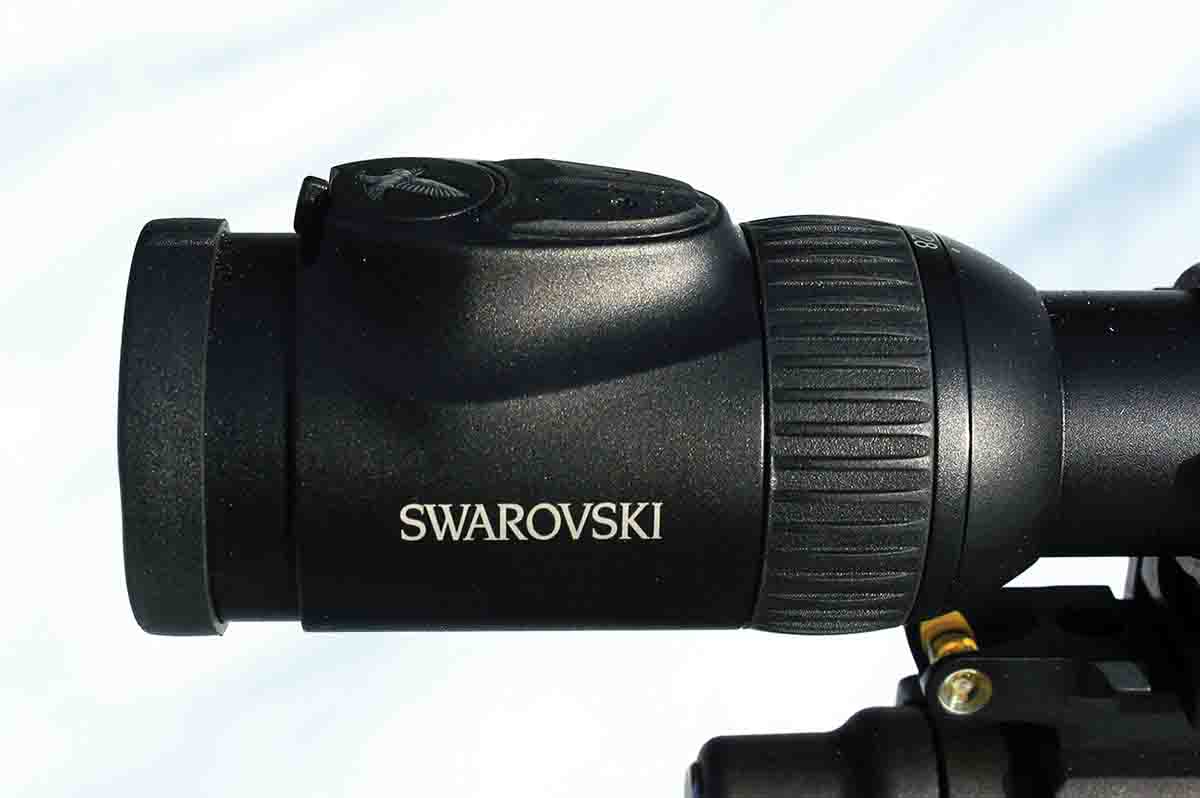 The scope proved an ideal fit for a Remington Model 700 SPS Varmint with a hefty 26-inch barrel and chambered in the flat-shooting .17 Remington Fireball. While shooting 20-grain bullets the .17 Fireball is capable of surpassing the magic 4,000 fps mark. Sighted 2.5 inches high at 100 yards, it allows dead-on, center-mass aiming – granted breezes remain moderate – to around 400 yards on small varmints such as ground squirrels and prairie dogs.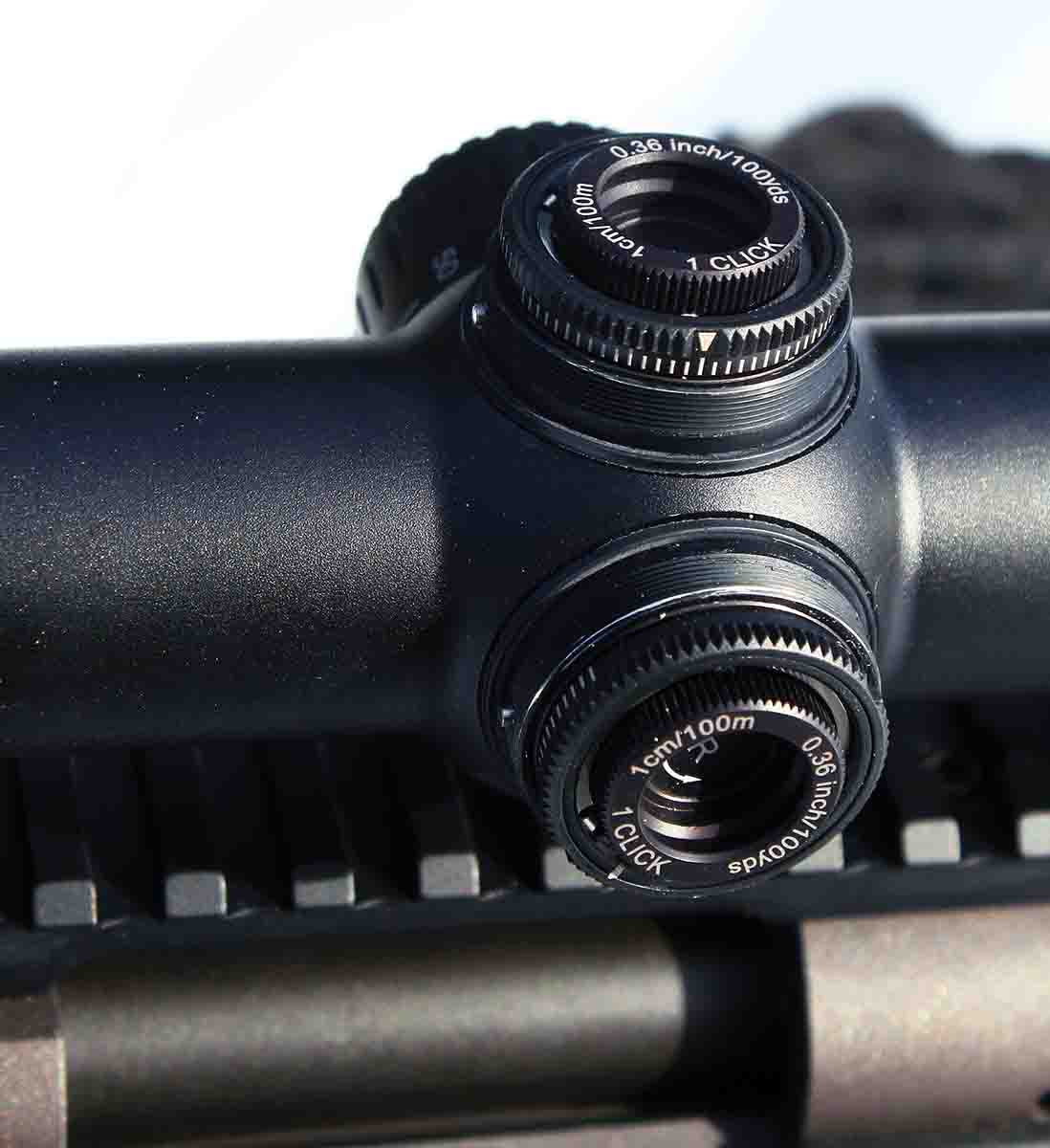 The scope is available with three different reticle options, all illuminated and all including 64 on-demand brightness levels, plus Swarovski's SWAROLIGHT technology. Z8i illumination is controlled by an ergonomic left-right swiveling lever – left for twilight periods and right for bright day and connected to plus/minus brightness control pads. That is to say, when you click the top-mounted, ocular bell lever left, the center crosshair dot remains somewhat dim, so as not to overwhelm low-light vision, and when clicked right, a brighter center dot is displayed. The plus/minus brightness tabs allow 0 to 32 twilight and 33 to 64 daytime intensity levels, which allows creating a finer dot when it is dim out, or a brighter dot under sunny skies when a dim dot might be overwhelmed by ambient light. The system also includes a memory function to make it easy to return to a desired setting.
Further, SWAROLIGHT illumination technology automatically extinguishes illumination if the rifle is tilted laterally more than 30 degrees or canted vertically more than 70 degrees. This advanced design feature is meant to preserve battery life while hunting, like say, holding a rifle across your lap and on its side while occupying a tree stand/blind, or carrying a slung rifle over your shoulder. Brightness adjustments are firm and are accomplished with ductile rubber pads marked "- and +."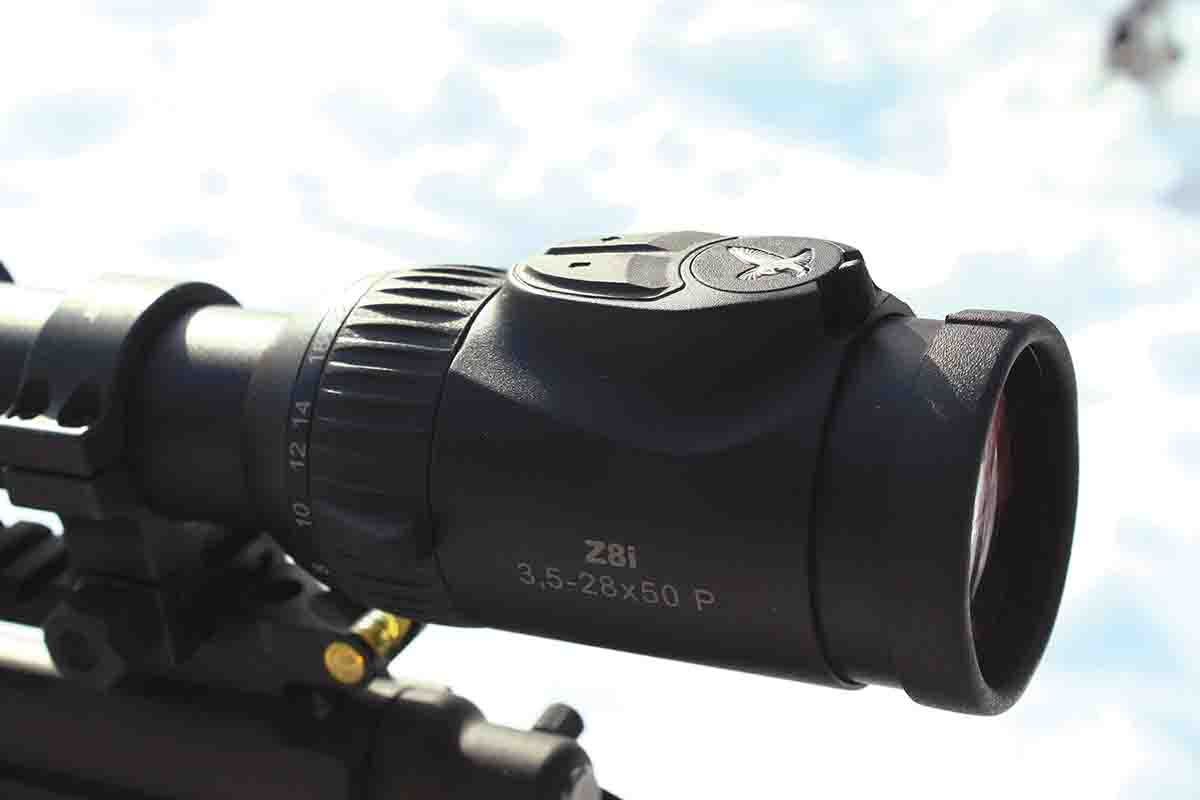 The 8x zoom scope includes a generous field of view for faster target acquisition and Swarovski's renowned clarity and brightness. The latter cannot be overemphasized. Swarovski's cutting-edge lens coatings and precision ground glass result in true-to-life viewing, and color fidelity and remarkable low-light transmission. During testing, another element of that excellent lens coating/glass revealed itself. My shooting range is arranged around an available opening in thick conifer forest and, unfortunately, shooting during morning hours in the dead of winter requires shooting directly into the sun. With lesser scopes this often prevents shooting altogether until later in the day, or requires adding a substantial sun shield. This Swarovski has no sun shield, but I was able to aim confidently despite the oppressing sun, without starbursts or blinding glare. Fair warning: Once you've shot with a Swarovski for some amount of time it will ruin you for anything of lesser quality.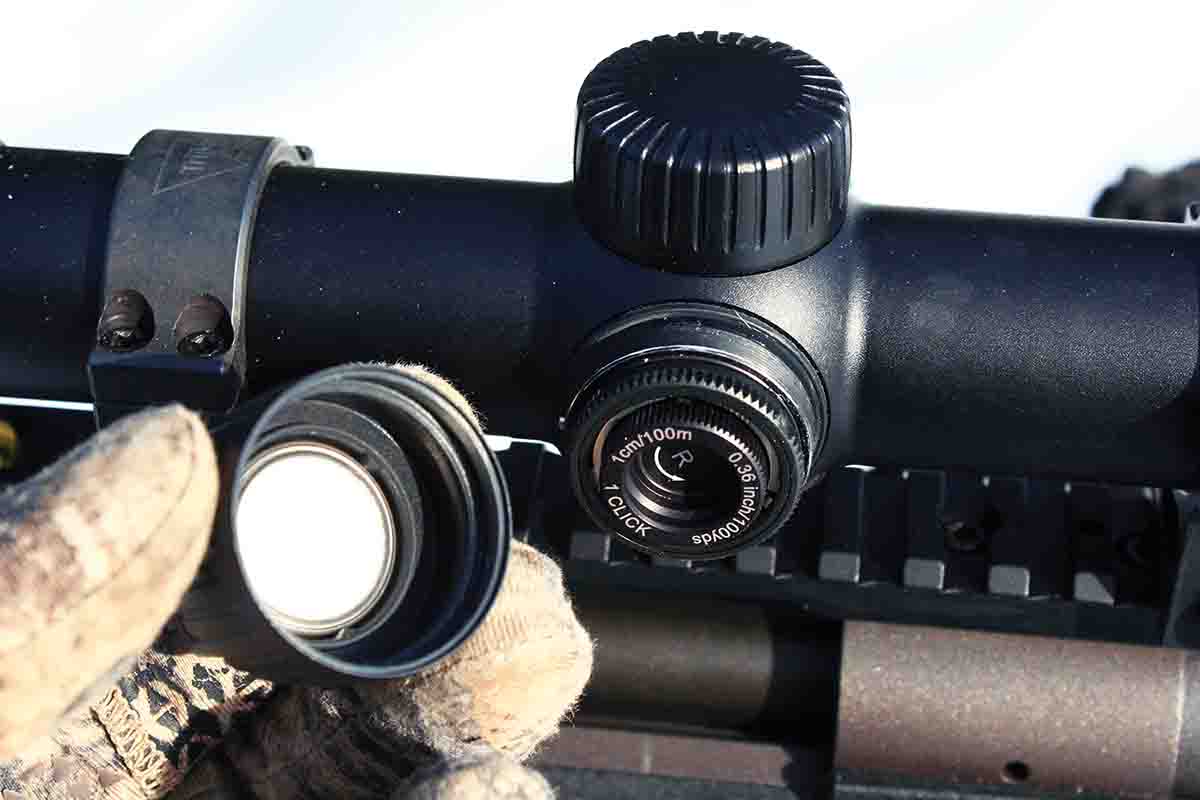 The elephant in the room, of course, is price. The Swarovski Z8i 3.5-28x 50mm P includes an manufacturer's suggested retail price of $3,877, which is, shall I say, substantial. Lens coatings applied in a period of months, instead of days, world-renowned Teutonic engineering and the Z8i illumination system come at a cost.
Circling back to low-light function, Swarovski advertises 93 percent light transmission via an 8.1mm (3.5x) to 1.8mm (28x) exit pupil (9.9 to 37.4 twilight factor) and the company's best-in-class lens coatings. The 50mm objective lens provides more than enough light gathering for any legal shooting hour, even under a heavy forest canopy or woolly skies, while also allowing low rings in conjunction with the Precision Hardcore Tru-Level Picatinny Rail added for mounting. The diopter adjustment turns from -3 to +2 to suit nearly any eyesight, with 95mm (about 3.7 inches) of eye relief providing plenty of safety margin for hard-kicking rifles.
As a European optic, the Z8i includes metric 1/10 MIL adjustments, which translates into roughly .36 inches at 100 yards, or 1 centimeter at 100 meters per click. The top elevation turret is covered by a low-profile aluminum threaded cap. The aluminum windage-turret cap is a little more substantial, as it holds a spare CR2032 coin-type lithium battery. A rubber "button" is used to dislodge the battery when needed, but otherwise the system holds the battery securely (even if sharply rapped) and handy until needed. Elevation and windage adjustments are tactile, including a positive click without any "sponginess" between settings. My only complaint, a minor one, is the super-fine threads required threading caps gingerly, as they seemed a bit too willing to cross-thread and potentially gal. I experienced this mostly while wearing gloves due to shooting in cold winter conditions.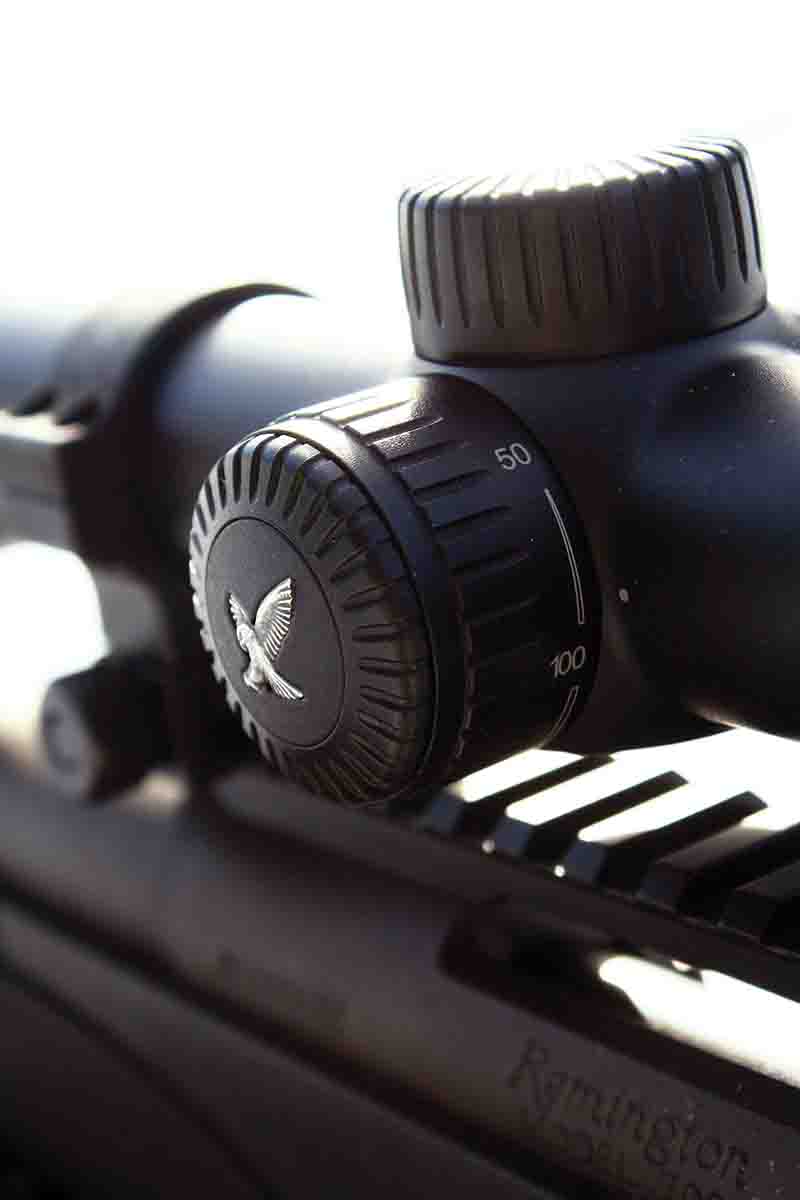 To test turret tracking I set up a target at 100 yards and zeroed the scope to hit dead center. I then moved the turrets up and right/left, and then down and right/left 10 clicks vertically and laterally. The scope was returned to zero between shot strings. Upon examining the target, I discovered a less than perfect square. This was a bit disconcerting, until I realized the target base was not level, meaning the target was also out of plumb. But measuring the distance from the center of the zeroed group to the center of each corrected group revealed each sat exactly 5 inches from the center, showing the scope had tracked precisely. Again, turret clicks were positive enough it was easy to count clicks both through feel and audibly, making corrections precise and repeatable.
Like other Swarovski scopes I've handled, magnification adjustments – between 3.5x and 28x in this case – offered a "just-tight" tension; stiff enough to avoid accidental changes while riding against a pack or back with a slung rifle, but not so stiff as to cause any undue effort by any user. I tested the scope in 20-degree temperatures, which has the potential to stiffen movement. The adjustment ring includes a ductile and ribbed rubber ring with a raised rubber lever molded in and positioned in the middle, or 10x position, for further purchase while wearing gloves or when wet. Power for the illumination system is housed at the end of the parallax knob, with the less than 50-yard to infinity parallax adjustment held on an inside ring. Parallax movement was super smooth, with the wheel including milled-in ridges for sure grip.
The simple 4A-1 reticle on the test scope included a super-fine center crosshair, bracketed on the side and the bottom by blockier lines. The second focal plane configuration assures those crosshairs remain ultrafine in relation to the target throughout every magnification level. There are no added lines for holdover, though 4W-1 and BRX-1 reticles are offered with ballistic holdover marks. I actually prefer the simple 4A option, especially in conjunction with a laser-flat cartridge like the .17 Remington Fireball that essentially allows a dead-on hold at nearly all viable yardages.
This 15-inch, 23.5-ounce scope includes a 30mm tube, with the tube, front bell and ocular transition milled from one piece of metal. Like many modern riflescopes, the rear ocular bell is relatively large, due largely to the illumination system. Despite this, the bolt on the Remington Model 700 short-action rifle cleared by a comfortable margin, even while wearing gloves. The scope came with high-quality lens covers, the end caps high-impact plastic featuring see-through plastic windows and are tethered together by twin, quality rubber straps.
Swarovski promises complete functionality from -4 to +131 degrees Fahrenheit and 13-feet/4-meter submersion tightness. The tube is filled with inert gas to prevent fogging in wet weather or when doing something like pulling a scope/rifle outfit from a warm truck and into a cold environment.
The Z8i 3.5-28x 50mm P is a versatile, rugged scope that makes a perfect companion to anything from a featherweight mountain rifle to a precision varmint rifle used to pick off distant and tiny targets from atop a bench.