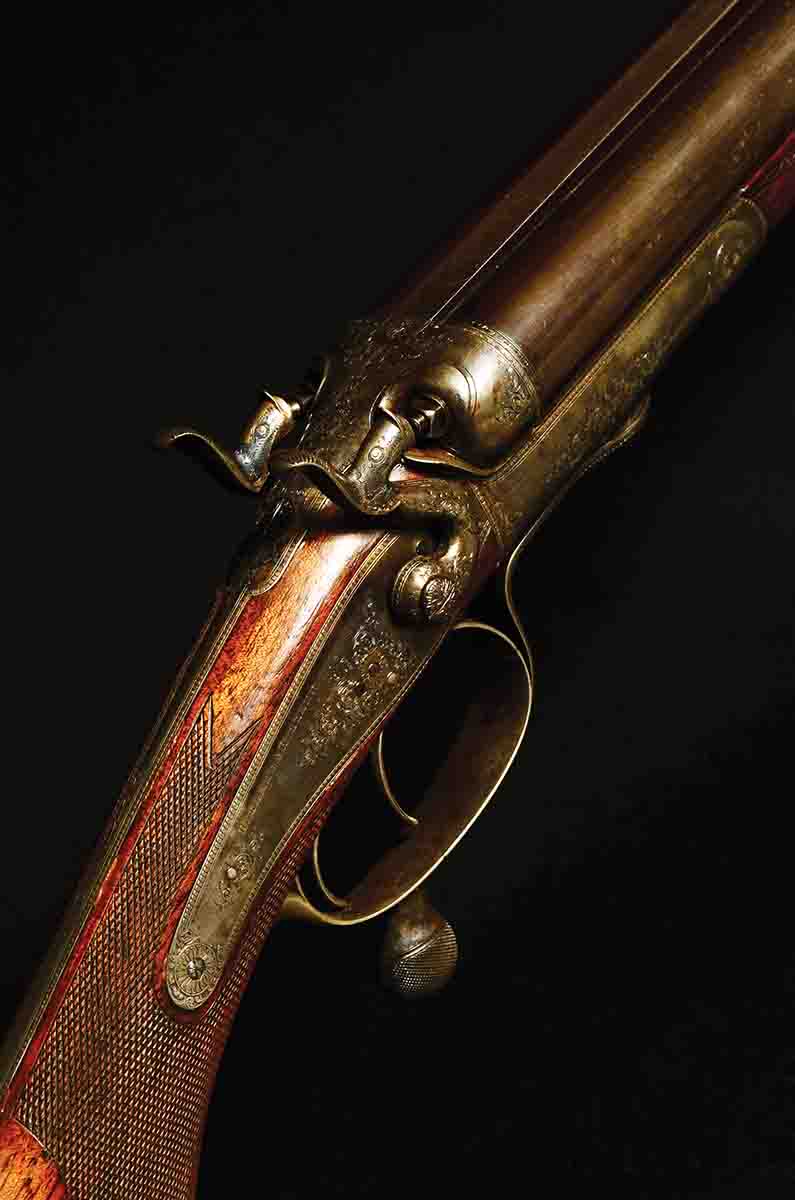 The year was 1883 when
The Field
and its indomitable editor, J.H. Walsh, sponsored an extensive trial of rifles of all calibers in London, and set Holland & Holland on its way to becoming Britain's dominant riflemaker for more than a century. History shows that Holland's won every category, from tiny rook rifles to four-bore behemoths.
From that point on, rifle barrels leaving the H&H shop bore the inscription "Winners of all the 'Field' Rifle Trials London." This tradition continued until at least the 1930s, in spite of the best efforts of other great rifle companies, notably John Rigby and Westley Richards, to wrest the title away.
More than a century later, in 1989, Holland & Holland was put up for sale by its then-owners and purchased by the French luxury-goods giant Chanel, owned by the Wertheimer brothers. It was heralded as a turning point – time to move into the twentieth-century, and soon the twenty-first-century, with everything from CNC machinery in its Harrow Road factory to a line of clothing, jewelry, and retail shops from Moscow (seriously!) to Beverley Hills.
Now, 30-plus years later, Holland & Holland has been sold once more, Chanel admitting defeat in its attempt at upscale consumer branding, and selling the company to Beretta. This may come as a surprise to some, but not to those who followed the ups and downs of H&H since 1989 and who, truth to tell, enjoyed some of the largesse resulting from Chanel's massive investment. Millions of British pounds went to buy CNC machinery and erect new buildings at the shooting ground, but more than a few thousand also went into hosting journalists to trumpet the tale to the world.
If there is one thing Chanel knows how to do, it's spend money on promotion, and promote the company they did. I had just been appointed shooting editor of Gray's Sporting Journal in 1993 when I received a call from Jan Roosenburg, then American manager for Holland & Holland. How would I like a two-week trip to London, all expenses paid, to get to know the friendly folks on Bruton Street, see the shooting grounds, test-fire some rifles and shotguns, sip some Gevrey-Chambertin and dine on braised teal in a wood paneled little eatery off Berkeley Square?
There was, of course, more to it than that. I spent a few days at the factory on Harrow Road, center of H&H gunmaking since 1895, and several more out at the shooting ground at Northwood. There I was given some much needed lessons in shotguns and wing shooting, as well as shooting a variety of double and bolt-action rifles in calibers that included the .500/.465, .500 Nitro Express and the then-new .700 H&H.
It seemed at the time that Chanel, which has pockets as deep as anyone, was intent on spending whatever it took to put H&H on a sound business footing. The foundation of this was the Wertheimer brothers' interest in shooting, mainly on their estates in France. Chanel's proprietors were shooters, and this boded well.
Undoubtedly, the massive investment in computers and CNC machinery for the factory paid dividends. The company continued its efforts in the field of cartridge development, and in 2003 introduced two new bolt-rifle rounds, the .400 H&H Magnum and the .465 H&H Belted Magnum. If either made much of a splash, I missed it. The company also continued to support the London gun trade overall, figuring – rightly – that Holland's well-being was closely tied to it. It took on apprentices, in spite of knowing that the really good ones, once they reached maturity, would inevitably leave to work on their own. This benefited the industry as well as the company.
All of this was fine, as far as guns went, but it turned out that Chanel's real goal, or at least the goal of the non-shooting Chanel executives and bean counters, was to turn Holland & Holland into the "Ralph Lauren of the shooting world." To that end, it introduced clothing lines, jewelry, accessories and branded leather goods; it expanded retail, opening luxury shops around the world to flog the Holland brand. Some of their stores included guns, notably Moscow and, at first, Manhattan; but others, such as Beverly Hills, were strictly upscale clothing retailers. At a cost of millions, Chanel found out the hard way that the name Holland & Holland is virtually meaningless to anyone outside the shooting world. Take away the guns and you are left with an obscure niche label competing, on an uneven playing field, against the fashion giants of Paris and New York.
By coincidence, Chanel acquired H&H just as a renaissance was occurring in the world of side-by-side shotguns and rifles, and for about 20 years it was almost a seller's market. Prices of doubles, new and used, skyrocketed to, in some cases, absurd levels. By 2005, it was impossible to find a good, shootable double rifle for much under $20,000. This was also the period of peaking interest in custom bolt actions, exemplified by American craftsmen like Al Biesen and Jerry Fisher, and in England by Holland & Holland.
This frenzy led to some grotesque distortions in the market. Several immensely wealthy American collectors competed with one another to corner the market in spectacular stock blanks, or booking time slots far into the future with the best engravers, and then trading them among themselves like junk bonds. This competition tied up production capacity for H&H, among others, lengthening waiting times and driving up prices. This era is a story in itself, with more outlandish anecdotes that can be accommodated here. Eventually, of course, the music stopped; these collectors grew old and died, and many of their collections crashed onto the market within a year or two of one another, creating an ultra-high-dollar glut.
Last year at Rock Island Auctions, a set of five of these spectacular double rifles, commissioned by Robert M. Lee in the 1990s, including exquisite walnut and other-worldly engraving by the finest artists, failed even to reach their reserve price. The reserve itself was little more than you would pay today for five standard H&H double rifles. Yet these masterpieces did not sell.
In some ways, it's a wonder Chanel hung on as long as it did. Unbeknownst to the public, and to most writers for that matter, serious problems were surfacing inside the company long before. These had nothing to do with the quality of the guns, and more to do with changes in society. For example, the factory in Harrow Road, out in the country when it was built in 1895, is now within the confines of Greater London, with all the environmental, traffic, housing and tax problems that entails.
At any rate, in 2005 Chanel entertained an offer from Beretta, the world's oldest gunmaker, and it reached the stage of actually putting signatures on contracts before the Wertheimer brother assigned to the task set down the pen, said "I just can't do it," and walked out.
Now, Beretta has finally succeeded in acquiring Holland & Holland. As I write this, there has been no formal announcement, much less any hint of what they intend to do with the company. If I had to bet, I would say the factory will be sold, the Mayfair shop on Bruton Street closed, and all operations consolidated at the shooting grounds in Northwood, itself an exceedingly valuable piece of real estate.
It's reasonable to expect that Beretta did not buy Holland & Holland in order to liquidate it, and if anyone knows how to make and sell fine guns in a changing world, it's Beretta. After all, its been doing it since 1526. It took a gunmaker, Blaser, to rejuvenate the Rigby name. Perhaps Beretta will do the same for Holland & Holland.