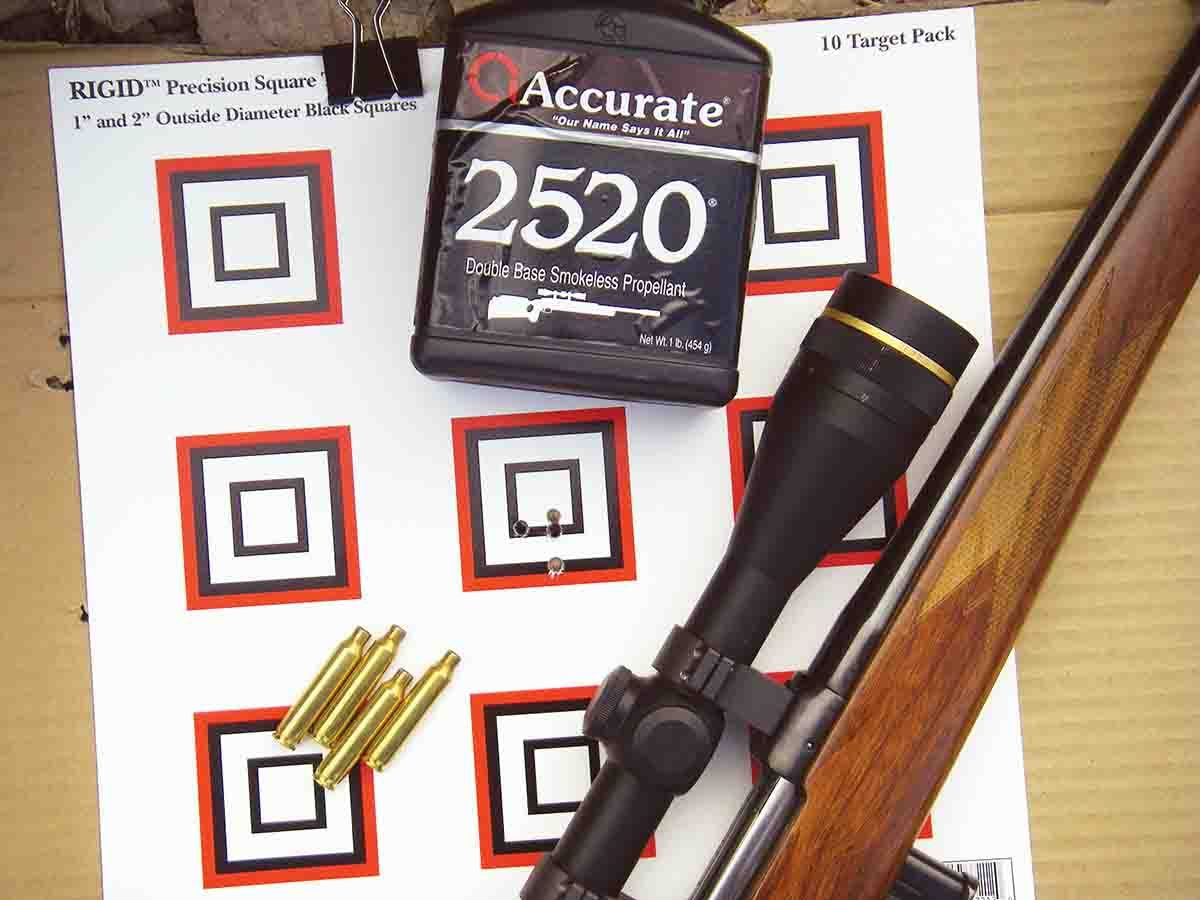 My sons and I stood there gazing in amazement at the completely empty ammunition shelves, then moved to the next aisle that normally contains powder, primers and bullets in hopes of finding something there that we needed. This was the sixth sporting goods store that we had visited that day, and just like all the others, there were no powders or primers, but there were a few boxes of lead roundballs for cap-and-ball sixguns and a few boxes of .17- and .20-caliber bullets.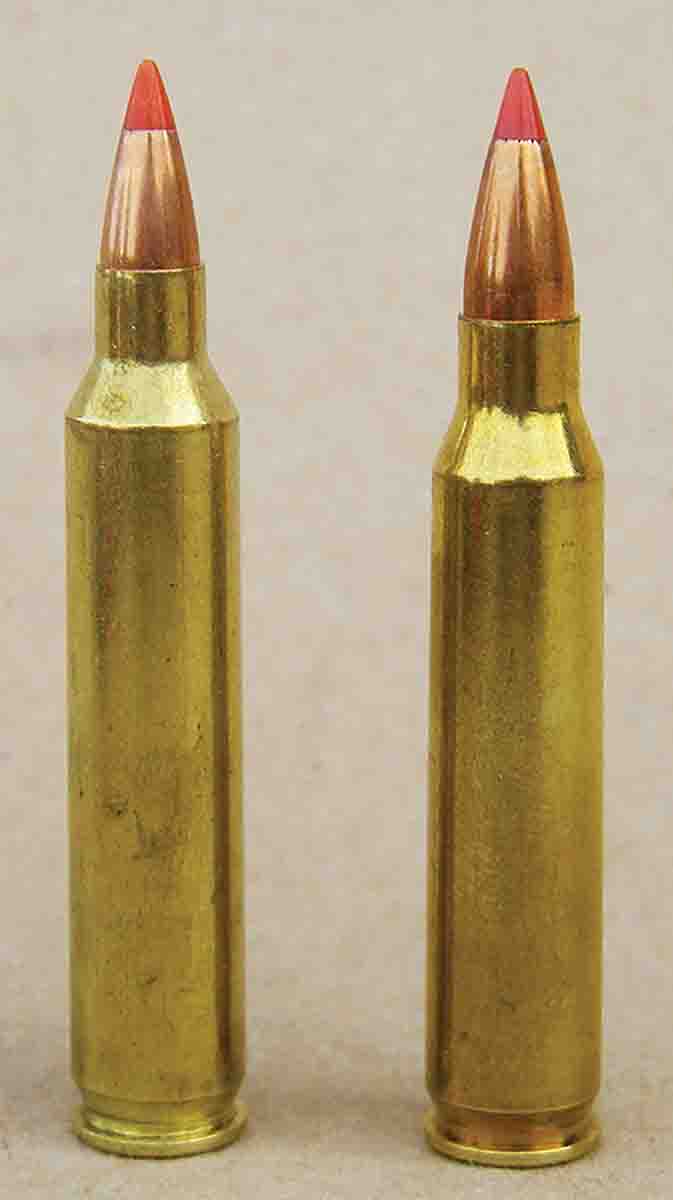 As if he already knew the answer, one of my sons inquired of the clerk if he had any .30-caliber match bullets, but the clerk openly laughed. Another son inquired if he had any Hornady .22-caliber, 53-grain V-MAX bullets stashed in the backroom for his .22-250 Remington, but this time the clerk laughed even harder! When he finally finished laughing, he walked over and opened a file that contained a long waiting list of customers wanting .22-caliber bullets. "Would you like me to add you to this list, it looks like it is about two-years out, maybe more?" he replied.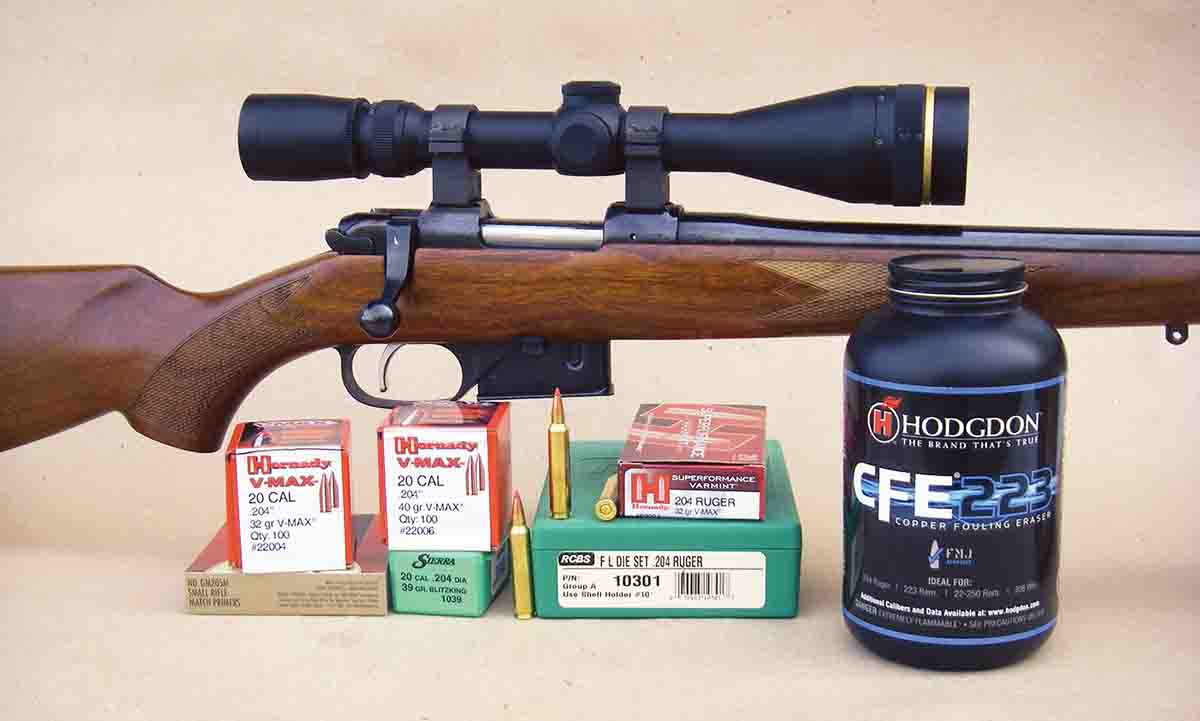 With the events in the U.S. and the world over the past year or so, it is doubtful that we are going to see the huge backorder situation with guns, ammunition, primers and components ease up anytime soon. Ammunition and bullets for military-based cartridges seem especially hard to find, which is due primarily to their popularity among civilians. Examples include the .223 Remington and 5.56 NATO, .308 Winchester and others.
This would explain in part why .17- and .20-caliber bullets, as well as ammunition for those calibers, are a bit more available on dealer's shelves. This brings us to the .204 Ruger, and why it is a worthy caliber for varmint and predator hunters. With components and ammunition more readily available, it might be a great idea to add one to your rifle battery (if you have not already done so).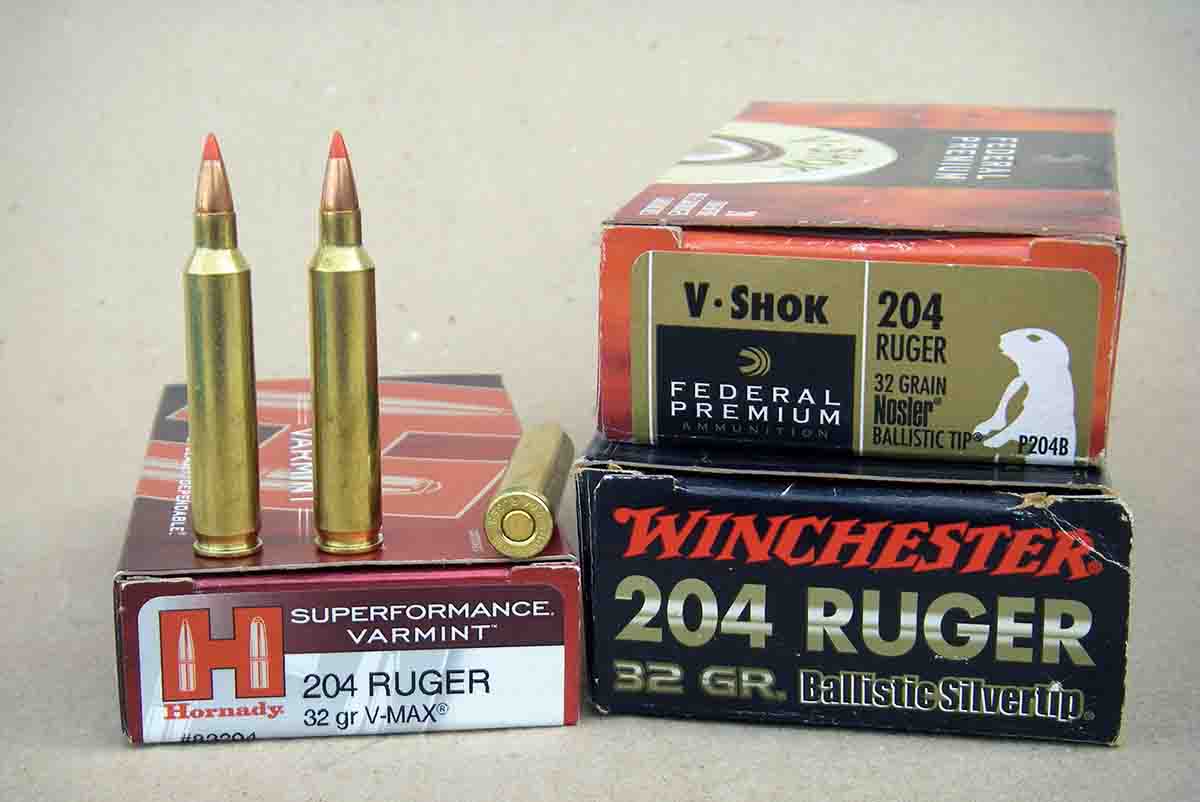 The .204 Ruger was formally announced in 2004 and was the first rifle cartridge to bear the name of innovative manufacturer and friend, "Mr. Ruger" (as he was known by his friends). The cartridge was jointly developed by Hornady Manufacturing and Ruger, which with its high velocity caused a great furor within the firearms industry, especially among varmint shooters and predator hunters.
The .204 case is based roughly on a necked down .222 Remington Magnum to accept .204-inch bullets, but with the shoulder moved forward and changed from a 23-degree angle to 30 degrees, all of which serves to increase powder capacity, enhance accuracy and efficiency. Initially, it was advertised to push a 32-grain V-MAX bullet at a sizzling 4,225 fps, or a 40-grain bullet at 3,900 fps. I have checked velocities of these Hornady factory loads in at least five different rifles with 22- to 26-inch barrels, and generally speaking, stated velocities are very close to actual velocities from 24-inch and longer barrels. The .204 very quickly became universally popular and all major ammunition companies added factory loads to compete with Hornady, including Federal, Remington, Winchester and others. It should be noted that Hornady has added a 24-grain NTX (non-toxic) bullet factory load with a velocity of 4,400 fps, which appears to be the second fastest regularly produced Sporting Arms and Ammunition Manufacturer's Institute (SAAMI) specification cartridge (the fastest being the .22-250 Remington as loaded by Hornady with its 35-grain NTX bullet at 4,450 fps). Generally speaking, the .204 is an accurate cartridge, with a variety of production rifles producing sub 0.5 MOA groups with select loads.
One of the innovative features of the .204 includes the powder used by Hornady in factory loads, which is known by OEM producers as SMP746 (St. Marks Powder) and features a decoppering agent that minimizes barrel fouling. This technology is used by the U.S. military and is an important feature of the .204. For example, smaller calibers, especially ultra- high velocity cartridges, are prone to fouling, which can quickly rob accuracy. However, with the decoppering agent, a quality barrel can be fired with many hundreds of rounds without any significant accuracy loss.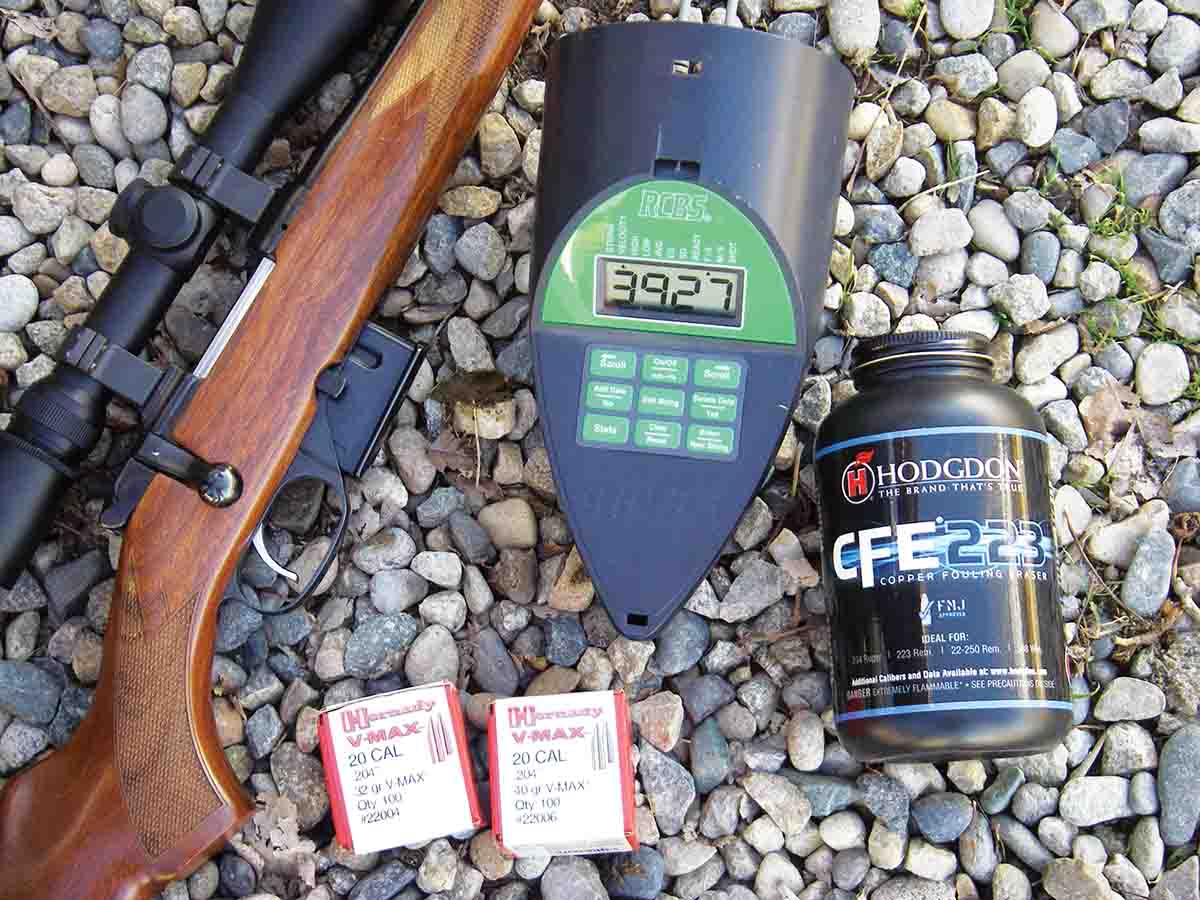 For example, I fired one rifle with more than 1,000 rounds during a three-day varmint shoot and purposely did not clean the barrel in the evenings. No significant loss of accuracy could be detected and reliable hits could still be made at 500 yards. Similar results have been observed when fired from rifles from Remington, Ruger, CZ, Mossberg, Cooper Arms and others.
One of the concerns with any high-velocity cartridge is premature throat erosion. While I personally have not conducted scientific tests to establish barrel life, according to the Hornady engineers that developed the cartridge, due to its comparatively small powder charges that are typically between 26.0 to 30.0 grains, along with its 30-degree shoulder angle for a more efficient powder burn, barrel life should be nearly as long as the .223 Remington.

The .204 is an honest 500-yard varmint cartridge, with the vast majority of varmints being taken within that distance. Within that distance, it offers a notably flatter trajectory than any .223 Remington load and compares favorably with the .22-250 Remington. For example, using the 32-grain Hornady V-MAX factory load, a rifle zeroed at 200 yards will drop 4.1 inches at 300 yards, 13.1 inches at 400 yards and 28.9 inches at 500 yards. By comparison, the 40-grain V-MAX drops 4.3, 13.2 and 28.0 inches, respectively, while the 24-grain NTX drops 4.3, 14.3 and 33.0 inches, respectively.
While the above 32-grain load and similar light bullet arrangements from other companies have been very popular due primarily to their impressive muzzle velocities, for distances beyond 300 yards the 40-grain bullet with its higher ballistic coefficient (BC) of .275 compared to .210, tends to buck the wind notably better and as noted, shoots flatter, which makes it my preferred load for general purpose use, including hunting prairie dogs to coyotes.
In a typical varmint weight rifle, the .204 offers such light recoil that the bullets' impact can be watched through the scope. This is a desirable feature when shooting in a heavily-populated varmint town, as the shooter can easily identify how much correction is needed to make a hit on the next shot, or when hits are made, the gratifying results can be observed through the scope. When shooting a heavily-populated varmint town wherein 400 to 600 rounds or more are fired daily, the comparatively mild recoil and muzzle report is greatly appreciated.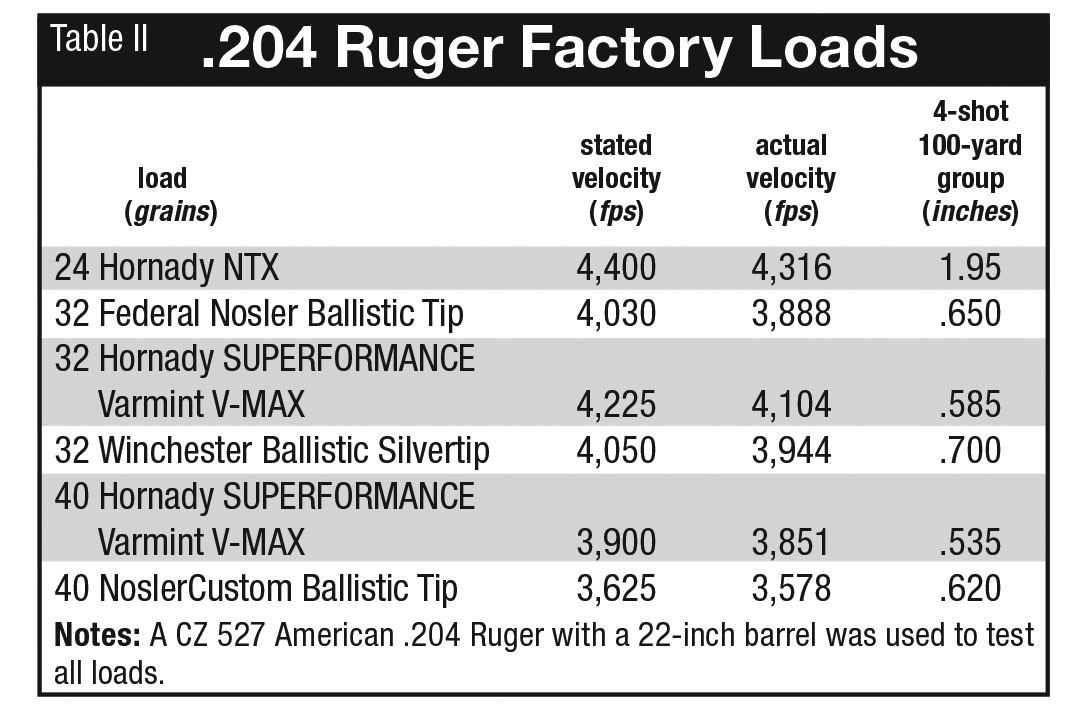 Handloaders will not have a difficult time assembling great loads for the .204. First, many bullet weights have been added, with weights including 24, 30, 32, 34, 35, 39, 40, 45 and 50 grains from Berger, Nosler, Speer, Sierra and of course Hornady. For those wanting to duplicate Hornady factory loads, the previously mentioned SMP746 powder was eventually offered in canister grade as Hodgdon CFE 223, which has become widely popular in many applications. As can be seen in Table I, several other powders offer excellent performance (velocity and accuracy) that include extruded and spherical powders. Due to the small caliber, when using extruded powders, selecting "short cut" versions will permit the powder to easily drop through the case mouth without bridging. Select loads using extruded powders will give top-notch accuracy. Spherical powders will generally meter accurately, allowing them to be thrown from a powder measure, which is often appealing for high volume shooters.
Before leaving the sporting goods store, I purchased a few boxes of 40-grain Hornady V-MAX bullets (leaving some on the shelf). I have already loaded them up and am ready for spring varmints. The .204 Ruger is truly an outstanding varmint, pest and predator cartridge that offers accuracy, velocity, a flat trajectory, efficiency, comparatively long barrel life, low recoil and a modest muzzle report. Components and ammunition seem to be more readily available, which makes it even more interesting. All things considered; it is in a class of its own.