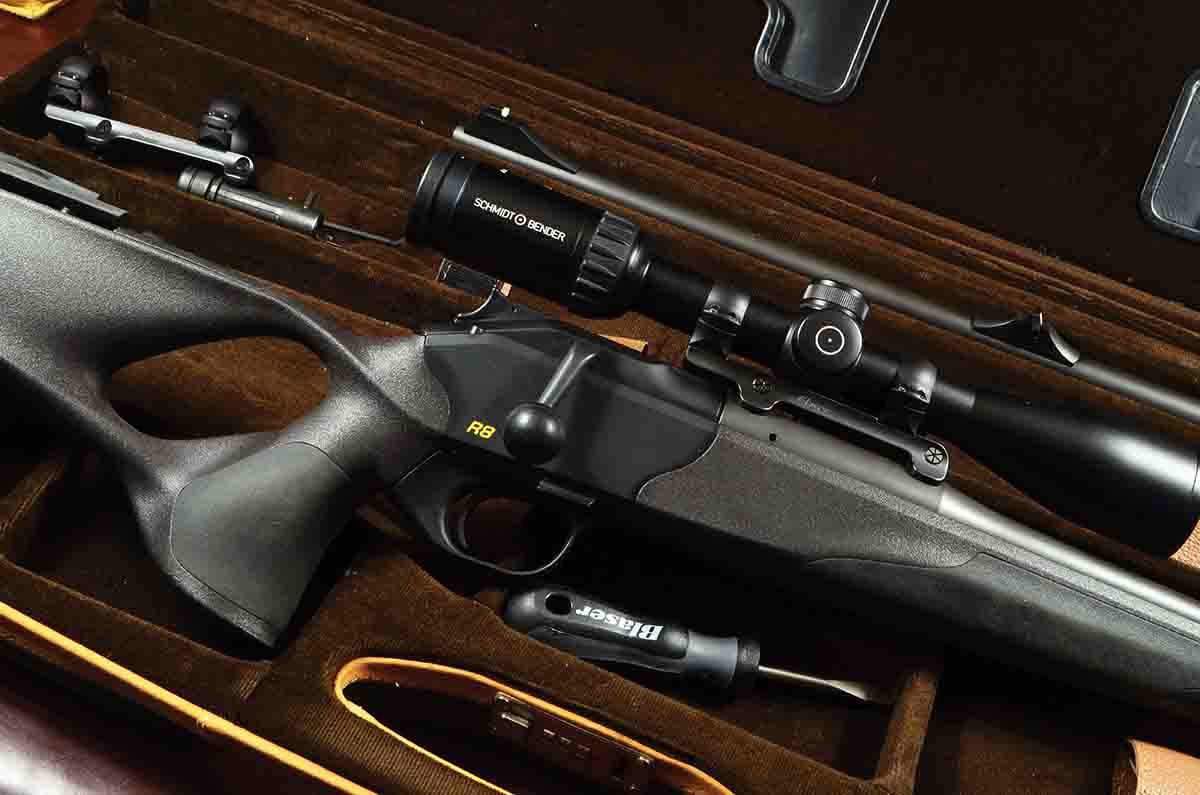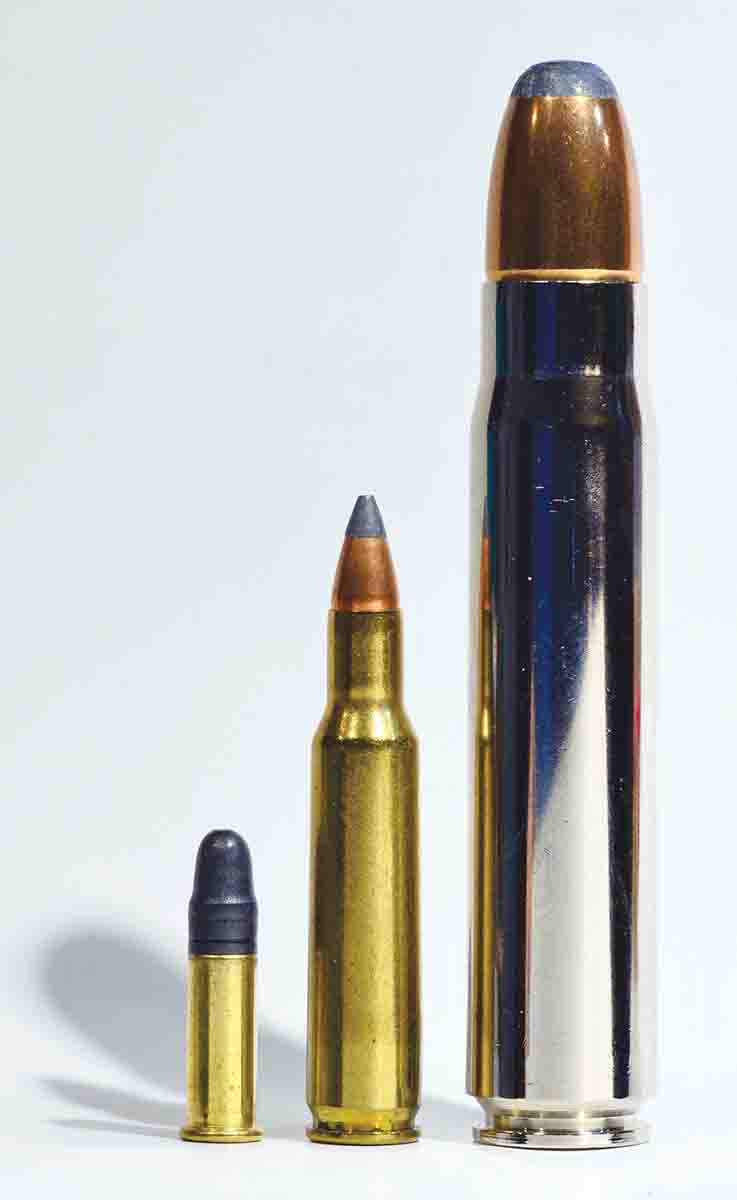 The search for the perfect .22 may not rank up there with the quest for the Holy Grail, or even for the perfect deer rifle. But, to men of a certain age, holding the perfect .22 in our hands before we depart this vale of tears is a fond hope that only grows fonder as we grow older.
Part of this is a problem of memory. It seems to us that, in our youth, we trod the back fields and distant woods with .22s that felt like real rifles – solid, accurate, dependable. When we traded our Daisy Red Ryder BB guns for that bolt-action, single-shot .22 made of steel and real walnut, and were admonished to never ever let it rust, we crossed the magic line from boyhood to not-so-boyhood. The feel of that real rifle lingers.
Vague mutterings about finding a .22 made "the way they used to be" began, if memory serves, in the 1980s, when plastics, alloys, and sheet-steel stampings were becoming all-pervasive in the rifle world. The mutterings did not go unnoticed, and in 1982, Kimber introduced one of the nicest .22 rifles ever made – the Kimber Model 82 bolt action. To the company's dismay, everyone may have insisted loudly that they wanted a "real rifle," but too few were prepared to pay a "real rifle" price, which then was about $500. Around 1990, the Model 82 was quietly dropped.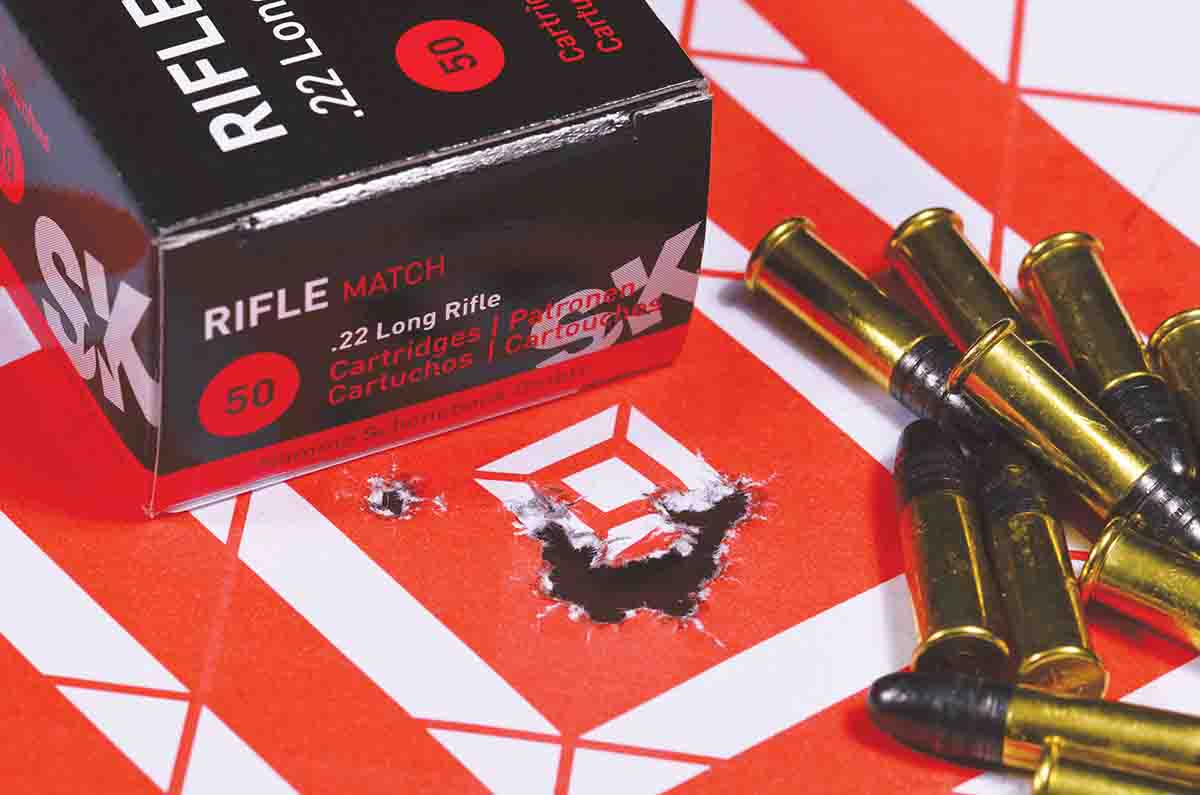 Over the years, another approach has been to somehow convert a centerfire rifle to shoot cheaper, readily available .22 rimfire ammunition. This has been accomplished through barrel inserts, such as the English Morris tube, or by shorter chamber adapters, like those from Marble's. Almost all of these have been single shots, which is unfortunate because, given the lamentable accuracy of most, shooters undoubtedly need more than one shot to accomplish anything at all.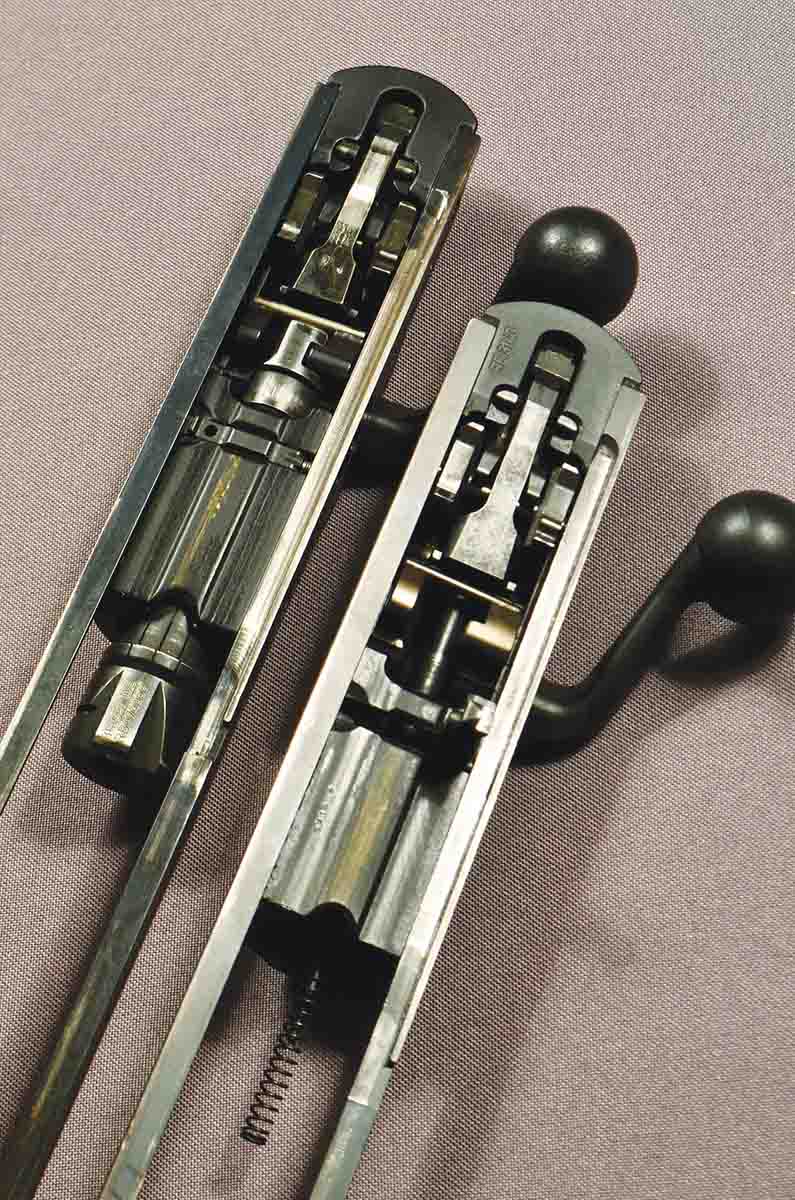 There is, however, a third way of giving the discerning rifle buyer a .22 that feels like a real rifle, and that is to completely convert a big-game rifle – temporarily – into a complete .22 while retaining the option of switching back if the need arises. This allows inexpensive practice with the serious rifle and the .22 feels real for the simple reason that it is.
The Blaser R8 has now been around for more than a dozen years, and has gone a long way toward convincing Americans that rifles assembled (and disassembled) from disparate parts, allowing mixing, matching and switching of caliber and scopes, is actually not a bad idea. The R8 is a German straight-pull action that is usually shipped in a short case, and broken down like a break-action shotgun into its various parts – barrel, buttstock, bolt, scope – for convenient storage.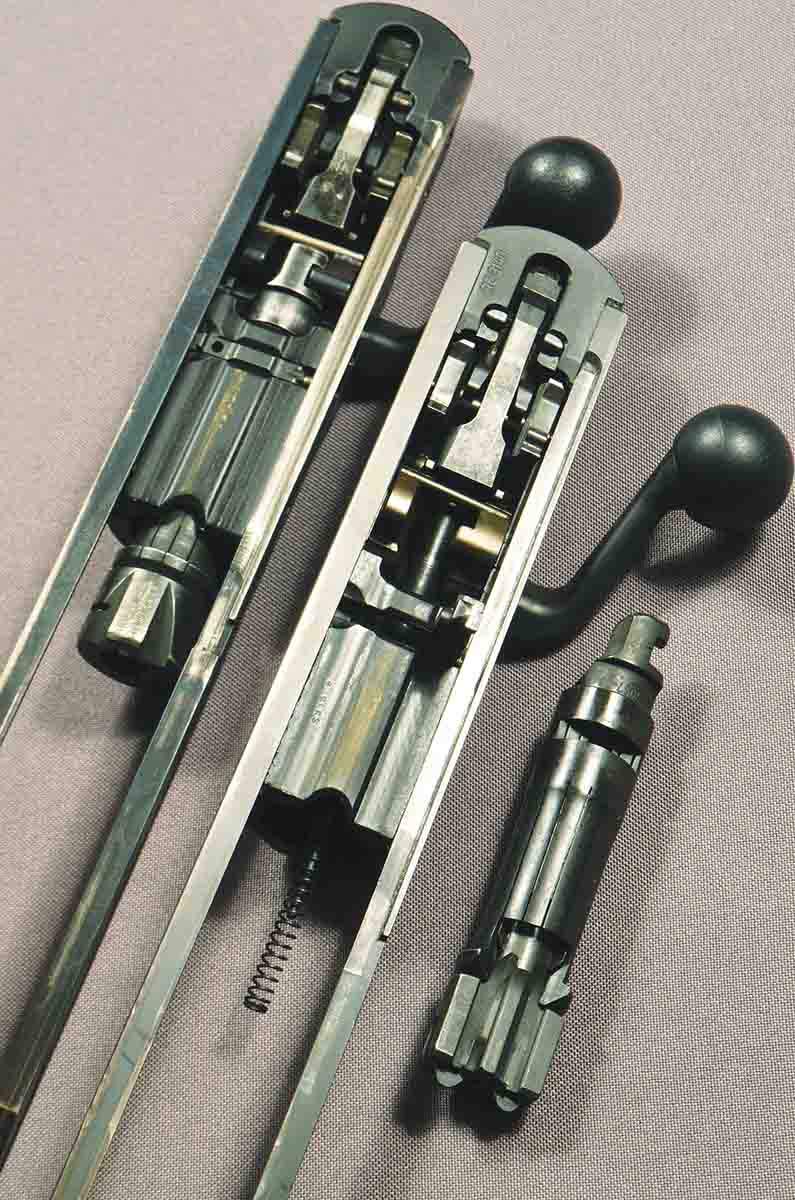 When I first encountered the earlier Blaser rifle in the early 1990s, I was impressed with the workmanship and the ingenuity, but I could never shake the feeling that a rifle was a complete unit, like a Winchester 94 or a Mauser 98, that should be kept loaded and leaning behind the kitchen door in case lions invaded the garden. The Blaser "system" felt too much to me like an old Meccano set, where different structures were put together from parts.
This feeling changed in 2008, when Blaser unveiled the aptly named R8, which looked, felt and shot like the most "real" rifle I'd ever handled. Beyond that, what sets the R8 apart is the fact that if you buy one in, say, .270 Winchester, and decide you also need a .375 H&H, you can buy a barrel, magazine insert and breechblock and voilà – you are ready to hunt Cape buffalo. In fact, the R8 can be had in everything from .222 Remington and .204 Ruger on the small side to .500 Jeffery on the big.
Because the R8 is modular in construction, not just barrels and calibers are interchangeable. Stocks come in any number of configurations, including walnut in grades ranging from very nice to spectacular, and composite stocks, some of which are traditional, others radically modern.
Depending on a given day, you can put together any combination of stock, frame, barrel and scope to accomplish it – or just to try something different to see how it works. This makes it difficult to write about a specific R8 because each one constitutes a moving target. If there is something you don't like, simply change it. Breechblocks and magazine inserts can be changed without tools, quickly and easily, but changing the barrel requires the hefty Allen wrench supplied with the rifle.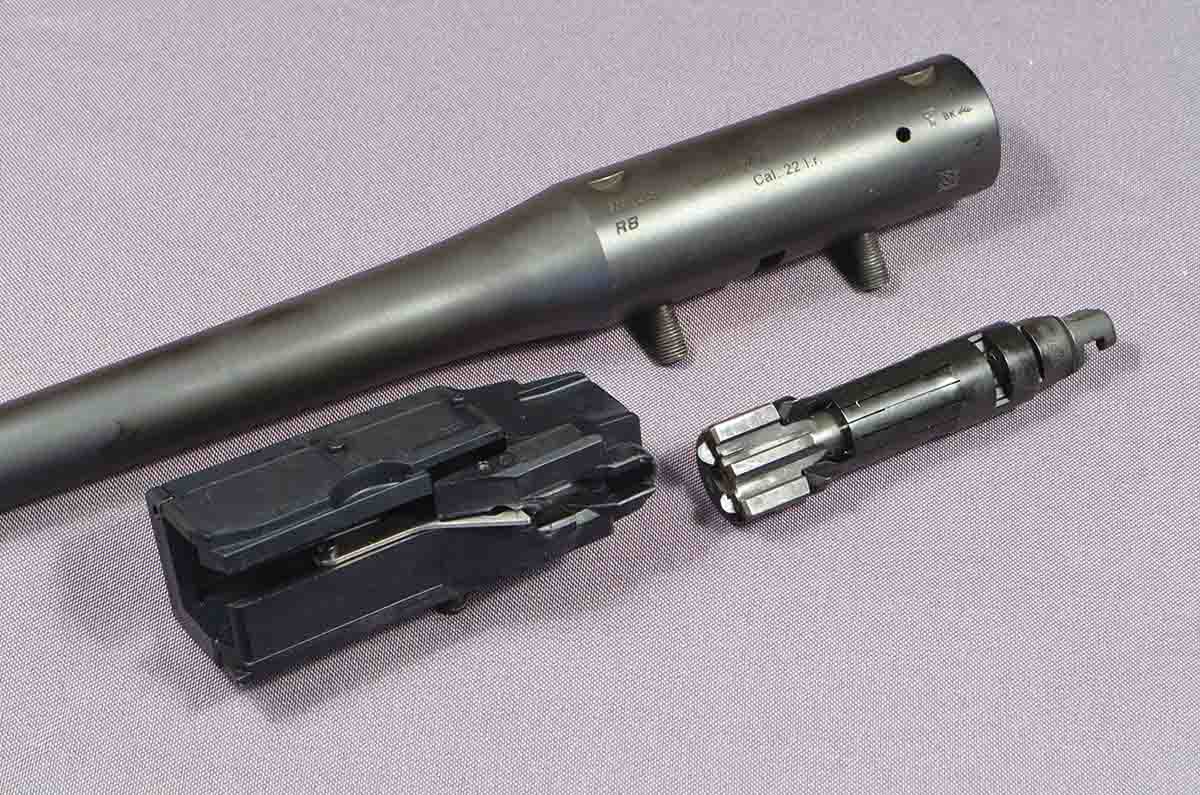 Ever on the lookout for something new to offer, a few years ago the designers at Blaser hit on the idea of adding a .22 rimfire conversion kit to the R8's array of calibers. In 2019, the conversion kit was announced, just in time to run into production and shipping problems. To the frustration of all, after months of waiting, a kit finally arrived from Germany and was shipped to me along with an R8 Ultimate in .222 Remington.
It arrived in a large, trunk-style case with compartments for the stock, two barrels, two scopes fitted on appropriate scope mounts (The R8 has its own mount design, a beautifully made quick-detachable system.) and smaller compartments for the spare breechblock, magazine insert, necessary tools and supplies for cleaning and maintenance. If you were seen walking down the street with the case, few would suspect it contained a rifle.
For reasons that escape me, the .222 barrel (22.75 inches long) was fitted with Blaser's patent open sights, while the same length .22 LR barrel had no sights. This was luck of the draw; the buyer can specify open sights or not on any barrel. If they are ordered as original equipment, there is no charge, but it costs $125 to have them installed later. It seems to me the reverse arrangement would have been more appropriate – I can't remember ever seeing a .222 Remington used with iron sights, whereas they are very handy on a .22 rimfire – but this anomaly can be put down to what was available at the time, given all the constraints under which we were operating.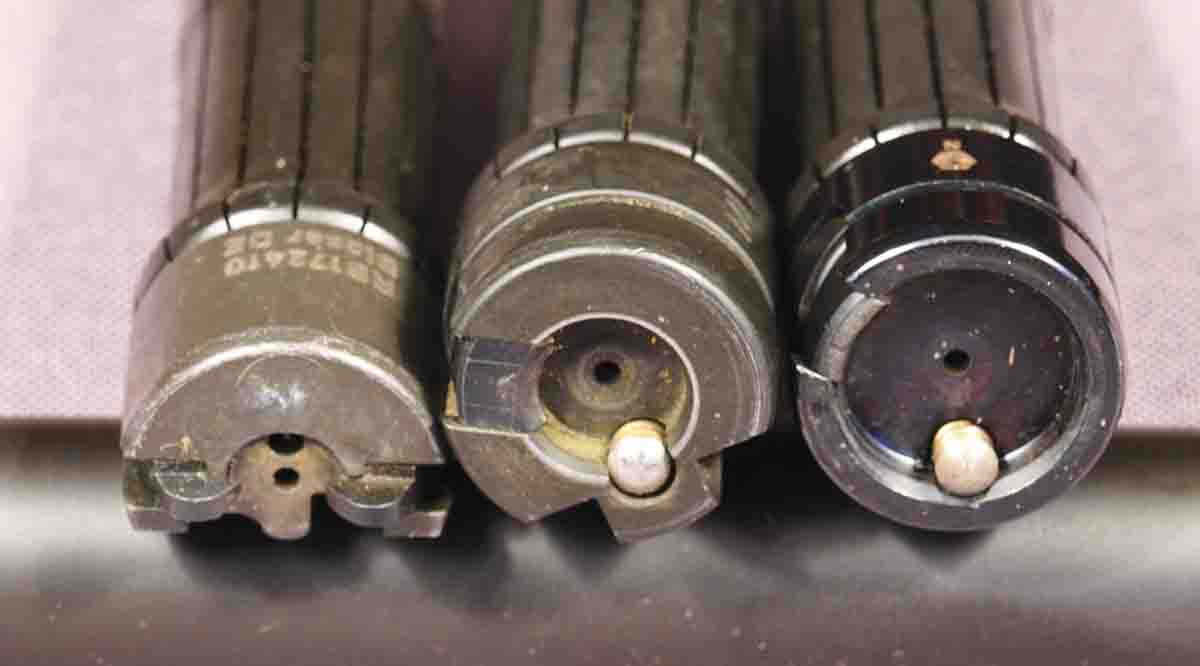 The stock I received was the new Ultimate. It's a composite thumbhole design that looks futuristic, to say the least. I have never been a big fan of thumbhole stocks, but having used them on various Blaser and Sauer rifles over the past decade, my opinion is changing. They have all been quick and handy to use, comfortable and ergonomic to shoot. The Ultimate has a spring-loaded comb that can be raised or lowered to suit the user and the sights, simply by pressing a discreet button.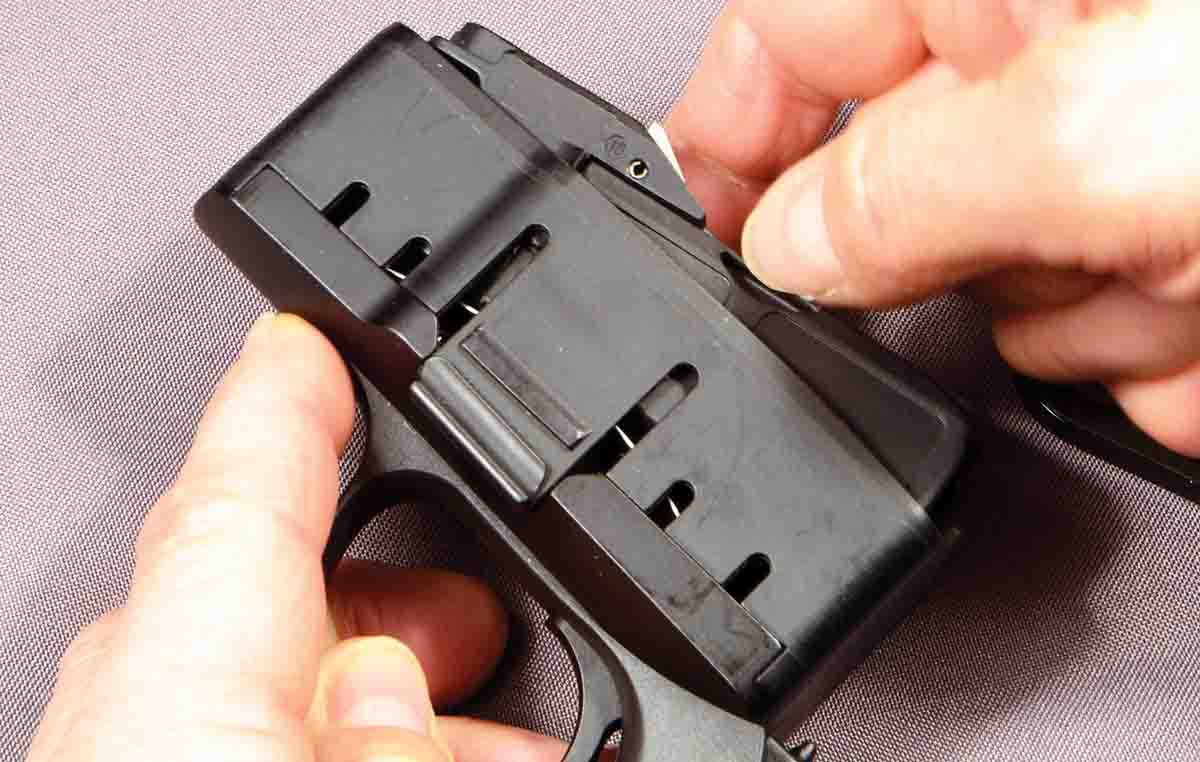 Because this is a look at the new .22 rimfire conversion, I didn't spend a lot of time shooting the rifle with its .222 barrel. Instead, I assembled it as a .22, installed a Schmidt & Bender 2.5-10x 40mm Summit riflescope and went off to the range with every type of .22 Long Rifle match ammunition I could find, including SK, RWS, Federal, Norma, Aguila, Lapua, Eley and CCI. I then shot a 10-shot group with each type of ammunition at 50 yards.
The best group was .95 inch, using SK Rifle Match and as can be seen from the photo, nine of those shots went into one ragged hole measuring exactly half an inch. One flier spoiled it. None of the other groups approached that stellar level, but the worst was still a very credible 1.45 inches, and the overall average was 1.13 inches. I'll take that from a .22 rifle any day of the week.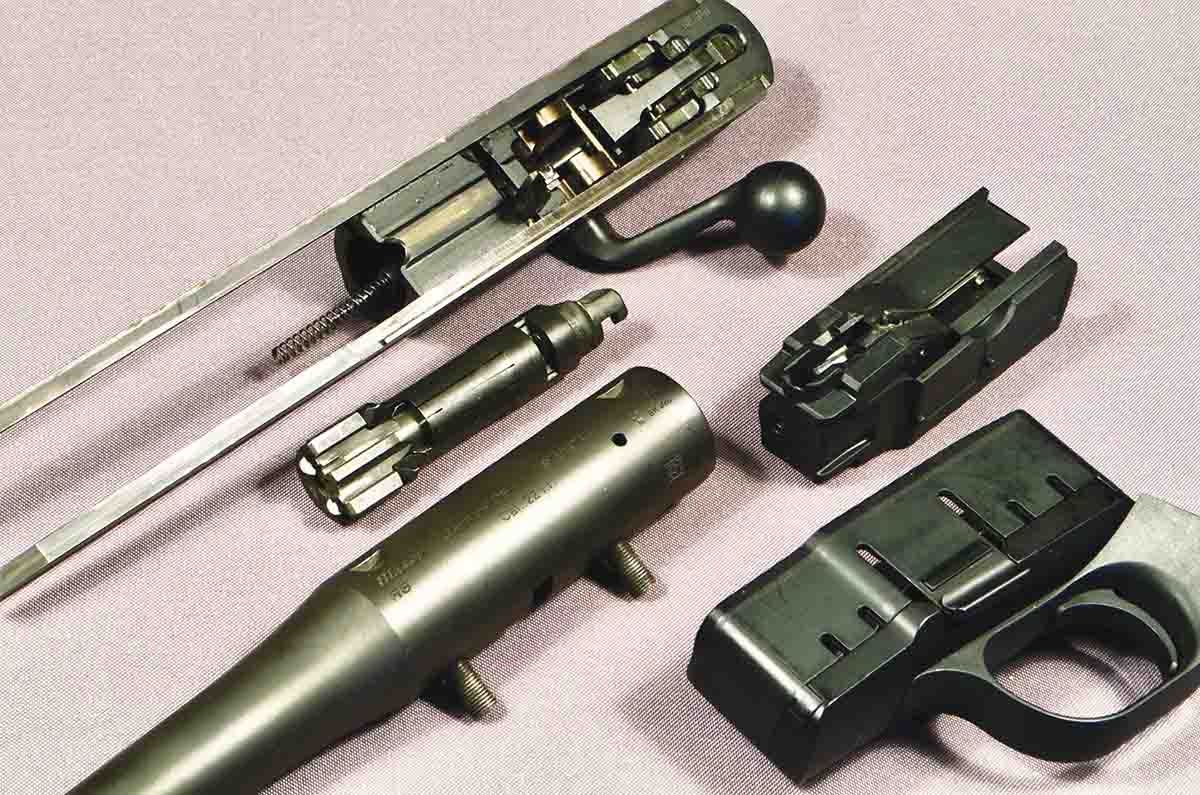 Having two other R8s on hand, I spent some time dismantling them all, then reassembling with different parts. One that occupies a far corner of my gun vault is a .500 Jeffery that weighs in at 10 pounds 5 ounces, of which more than half (5 pounds, 6 ounces) is its specially weighted stock. Fitted with the .22 barrel, it came in at a half-pound less. The point of this is that it is possible to convert a serious dangerous-game rifle – the .500 Jeffery was, for many years, the most powerful magazine rifle cartridge on the planet – and go out and practice with it, shooting .22s. The dangerous-game rifle would have almost the same weight and exactly the same feel, which is good for the muscle memory.
While on the subject of weight, the Ultimate weighs 8 pounds on the nose, without a scope; add the Schmidt & Bender, and it is up to 9.5 pounds. That is not light for any rifle, never mind a .22, but I, for one, like more weight in a .22, not less. A 5-pound .22 may be pleasant to carry, but it's pretty hard to hit anything – for me, at least.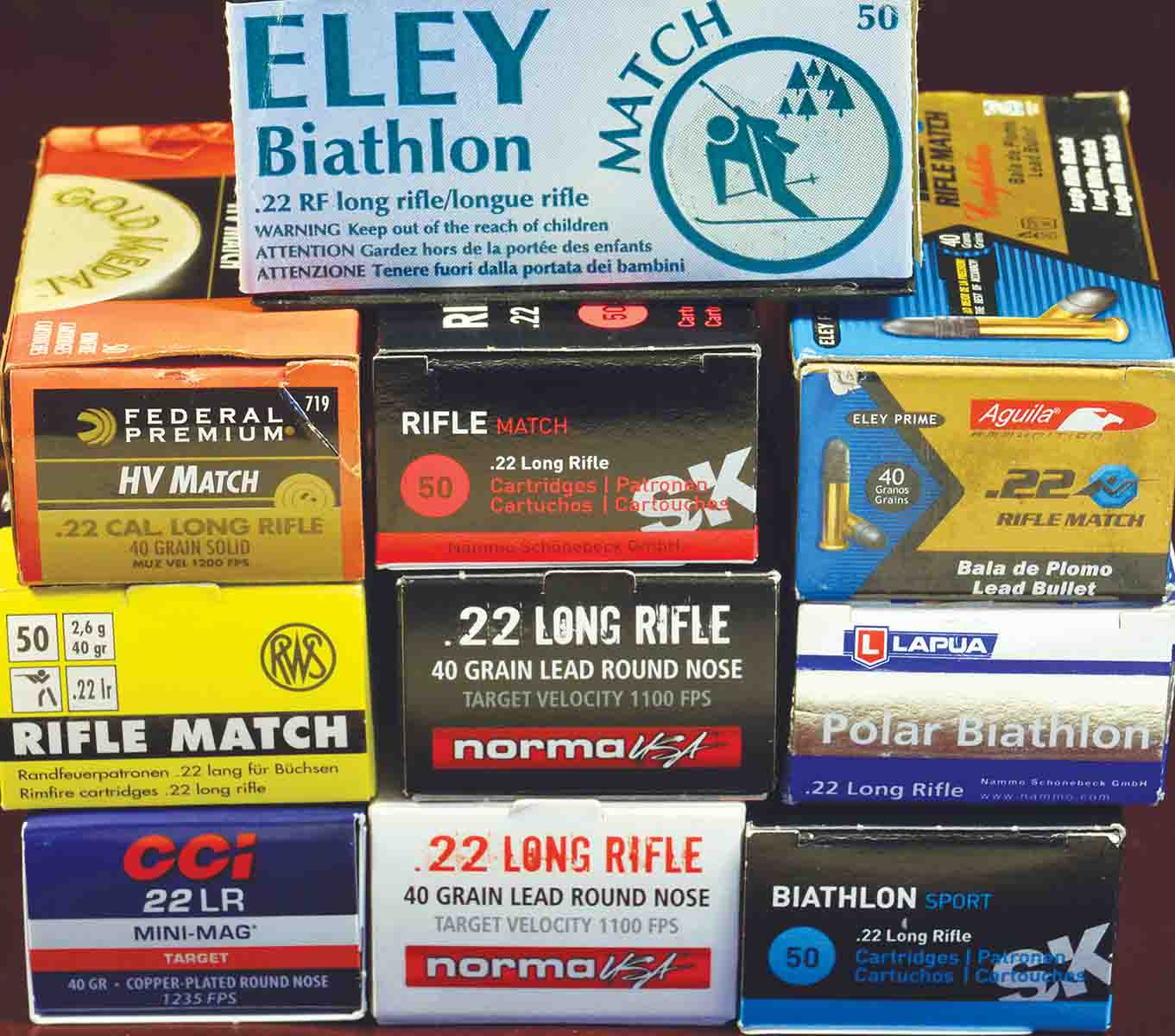 One of the rules of shotgun evaluation is that, if the gun feels lighter than it actually is, then it's well balanced. And, of course, the opposite is also true. A 5.5-pound shotgun can feel like a barge pole, where a well-balanced 7.5-pound gun can feel like a wand. In the case of the R8 Ultimate, I would not have guessed it's as heavy as the scale indicates, which suggests it's a very well-balanced rifle.
As mentioned above, the R8 has now been in production for 13 years, and the line has steadily expanded during that time. As of right now, Blaser offers it in 46 different calibers. A half-dozen of these are Blaser's own cartridges (7mm, .300, .338, .375 and 8.5x55), which are not imported to the U.S. One or two are special order, such as the single-shot 10.3x60R. Still, having a rifle available in 40 different chamberings is something that hasn't been seen since the heyday of the Winchester High Wall, and that veteran's many chamberings were added and dropped over the course of half a century.
To accompany all these chamberings, there are variations in barrel length, with special lengths available for a surcharge. They can be fitted with or without iron sights. By my count, there are half a dozen different stock designs, and once you get into walnut stocks, there are grades of wood ranging from very pretty to stratospheric. The receivers can be blued, or engraved with several grades of ornamentation.
Throughout this plethora of options and difficult decisions, one fact stands out: Regardless of configuration or grade, the essential parts – barrel, bolt head and magazine insert – are always interchangeable. No matter what you start with, you can always convert it, up or down. Granted, you might not want to add a .500 Jeffery barrel to one of the lighter stocks and frames, but it can be done. As far as I know, no other rifle "system" (for lack of a better word) offers such versatility.

Of course, the R8 is not cheap. Really fine rifles never are. The price for the most basic unit – polymer stock, standard barrel, one scope mount – is $4,750. If you feel like spending money, an elephant-motif custom Grade 5 will run you an eye-watering $90,000. Yes, you read that correctly.
For the record, two years ago at Rock Island, a Kimber Model 82, standard grade, sold for $2,875. In light of that, buying an R8 in .270 Winchester, and then adding a .22 conversion kit for $1,499, doesn't seem bad at all. Yes, you are paying more. But you are getting a lot more. Is it the perfect .22 we've all been searching for? Perhaps not – but it's very, very close.