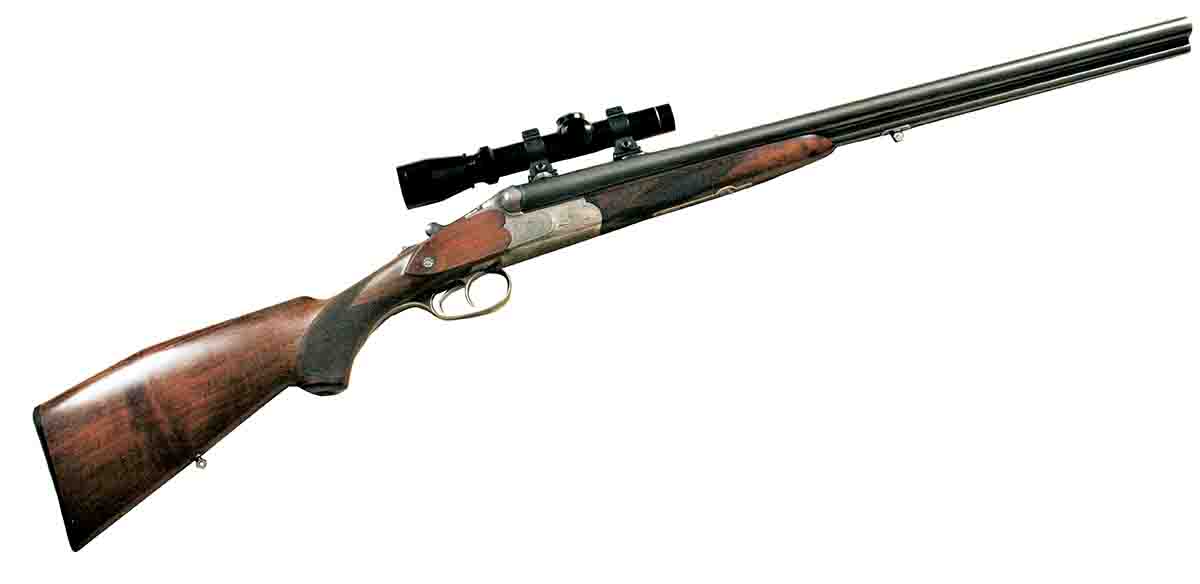 How many arguments involve an all-around hunting rifle? A reasonable guess would be 1,000 a day in the U.S., thanks to the internet. Multiply that by other countries with plenty of avid hunters (more than many Americans would guess) and 365 days, and the total might be over a million a year.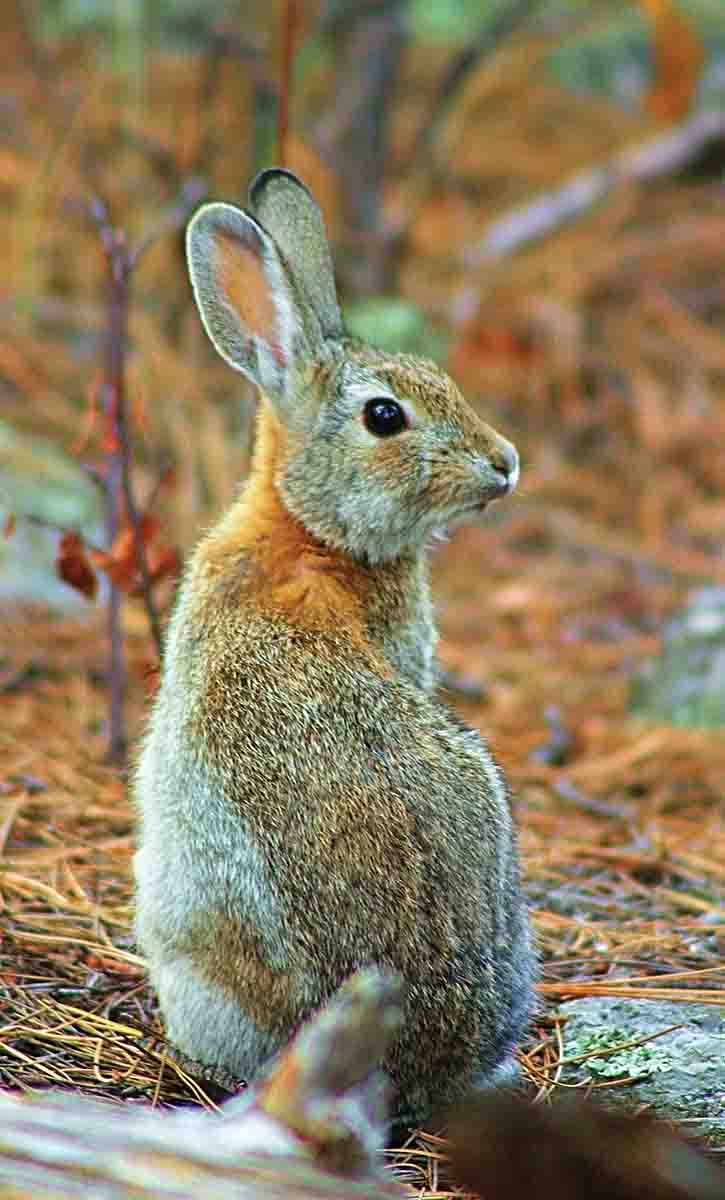 Of course, most such "discussions" primarily involve the cartridge, not the actual rifle – though some do, which is not surprising when hunters of several generations can argue via cyberspace. Many active big-game hunters firmly believe the pre-64 Model 70 Winchester is the finest big-game rifle ever, including some hunters born after 1964.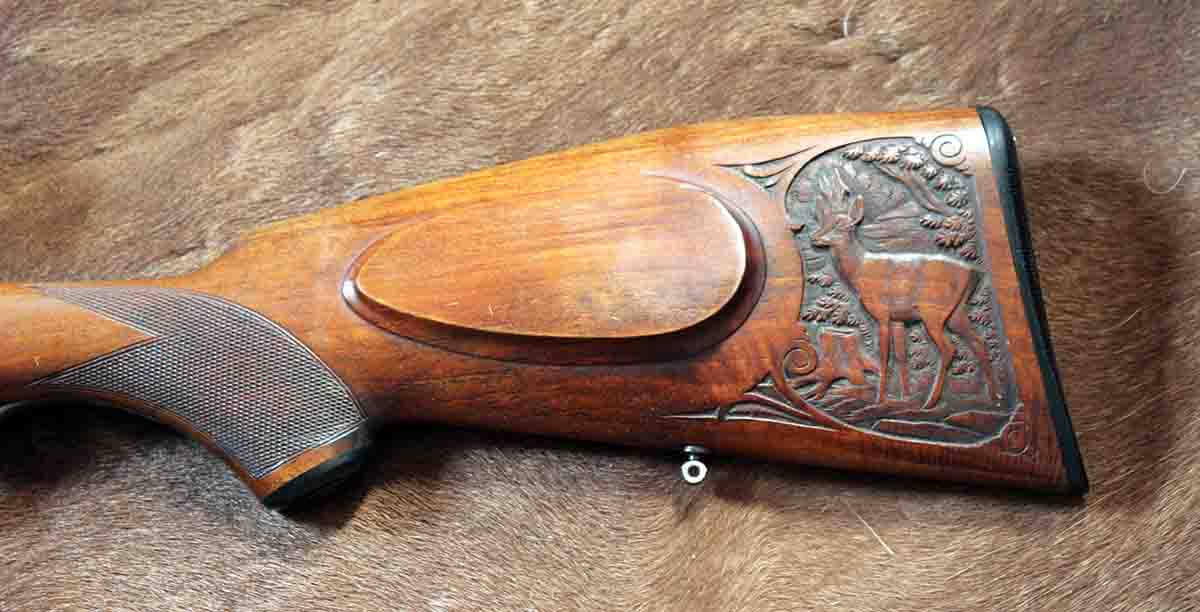 Like many of us, I have owned several all-around big-game rifles, including a pile of .30-06s. At one point, my .30-06 collection included almost every basic form of centerfire rifle chambered – the lone exception was a double rifle – a bolt, pump, lever, single-shot and semiauto, plus a Sauer Model 3000 drilling with side-by-side 12-gauge shotgun barrels over a .30-06 barrel.
The drilling was supposedly the ultimate solution to the "problem" of an all-around travel rifle. At the time, I normally traveled several times a year to distant places from Alabama to Alaska to Africa, during both big-game and bird seasons. What is better for the job than a 12-gauge/.30-06 hybrid?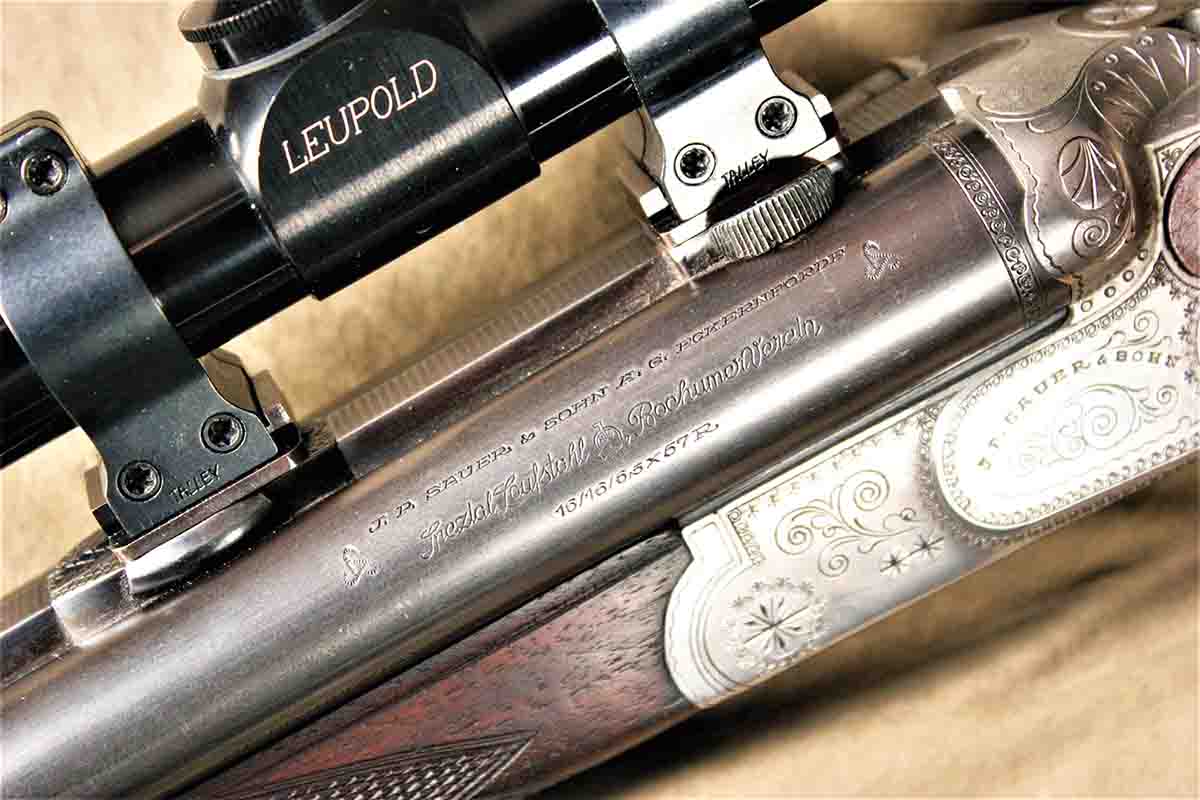 I purchased the drilling from an internet site, but in actual practice it seemed more like a misfit cousin – not criminal, or combative at family reunions, just not much fun to be around. With its detachable Zeiss scope, the gun weighed over 9 pounds, and with the scope removed, almost 8 pounds. Due to the three 23.6-inch (60 centimeter) barrels – the most common length among drillings – the balance resembled an 8-pound baseball bat held with the handle against my shoulder. I could still shoot it okay, once breaking 25 straight at 16-yard trap, but it felt like kissing a misfit cousin, no matter how good she looks.
I was still intrigued with the drilling concept, due to really liking both big game and bird hunting, and not long after selling the 12x12/.30-06, friend Bruce Cunningham offered to sell me one of his favorite drillings. Like many of us, he constantly searches for the perfect hunting rifle. So far it has eluded him, despite owning plenty of rifles and a total of over 200 drillings, but Bruce keeps looking. Often this means selling a drilling to pay for the next nominee.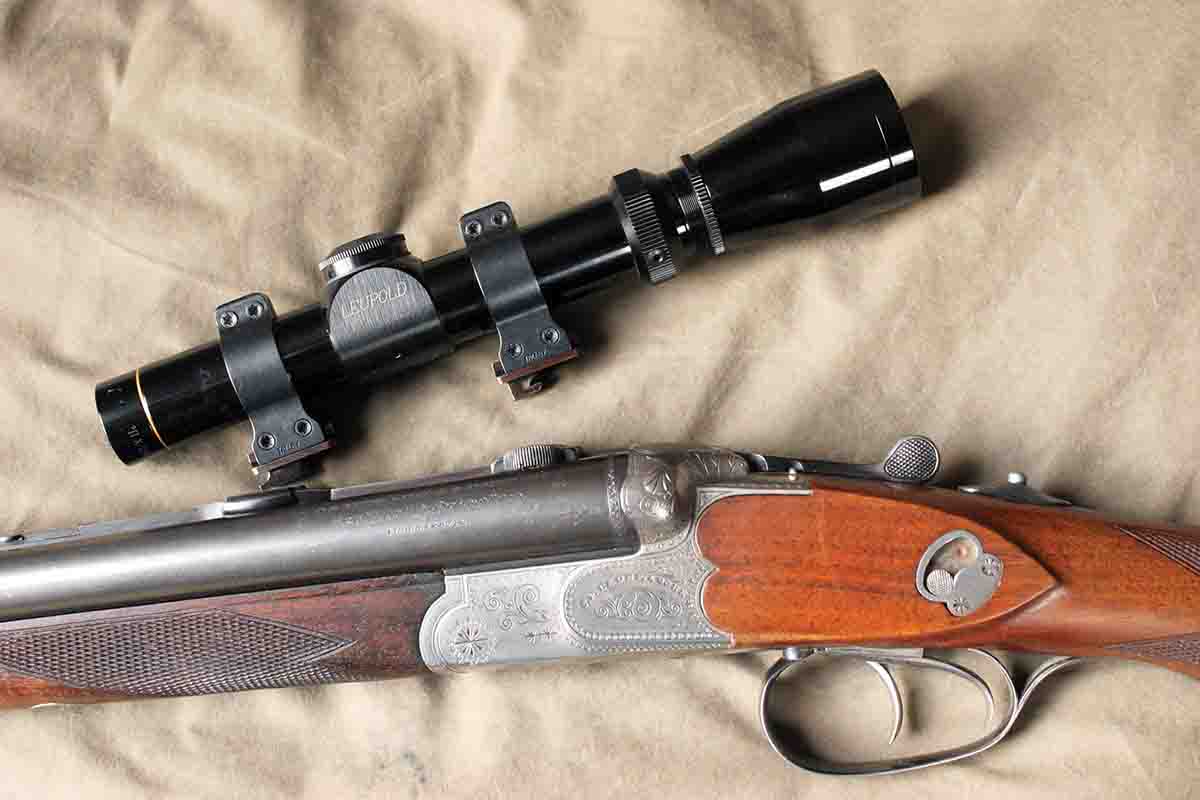 The one he offered turned out to be an older Sauer with a 4x Hensoldt scope. Like most drillings, the shotgun barrels were 16 gauge. The rifle barrel was in 6.5x57R, the rimmed version of the 6.5x57 Mauser. Introduced in the mid-1890s as a hunting cartridge, the 6.5x57 is essentially the 7x57 necked down, with minor changes in shoulder angle and body length. Like many other rimless German hunting rounds, a rimmed version appeared simultaneously, for more reliable extraction in break-action guns, whether drillings, single shots or double rifles.
Like most pre-1900 smokeless 6.5-caliber cartridges, the 6.5x57 was designed around roundnose bullets of about 160 grains, so the barrels had relatively fast rifling twists. In fact, my drilling has the 1:8 inch twist so popular among twenty-first-century 6.5s, measured by the common cleaning rod method with a cotton patch wrapped around an appropriate bore brush.
Many German hunting rifles and shotguns have game scenes engraved on the action, but the 6.5x57R has a game scene carved into the buttstock, a roebuck standing alertly in a forest, plus a combination of scroll and geometric engraving on the action. With the scope it weighed a couple ounces over 8 pounds, and without the scope 7 pounds, 4 ounces, much handier than the 12x12/.30-06.
Included were a set of RCBS dies for the rimless 6.5x57, with a shellholder for the rimmed version. Not so oddly, the rimmed versions of European rounds normally have exactly the same case dimensions as their "parent" cartridges. In fact, the rimless versions can often be fired in break-action guns, and sometimes extracted with a fingernail.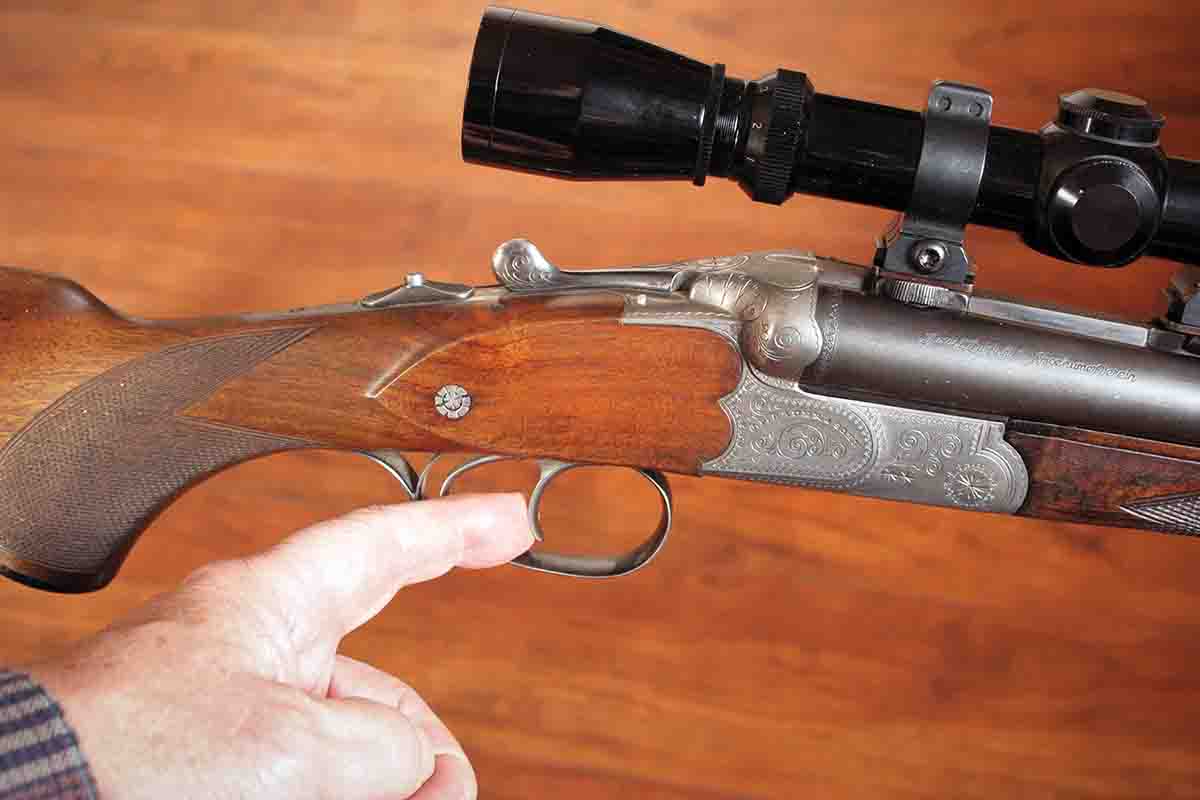 Bruce also provided a couple boxes of factory ammunition made by the Austrian firm Hirtenberger, loaded with 120-grain Speer ProHunters, and two more boxes of fired brass. (Several European ammunition companies load American bullets, though Hirtenberger has discontinued this particular load. Today, the major source of imported 6.5x57R ammunition and brass is probably Serbian manufacturer Prvi Partizan.)
He mentioned that the Sauer 6.5x57R was perhaps the most accurate "soldered" drilling he'd ever owned. Older drillings have their three barrels put together with hard solder, exactly like the barrels of traditional side-by-side shotguns. The potential problem of soldered barrels is a change in point-of-impact as the rifle barrel heats up – and since drilling rifle barrels tend to be much thinner than single rifle barrels, they heat up easily. (The barrels on most newer drillings are connected with brackets, generally resulting in finer accuracy.)
Drilling rifle barrels are slim to save weight, one reason rimmed rounds are loaded to somewhat lower pressures than their rimless, bolt-action version. The barrels on this gun are the typical 23.6 inches long, with the chamber end of the rifle barrel .90 inch in diameter, tapering rapidly in front of the chamber area to .41 inch at the muzzle. (The other reason for lower pressures is easier extraction, though break-action German guns tend to be pretty strong. Sauer 3000s, for instance, have a Greener crossbolt fitting through an extension at the rear of the barrels, developed by the famous British gunmaker W.W. Greener.)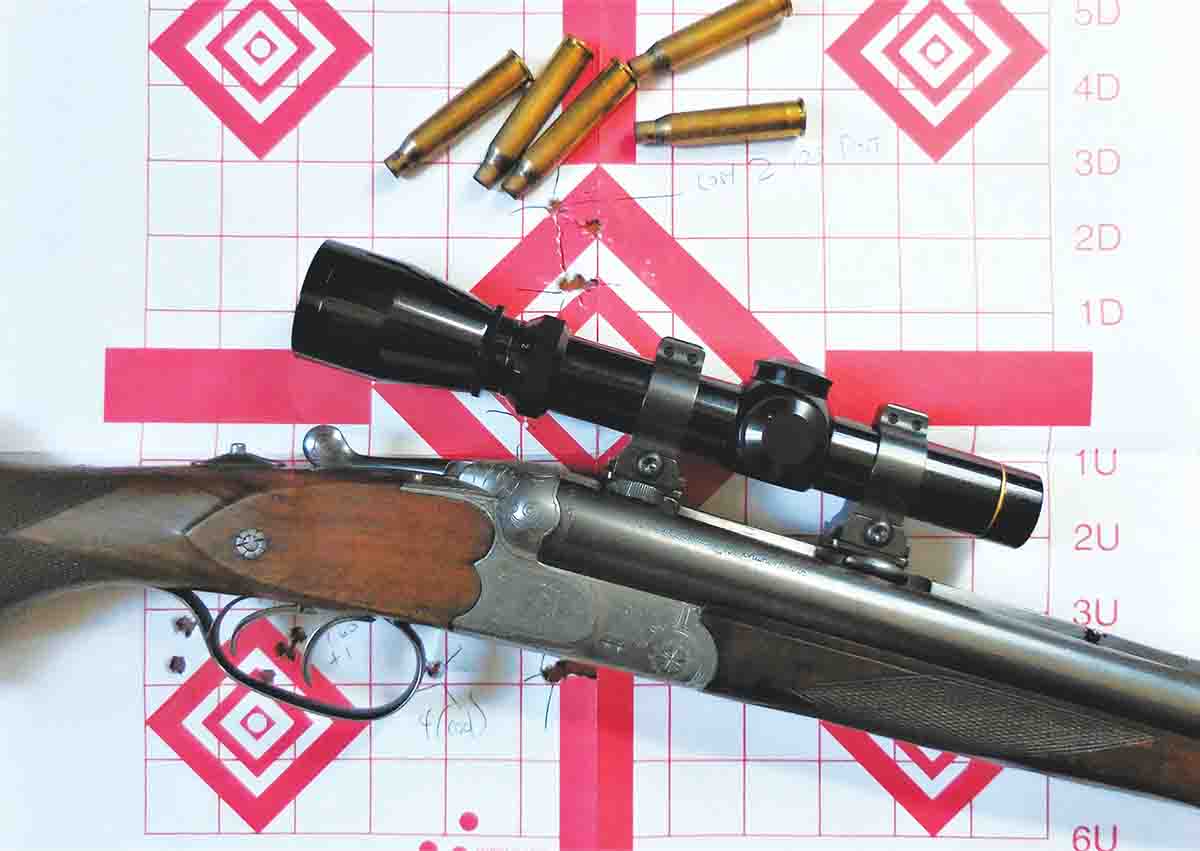 Another traditional drilling feature involves the front (right-hand) trigger, which usually fires both the right-hand shotgun barrel and the rifle barrel, using a mechanical switch to select which barrel. On Sauer 3000s the switch looks like a tang safety, and also slides back and forth: Pushing the switch forward not only changes which barrel fires, but raises the fold-down open sight, via a pushrod between the barrels. The switch has a small, spring-loaded button on top, which locks it in place, preventing accidental barrel-switching. (The actual safety is another Greener mechanism, a sliding button on the left side of the stock grip.)
The front trigger is also single- set: Push the trigger blade forward and it clicks into place, changing the pull from standard to very light. On the 6.5x57R, the standard pull measures 4 pounds on my Timney gauge, and when set, 8 ounces.
All of this may seem complicated, but with a little practice becomes pretty easy to use – at least for me. However, I also grew up with a side-by-side 12 gauge that had belonged to my paternal grandfather, and still prefer two triggers on double-barreled shotguns, finding them more reliable than single triggers – and the quickest way to select which barrel to fire. Apparently, however, using two triggers is too complicated for many modern hunters used to semiautomatic shotguns.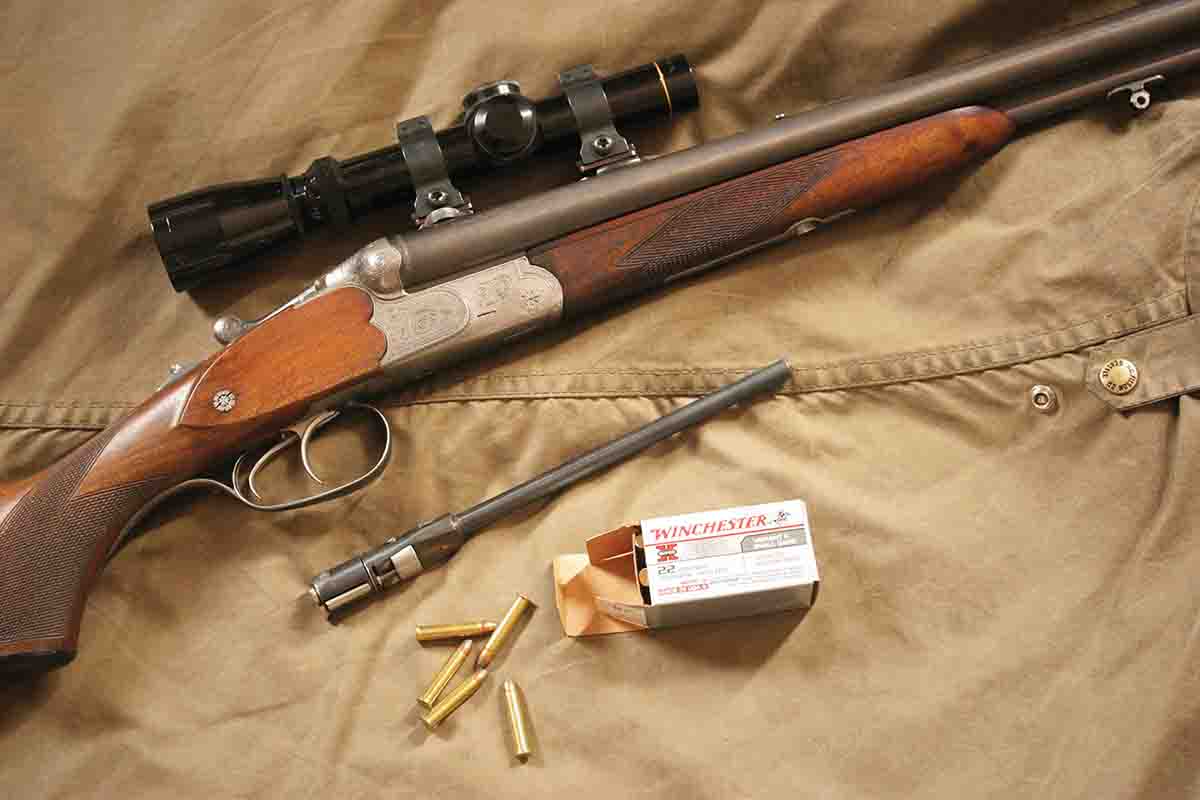 The drilling arrived in early October, just before Montana's general rifle season for big game, and was range-tested with the Hirtenberger 120-grain ammunition. Three, 3-shot groups, with the gun allowed to cool between groups, measured between 1.5 to 2 inches – which did not seem very accurate. However, the Hensoldt's reticle is what Americans call a German No. 1, consisting of three heavy posts that do not meet in the middle, two flat-topped horizontal posts on either side of the field of view and one vertical, pointed post at the bottom. The groups were centered a couple of inches above the tip of the bottom post, and the ammunition averaged around 2,800 feet per second (fps). A computer ballistic program indicated the trajectory would work for "dead-on" aiming out to 250 yards, where such accuracy works fine.
The right-hand shotgun barrel had .012 inch of choke constriction, and the left barrel .015, in the 16 gauge considered around modified, considerably more open than many German shotguns made in the same era. Patterns from both barrels landed right where the gun pointed.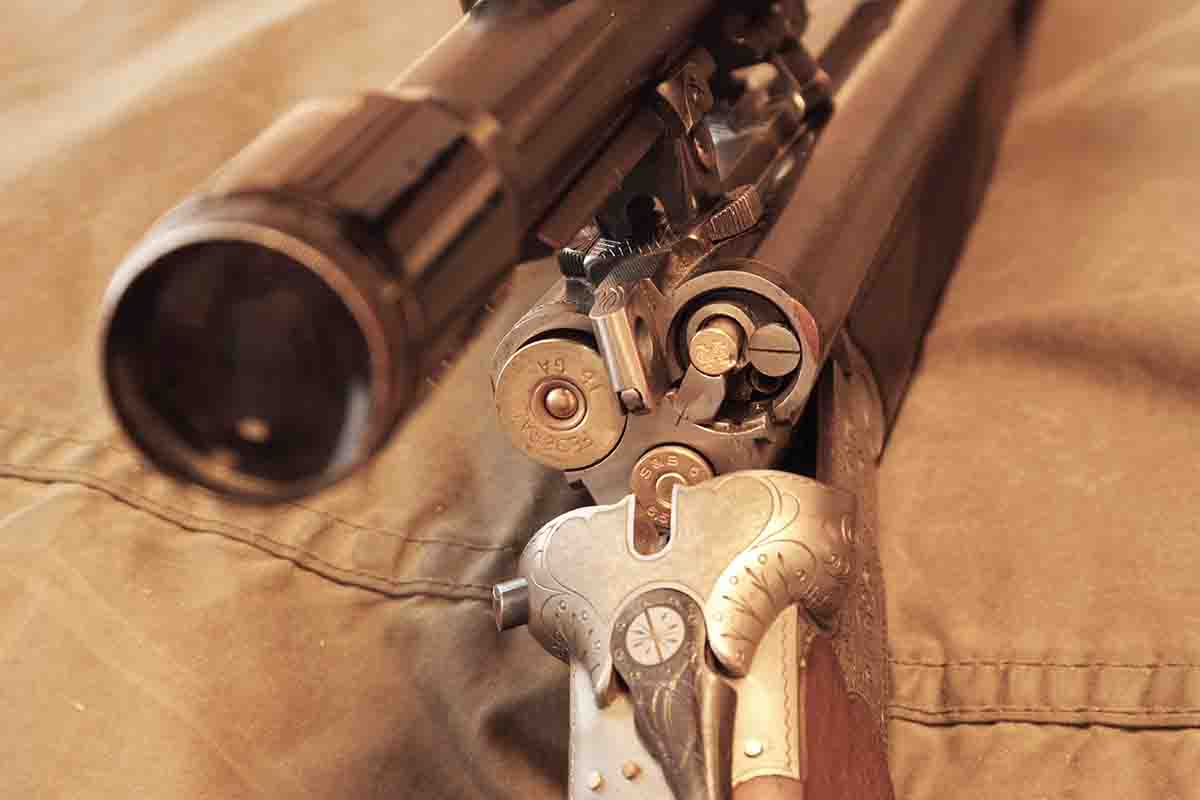 With the scope removed, the gun took a few Hungarian partridges and a rooster pheasant in the few days remaining before big-game season. A couple weeks later, with the scope, it took a big doe whitetail with the Hirtenberger ammunition. The deer came sneaking up a shallow draw from an alfalfa field at dawn, and paused almost broadside at around 100 yards. The Sierra landed just under the shoulder blades, and the doe went 25/30 yards before falling. A month later, it took a mule deer doe with similar results.
However, the Hirtenberger ammunition would not last forever, and I wanted a handload with a little stouter bullet for elk. I could not find any load data specifically for the 6.5x57R, but Hornady listed some for the rimless 6.5x57. However, one of the oddities about handloading for drillings is they also have open sights. On most drillings the sights are not adjustable, instead being regulated at the factory for a specific load. I had already tested this with the Hirtenberger ammunition, which grouped an inch above the front bead at 50 yards, the same as with the scope.
After deciding the 125-grain Nosler Partition might match the point-of-impact of the 120-grain Sierra, I measured the water capacity of a fired case with a Partition pushed into the neck to the same seating-depth as the Sierras. Not surprisingly, the water capacity turned out to be almost exactly the same as for a fired 6.5x55 case from my custom FN Mauser. In theory, the rather mild loads listed for the 6.5x55 in American manuals would result in approximately the same velocities and pressures in the 6.5x57R.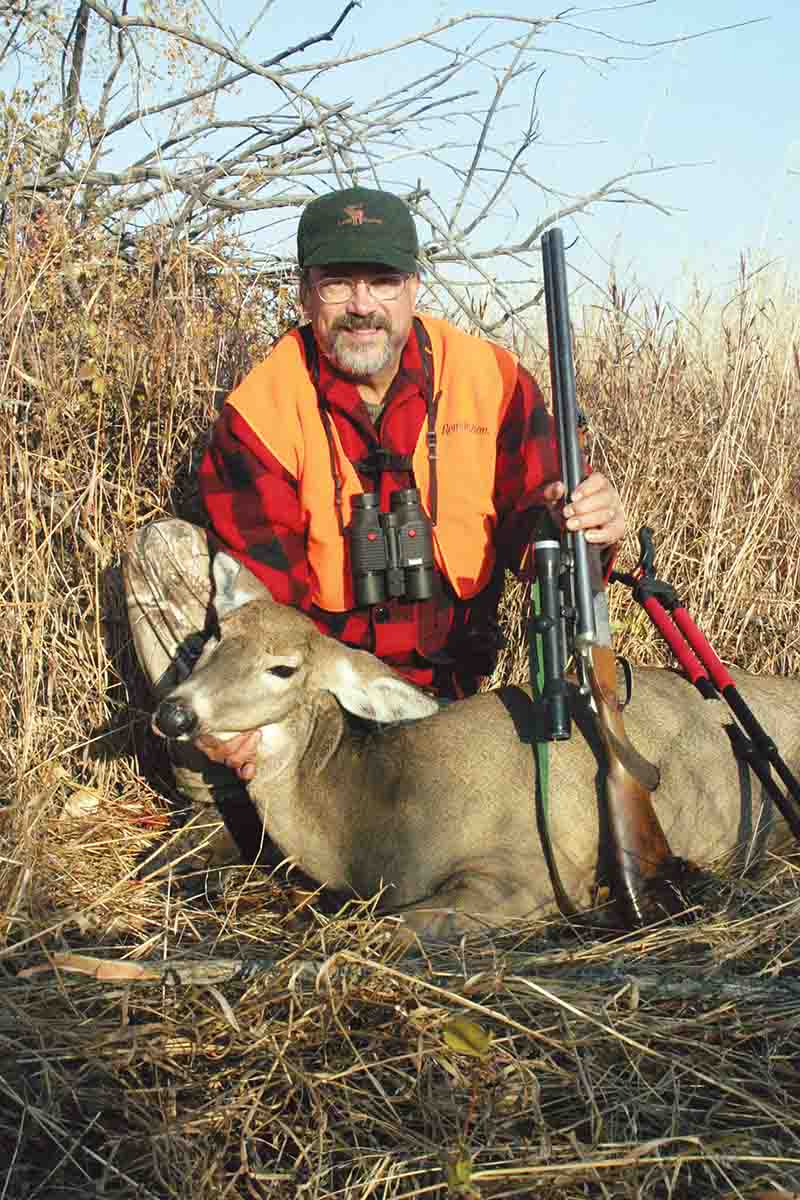 I decided to try Hodgdon H-4350, an excellent powder in the 6.5x55 and similar-capacity 6.5s. Hodgdon's 6.5x55 data did not list any 125-grain bullets, but did list the 129-grain Hornady Interlock Spire Point. The starting load of H-4350 with the Hornady was 40.0 grains, so I worked up from there with the 125-grain Partition, finding 45.0 grains "regulated" perfectly with the sights and scope at a muzzle velocity around 2,750 fps. Some elk hunters may think this a little light, but if by chance I ever draw a permit for the local "trophy" bull area, I probably wouldn't use the drilling anyway. These days, I generally look for meat elk, and know from experience that even lighter bullets work fine, even on big cow elk. So far, however, the 125-grain Partition has only taken deer, where of course it worked fine.
Eventually I grew dissatisfied with the 4x Hensoldt, since the heavy aiming post "covered up" too much of a deer at ranges beyond about 150 yards. A low-power variable would also be much handier if I flushed a gamebird while hunting deer. It's pretty easy to wingshoot birds with a scope set on 1x, or even 1.5x.
However, like many older drillings, the scope had integral mounts instead of conventional rings, so some gunsmithing would be required. Years ago our old friend Melvin Forbes, of New Ultra Light Arms, had made claw mounts for a German combination gun Eileen purchased at a gun show, with a 16-gauge barrel under a 9x72R rifle barrel. Like many old combo guns, it had integral bases for claws but no scope. Melvin machined steel Talley bases to fit the gun's bases, allowing us to mount a 1-inch tube scope in Talley steel rings.
Unfortunately, Melvin has no time for that anymore, so I took my drilling and Eileen's gun to gunsmith John McLaughlin, who's also the head of the Metals Technology department at the local state college, and a member of the Custom Gunmaker's Guild. After looking the two guns over, John's eyes widened, and he said, "Thanks for showing this to me! I get requests to make claw mounts, but this is a much easier solution." I left the drilling with him, along with a 1-4x 20mm Leupold and a set of steel Talley rings and bases, and picked it up with the scope mounted perfectly a few weeks later. The scope switch also brought the overall weight down to exactly 8 pounds.
With the Leupold on 4x, the Duplex reticle resulted in much better accuracy, so I decided to work up a couple more loads. Unfortunately, my supply of H-4350 was dwindling, and none could be found, even on the internet. Instead I used then-new IMR-4451, which had proven to be a very good substitute for H-4350.
One load used the 129-grain Hornady Spire Point, a good deer bullet that would also be far cheaper for practice, and the other the 130-grain Swift Scirocco II, a bonded bullet that, due to its boat-tail and plastic tip, has a high ballistic coefficient. Both shot very well with 44.5 grains of IMR-4451, and to the same place as the 125-grain Partitions.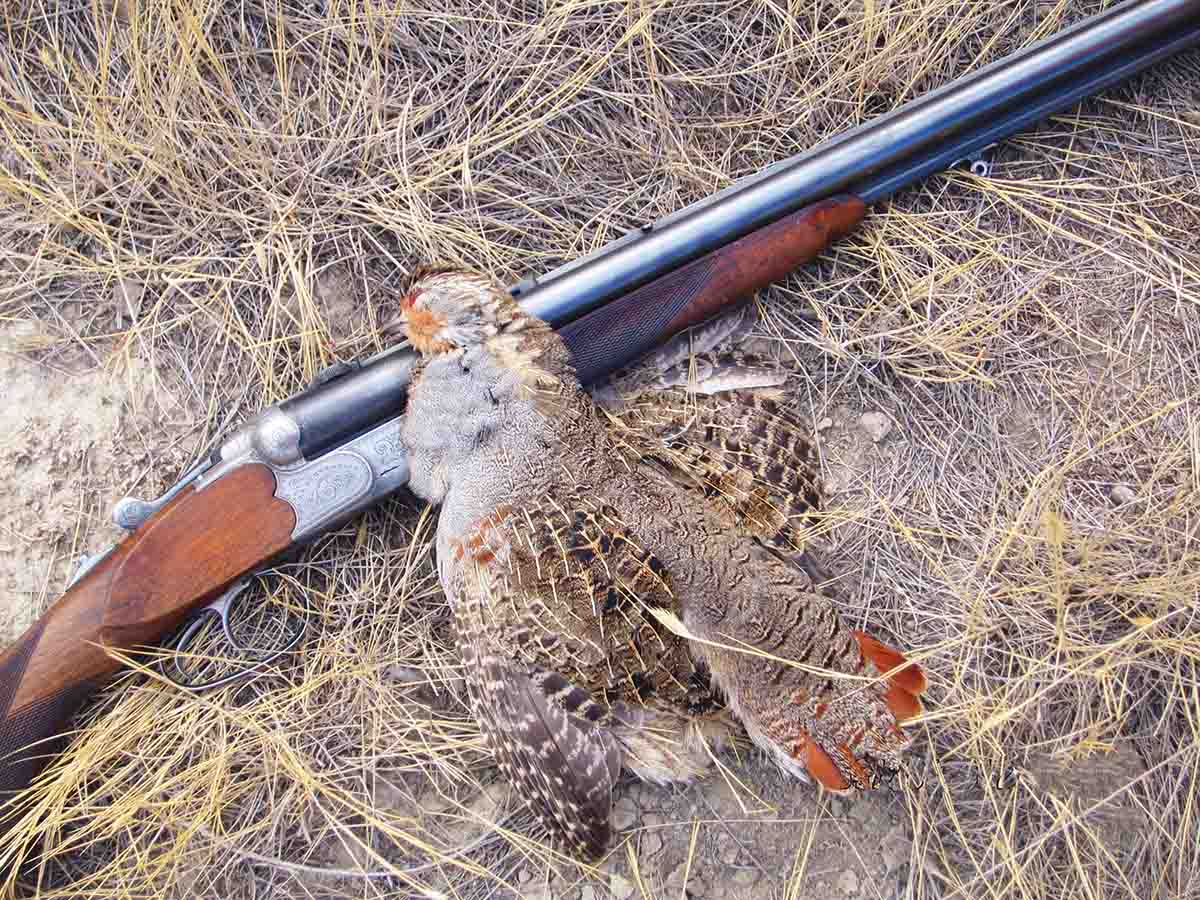 Our local shooting range has a bunch of steel targets scattered over its 1,000-yard rifle range, some of them painted, life-size silhouettes of Montana game animals. With the improved accuracy due to the Duplex reticle, I found it easy to make chest shots on the steel pronghorn set up at 330 meters (361 yards), extending the practical range of the drilling considerably.
However, as television ads often exclaim, "Wait, there's more!" The deal with Bruce included a Krieghoff insert for 16-gauge barrels, chambered for the .22 Winchester Magnum Rimfire round. Called Einstecklaufs in German, these make drillings even more versatile, especially a short one like this 8.3-inch Krieghoff, which can be carried in a daypack and quickly inserted in the right-hand shotgun barrel to take small game.
Instead of sighting-in the scope to where the insert shoots, the insert is adjusted to the scope's setting by tweaking screws on the chamber end. I chose Winchester's 40-grain Jacketed Hollow Point, today's version of the original factory load, which has shot accurately in a wide range of .22 Magnums, both handguns and rifles.
From the short Einstecklauf, muzzle velocity was around 1,300 fps, matching typical high-velocity, hollowpoint Long Rifle ammunition in rifles. I adjusted it to shoot right at the intersection of the crosshairs at 50 yards, where three-shot groups averaged under an inch. (An interesting side effect of the Einstecklauf is that the longer shotgun barrel acts somewhat like a suppressor, turning the report into a relatively quiet ponk.)
In a decade of hunting, the Sauer 16x16/6.5x57R has taken wild turkeys and two species of deer with the rifle barrel (You can use rifles during Montana's fall turkey season, but not during spring.), along with doves, Huns, pheasants, and ruffed, sharp-tailed and sage grouse using the shotgun barrel. However, it has not yet taken any game with the Einstecklauf, and as this is written, a soft January snow is falling, which should result in perfect conditions for tracking cottontail rabbits – and even if they run, a 1-ounce, 16-gauge round in the left barrel will work quite well on "wascally wabbits."