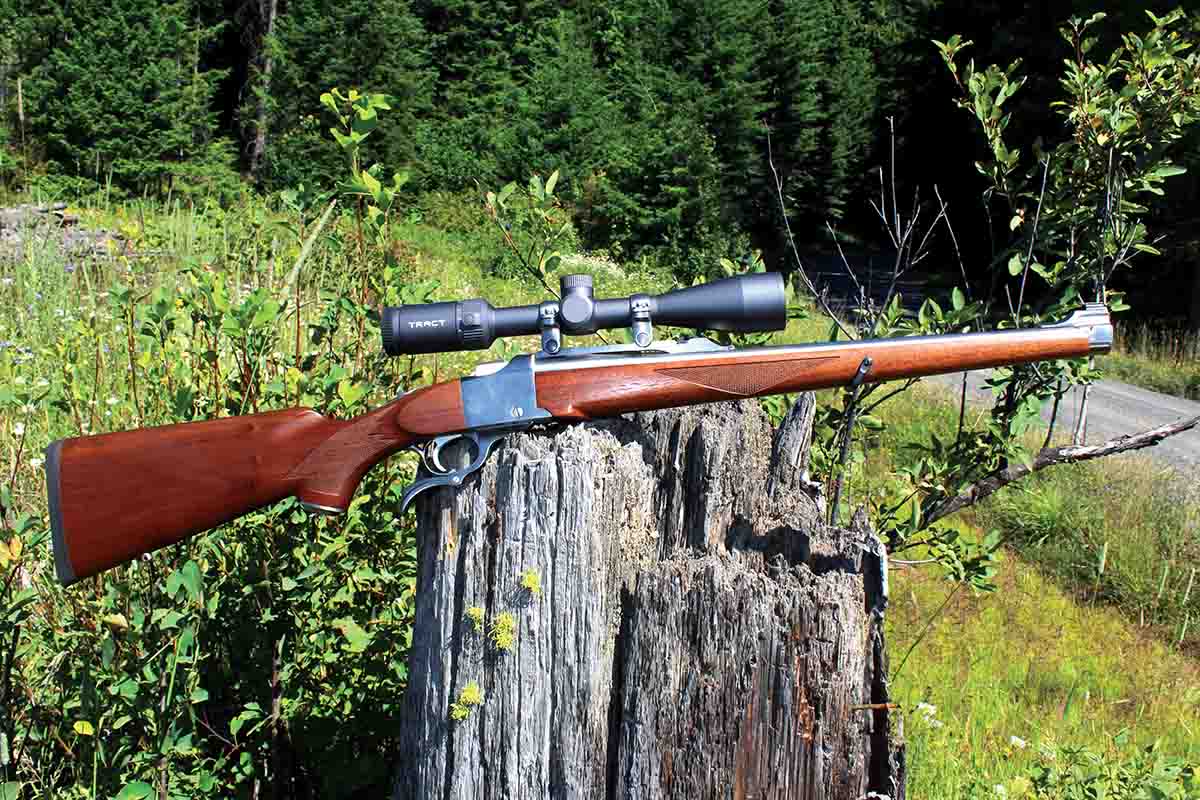 I don't know exactly how I missed it, but sometime between the annual deer-hunting camps of my youth and discovering my beard turning snowy white, the .257 Roberts became a nearly dead cartridge. I easily recall multitudes of Roberts rifles in those early deer camps of the mid-to-late 1970s, and the men who owned them speaking glowingly of the cartridge's potent nature in open western muley habitats. I understand that Ned Roberts' brainchild has been around since 1934, created by necking the venerable 7x57mm Mauser down to accept .257-caliber bullets but, dang it, there just isn't anything wrong with the round that comparable cartridges are doing that much better. Firearms luminary Ken Waters counted the .257 Roberts among his all-time favorite cartridges, while Jack O'Connor often praised the round.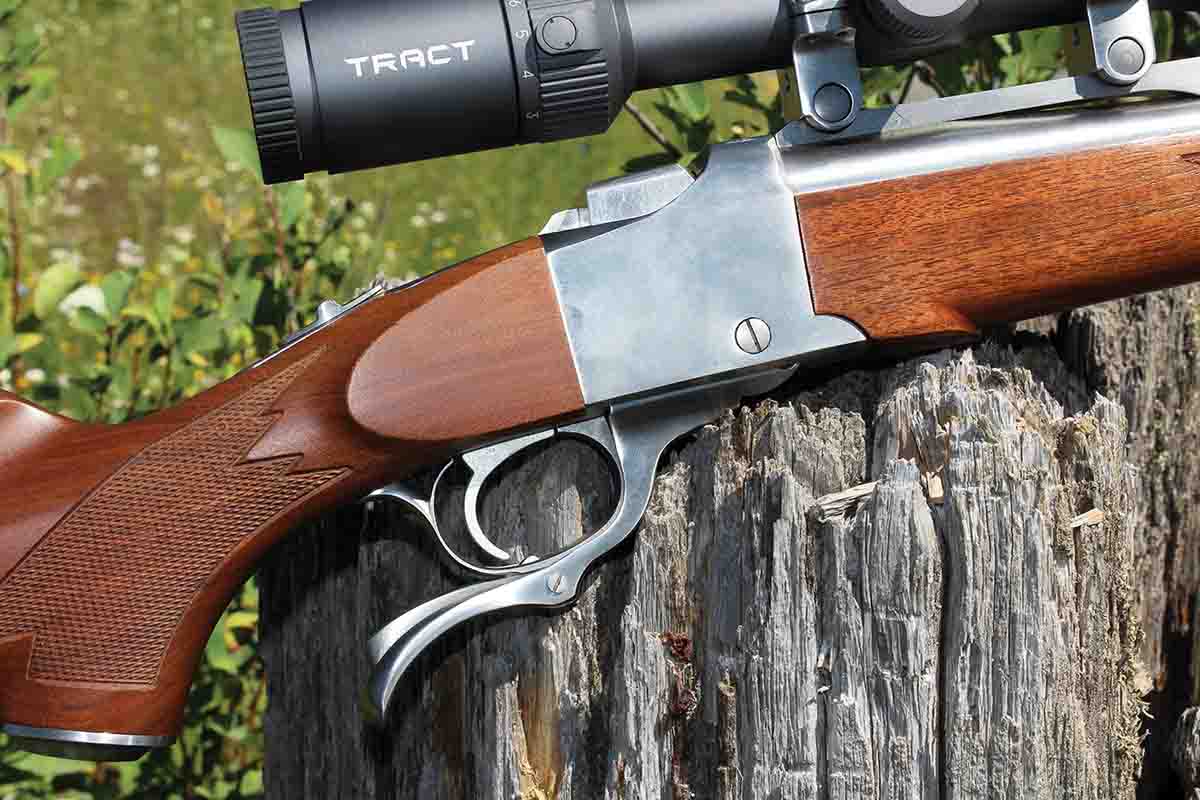 Remington's .25-06 is likely most responsible for killing the .257 Roberts, as the .25-06 offers an average 200 feet per second (fps) additional velocity over the Roberts – or about the same velocity margin the Roberts offers over the still-older .250 Savage. For the average North American deer hunter seeking a mild-mannered but deadly round, it could easily be argued the .25-06 (of which I'm a huge fan) is too much of a good thing. The trade-off for that additional 200 fps is substantially more recoil and muzzle blast, and even additional long-action weight.
When I say the .257 Roberts is dead, I mean only a handful of factory ammunition and/or brass options are still available. Nosler seems to be the best source for Roberts ammunition, offering factory loads with 100- and 110-grain Ballistic Tip Hunting bullets, 100-grain Partitions and 110-grain AccuBonds under the NoslerCustom label, in addition to +P-rated brass. Hornady offers +P 117-grain SST SUPERFORMANCE factory ammunition, but no component brass. Winchester has a single +P load, a Super-X Power-Point with a 117-grain roundnose softpoint. Norma loads 100-grain roundnose softpoint ammunition, but interestingly, doesn't offer brass. The Remington 117-grain roundnose softpoint Core-Lokt ammunition picked up at a local pawn shop was discontinued long ago. It would also seem factory ammunition is loaded only sporadically, meaning it isn't always available on store shelves. Handloading brass can also be ordered from Quality Cartridge. That's pretty much it.
This makes the .257 Roberts a true handloader's cartridge, at least for those who value variety and the ability to use a single rifle for everything from sniping burrowing rodents and predator calling to hunting big game in the deer, pronghorn, black bear class. With .257 bullets ranging from 70 to 120 grains, the Roberts allows just that.
As for the rifle under discussion here, I'd long fancied the idea of Ruger's No. 1 single-shot rifle, a sleek design with a simple but ultra-strong falling block-style action that places a premium on making the first shot count. Somehow, despite this longtime fascination, I've never actually shot a No. 1. I handled them occasionally during 23 years of guiding big-game hunters, admiring their balance and quick-pointing characteristics. I have even contemplated purchasing used examples – a heavy-barreled .220 Swift is the closest I've come to sealing the deal. But I have, unbelievably, never shot one, not even once.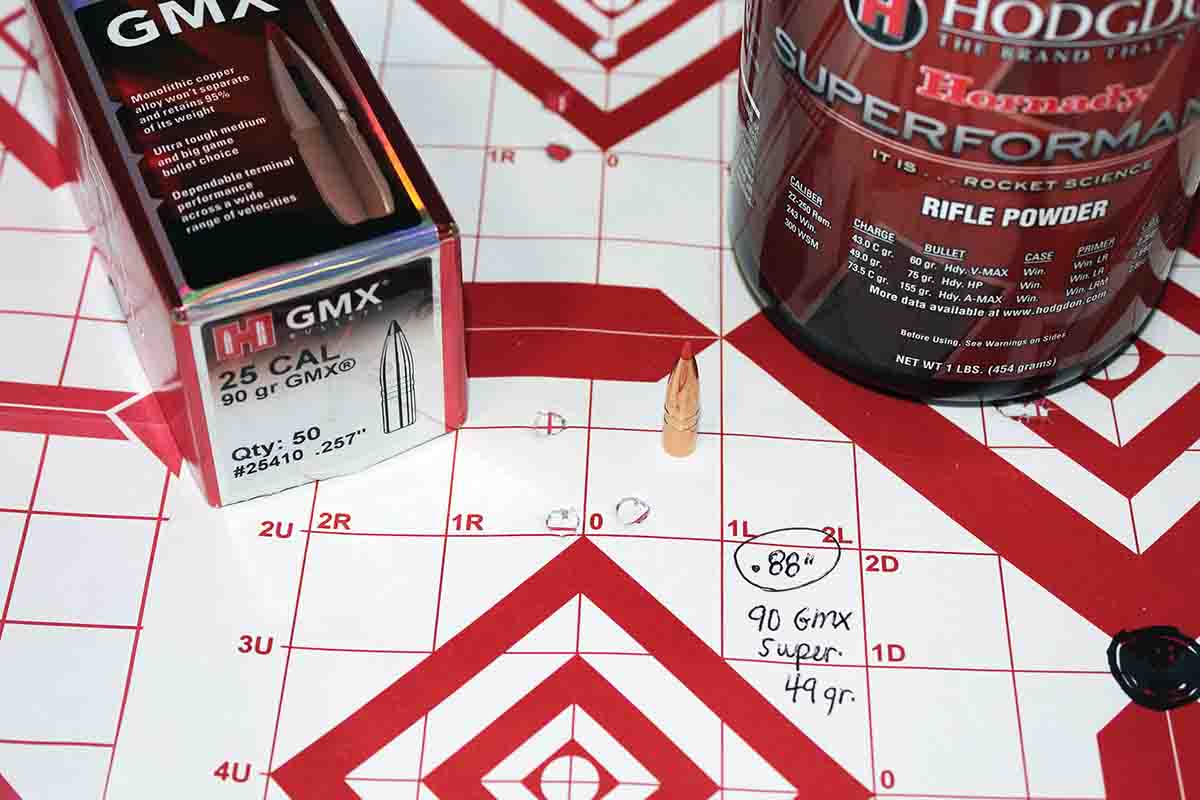 So, when I discovered a Lipsey's Distributor Exclusive Ruger No. 1 with stainless steel metal (including forend and grip cap), a 20-inch hammer-forged barrel (six-groove, 1:10 twist) and a full-length "International" walnut stock with a soft rubber buttpad, and chambered in the classic .257 Roberts cartridge, my No. 1 curiosity was reignited.
Like most Rugers today, this one came with rings – stainless steel to match the action/barrel – the company's proprietary design that clamps into rounded notches milled into the top of the receiver on Ruger bolt rifles and into a steel quarter rib on this No. 1. To give the Ruger a fair shake while shooting measured groups, a Tract Optics Toric 2-10x 42mm scope was added that included an Impact BDC reticle to provide holdover marks for longer ranges. The lower magnification capabilities and gin-clear optics, combined with the rifle's handy nature, borne in part from a lack of a magazine well, make this rifle ideal for whitetail hunting. But the Roberts cartridge and 10x magnification make it ready for 250- to 300-yard shots – with a little familiarization and practice, of course, and remembering this is an ultra-stout action capable of shoving sleek bullets at +P pressures. One early Ruger designer actually attempted to blow up a No. 1 during research and development.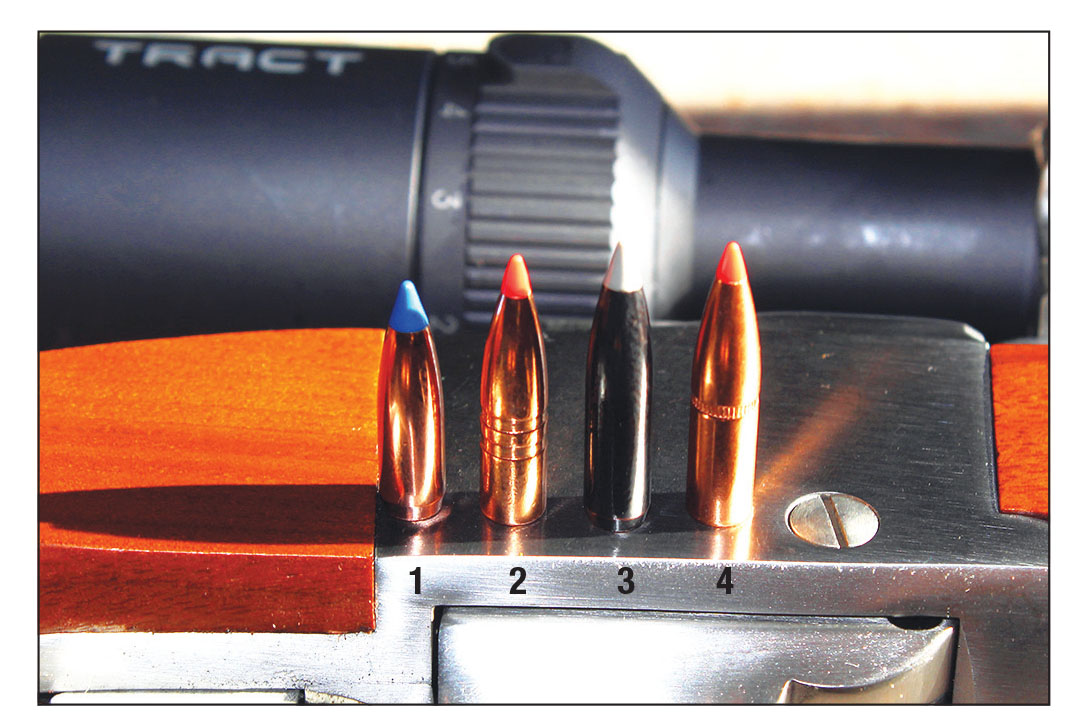 For those unfamiliar, the Ruger No. 1 (launched in 1967) is essentially a modernized Farquharson single-shot rifle, designed and patented by Scotsman John Farquharson in 1872. When the original patent expired in 1889, the design became popular with many English gunmakers. It included an internal hammer and falling-block mechanism with an artillery-style breechblock operated by an under-lever. Ruger engineering refinements included centralizing the hammer and moving the hammer spring onto a hanger projecting forward of the receiver, which also acts as an anchoring point for the forearm and ejector spring. Pulling the underlever downward opens the breachblock, cocks the action and allows a cartridge to be fed. Pull the underlever back against the receiver and the breach is solidly locked and ready to fire, the tang safety slide locking both hammer and sear. The rifle can be unloaded with the safety engaged. The ejector system provides maximum leverage and can be adjusted to provide more gentle extraction – instead of full-on ejection – for handloaders who prefer not scratching in the weeds to recover fired brass.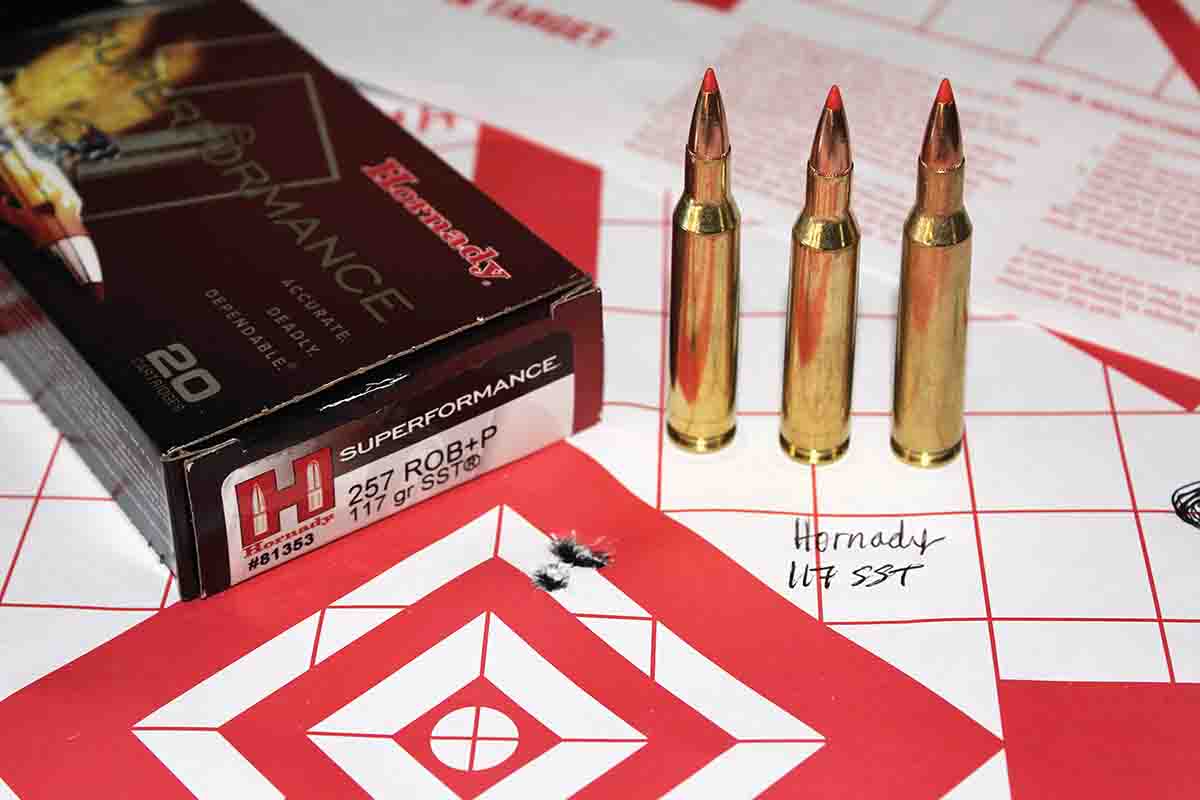 As tested, the ejector spit fired brass well clear of the action, though it was easy enough to hold the thumb against the rear of the feed channel to stop the fired case there while pushing the operating lever down with the index and middle fingers. Of note, the screw on which the underlever locking tab hinges, loosened a couple times during testing, so perhaps a bit of thread lock is needed.
Over the years, No. 1 rifles have been chambered in about 50 different cartridges. No. 1 rifles are typically released in but a single cartridge annually. One recent offering was a stainless steel/laminated stock .450 Bushmaster with a short, threaded tube holding a muzzle brake. This chambering was no doubt inspired by the proliferation of straight-walled cartridge seasons in many eastern whitetail states. More recently, gun distributors Talo and Lipsey's entered the No. 1 fray, offering Distributor Exclusive models. Talo has offered chamberings from .204 Ruger to .35 Whelen. Lipsey's has offered the .257 Roberts under discussion here and the .475 Linebaugh and the .480 Ruger.
Before the shooting began, my general sense was that Ruger No. 1 rifles in general, and full-length Mannlicher-type stocks more specifically, would not offer the accuracy potential of the finely-tuned bolt-action varmint rifles I shoot most frequently. But this isn't a varmint rifle, per say. The relatively thin, 20-inch barrel and full-length stock heat rapidly with the .257 Roberts cartridge. I envision this rifle as the perfect deer-hunting tool – a fast-handling, deep-woods, still-hunting rifle, or a tree stand rifle.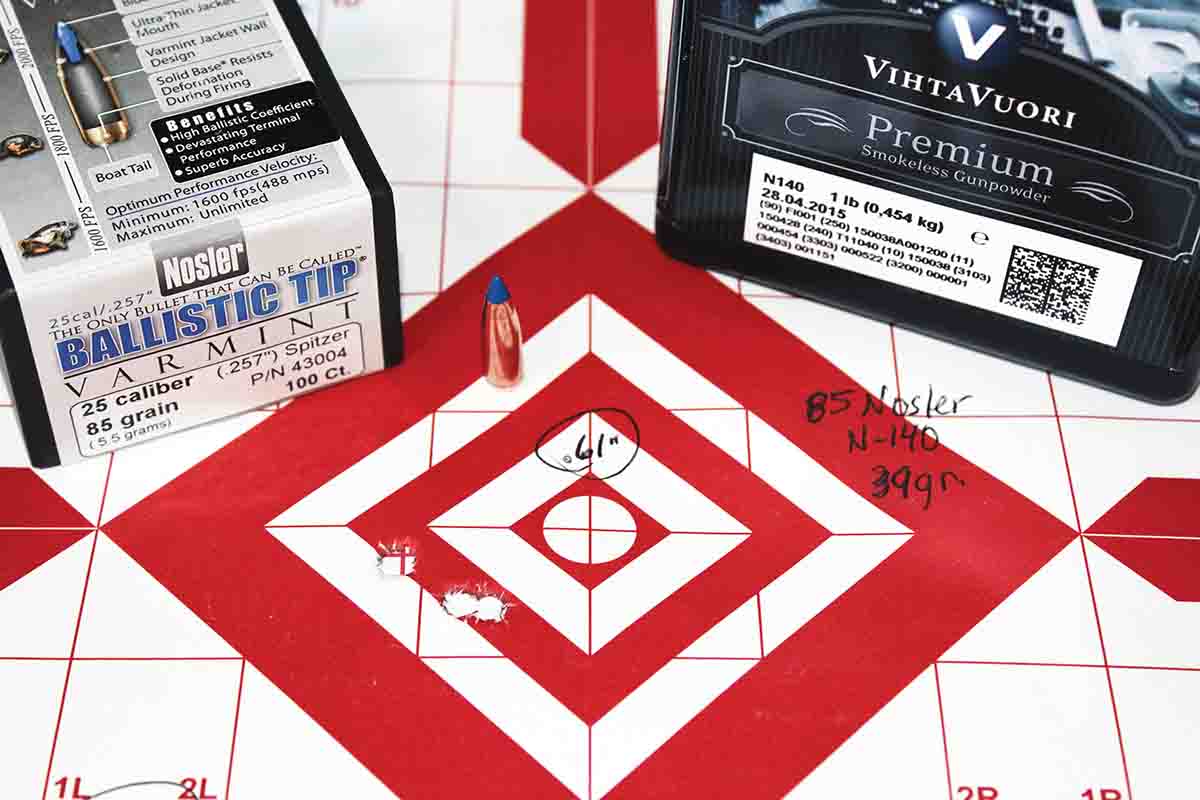 As difficult as it is for accuracy-obsessed varmint or long-range shooters to accept, 100-yard, three-shot groups measuring 1.5 to 1.75 inches have become perfectly acceptable when all that is required for success is to center 12-inch vital areas at 90 or 100 yards. I would, in fact, be quite comfortable in this capacity relying on this rifle's quality iron sights, a fine front brass bead backed by an elevation-adjustable white-diamond accented fold-down leaf.
My accuracy assumptions quickly evaporated while shooting factory ammunition during sight-in and initial shooting. This Ruger No. 1 really surprised me, with several factory loads producing groups averaging less than an inch after shooting three 100-yard, three-shot groups. Considering such accuracy, and the rifle's 7-pound mass (sans scope) and 36.5-inch overall length, I would modify my earlier assessment and include backcountry deer in its possible uses. Three-shot groups with NoslerCustom 100-grain Partitions produced .78-inch average groups, Winchester's 117-grain Power-Point RN Super-X .76 inch and Hornady's 117-grain SST SUPERFORMANCE .65 inch. SUPERFORMANCE loads also proved remarkably consistent, with all groups measuring nearly alike. The old box of Remington 117-grain RN Core-Lokt managed only 1.61 inches. In general, modern factory loads proved faster than my handloads, which likely means I wasn't actually pushing +P chamber pressures.
Hornady's 117-grain SST SUPERFORMANCE load became the benchmark that inspired an excessive amount of handloading. I was determined to match that .65-inch average. In this respect this rifle proved rather fussy. I burned some 200 rounds to find three loads I was satisfied with, loading Nosler's 85-grain Ballistic Tip Varmint, Hornady's 90-grain GMX, Nosler's 115-grain Nosler Ballistic Silvertip, Berger's 115-grain VLD Hunting and Hornady's 117-grain SST. I was never able to match Hornady's SUPERFORMANCE results with the same bullet, in terms of accuracy or velocity. The 115-grain Berger simply didn't synch with this rifle, its 1:10 rifling twist was just not enough to fully stabilize that sleek bullet. With Nosler's 85-grain Ballistic Tip Varmint, Vihtavuori N140 proved the right combination, with 39 grains pushing that bullet to 2,841 fps and averaging .70-inch groups. Hornady's 90-grain monolithic, poly-tipped GMX proved especially finicky, as 49 grains of Hodgdon SUPERFORMANCE powder finally clicking in and provided groups averaging less than an inch while also breaking 3,000 fps.
The best handload accuracy resulted from 37.5 grains of Hodgdon H-4350 beneath Nosler's 115-grain Ballistic Silvertip, with three, three-shot groups averaging .65 inch and the best of those printing .53 inch (the best group shot with this rifle) at around 2,432 fps. The best I could do with Hornady's 117-grain SST was 1.28 inches at 2,587 fps with 39 grains of IMR-4350. Keep in mind that velocities were generated by a 20-inch barrel, if they seem a touch pokey.
Again, I'm working under the draconian mentality of a long-range varmint shooter, where everything is judged by sub-0.5 MOA capabilities. The rifle provides all the accuracy needed for any big game for which the cartridge is suited.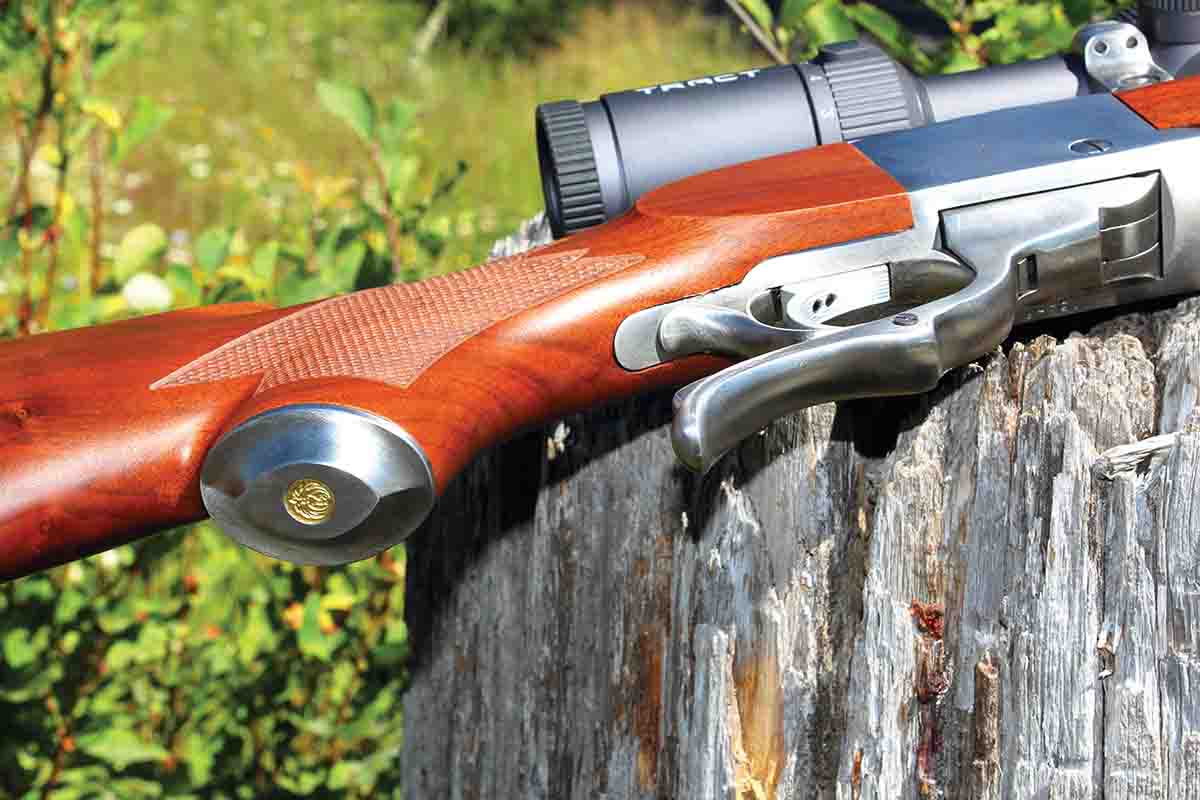 Of particular note, all load development and rifle testing I have conducted in the past was based on five-shot groups, a number I feel better reveals a rifle's true accuracy potential. With this rifle I made the easy decision to base results on three-shot groups for a couple of reasons: Firstly, the No. 1's relatively thin barrel and full-length stock, combined with the .257 Roberts round, meant the barrel warmed quickly while conducting initial sight-in with factory ammunition. With a cool barrel, the first three shots generally clustered well – relative to the ammunition being shot – while the fourth and fifth shots began to wander, sometimes wildly.
More importantly, I struggled to envision any realistic scenario wherein a single-shot rifle would be asked to fire more than three shots in quick secession in the deer woods. This reminds me of a line I once read that has always stuck with me, though I disremember the author (likely one of Ernest Hemingway's Michigan stories), "One shot meat. Two shots maybe. Three shots sh**."
This is a handsome, easy-handling rifle that combines modern stainless steel metalwork with classic Mannlicher lines and a classic .257 Roberts chambering. Wood-to-metal fit isn't airtight, but it's acceptable for a mass-produced rifle. The walnut forearm and buttstock are gorgeous and well finished. The 13.5-inch length of pull sits right in the middle, allowing a tall, gangly guy like me to shoot the rifle comfortably enough, but providing a just-right fit for most shooters of average stature.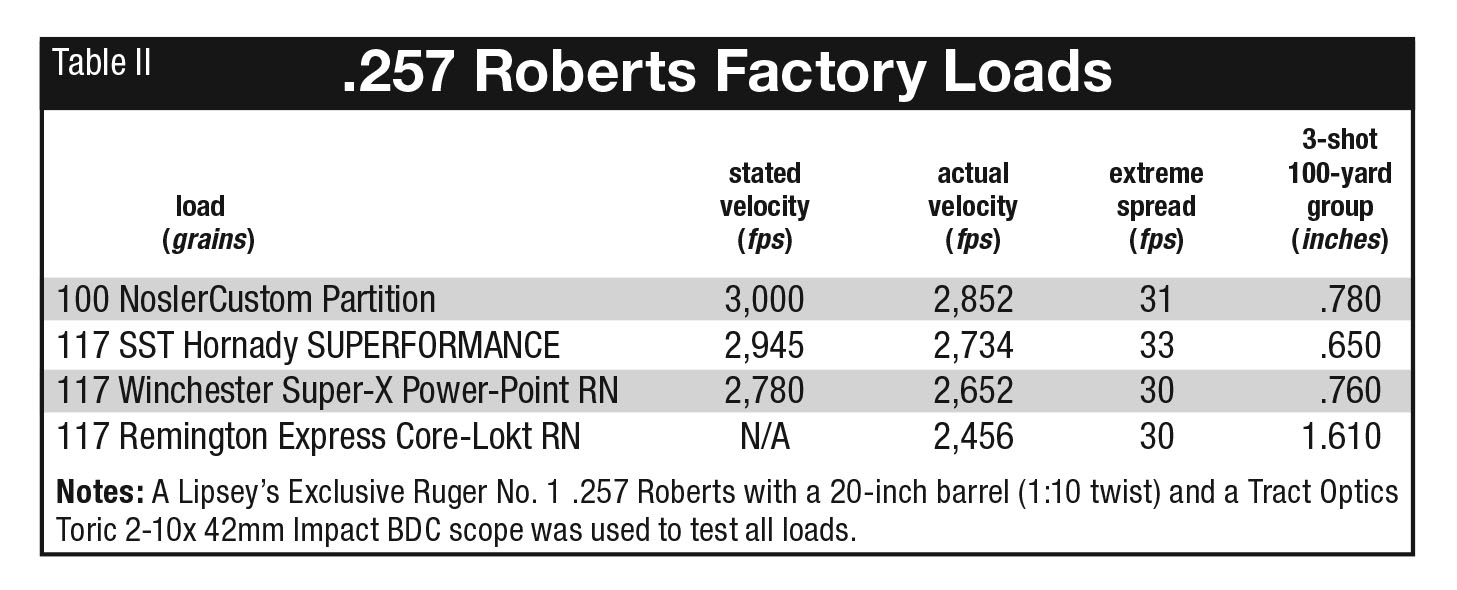 As mentioned, I would be greatly tempted to hunt deer with this rifle while using the fine iron sights, though the Tract scope really did highlight this rifle's full potential. My first Ruger No. 1 experience was so pleasantly surprising that it makes me wish I'd bought that varmint-barreled Ruger No. 1 chambered in .220 Swift a few years back.