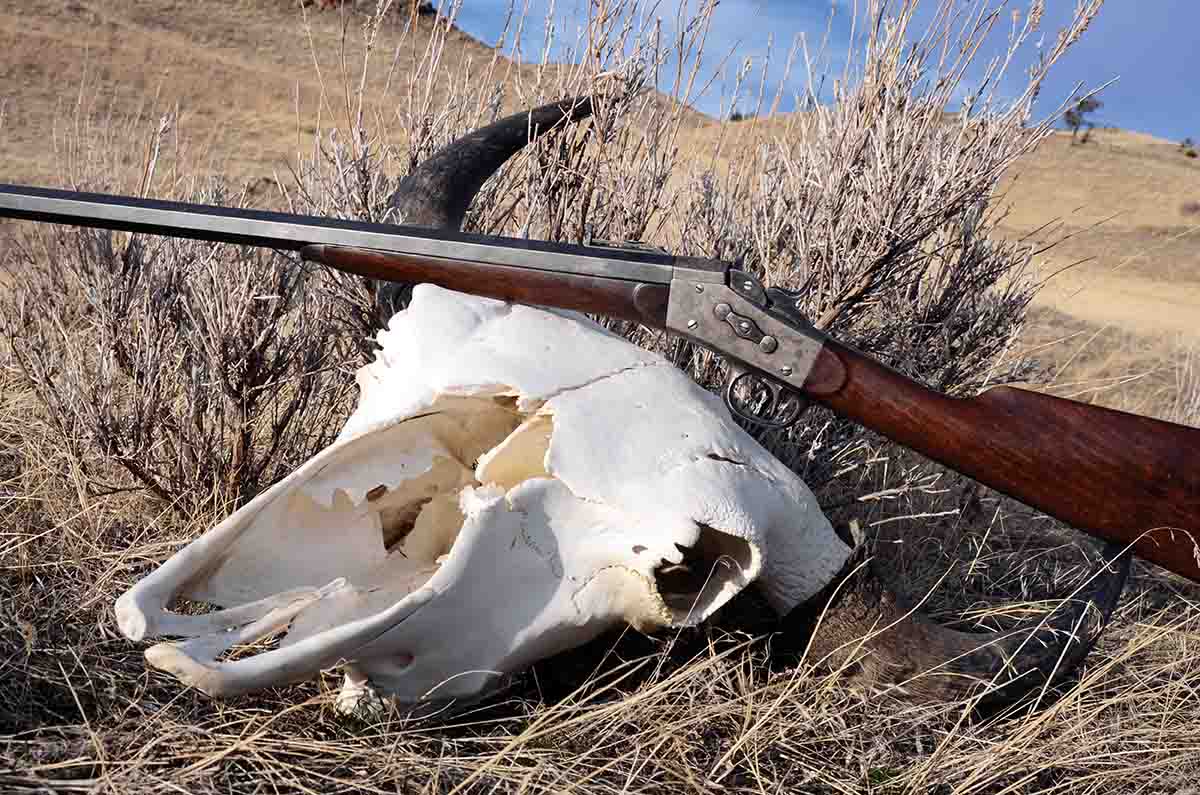 The ultimate rifle for an avid student of American Western history is a true 1870's vintage "Big Fifty." My opinion is the most sought after rifle is a .50 Sharps Model 1874 Sporting Rifle. A close runner-up is a .50 Remington No. 1 Sporting Rifle (Rolling Block). Although Sharps .50s usually bring the highest price, in my experience Remington No. 1 .50 Sporting Rifles are very difficult to find. Note that I've capitalized Sporting Rifles. That term was used by both Sharps and Remington to differentiate rifles meant for hunting as opposed to target shooting or military use.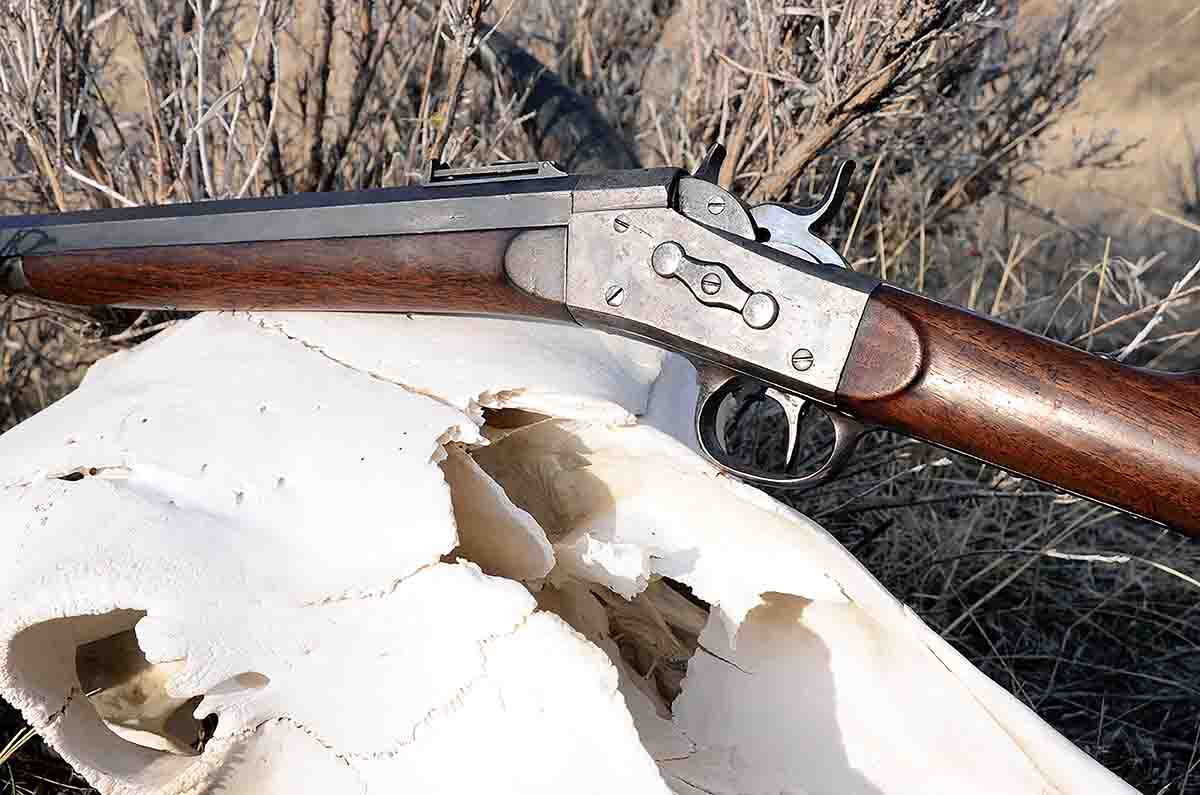 Paperback western novelists have often corrupted the Big Fifty term into meaning a Sharps rifle which chambers a fictional .50-140-700. That translates to a .50 caliber, 140 grains of powder and a 700-grain bullet all stuffed in a 3.25-inch case. Never mind that such never existed in a Sharps or Remington rifle. In the post-bison hunting era, Winchester did briefly chamber its single shot Model 1885 for a .50 with a 3.25-inch case. Even so, by 1899, there is no mention of such a huge .50 in Winchester's catalog. Several extremely knowledgeable antique rifle collectors of my acquaintance have told me they consider any .50-caliber Sharps or Remington as a Big Fifty. I agree.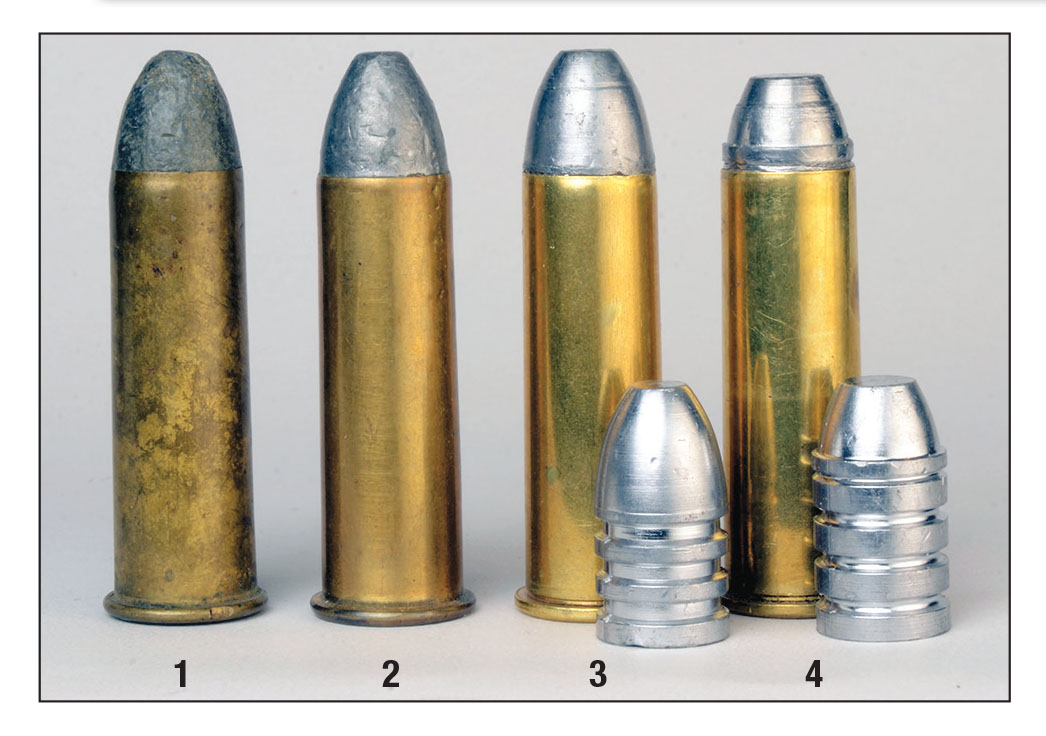 Remington only chambered for one .50 cartridge. That was the .50 with a 1.75-inch case length, otherwise known as the .50-70. According to an 1878 Remington catalog, it only offered two factory loads for that case length. Both had 70 grains of black powder with 400- and 450-grain bullets. Of course, ammunition buyers could use factory loads from other companies. Sharps Rifle Company had one load with a 425-grain paper-patched bullet and another with a 450-grain "grooved" bullet. Also, plenty of U.S. government .50-70 ammunition seemed to have been floating about in those days. It had 450-grain bullets and a 70-grain powder charge. Sources vary, but it is reasonably safe to say most .50s had rifling twist rates of 1:36 to 1:42.
Over the 40 years in which I've been enamored with black powder cartridge single-shot rifles, I've owned several Remington No. 1 Sporting Rifles. Not one of them was a Big Fifty. All have been .40s, .44s and .45s. However, I have owned both Sharps and Remington military-style .50-70s. Those military-style Sharps and Remingtons do have some benefits as in sling swivels and a more modest cost. They just do not have the mystique of genuine Big Fifty Sporting Rifles.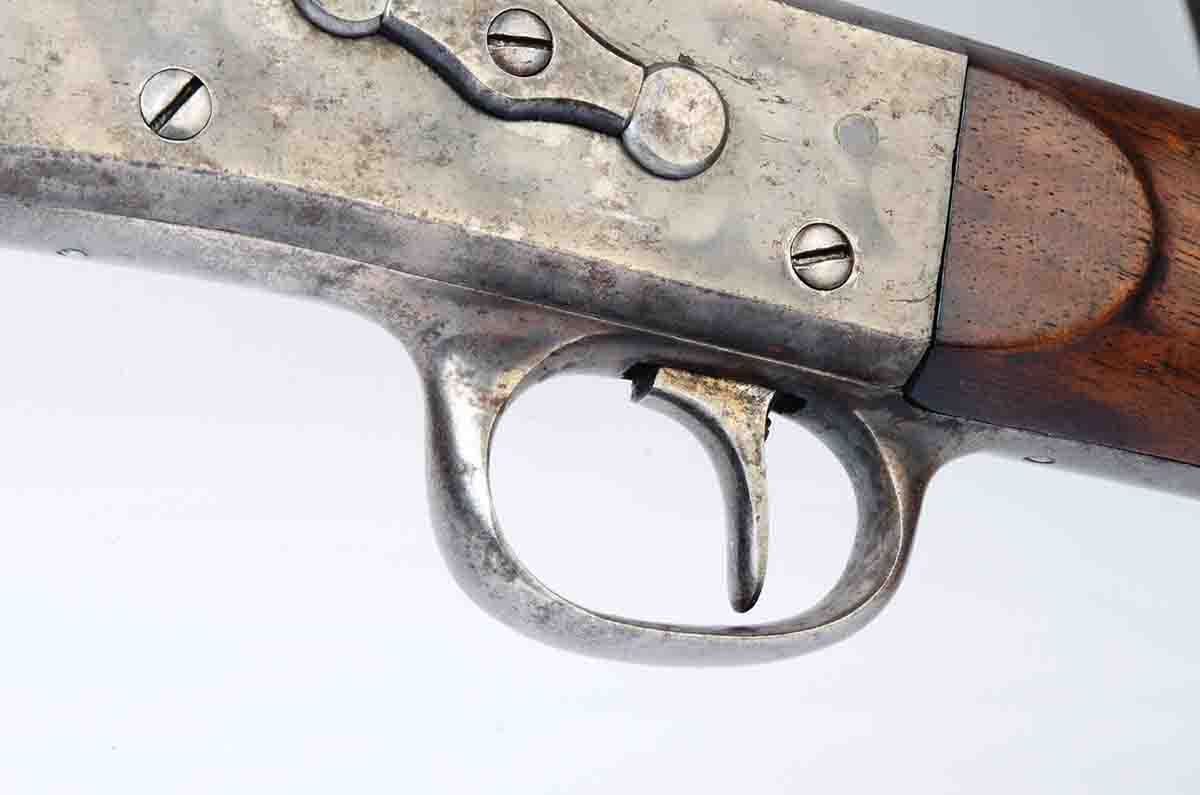 There is a famous photo of Lt. Col. George A. Custer sitting in camp with some of his Arikaree scouts. His Remington No. 1 .50-70 Rolling Block is propped nearby. Back in the 1990s Yvonne said, "I'd like to buy you a special rifle." With that Custer photo in mind, I consequently ordered from the Lone Star Rifle Company, a custom Rolling Block to more or less duplicate it. Lone Star Rifle Company is gone now and so is my facsimile Custer Big Fifty. I did successfully hunt with it, but after physical infirmities put a stop to my hunting, it was sold.
There's no accounting for how fate will take a hand in someone's life. Late in 2019, an original Remington No. 1 Big Fifty Sporting Rifle almost literally fell into my lap. It could serve as a double for the Custer No. 1 Big Fifty, which forever disappeared after the Battle of the Little Bighorn in June 1876.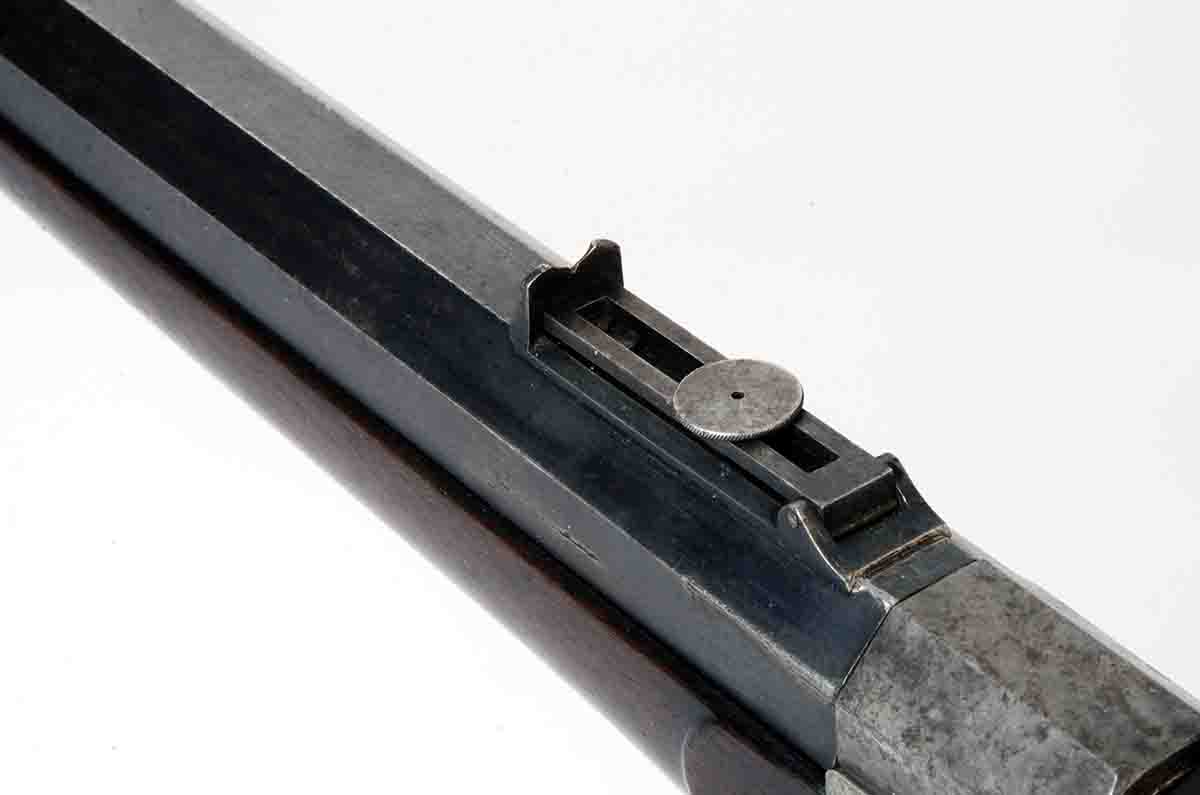 Before continuing, some details as to what constitutes a Remington No. 1 Sporting Rifle are in order. This information comes from that previously mentioned original 1878 Remington catalog. As advertised in it, a No. 1 Sporting Rifle could weigh from 8.5 to 15 pounds in a hefty action 1.312 inches wide. Barrels were octagonal as standard, as was a 26-inch length. For an additional $1.00 per 2 inches, barrels up to 34 inches were available. Standard was a traditional single trigger. An off-the-shelf "standard" No. 1 Rolling Block was priced at $30.00.
Remington offered a bewildering array of chamberings for the No. 1 Sporting Rifles, such as .44- and .46-caliber rimfires. However, the ones that undoubtedly went West included the .40-70 Bottleneck, .44-77 Bottleneck, .45-70 and .50-70; both of the latter are considered straight cases although they are actually minutely tapered. Written in that 1878 catalog is a statement that Remington did not consider the .40-70 Bottleneck suitable for bison and that .44-77 was minimal for the huge beasts. A common question asked by neophytes as to No. 1 Rolling Blocks is why Remington didn't chamber for the longer .44, .45 and .50 rounds so identified with Sharps Model 1874 rifles. The reason was the Rolling Block's long hammer spur was in the way.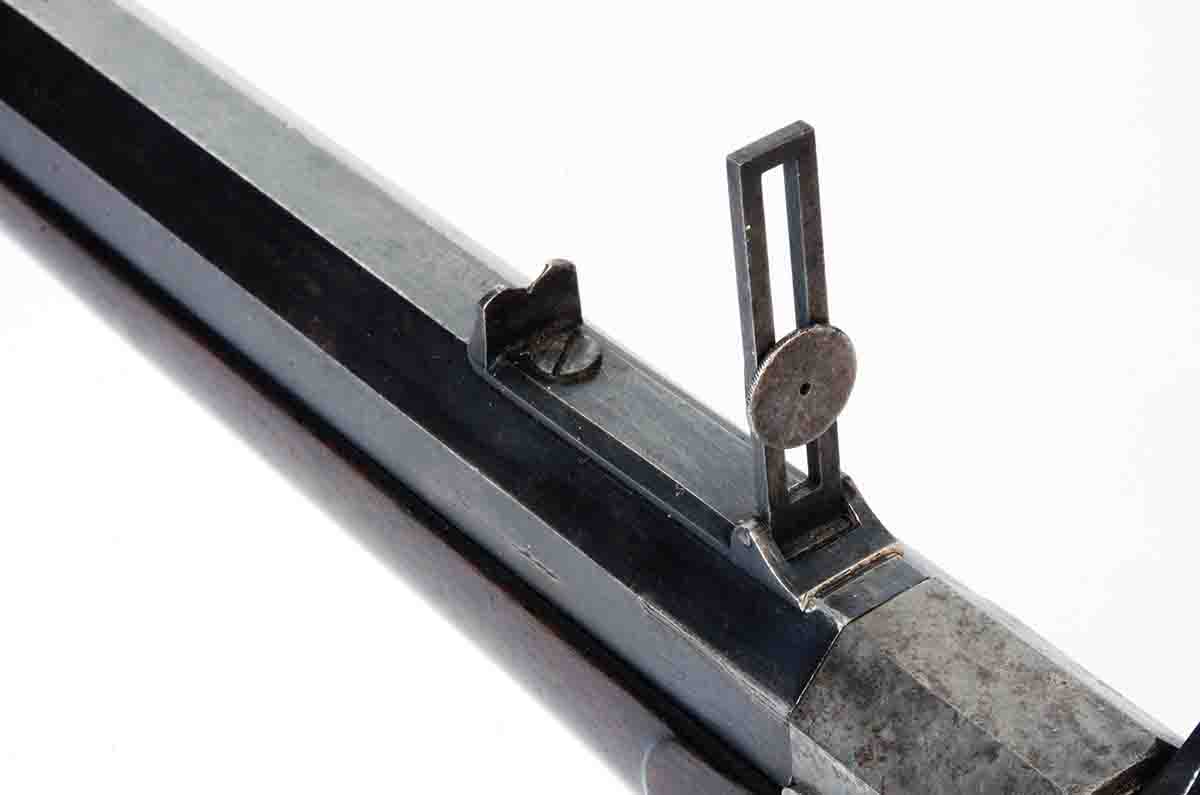 In describing Rolling Block manipulation, I'll quote from Remington's own catalog: "The operation of the arm is especially simple. To load the piece the hammer is first brought to full cock, and the breech piece swung back by pressing the thumb piece with the thumb of the right hand. The backward motion of the breechblock withdraws the discharged shell from the chamber. The fresh cartridge is then inserted and the breech closed in one continuous motion, the arm is then ready to fire." This simplicity of operation is the reason why Rolling Blocks were adopted by armies around the world, which in turn explains why the Remington factory turned out nearly a million of them between the mid-1860s and that 1878 catalog.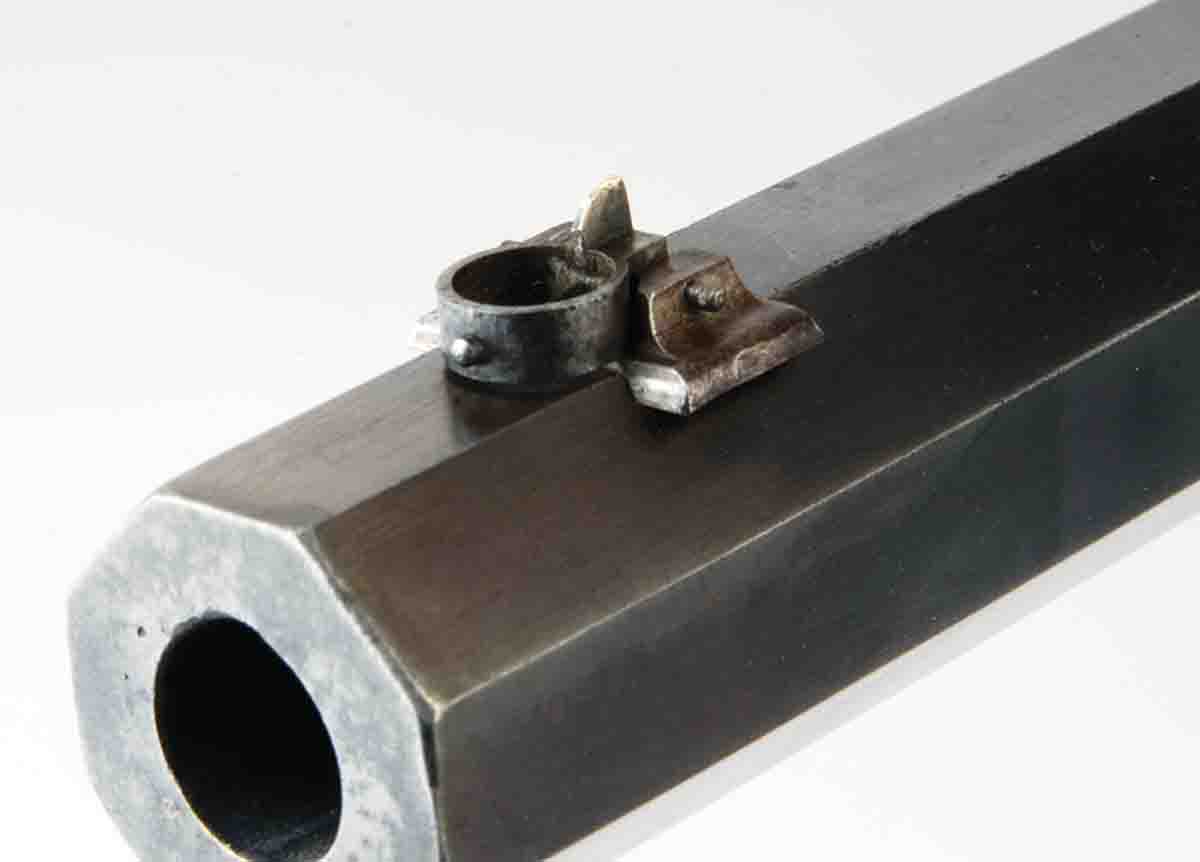 At various shooting events I've seen competitors slap their "roller" breechblocks shut vigorously. I know of at least one case where doing so caused the rifle to fire prematurely without the hammer dropping. It dislocated the shooter's thumb. That is why I shut the breechblocks of my Rolling Blocks with gentleness. The method by which a Remington No. 1 Rolling Block's breech is locked is that the huge hammer blocks it simultaneously with it striking the firing pin.
Here's an interesting aside. A visitor once told me he would never own a Rolling Block because the minute its breechblock was shut, its hammer was cocked and the rifle was ready to fire. I thought for a moment and then responded, "How does that differ from every bolt-action rifle?" Back in the 1870s that idea must have also worried some American military men, because some Remington No. 1 .50-70 military rifles came with a safety of sorts. They function thusly; the hammer must be at full cock to allow the breechblock to open for fired shell ejection. With those specific military rifles, when the breechblock is then closed, the hammer falls into a safety notch and must be full-cocked before firing. I've never seen a Remington Sporting Rifle with that feature.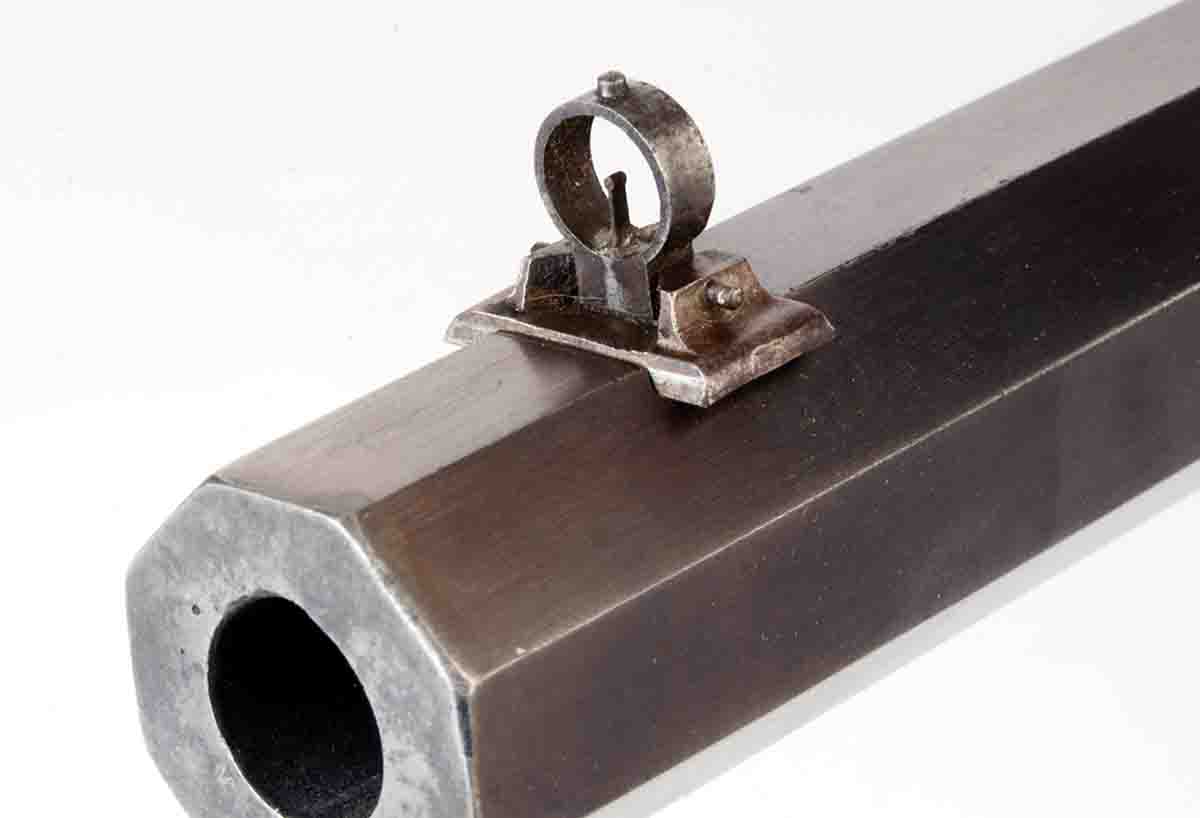 Back to my long sought after 1870's vintage Remington Big Fifty Sporting Rifle. When I first saw it my thought was, "The gent who ordered this rifle knew what he was doing." It sports a single-set trigger, which at the time the rifle was built, cost an additional $2.50. In use, when the rifle is loaded with the hammer cocked, the single-set trigger is pushed forward until it clicks. Then the effort to release it is measured in ounces; specifically in this instance, a mere 2 ounces. However, if the shooter decides not to engage the set trigger, it can be pulled in the usual fashion. Release weight on this rifle is then 6.5 pounds.
The next item I noticed was this No. 1 Sporter has what Remington termed its "Combination Open and Peep rear sight." Instead of being mounted on the rifle's tang, as was most common for peep sights of that era, this type of sight sets on the barrel directly ahead of the action. When down, it is an open sight; flipped up, a peep aperture comes into play. I have not tried the peep on this Big Fifty for distance, but from experience with others in the past I know it will allow bullets to reach out many hundreds of yards. That addition also caused its original buyer to pay $2.50.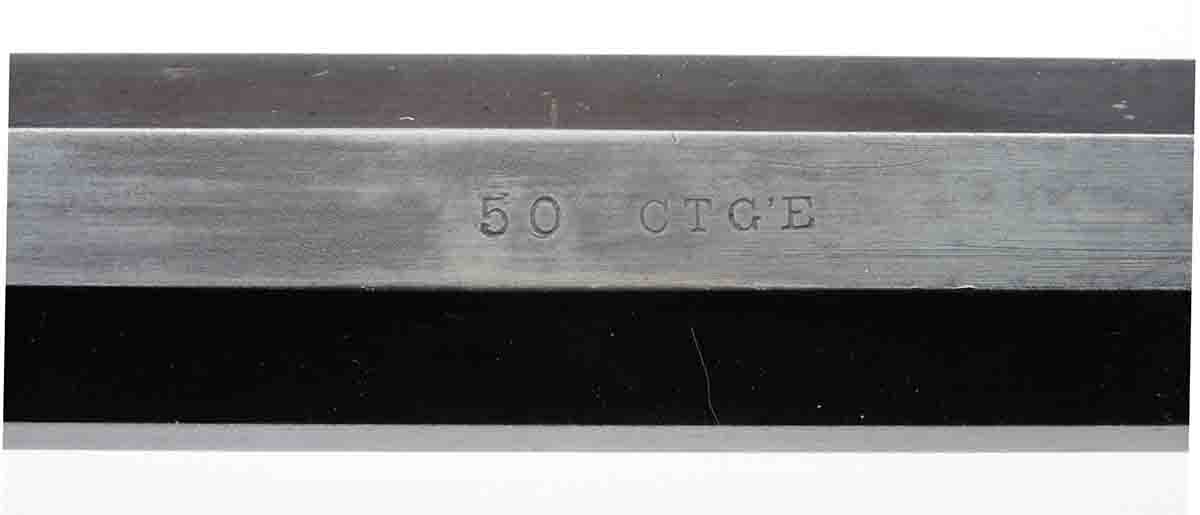 Lastly, a look at the barrel's end revealed a Beach's front sight. This sight has a simple blade when down, but when flipped up there is a pinhead post inside a ring. That allows more precise aiming in conjunction with the aperture rear sight. It also added $2.50 to the rifle's price. The only method of adjusting windage is to drift the front sight in its dovetail. Couple those three options with the $1.00 cost of adding two inches to a standard barrel length, and this addition to my gun vault cost someone in the 1870s a total $38.50.
As received, this Big Fifty has cosmetic blemishes as normal for a firearm pushing 150 years. That consists of small spots of surface rust on the action. The bore actually still shines. Barrel bluing is mostly intact. The buttstock and forend wood have no cracks or severe divots. Its only negative point is the steel buttplate, which is severely pitted, likely from setting on concrete or damp wood. It is Remington's standard type for that era, crescent in shape and rounded to the sides. From previous experience with Remington No. 1 Sporting Rifles, I feel that such a buttplate was designed by someone with malice. It certainly does increase felt recoil. With a 1.02-inch diameter at its octagonal barrel's muzzle, my Big Fifty weighs 9.5 pounds. With the loads presented in the accompanying table, I quickly discovered its recoil is "noticeable."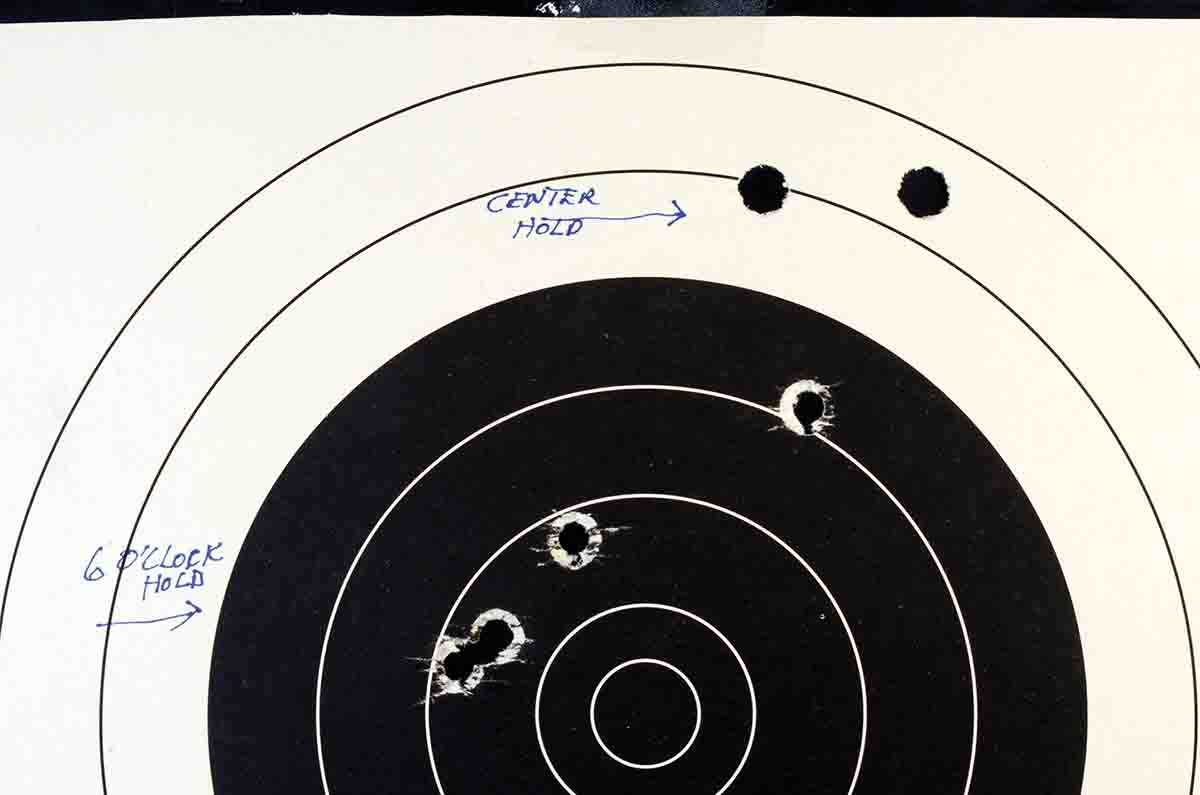 A fact little known to many of today's shooters of black-powder cartridge rifles is that barrel groove diameter of Remington .50-70 rifles was .515 inch. Such is stated in the 1927 IDEAL HANDBOOK NO. 28. Today's .50 barrels are usually .510 inch across their grooves. Instead of the older 36- to 42-inch rifling twists, today's run about 1:22.
Also worth noting is that Lyman's longtime cast bullet design for .50-70 is listed as 515141; a conical with a weight of 425 grains when cast with Lyman's No. 2 alloy. Actually, older Ideal moulds of that number did drop .515-inch bullets, but today Lyman's version has been adapted to modern barrels. These bullets usually drop at .512 inch. My only other .50 mould on hand is RCBS 50-450-FN. It is actually a huge SWC with a weight of 450 grains when cast of 1:10 (tin-to-lead) alloy.
Here is where I had to diverge from nominal. Knowing my available bullets were likely undersized for my rifle's bore, I poured them of very soft 1:50 (tin-to-lead) alloy. That increased their weights to 456 grains for the Lyman conical and 482 grains for the RCBS SWC. The idea is that being so soft, they would bump up from black powder's explosion to fill the rifling grooves.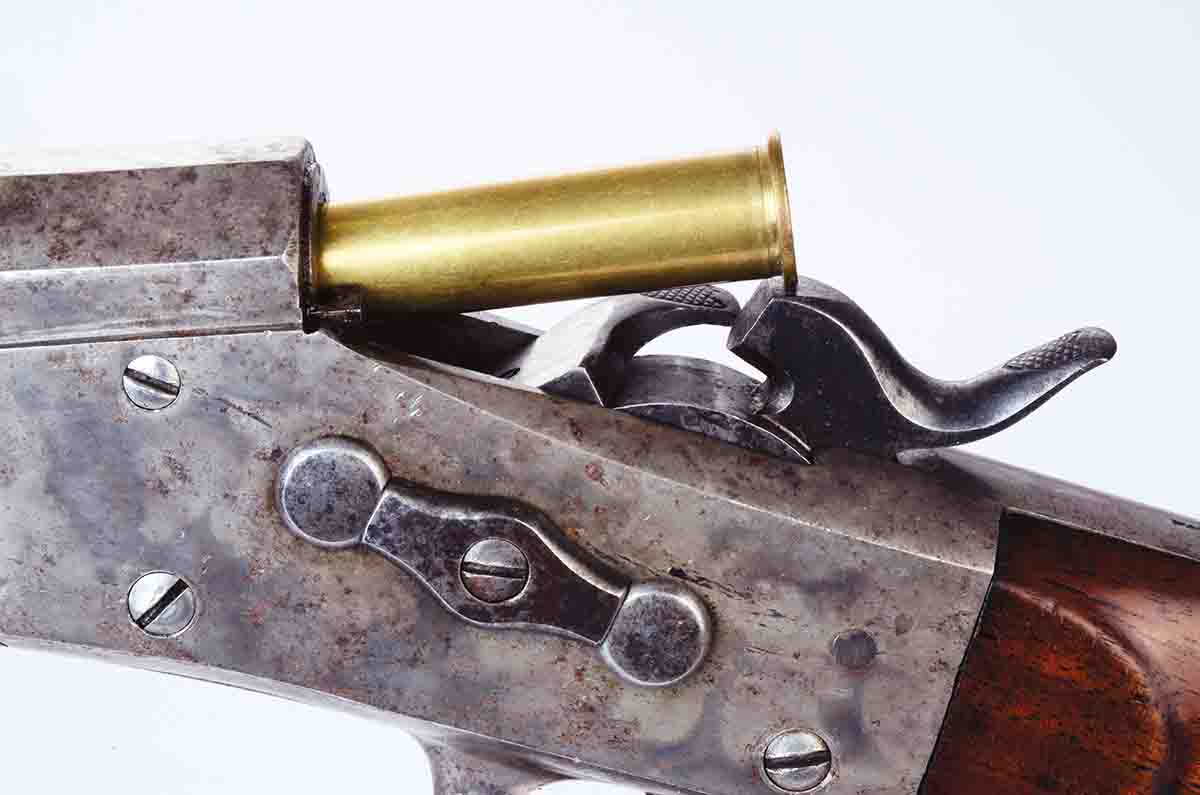 One thing I would like readers to know is that while I've never hunted with this .50-70 Remington, I have used the two above bullets on game from other .50-70 and .50-90 black-powder cartridge rifles. With the Lyman bullet I've killed a one ton bison bull and a couple of whitetail deer. With the RCBS bullets I've shot one bull elk with a six-point rack and a couple of mule deer.
There is one other problem in loading proper .50-70s. That is that some modern sizing dies have not kept up with changes in bullet diameters. Seemingly, they still size cases for .515-inch bullets. In other words, even after full-length sizing, bullets of .512 inch are slightly loose in Starline brass. Therefore, I use a stout crimp on bullets.
My initial shooting with this Big Fifty has shown the RCBS bullet to be more accurate from this rifle. Its three-shot groups have been as small as 2 inches, with the Lyman bullet's groups being about twice that, and sometimes more. Not bad for slightly undersized bullets, open sights and my 71-year-old eyes. Just maybe, a custom made .515-inch bullet mould is in order?