Firearms manufacturer CZ produces a large variety of guns that include pistols, shotguns and rifles, which have generally earned a reputation for rugged quality and reliability. Beginning in 2012, the company introduced the CZ 557 bolt-action rifle. This was a new action and not a spin off from another model.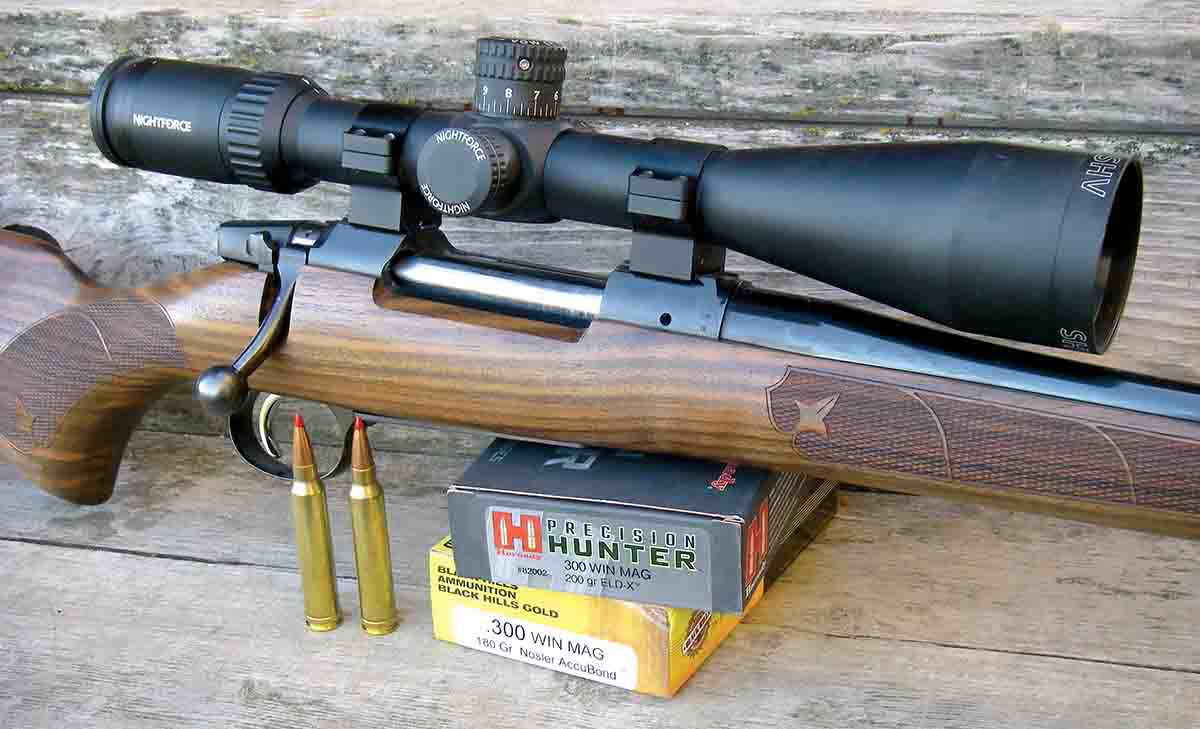 Most CZ hunting rifles, such as the 527 and 550 (the latter being especially popular with dangerous-game hunters and professionals), feature actions with claw extractors for control-round feeding, which are costly to machine. The actions make it difficult to produce rifles and keep costs competitive with oters that have a push-feed design. The 557 features a push-feed action and is designed specifically to keep manufacturing costs within check. Nonetheless, the design is robust and smooth. It is a top-notch hunting rifle that also offers a handsome, classic profile with a much welcomed traditional wood stock.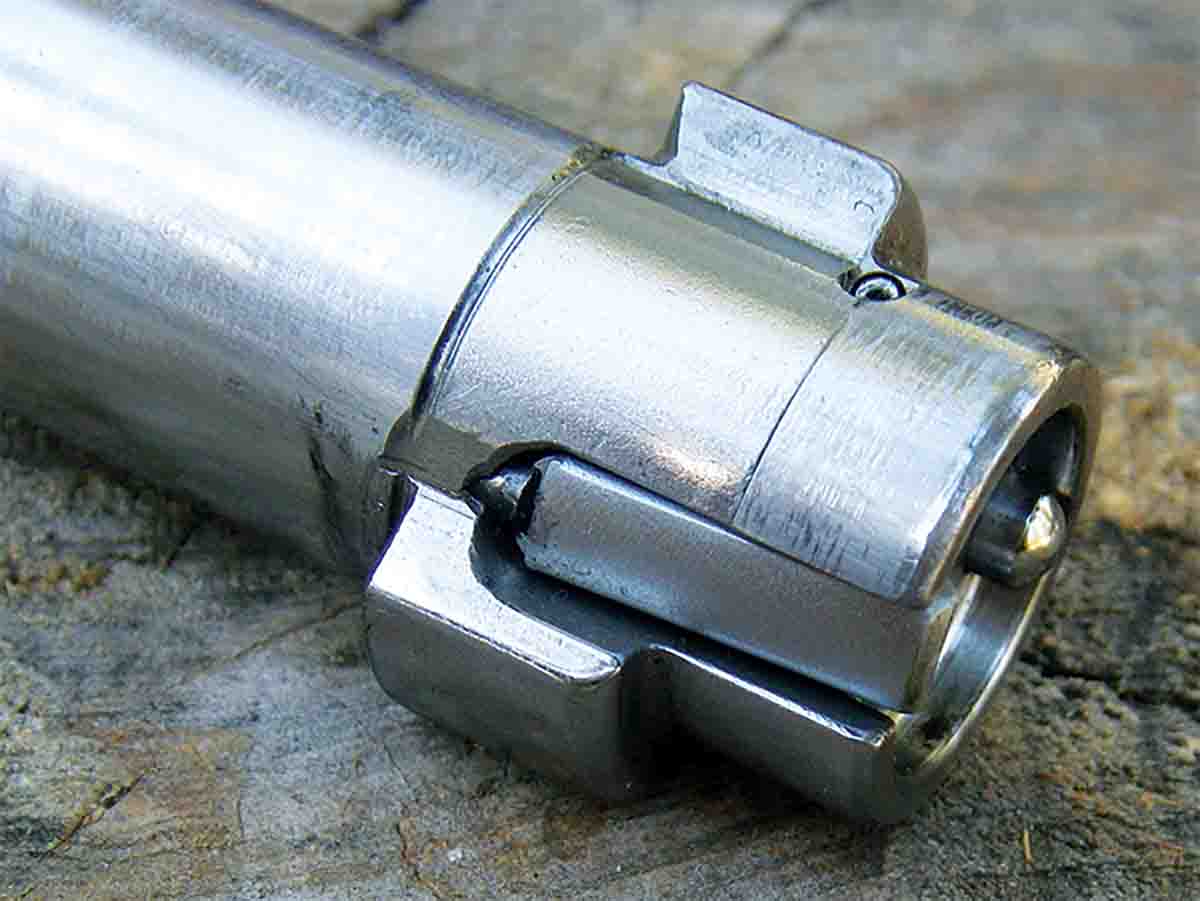 The CZ 557 was initially offered in .30-06 with a 20.5-inch barrel; however, the line was soon expanded to include other calibers, as well as a short-action version chambered in popular calibers with synthetic and walnut stocks. This year the 557 will be offered in .26, .28, .30 Nosler and .300 Winchester Magnum. The latter cartridge has been a popular chambering since its introduction in 1963. It is a top contender as one of the best all-around cartridges for hunting all North American big game. In the past decade its popularity has grown to new levels.
My sample 557 is a preproduction version chambered in .300 Winchester Magnum; however, CZ-USA officials assure me that this rifle is a fair representation of actual production guns that will be shipping to dealers by the time this review is published.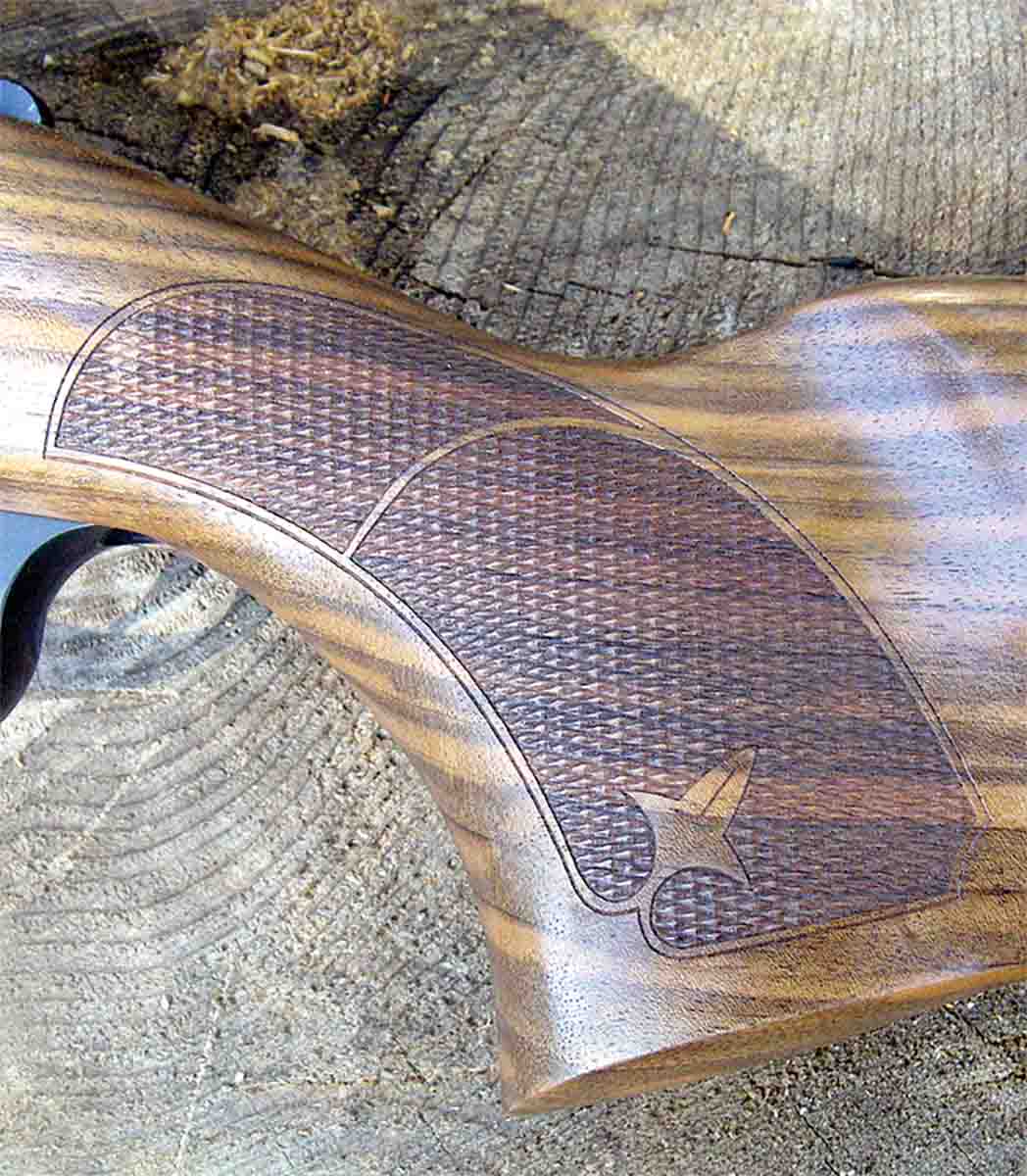 The first thing that struck me about this rifle is its appearance. The Turkish walnut stock is of relatively straight grain to achieve strength. It also features significant contrast, with dark and light grain structure that is especially attractive. The stock is oil finished and features machine-cut checkering. Wood of this quality is usually only found on rifles that cost notably more than the 557's modest $849 MSRP. The stock is American classic in design and fitted with a rubber recoil pad.
I am perfectly satisfied with a hunting rifle that features a handsome wood stock. I have used them for many years throughout the lower 48 states, and from Alaska to Africa and remote corners of the globe. I understand their nuances, which I can live with. In the rack or in the field, they offer a beauty that synthetic stocks cannot match. Nonetheless, I am not blind to the fact that the majority of new rifles sold today feature synthetic stocks, the use of which is both customer and manufacturer driven.
With that said, from a performance standpoint there are certainly advantages to a high-quality, synthetic stock. CZ's answer is a Manners carbon fiber stock that utilizes a formula similar to the material used in wind turbines. Its exterior is a hard-textured shell, while the interior contains various filling mixtures that add strength as needed for a given application. This methodology allows the stock weight to be controlled to some degree while maintaining outstanding rigidity. It is pillar bedded, while the barrel is likewise free floating. It is noteworthy that the comb of the wood stock version is more traditional in its drop dimensions, however the Manners stock has a higher comb that is more or less parallel to the axis of the bore, making it better suited for shooting from a prone position. The 557 synthetic is currently available in previously offered models but will appear in the above new calibers in late 2018 with an MSRP of around $1,268.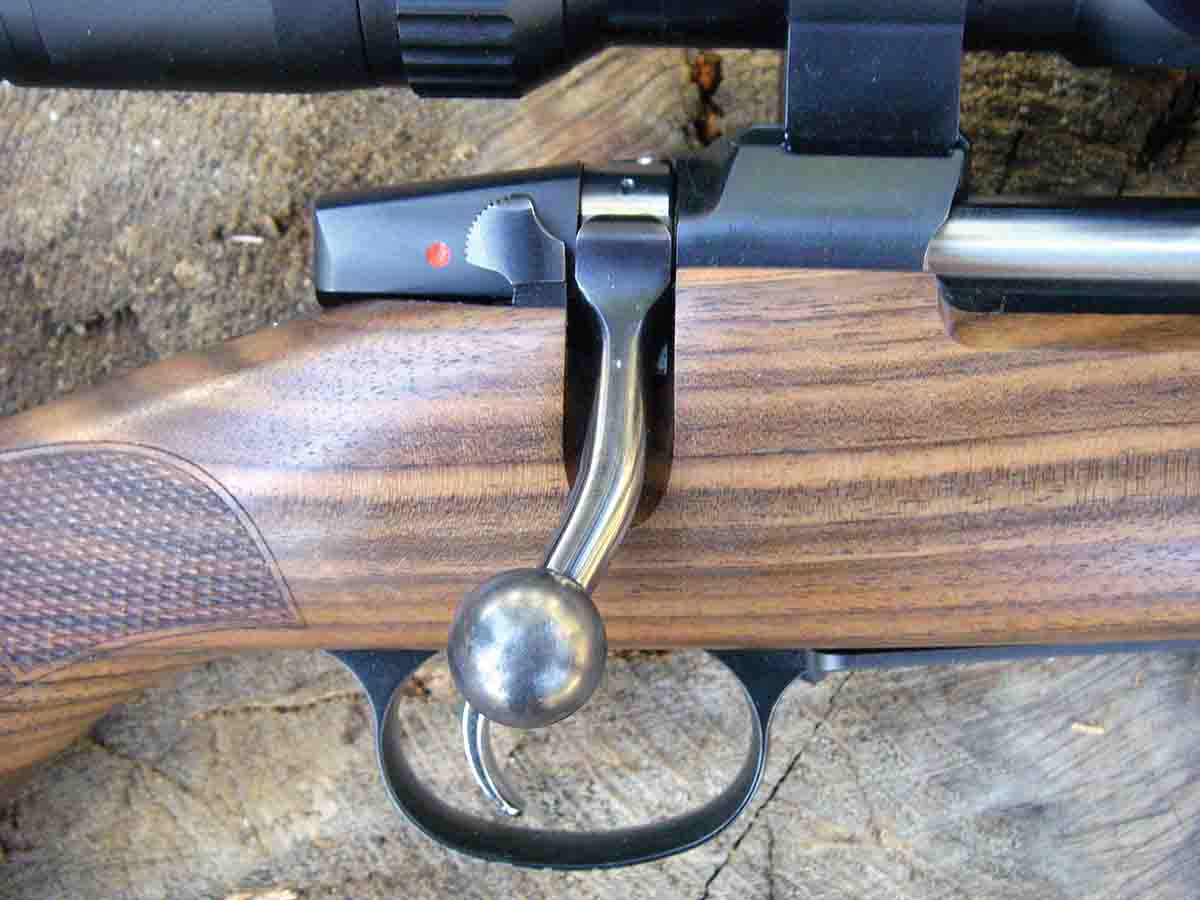 The test rifle's action was disassembled and carefully studied. My first impression was that this rifle offers a true feeling of quality, as the action worked smoothly and without binding. Furthermore, it fed, fired and ejected cartridges and cases without issue.
The receiver is CNC machined from solid steel. New tooling is being used that is capable of holding tighter tolerances than any other bolt rifle in the CZ lineup, which according to a company spokesman, results in higher levels of accuracy. The receiver also features integral mounts that accept the same CZ 19mm dovetail scope mounts found on the 550, which is a simple and strong steel mounting system.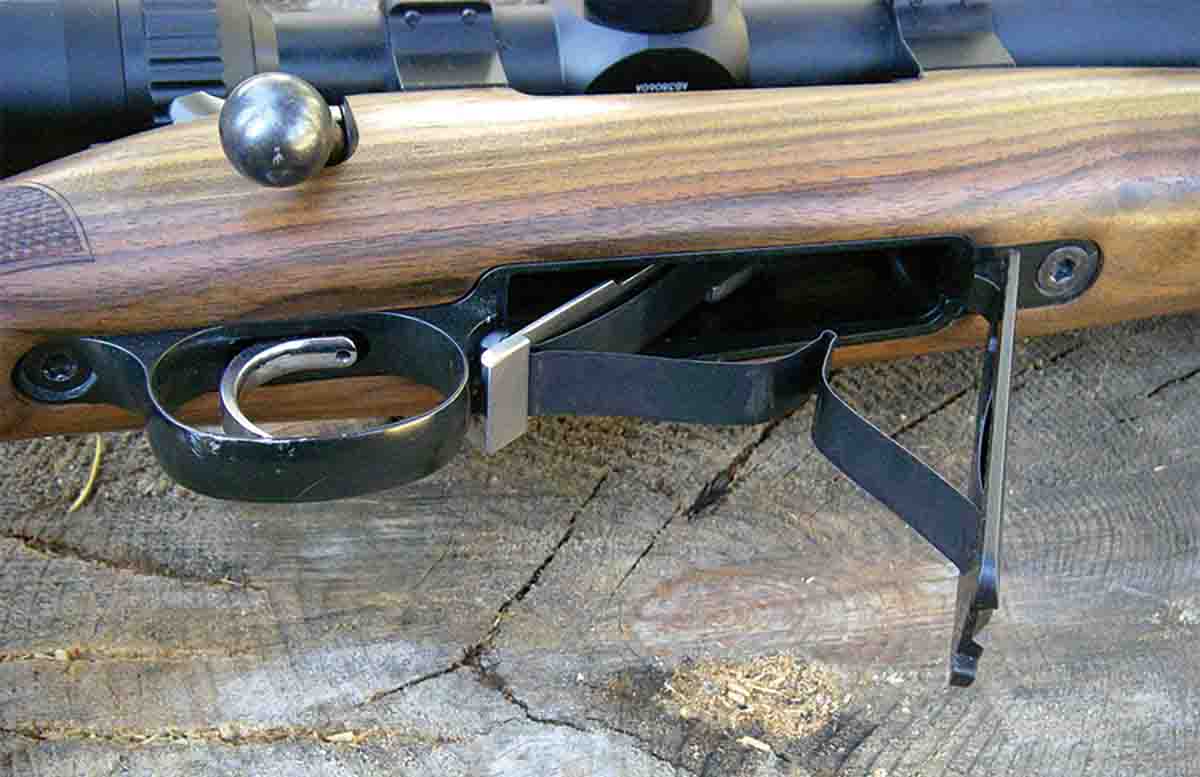 The bolt features opposing dual locking lugs with 90-degree bolt rotation. The bolt body and locking lugs are machined from a single piece of steel while the bolt handle and bolt shroud are individual pieces attached to the bolt body. This bolt assembly configuration is fairly common among various manufacturers, but reliability depends on the method of how these parts are attached. The action is fully bedded to assure a rigid platform for enhanced accuracy and helps to prevent possible stock splitting with magnum calibers.
The firing pin is a two-piece design, with the sear surface threaded then pinned in place. At press time, the lock time was unavailable. However, based on the firing pin mass, travel, etc., it is expected to be respectably fast.
In typical push-feed fashion, the bolt face is countersunk and fitted with a rotating extractor and plunger ejector. The bolt stop is unconventional, as it is simply a pop-up blade located on the inside of the left raceway and is not visible on the outside of the action (at least when it is closed). Any type of small tool, such as a screwdriver or knife blade, can be used to depress it, allowing the bolt body to be removed from the receiver. It is a tidy system that is also strong. The bolt shroud houses a small, red cocking indicator that is easily seen, or it can be felt with the thumb to confirm the condition of the rifle.
The two-position safety located on the right side of the shroud is "off" when pushed forward. The bolt can be opened when the safety is in the "on" position to allow removal of a cartridge from the chamber.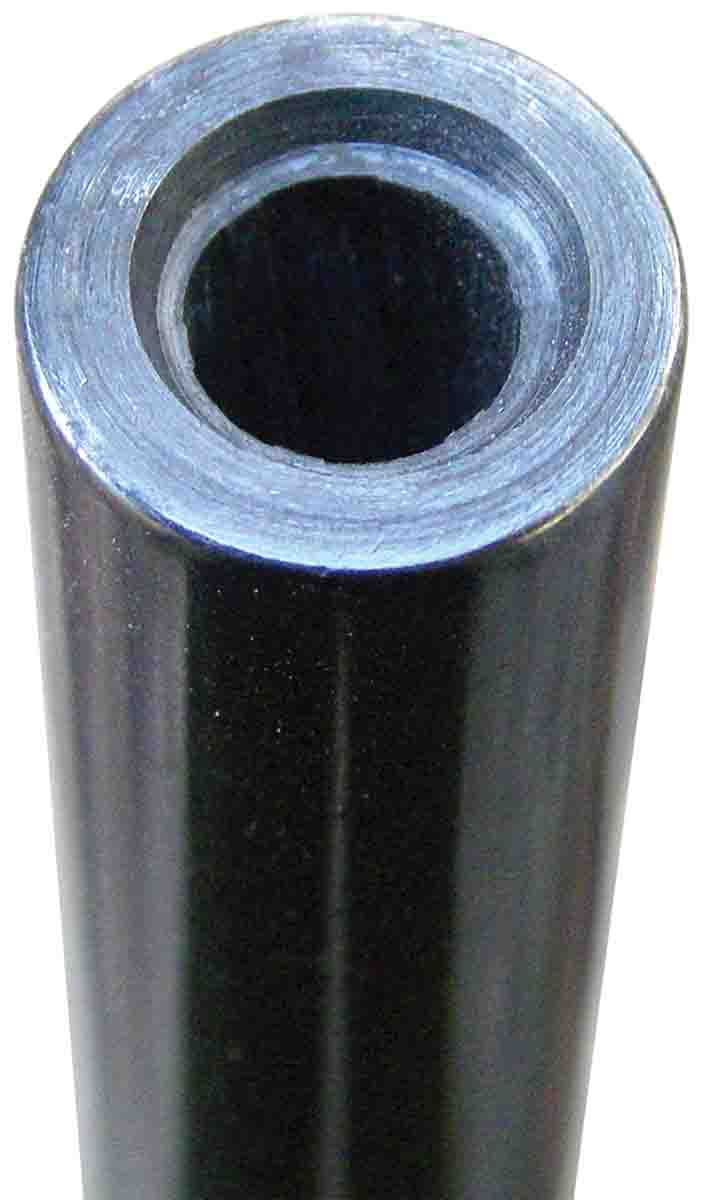 Most cock-on-opening actions are engaged once the bolt handle is fully lifted. However, this is not the case with the 557. The bolt must be fully lifted then pulled slightly back (probably around 1⁄16 inch or less) before the cocking device becomes engaged. This was by no measure a problem; rather it is just a feature of the design that is unique.
Space will not allow a detailed description, but the 557 offers good gas protection in the unlikely event that a case ruptures or an overloaded cartridge is fired.
The bolt handle is gracefully swept and allows a natural grasp to run the action with the rifle at the shoulder. The one-piece bottom metal houses a hinged floorplate that is positively held closed by a latch, located in the trigger guard, that is easy to manipulate. Two Torx-style guard screws secure the stock and action together.
The trigger is smoothly polished and gracefully shaped in a C-pattern, which proved especially comfortable as there was never any finger "bite" when firing the .300 Winchester Magnum. Unlike other CZ bolt rifles with set triggers, the 557 trigger is a single-stage design, which is widely appealing to most shooters and big-game hunters. It broke extremely crisply at 43 ounces as it came from the factory, but due to virtually no creep or after-travel – both of which can be adjusted by the user – it felt much lighter. The pull is adjustable from 3 to 5 pounds.
The barrel is 26 inches long, deeply crowned and is fully free floating. CZ's barrel quality is generally very good. I have tested many of the company's rifles ranging from the small .204 Ruger to the potent .505 Gibbs, with each proving accurate. The company's barrel-making process begins with cylindrical steel billets that are stored outside for years, where they are intentionally subjected to the elements, including subzero temperatures, summer heat, etc. This method naturally relieves the stress associated with forming the billets. Next they are rifle drilled, then cold hammer forged, wherein the steel is swaged around a hardened mandrel that forms the rifling. This cold swage method keeps heat to a minimum and helps prevent further stress and warping. Barrels are then hydraulically lapped to remove surface imperfections and provide a mirror-like finish, which CZ states completely removes the need for barrel break-in procedures. However, I always recommend cleaning any new barrel every 10 to 15 shots for the first 50 rounds.

In studying the 557's bore under high magnification, it is beautifully finished and appears exceptionally straight.
My first experience with the sample 557 featured here was on an elk hunt in Idaho's roadless wilderness near the Seven Devils region. The high elevation brought early morning snowfall as I loaded hunting gear and the new rifle on horses and pack mules and rode several hours to a spike camp. Every day for the next week, the rifle was carried many miles on horseback (or on "Toby" a 16.1-hand mule), and carried on foot as we climbed mountains, slid down hills and fought the elements. At one point, due to a stubborn mule, the rifle ended up being knocked deep into loose dirt, but it cleaned up easily enough and kept on working.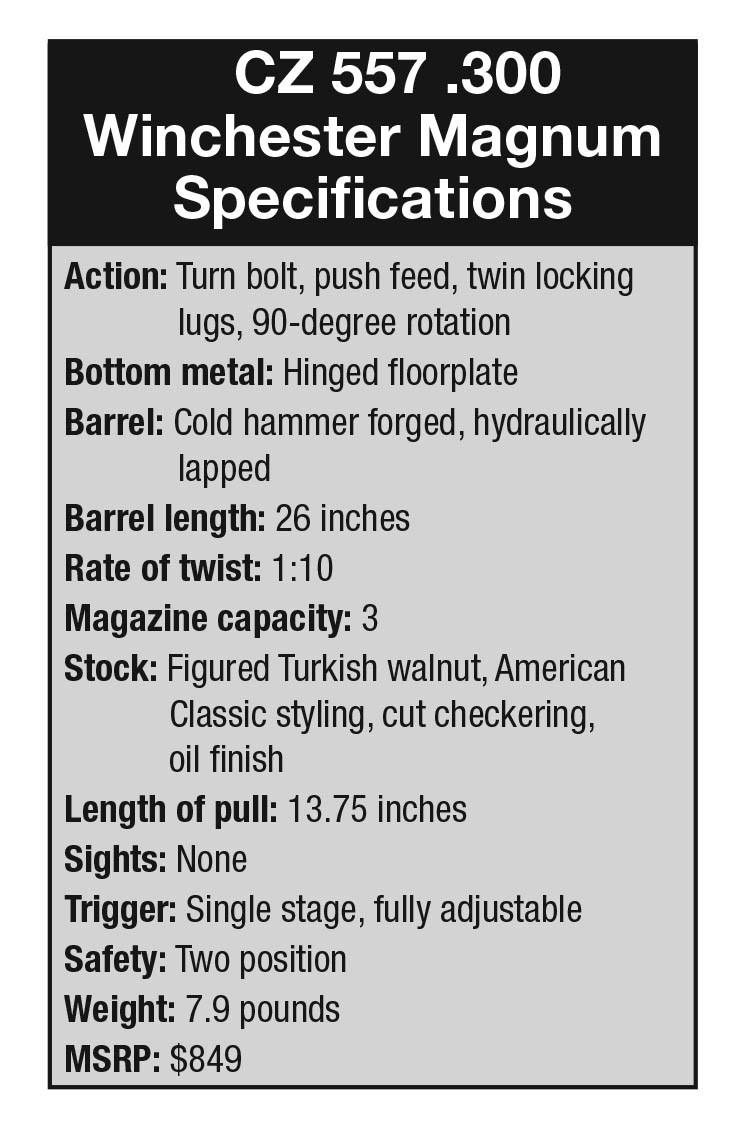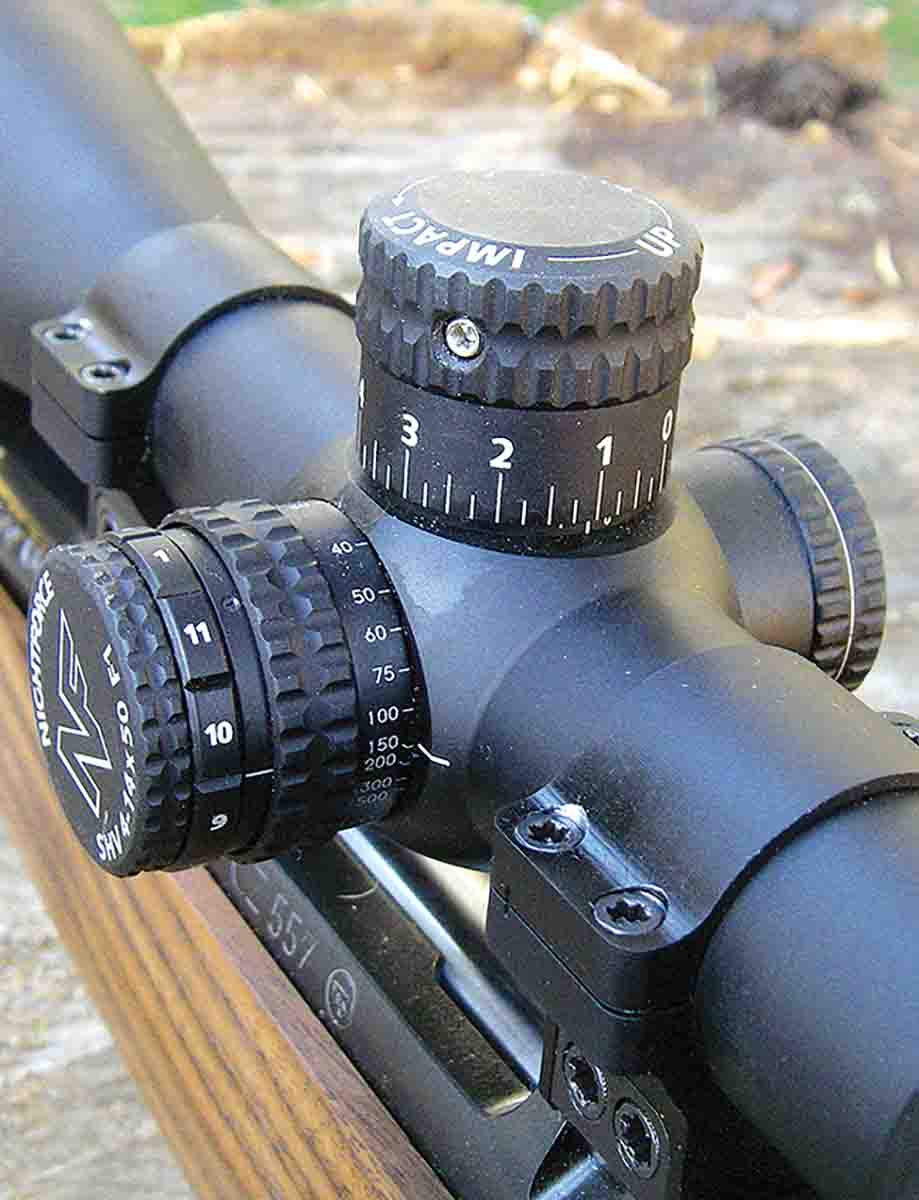 After the hunt I was able to wring it out for accuracy from a sandbag rest using a variety of factory loads from Hornady, NoslerCustom, Black Hills, Federal and Winchester, as well as a couple of handloads.
The rifle was fitted with a Nightforce 4-14x 50mm F1 Shooter Hunter Varmint (SHV) variable-power scope, featuring ¼-MOA dials, external eye focus and parallax adjustment. Nightforce scopes have earned an enviable reputation for precise adjustments, clear optics, notable reticle options for field and target work, and durability. As expected, the scope was easy to zero as adjustments were positive, and it held its zero through tough conditions that included a few bad falls and generally rough treatment in the Idaho mountains.
The .300 Winchester Magnum load carried in the field for hunting elk was Hornady's new Precision Hunter with the 200-grain ELD-X bullet. Upon returning to my Idaho home, the rifle's zero was again checked, which had remained perfect after a hard week of hunting. At 100 yards, the above load produced four-shot groups that ranged from .64 to .97 inch, center to center, with a three group average of .77 inch.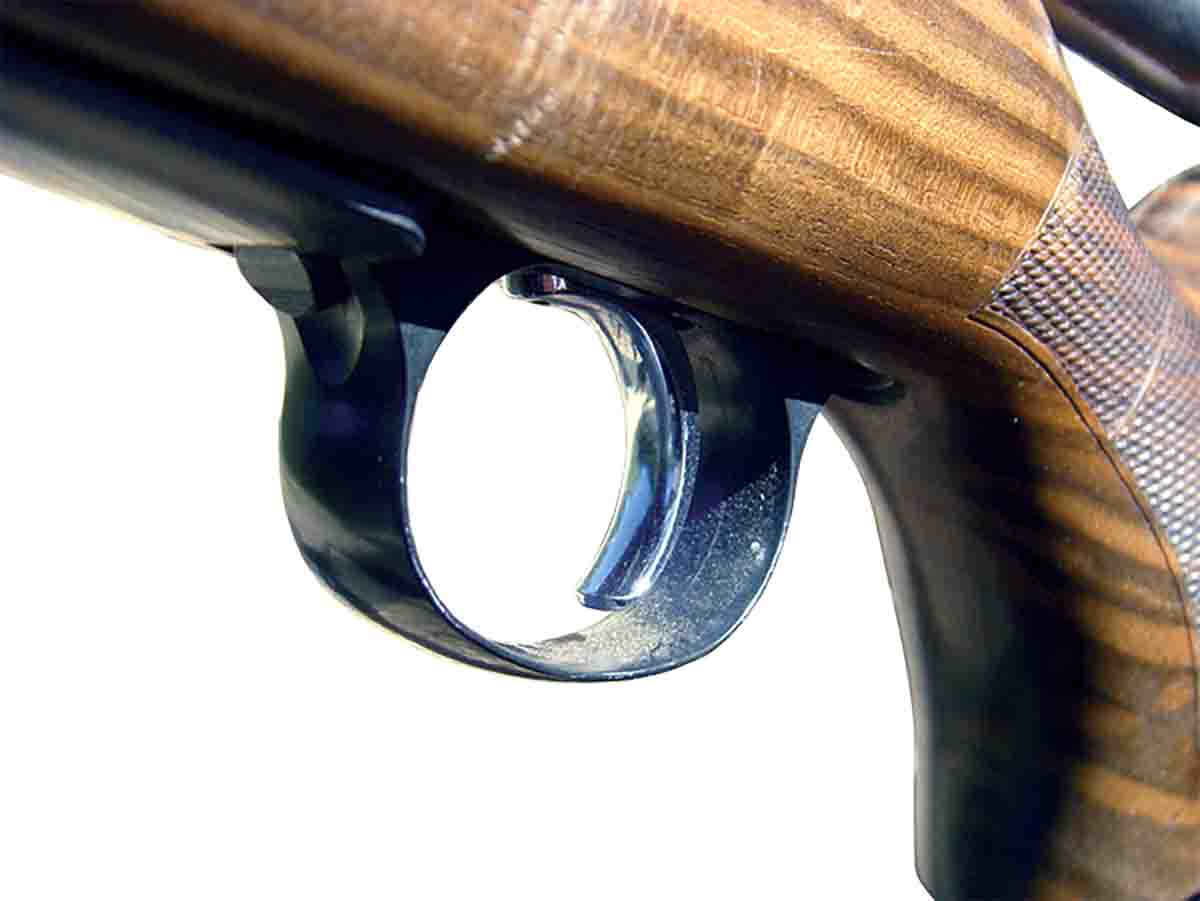 Another factory load that produced notable accuracy was the Black Hills Gold containing the Nosler 180-grain AccuBond bullet, which yielded a three-group average of of .84 inch. Nosler Custom loads containing the Nosler 200-grain Partition bullet were especially consistent, with the average of three groups measuring .88 inch. What I found interesting with the above loads was that there were only small differences between the largest and smallest groups. This is indicative of a quality and consistently accurate rifle and ammunition.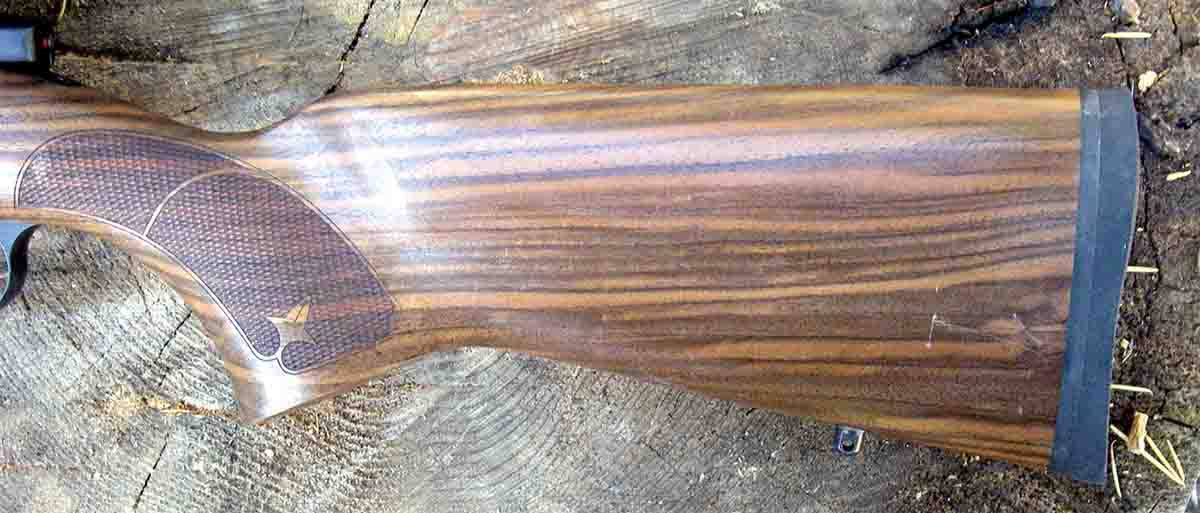 One notable handload was assembled in Nosler cases and consisted of a Nosler 180-grain Ballistic Tip bullet with 76.0 grains of Alliant RL-22 powder capped with a Federal 215 Large Rifle Magnum primer that yielded 3,081 fps. After making only two adjustments to the bullet's seating depth (or COAL) to best correspond with the CZ's leade length, four shots clustered into .61 inch, with subsequent groups being very similar in size.
In spite of the CZ 557 being designed to keep manufacturing costs down, it is not an economy rifle. Rather, it offers smooth function, accuracy, handsome looks and quality.