If the sale of new rifles is any indication, it appears the .260 Remington cartridge, introduced in 1997 as more or less the same cartridge as the .263 Express wildcat dating back to the mid-1950s, may be falling out of favor for general field use. I suspect this is largely due to marketplace impulse – that suggestion having much to do with a new generation of technology-savvy rifle enthusiasts and hunters who research every bit of detail before making a new purchase. The consumer base has changed.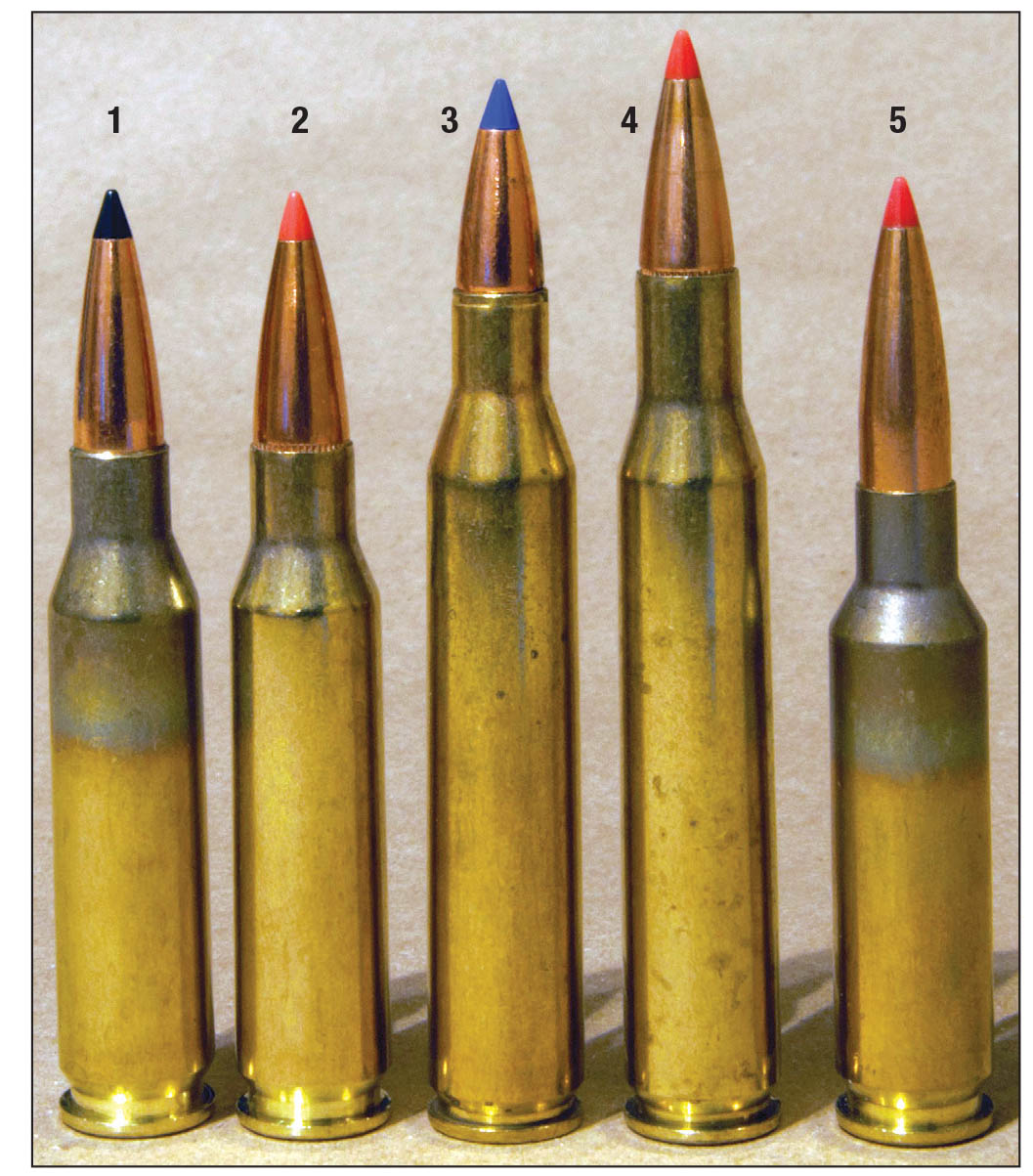 For example, the older hunters I knew in my youth (a couple of them handloaders) cared little about ballistic coefficients (BC) or actual velocity from their rifles; nobody owned a chronograph that I recall seeing. What these fellows haggled over was whether a given load provided reasonable groups at 100 yards. In fact, "reasonable" was subjective, groups were rarely measured, and "good enough" was good enough. The placement of a bullet on the foreleg of a deer was up to the man – or in my case, the boy – who pulled the trigger.
I once watched from a distant ridgetop as my father filled two Montana mule deer tags, shooting a buck and a doe with a Ruger Model 77 .243 Winchester. When the interest of his teenage son resulted in the question of shot distance, Dad's simple reply was befuddling at the time: "I didn't think about it much, just put the crosshairs on their shoulders and squeezed the trigger." Those shots may have been 300 yards or farther, with a cartridge that some hunters believe to this day is not powerful enough for deer.
On all accounts, the .260 Remington lacks little capability for hunting or target use, but a new crop of 6.5mm cartridges has gently nudged the .260 to "back-seat" status. As far as that goes, the 6.5 Creedmoor has had the greatest impact.
Even though it is a small sampling, and the outcome could likely vary in another location, I called several local gun shops in the Prescott area to ask about .260 Remington rifle sales and was somewhat surprised. The manager of one shop, for example, indicated not having sold a new .260 bolt rifle in more than two years. "Everyone wants a 6.5 Creedmoor," another fellow said. A third said I could order one "if I really wanted it." This commentary is an example of "piling on" to the note above regarding a new wave of shooters. There is no doubt in my mind that a lot of them – even older rifle enthusiasts – are increasingly becoming interested in long-range shooting and exterior ballistics, and some of them own chronographs and handloading equipment as a result.

As such, the firearms industry has been working double-time to provide information and tools, such as online ballistic calculators, smartphone apps, highly versatile laser rangefinders and streamlined bullets with high BCs, to accommodate them. Simply put, the world of commercial sporting rifles and cartridges has changed. New and/or highly experienced riflemen can simply turn on a computer or phone, find the information they want and use it as credibility and experience warrants.
In the time since the .260 Remington was introduced, another interesting phenomenon has taken place: Riflemakers have engineered rifles of great accuracy that can be made very inexpensively, and the savings can be passed to the end user. The Ruger American 6.5 Creedmoor, with a retail price of around $500, is a prime example, but there are others. Remington's least expensive .260 Remington rifle, a Model Seven with a matte- finished barreled action and injection-molded stock, has a suggested retail price of $731 and a street price of roughly $550, but prices quickly go up from there. Savage Arms offers several .260 rifles as well. High-end rifles with walnut stocks remain available, but new and younger shooters are happy paying less if a rifle is accurate, even if it has no other lasting appeal; in some instances, a rifle has become simply a means to an end.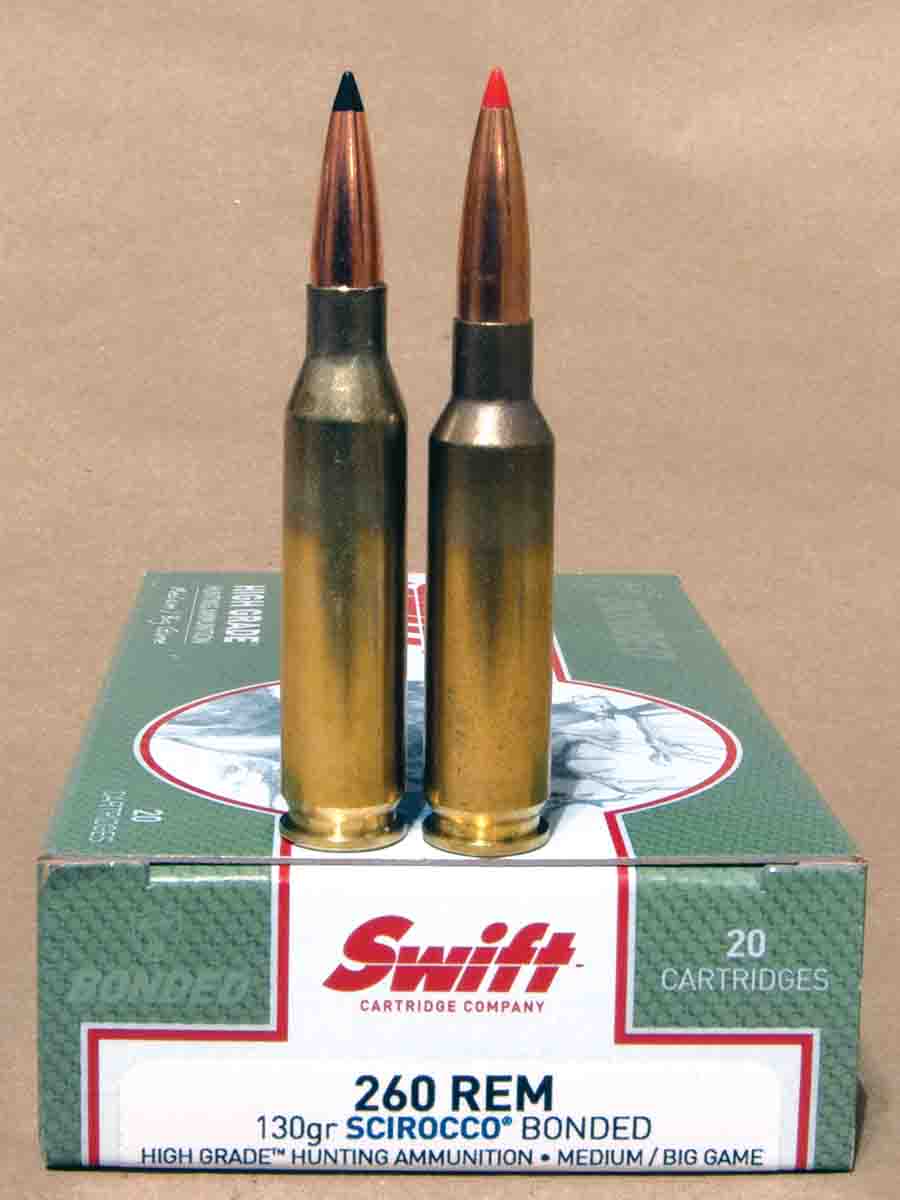 There are precious few Remington Model 700s offered for the cartridge, another indicator that "inexpensive" sells. Danny Pedersen of Classic Barrel & Gunworks (
www.cutrifle.com
) told me he has done quite a bit of re-rifling old barrels to .260 Remington in the last couple years – usually on shot-out .243 Winchesters and .22-250 Remingtons, the owners of which perceived no reason to get an altogether new rifle. The .260 was a logical rechambering choice to keep those bolt actions shooting. Putting together a complete .260, however, or making a new barrel, is quite rare, he said.
With velocities hovering roughly 200 fps faster than the classic 6.5x55 Swedish Mauser, depending on how the two are loaded, the .260 is a useful big-game hunting and target cartridge that is likely falling out of style. It is fair to say, however, that the 6.5 Creedmoor buzz has to some extent sparked great interest in older 6.5mm cartridges of all types, including the 6.5-06, .264 Winchester Magnum, 6.5x55, the 6.5-284 (both the wildcat and the commercial Norma version), and probably to a lesser extent the 6.5 Remington Magnum. We can "pile on" again here with the introduction of the 6.5 Grendel AR cartridge, which is now making inroads in the sporting rifle market, and the magnum .26 Nosler and 6.5-300 Weatherby Magnum. All this back-and-forth consumer interest has resulted in newer, longer, high-BC bullets.
Due to most American shooters having largely given up on most 6.5mm cartridges for decades prior to the .260's introduction – with obvious exceptions being the 6.5x55 Swede and 6.5x54 Mannlicher-Schöenauer, to name but two, along with various match cartridges using .264-inch diameter bullets – the .260 Remington had to prove itself against other iconic cartridges upon its introduction, including the 7mm-08 Remington, the 7mm Mauser and .270 Winchester, and maybe even the .25-06 Remington. Of course, three of these cartridges had long since been stalwarts in the minds of American sportsmen, and the 7mm-08 has been both a popular hunting and silhouette cartridge. So even long before the commercial version of Ken Waters' .263 Express (originally a .243 Winchester case necked up) appeared, the .260 was "born" into stiff competition.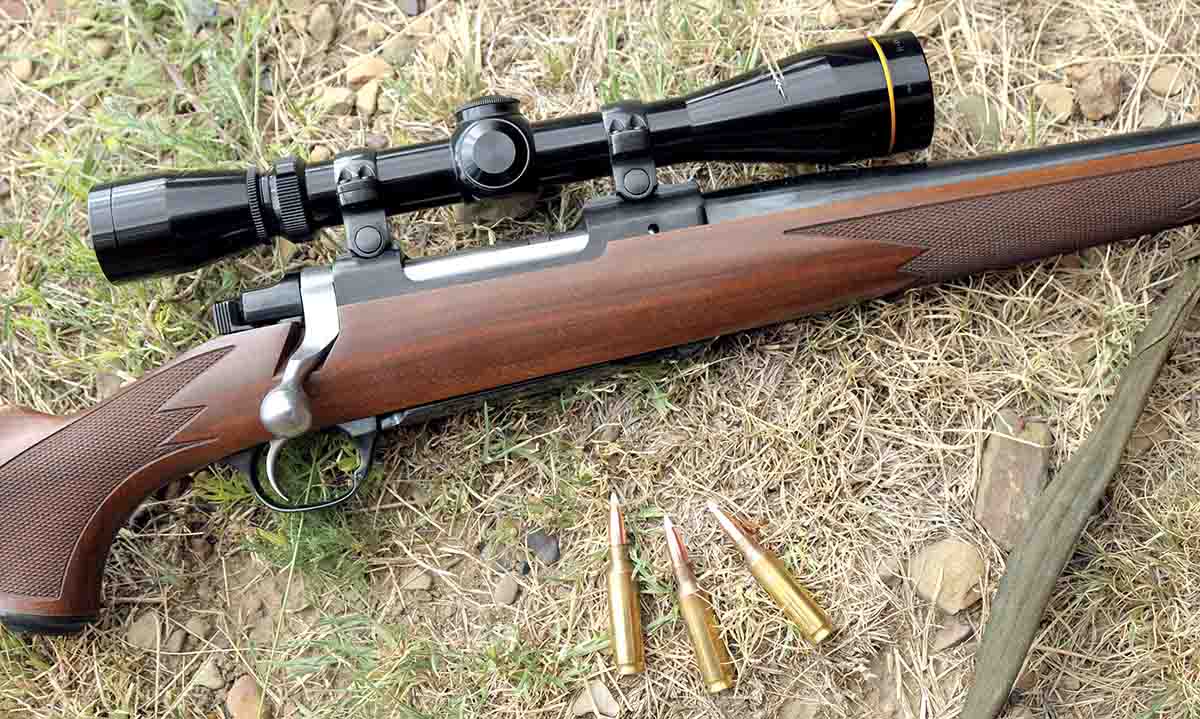 Still another hurdle to clear, the .260 Remington was introduced by one of the largest and oldest arms-making companies in the U.S. The new rifle business is highly competitive, and if there is a suitable option, manufacturers don't often like to stamp their barrels with a competitor's name or initials, so for some time Remington was the exclusive source for .260 rifles and ammunition. Hornady, on the other hand, does not compete with rifle manufacturers, so its 6.5 Creedmoor was quickly picked up as an offering by several notable longarm companies, giving the cartridge an early leg up.
Roughly five years ago, the first 6.5 Creedmoor I shot was a Ruger M77 Hawkeye with a 26-inch barrel; first topped with a Leupold 3-9x 40mm VX-II scope, and later a Trijicon 3-9x 40mm AccuPoint with a standard crosswire-type reticle and fiber-optic dot. That rifle, which is still on hand, proved to be very accurate with handloads that were just shy of, or right at current maximum suggested powder charges: Hornady 129- grain InterBond, 45.2 grains of Winchester 760 powder, 2,989 fps; Nosler 130-grain AccuBond, 44.3 grains of W-760, 2,880 fps. (The 130-grain bullets were intentionally used at the time to compare velocities to the 130-grain bullet from a .270 Winchester.) Both loads worked well in the field; one on a pronghorn buck and the other on a scraggly, old desert mule deer buck. There is no doubt, however, that had I been using a .260 Remington or a 6.5x55 Mauser, the results would have been the same.
Velocities provided while testing the cartridge back then were and are on par with current factory load velocities (see table), even though the .260 Remington has a SAAMI pressure rating of 60,000 psi, and the 6.5 Creedmoor is a 62,000-psi cartridge. It is also worthwhile to note that Waters, using a Remington Model 700 .260 Remington with a 24-inch barrel, achieved 2,864 fps using 47.0 grains of Reloder 19 and Hornady 129-grain Spire Points.
Ardent fans of the 6.5 Creedmoor or the .260 Remington like to split hairs when discussing the virtues of one over the other, though erroneously maintaining that the Creedmoor is a better cartridge because it has more powder capacity is silly – I have actually heard this suggestion before. When measuring case capacity while testing the cartridge, 6.5x55 Mauser, .260 Remington and 6.5 Creedmoor cases were all primed and filled to the top of the case mouth with water, then flatbase bullets were seated to the juncture of the shoulder and neck. Both the 6.5x55 and .260 cases held roughly 50.5 grains of water, according to notes. Using the same technique, the 6.5 Creedmoor case held 48.7 grains of water.
The 6.5 Creedmoor has benefits over the .260, depending on how they are perceived in importance: First, as indicated it is made to operate at a higher pressure which, depending on bullet and powder choice, can increase velocity. Second, and perhaps most interestingly, the Creedmoor case is shorter than that of the .260 (1.920 inches vs. 2.035 inches), and case neck length is longer by .026 inch. While this may not seem like much, it means that longer bullets can be used more easily without being terribly deep seated and taking up powder capacity.
If building a custom rifle for either cartridge, an equally custom chamber can be made to accommodate any reasonable cartridge overall loaded length, supposing it fits a given rifle's magazine. But factory rifles are already chambered to accommodate the flexibility of the 6.5 Creedmoor case. Many of today's newer, longer hunting bullets with sharper-tapering ogives were not even available at the time of the .260's introduction.
Consumer tastes shift often. In the meantime, like most hunters who have shot either or both cartridges, now and then I'll continue to head afield with the long-barreled 6.5 Creedmoor or a handy, 7.5-pound Model 700 .260 Remington with a composite stock and stainless, 24-inch barrel, acquired many years ago. Both rifles shoot pretty well and will work just fine – so long as the "boy" pulling the trigger does his job.