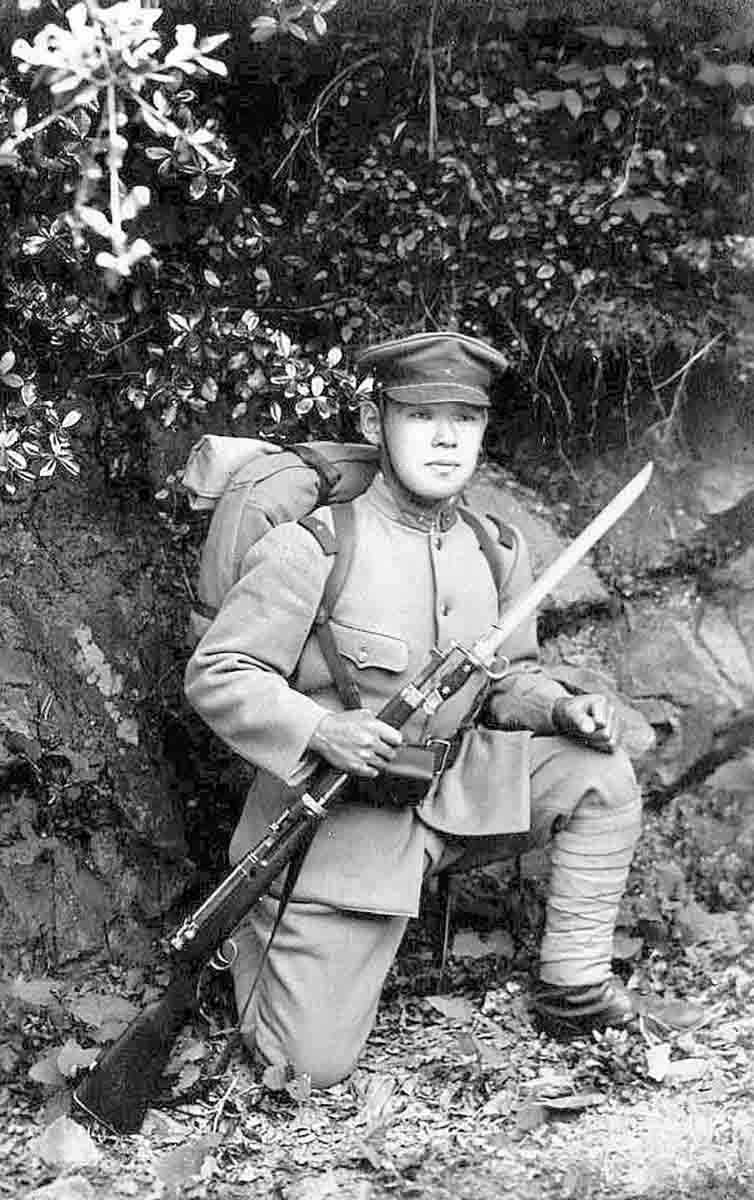 Speaking collectively of worldwide major military formations, carbines have been used for arming cavalry, engineers, paratroopers, mountain troops and even bodyguards of high-ranking officers. Usually, when a nation's ordnance department focused on updating its shoulder arms, infantry rifles were the primary consideration. Sometimes simultaneously and sometimes as an afterthought, methods for making rifles shorter and lighter resulted in carbine versions. An adopted infantry rifle's action often remained the same; so did its chambering. There are at least two examples where permanently mounted bayonets on carbines made them rival the original, full-length rifle's weight.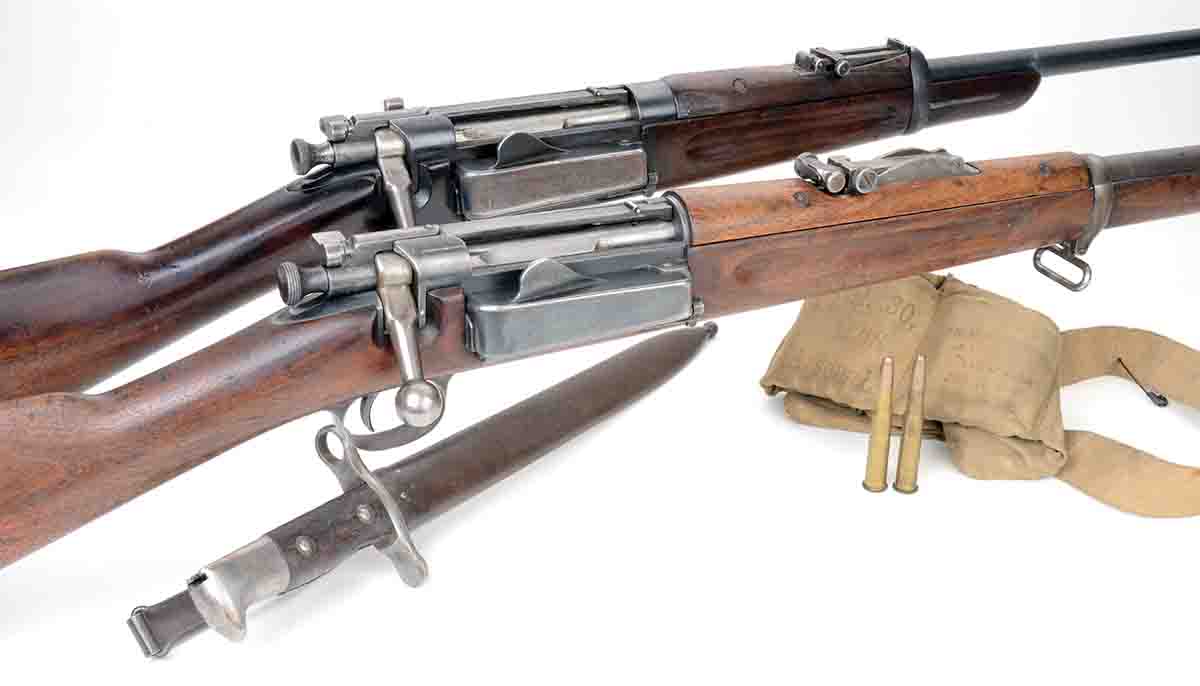 The idea that carbines were primarily for horse-mounted troops is somewhat of a misconception. In American usage at least into the Civil War, cavalrymen were expected to fight other cavalrymen with a pistol and saber. It actually wasn't until midwar that U.S. Army tactics called for horses to bring soldiers to battle, whereupon they dismounted to fight on foot with carbines. A prime example of this would be General Buford's cavalry seizing the high ground on day one of the Battle of Gettysburg in 1863. His troops held their ground against Confederate infantry while dismounted, fighting with carbines until Union infantry arrived.

The earliest matching rifle and carbine in my collection are U.S. trapdoor Springfield Model 1873s. Both are chambered for the .45 Government round with 405-grain bullet and 2.1-inch case length, but loadings for each were different. Due to complaints of excessive carbine recoil by troops, the 70-grain black-powder charge for infantry rifles was quickly reduced to 55 grains for cavalry carbines. The extra space was taken up either by cardboard wads between bullet and powder or by tubes. The tubes were inserted into the case and then powder was put inside the tubes. (Archaeological work at the Little Bighorn Battlefield in Montana has recovered .45 Government cases with tubes partially intact.) A puzzling fact is that rifle and carbine loads could not be discerned from one another after being removed from their packaging.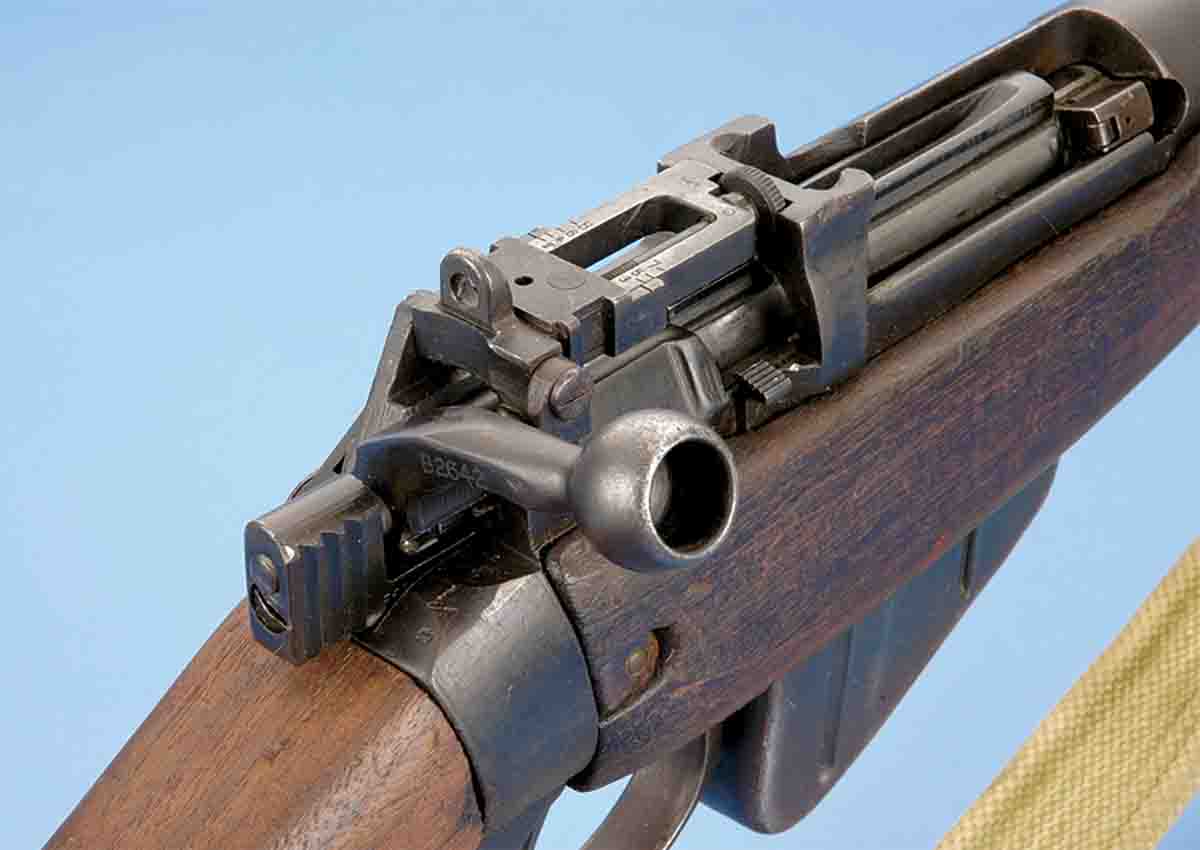 Note that sources vary from book to book on exact barrel lengths, overall lengths and weights of the following rifles and carbines, not to mention their loads' velocities. In the following text, measurements and weights are from my actual collection, not copied from other sources. Velocities have also been rounded to approximate levels.
Velocities for each load as reported by the U.S. Army Ordnance Department was 1,350 fps for the 70-grain charge, and 1,150 fps for the 55-grain charge. Those were as fired in 32.63-inch and 22-inch barrels, respectively. In 1881 .45 Government infantry-load bullets were increased to 500 grains, but retained the 70-grain charge. Velocity was rated at 1,300 fps from rifles, but in my experience that velocity is doubtful. Carbine loads remained the same.
Model 1873 receivers for rifles and carbines were the same. Infantry rifle stocks are nearly full length, with carbine stocks considered half length. Rifles were meant for normal sling carry and have appropriate swivels, but carbines have sling rings. Cavalry slings fit diagonally over the trooper's left shoulder so the carbine hung down on the right side. If the cavalryman was unhorsed, his carbine stayed with him. Rifles have an overall length of 51.75 inches. The carbine's overall length is 40.25 inches. Model 1873 carbines weigh 7.5 pounds, and rifles are 9 pounds. Front sights are blade types in studs brazed to the barrel. The rear sights are interesting. They look identical at a glance; ladder types with a sliding leaf and graduated scale. Each is inscribed with a "C" or "R," pertaining to which gun they should be mounted upon. On my Model 1873 carbine, the sight is marked to 15, which presumably means 1,500 yards, but the rifle sight is only marked to 12, again presuming 1,200 yards.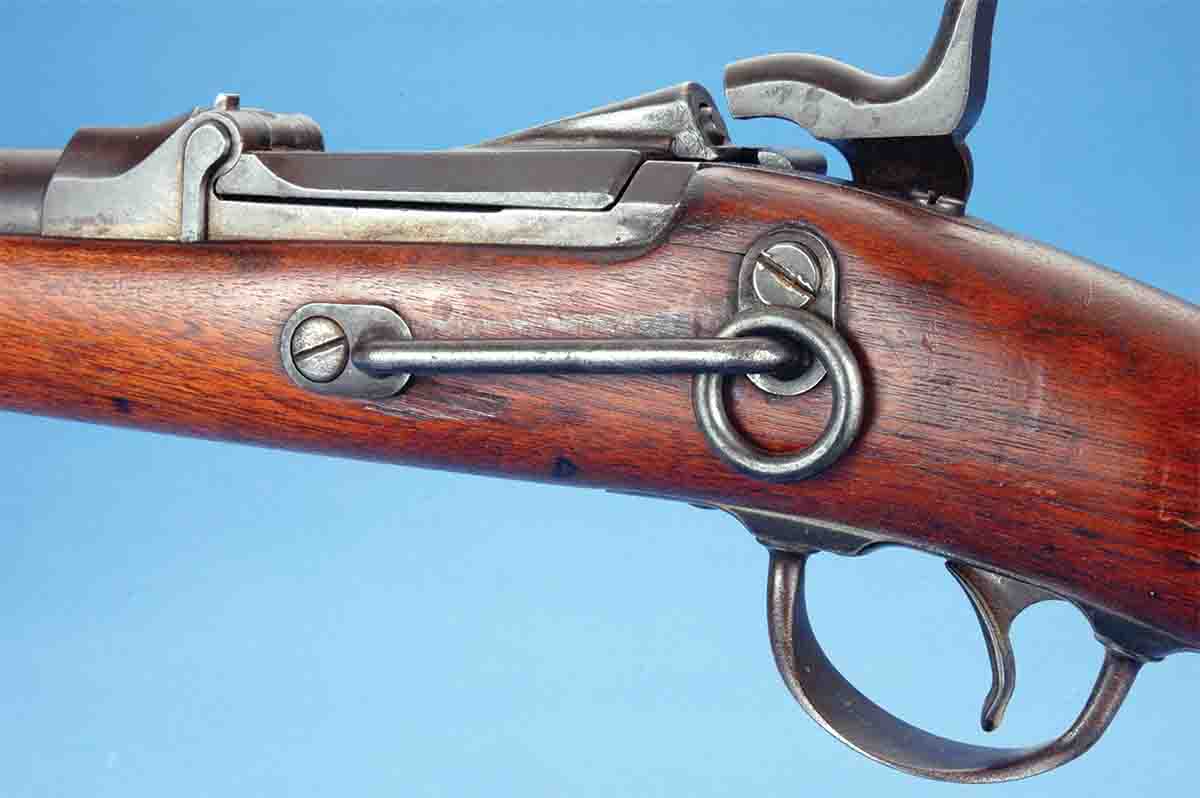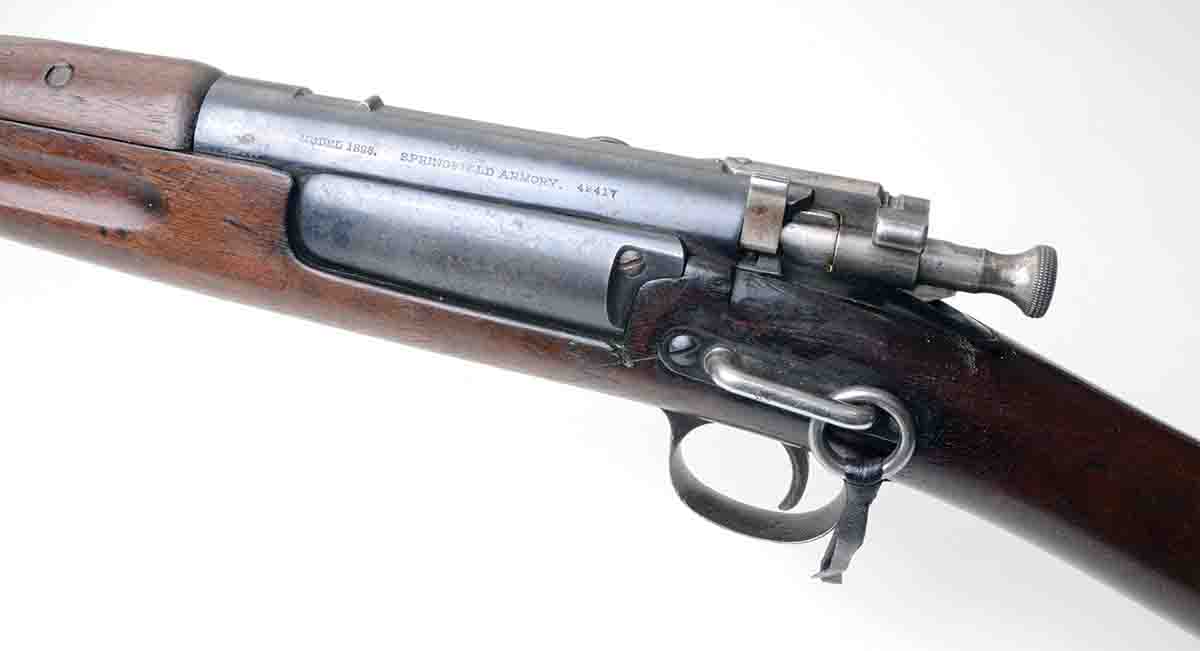 Also in my collection are U.S. Model 1896 .30 Army rifles and carbines, commonly called "Krags." Again the Springfield Armory designers used the same action; a side-loading box magazine. Rounds are loaded into the box on the action's right side and cycle under the receiver, feeding into the chamber from the left side. Barrel lengths for '96 carbines and rifles are 22 and 30 inches with overall lengths of 41.25 and 49.25 inches, respectively. With my '96s, the rifle is exactly one pound heavier than the carbine: 9 and 8 pounds. The rifle's sight is marked to 20 and so is the carbine's. The carbine's rear sight has the "C" stamp, but because my '96 rifle was retro-fitted with a later Model 1902 sight, it bears no "R" stamp. Horseback carry is hard on equipment, so steel barrel bands on '96 carbines have large humps protecting their rear sights.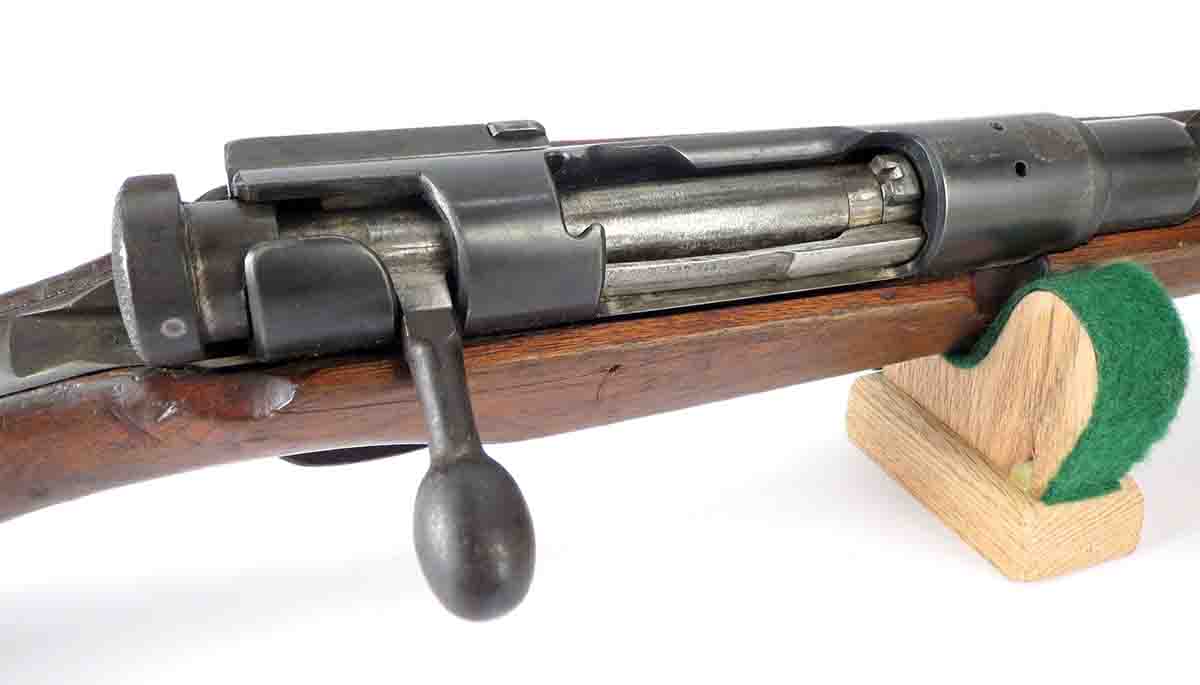 The .30 U.S., which we all know today as the .30-40 Krag, fired a 220-grain, full-metal jacketed bullet at about 2,000 fps from the 30-inch barrel of infantry rifles. Model 1896 "Krag" carbines were carried up San Juan Hill in 1898 by Teddy Roosevelt's Rough Riders.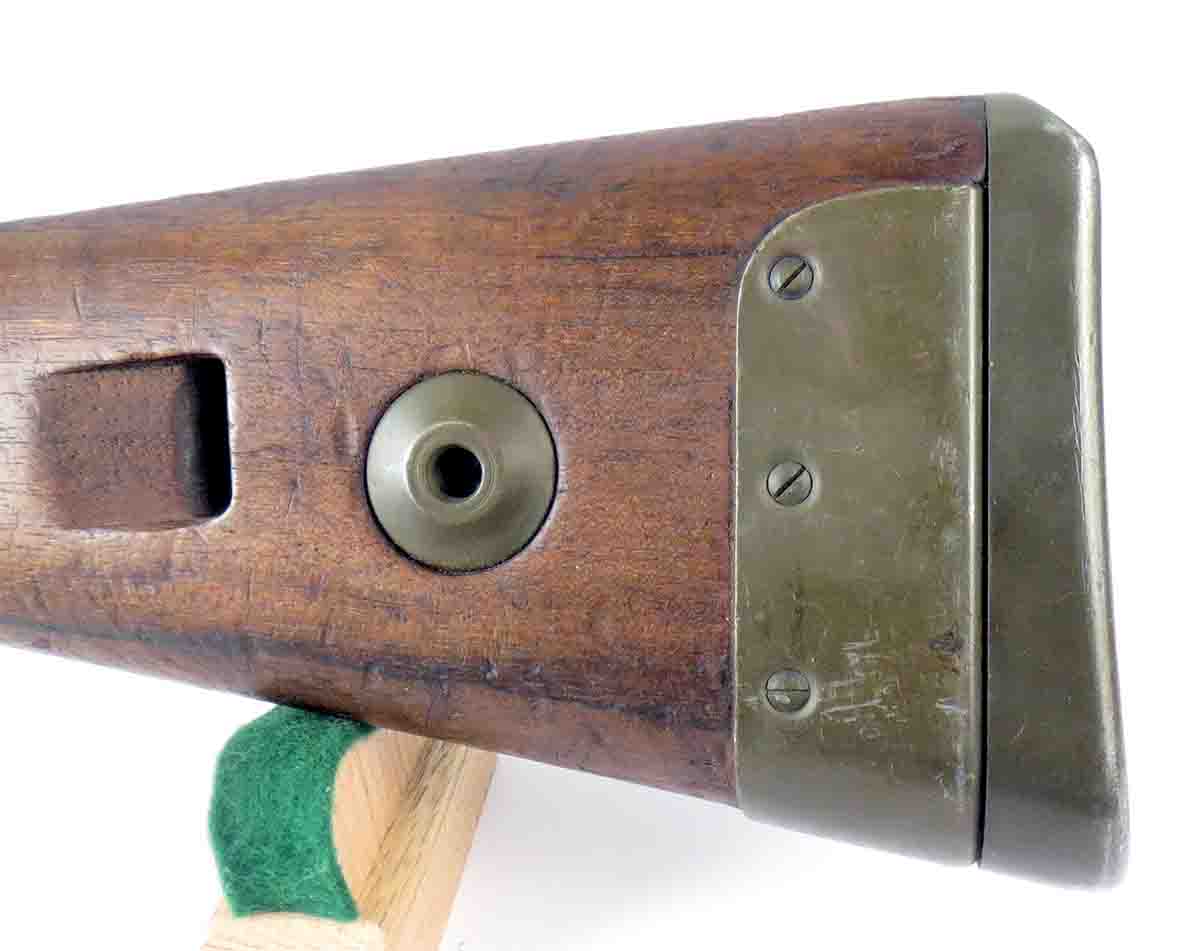 After two more slightly altered versions of "Krag" carbines – the Models 1898 and 1899 – the United States gave up on the military carbine concept for more than 40 years. Ordnance officers compromised with a revolutionary notion at that time. Model 1903 "Springfields" were given 24-inch barrels instead of the 29- to 32-inch barrels normally used for many other nations' infantry rifles.
Two very different nations followed the same path in developing carbines from their infantry rifles: The Soviet Union and Japan. Even their carbines' names are similar: The Soviet's Models 38 and 44, and Japan's Types 38 and 44.
Soviet Union Ordnance officers were searching for a semiautomatic rifle to become standard issue for Red Army infantry when World War II intervened. They stayed instead with the bolt-action Mosin Nagant Model 91/30. In 1930 its Model 1891 was redesigned by shortening the barrel from 31.60 inches to 28.75 inches. Front sights were given a hood, and rear sights were graduated in meters to 20 (2,000 meters). The front receiver rings on the action became cylindrical instead of hexagonal in shape. The cartridge remained the 7.62x54R, with the two most commonly mentioned loads being a 149-grain FMJ at about 2,850 fps and a 184-grain FMJ at about 2,640 fps.
To create the Model 38 carbine, all the Soviet Union did was reduce barrel length to 20.38 inches with the stock shortened accordingly. Model 38 carbines have an overall length of 40 inches compared to the Model 91/30's length of 48.75 inches. The rear sight was marked only to 10. My Model 91/30 weighs 9.5 pounds, and a Model 38 carbine weighs 8 pounds. Both Model 91/30s and Model 38s took the same socket-type bayonet.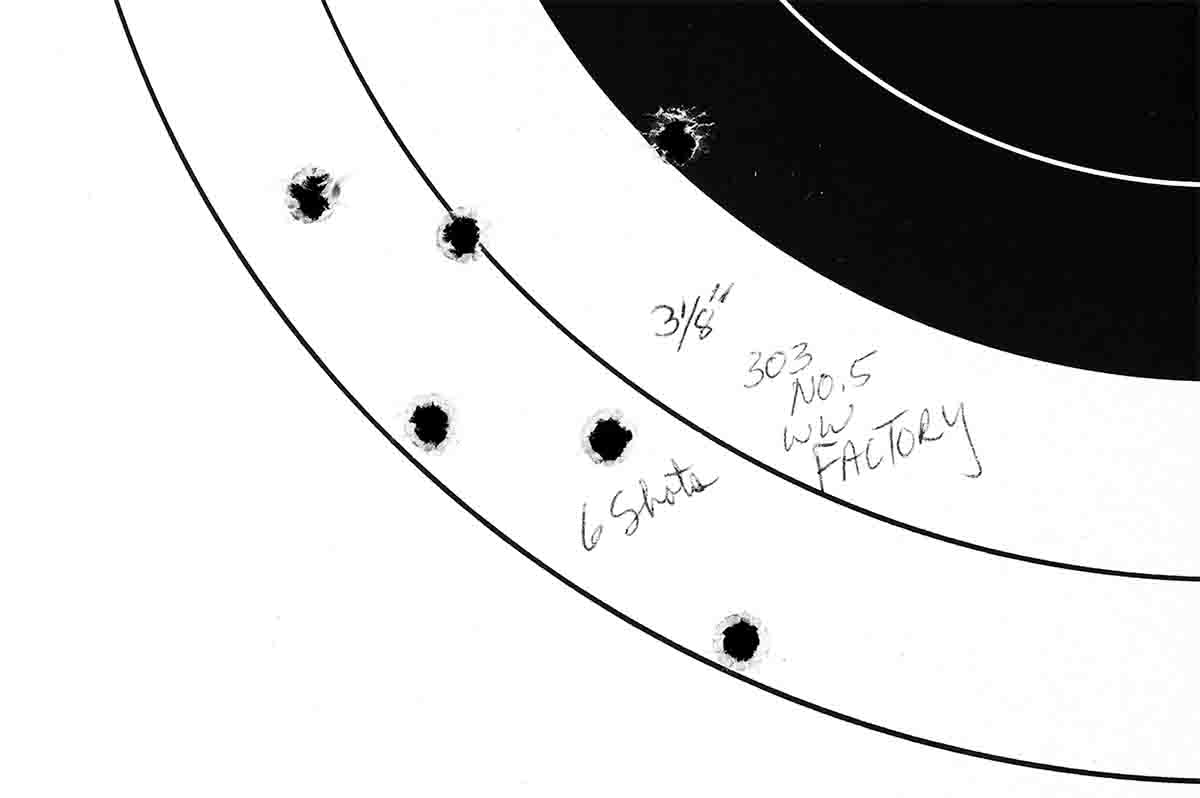 In 1905 Japan adopted the Type 38 6.5x50mm infantry rifle, a bolt action using a Mauser-style action. Because its military doctrine emphasized bayonet fighting, Type 38s had 31.25-inch barrels with an overall length of 50.25 inches, making it one of the longest military rifles of the twentieth century. Incidentally, its cartridge was the smallest used by the major belligerent nations of World War II.
Simultaneously with the 1905 adoption of the Type 38 infantry rifle, a Type 38 carbine was put into manufacture. It was given a 19.25-inch barrel and a rear sight graduated to 20 (2,000 meters) as opposed to Type 38 sights to 24 (2,400 meters). Both are ridiculously optimistic. As with the Soviet Union's Model 38 carbine, the only significant difference between Type 38 rifles and carbines was overall length due to the shortened barrel and stock. Carbines were 38 inches overall. Type 38 rifles and carbines used the same bayonets.
Although Soviet Model 44s and Japanese Type 44s share that dual-digit number along with the idea of a permanently mounted, folding bayonet, they were devised more than 30 years apart. The Japanese adopted its Type 44 in 1911 specifically for cavalry troops, but in World War II both Type 38s and Type 44s were issued to members of crew-served weapons teams. The Soviets didn't adopt the folding bayonet idea until 1944. My Japanese Type 44's barrel is 19.13 inches with an overall length the same 38 inches as Type 38 carbines. My Soviet Model 44's barrel is 20.75 inches and 40.25 inches overall. Soviet Model 44 sights are maxed at 10, but Japanese rear sights are marked to 20. These folding bayonet carbines are some of the heaviest military carbines ever fielded. My Soviet Model 44 is 9 pounds and the Japanese Type 44 is 8.5 pounds.
By 1935 the leaders of Germany's Wehrmacht determined that its infantry rifle should follow what the United States did early in the century. That is to make one size shoulder arm fit all. The result was the K98k, with the first "K" standing for Karabiner (short rifle). With a barrel length of 23.6 inches and weight of 8.5 pounds, indeed the K98k was lighter than most other nations' infantry rifles. Germany kept the same 7.92x57mm cartridge (known as the 8x57mm in the U.S.) first adopted in 1898. However, by World War II the loading had changed to a 198-grain bullet at about 2,550 fps.
Still, there arose a need for a genuine carbine for their Gebirg-struppen (mountain troops). Instead of altering the K98k, the Germans simply adopted a Czech-made carbine called the VZ33, also based on Mauser's Model 1898 action. It was termed G33/40, and only about 250,000 were made. Barrel length was only 19.6 inches and weight was 7.9 pounds. It might seem odd that lightening cuts were made in the receiver, and even the bolt knob was hollowed, but a steel stock protecting plate was mounted at the left rear of the buttstock. This was supposedly to help when using G33/40s as "walking sticks" on icy slopes.
Another carbine that was given lightening cuts to its receiver was the British No. 5 "Jungle Carbine" intended for use in Southeast Asia. Its action is essentially the British No. 4 Mk I fitted with a 20.5-inch barrel with flash-hider. The stock for No. 5s was about two-thirds length. Of course, chambering was the .303 British Mk VII load for World War II containing a 174-grain FMJ bullet rated at 2,400 fps. Number 5 carbines have a reputation for a "wandering zero" supposedly caused by the receiver's lightening cuts. Happily, the one in my collection does not suffer that affliction. Although the name implies that No. 5 carbines were for jungle use, the British also gave them to Polish paratroopers.
At this point readers are perhaps waiting for the inclusion of the U.S. M1/M1A1 and M2 .30 Carbines. Indeed they are perhaps the most prolific military carbine ever manufactured. However, despite a vague similarity with M1 Garand rifles, M1 carbines use an entirely different system of gas operation with its own dedicated cartridge. They were not descended from Mr. Garand's design.
I own, shoot and handload for all of the carbines and their parent rifle designs mentioned in this feature. I've listed some velocity figures in the accompanying table to show that reducing barrel length some 4 to 12 inches reduces velocities significantly; on the average to perhaps 150 to 250 fps.
Despite a shorter sight radius, I cannot see that accuracy is degraded from rifle to carbine. Considering the crude open sights on most – only the British No. 5 has a peep sight – groups in the 2.5- to 3.5-inch range are easily achieved.
The era of carbines as adjuncts to main battle rifles is over. Modern military carbines are becoming main battle rifles, but for collectors and shooters they are a fascinating genre all their own.