Old friend and former editor of Rifle, the late Al Miller had a lifelong interest in what he called a "backup rifle" that might be used on a hunt if the primary rifle developed problems: misfires, a broken scope, etc. In our good- natured, albeit sometimes rousing debates on the subject, I adopted the term "other" rifle, that might be used as a backup on a big-game hunt, but its primary purpose would be year-round woods bumming. As such, it had to be relatively light for lugging around in all sorts of terrain.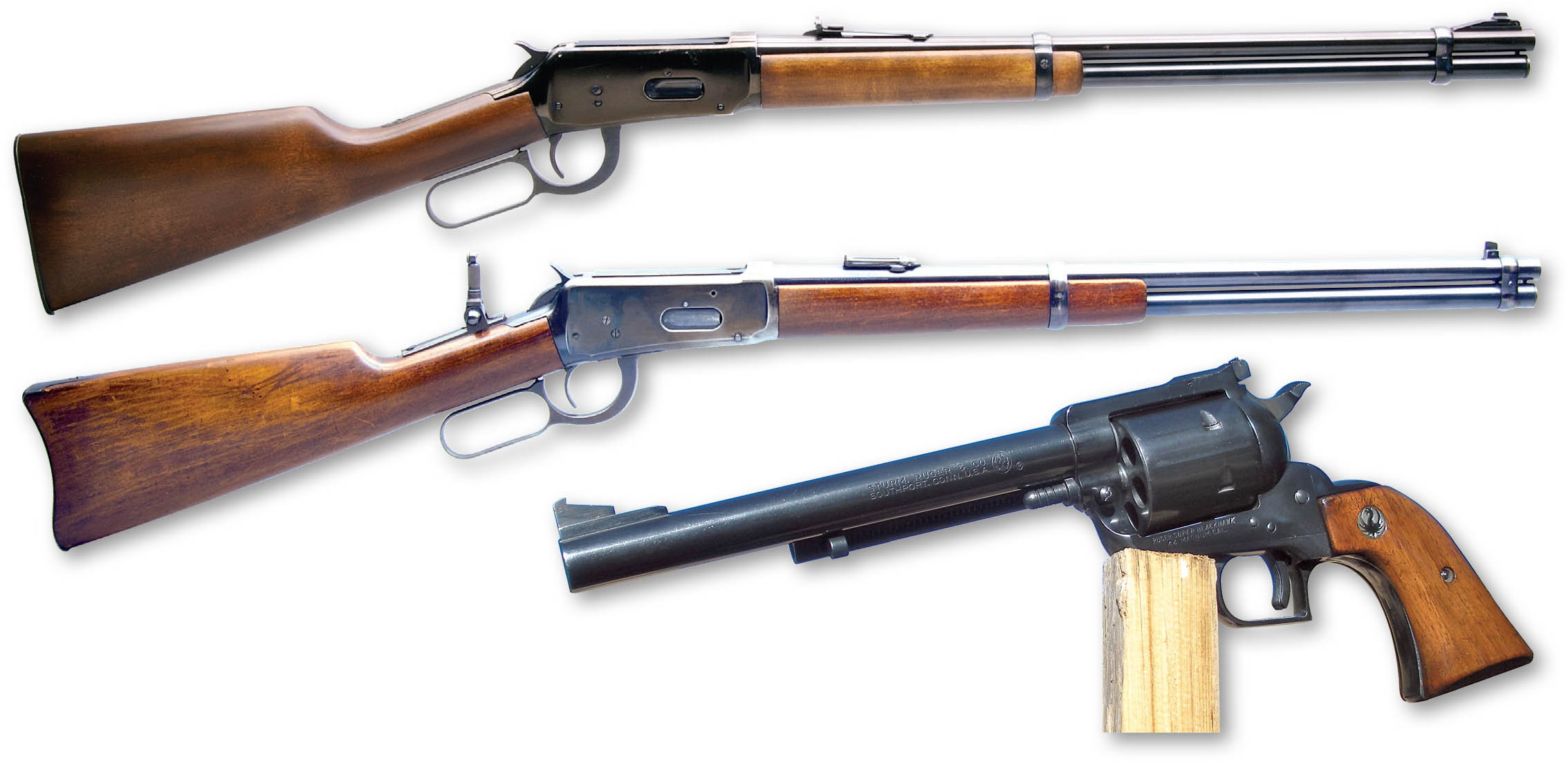 During much of the time that Al and I engaged in our debate over "other" rifles and/or carbines, I was in the middle of what turned out to be a prolonged fight with the local coyote population. Incidents involving the brazen critters occurred weekly around our home in what was then a somewhat remote area north of Prescott.
By the time the 10- to 12-year fight with the local coyotes was effectively under control, it pretty much resolved the long-running interest I had in "other" rifles, those that might be used for big-game hunting but were of more use when knocking around in the local forest or desert, or ironically, my home, where I might be joined by a coyote, badger, bobcat, mountain lion or whatever at any moment.
The solution to the problem with invasive coyotes turned out to be a Model 92 .44 or .38 WCF rifle or carbine leaning against the wall by the back door, and another at the front door, both with an empty chamber but stuffed with a magazine full of cast bullet loads.
The first criterion in selecting an "other" rifle was weight. It had to be relatively light – lighter than a standard run-of-the-mill 8.5-pound hunting rifle – and balance effortlessly. An early candidate by that criterion alone was a Model 94 .30 WCF carbine, primarily shooting cast bullets at upwards of 1,600 to 1,800 fps.

I have owned several Model 94s over the years, and while some shot better than others, with a little work they shot well enough with cast bullet loads. Of those that passed into my hands, those that stayed on include .32-40, .30 WCF and .25-35 WCF carbines, all pre-World War II.
Interest in Winchester Model 92 rifles and carbines was sparked by a gunsmith friend I met while going to school at the University of Oregon and working in an automobile service center. Clarence Beeley was a regular customer, and while I worked on his 1955 Packard he answered questions about his work on firearms, mostly rifles. As it turned out he and Ward Koozer were doing a land-office business converting Model 92 rifles and carbines into .357 and .44 Magnums at the time, and I managed to get invited over to Clarence's shop for a look-see. I hadn't been in the shop five minutes before visions of John Wayne flipping that Model 92 carbine up in Stagecoach had me hooked on the little carbine.
In the early 1970s, there was no shortage of Model 94 Winchesters at gun shows, but Winchester Model 92s and Marlin 94s appeared to be in short supply, and those that did crop up were pricey, as if they were made from some sort of precious metal. Eventually a Marlin Model 94 .38-40 short rifle was located at a fairly good price. There was some question about whether or not it was manufactured as a short rifle, but it was in fine shape and handy to use, and as such is still in use.
The only Winchester Model 92 .44 WCF carbine that was available at a fair price several years back was in rough shape but shot quite well. Following considerable labor to clean it up and make it work properly, it was eventually forwarded to Turnbull Restorations to be refurbished with color case hammer and lever, and blueing all around. Upon its return, a set of nicely grained after-market walnut stocks was added in time to serve admirably during the "coyote wars."
Another Winchester Model 92 .44 WCF showed up unexpectedly in the late Ernie Lind estate. Lind was a Winchester exhibition shooter after Topperwine retired and had a wonderful collection of firearms, and a photo of the carbine of interest appeared in Lind's book, The Complete Book of Trick & Fancy Shooting, Winchester Press, 1972. After a debate over price, the Winchester ended up in my safe.
During the years that my attention was focused on Winchester Model 92s, 94s and Model 94 Marlin carbines, I never found a Winchester Model 92 .38 WCF carbine at a fair price and have never even seen a Marlin 94 .38-40 carbine.
Of course, lever-action rifles in various calibers are not rare, and a few have found their way into my gun safe; but overall, carbines are preferred for knocking around in the backcountry, where they offer some comfort during impromptu encounters with the occasional mountain lion and overly curious black bears.
During the search for lever actions around northern Arizona, a Winchester Model 73 that appeared to be an early third model was located in an antique shop. It showed minor pitting here and there, but the rifling at the muzzle was sharp, a rare sight on firearms produced in the late 1800s that endured extensive use with black powder.
Compared to a Model 92 carbine at 5.5 pounds, the typical Model 73 .44 WCF carbine weighs 7 pounds, so there is a minor difference in weight and handling. A Winchester Model 94 .44 Magnum carbine, circa 1970, weighs in at 6.5 pounds, and the Marlin 1894 Short Rifle (pre-World War II) pegs the trigger scales at 7.0 pounds. None of this is to quibble about 1.5 pounds one way or the other but to demonstrate they are somewhat lighter and less bulky than your average scoped "deer" rifle, and that's precisely the point of the "other" rifle, sans obnoxious recoil and muzzle blast.

Back in the late 1980s, prior to the introduction of the Marlin Guide Rifle, quite a few folks appeared concerned about a carry rifle to deal with the consequences of unwittingly stumbling onto a truculent bear (grizzly, black or brown) while camping or bumming around in the backcountry. Around that time, Wild West Guns in Anchorage, Alaska, was building a Co-Pilot on a custom takedown Marlin Model 95 .45-70 for just that purpose, basically a survival rifle for Alaskan bush pilots. Wild West also offered a beefed-up .45-70 load that challenged the overall loaded length limitations for the Marlin, so a logical alternative appeared to be a longer action (aka a Winchester Model 86 Lightweight) chambered for the .45-90 WCF.
Since Winchester Model 86 .45-90 Lightweight rifles are in short supply, a Model 86 .33 WCF Lightweight takedown was sent to Harold McGowan to be bored out to .45 caliber with a 1:20 twist rate, chop the barrel off at 21 inches and chamber it for the .45-90 WCF. The result weighed the same as a Model 73 carbine and handled nicely but offered the punch of a .450 Alaskan, roughly 2,000 fps with a 420-grain hard cast bullet, or 2,200 fps with a 300-grain jacketed slug.
Shortly after the Model 86 .45-90 returned from a trip to Turnbull Restorations to be refinished, I traveled to Wasilla, Alaska, and boarded a float plane to fly out to the trailhead some six miles from Ed Stevenson's bear/moose camp on the banks of the Sheep River. After a week of moose hunting in the thick "pucker" brush along the banks of the river and dodging big bears feeding on the late salmon run, the Model 86 was carried six miles back up to the lake for the flight out to Wasilla. Overall, even the legendary Master Guide Ed Stevenson agreed that the trimmed down Model 86 .45-90 WCF was just the ticket for a wayfaring woodsman.
There is no question that I've spent most of my life in the backcountry carrying an "other" rifle a lot more miles during the off-season to explore new country – or just look down the other side of the next ridge – than the typical scoped bolt-action "blow express" pronghorn, elk or deer rifle might be used for the few weeks during big-game seasons.
Outdoor writers nowadays tend to object to leverguns mostly, apparently due to marginal accuracy potential as a result of a lack of skill in using open or aperture sights. This is not to ignore that most of the carbines and rifles I carry these days are considered obsolete by would-be experts, but a post-World War II Winchester Model 92 or 94 or Marlin .44 WCF can launch a 230- to 240-grain hard-cast bullet seated in Starline brass over 21 grains of Alliant 2400 at 1,600 fps, somewhat faster than a .44 Magnum generates with the same bullet in a handgun with a 7.5-inch barrel. For folks who might feel the need to go loaded for bear, a .44 Magnum carbine with the magazine stuffed full of good, stout loads skunks any .44 sixgun in range, power and accuracy.