Most rifle shooters fire a few shots at a target before hunting season opens, and a few more during deer season. During the remainder of the year, the rifles sit in the back corner of a closet. Formal and casual long-range target shooting, though, provide the opportunity to shoot all year in different conditions to increase skill, learn about ballistics and the mysteries of bullets in flight.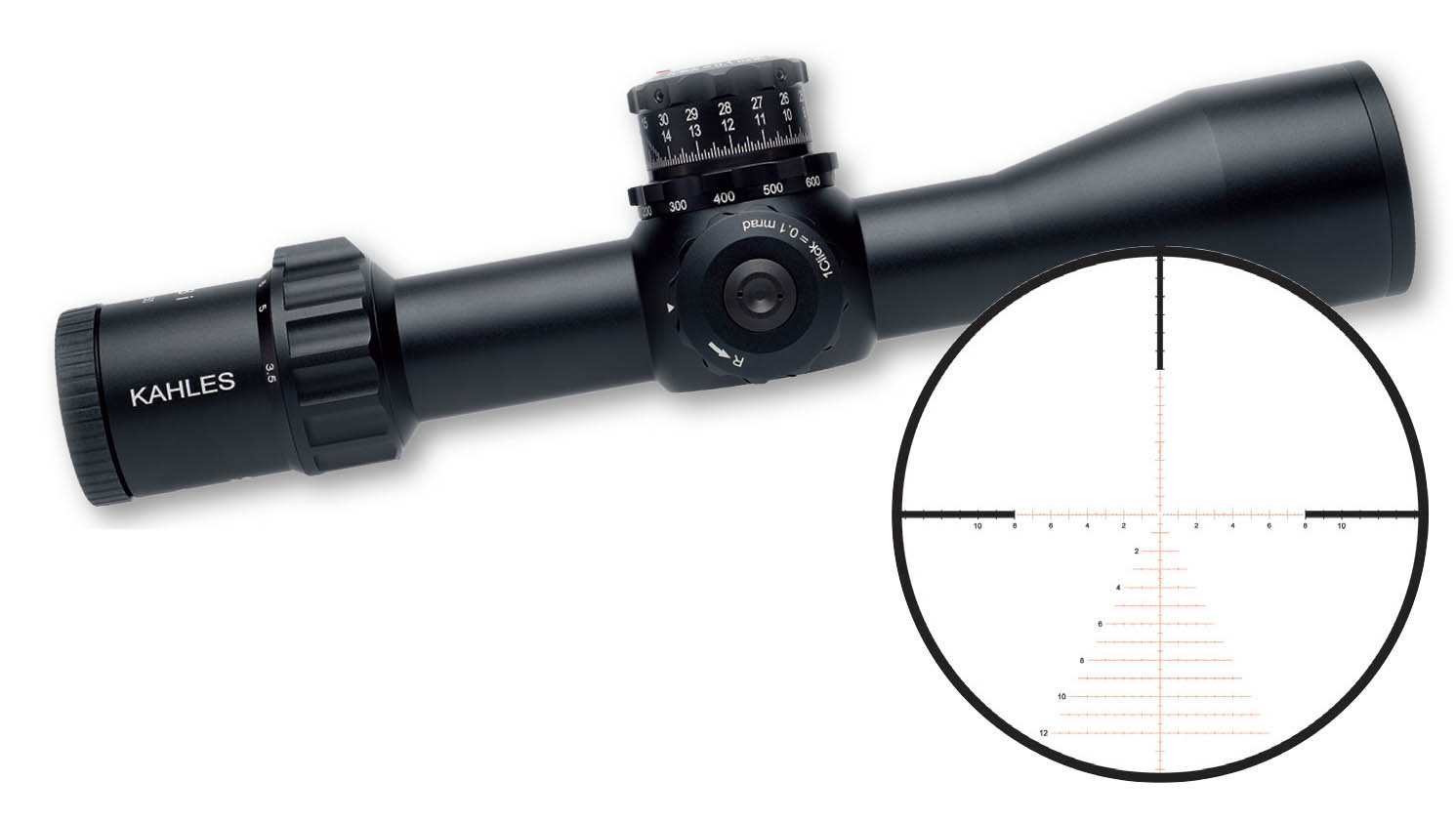 This past spring I watched a gathering of expert long-range competitors shoot at the FTW Ranch in Texas. Its 14 shooting ranges are mainly located along ridgetops, where the wind constantly blows and gains speed all day under the Texas sun. Steel plate targets range from 100 to 1,300 yards, and some are so distant a spotting scope is required to see them.
We were shooting H-S Precision Heavy Tactical or Long Range Hunter 6.5 Creedmoor rifles. Each rifle was topped with a Kahles K525i 5-25x 56mm or K318i 3.5-18x 50mm scope.
We started shooting at paper targets to make sure the rifles were sighted in to hit on aim at 100 yards. Wind and other surrounding conditions may alter the actual sight in if rifles are zeroed at longer ranges of 200 or 300 yards. The Heavy Tactical rifle I shot was paired with a Kahles K318i scope and Prime Ammunition loaded with Norma 130-grain hollowpoint boat-tail bullets. My first two shots hit dead center of the target, and the third bullet hit .5 inch higher while shooting prone with the front of the rifle supported on a Harris bipod. After those close shots, we started shooting targets at 300, 450 and then 800 yards.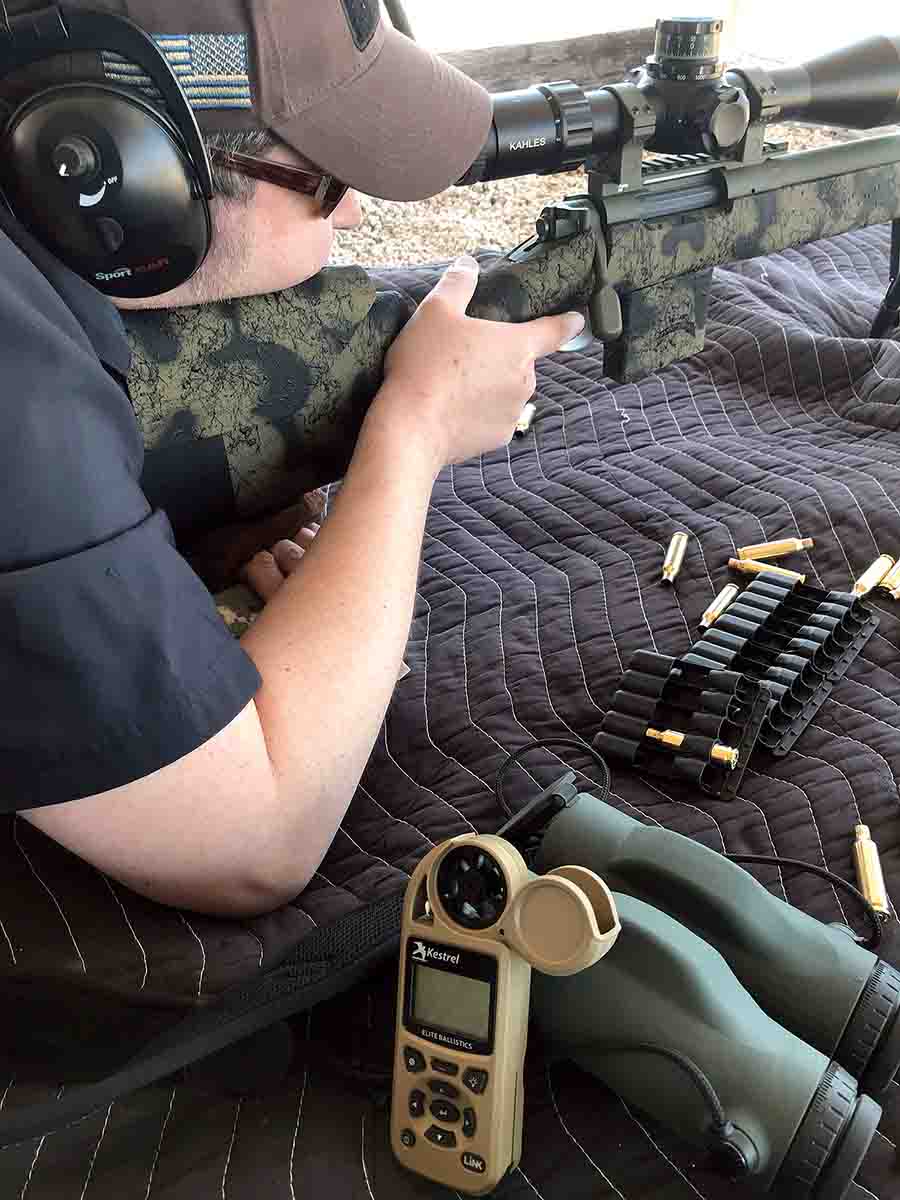 In preparation for those shots, all manner of bullet, rifle and scope data was entered into Kestrel 5700 Elite weather meters with the Applied Ballistics program to create a range card showing bullet wind drift and drop at distances out to 2,000 yards or more. Muzzle velocity, drag model and ballistic coefficient, bullet weight and diameter of the Norma bullets were entered into the Kestrel. Rifle data entered included zero range, scope height above the bore, rifling twist and milliradian (MIL) units of measurement in the scope's elevation and windage turrets.
Target information included target range and direction of fire, measured in degrees from north. The direction of fire can be manually entered or captured automatically by pointing the back of the Kestrel at a target and pressing the select button. Wind direction and velocity is captured by holding the Kestrel high while pointing it toward the wind and taking several readings for a minute to verify true velocity.
The Kestrel Elite meter feeds temperature, pressure and humidity directly into the Applied Ballistics program. The Kestrel Weather mode takes readings directly from the Kestrel's sensors, and in the Update mode it continually registers new environmental data and appropriately updates the ballistic solution.
Jeremy Kisner is a serious competitor in Precision Rifle Series and Practical Rimfire Challenge events. Kisner said he updates the settings in his Kestrel before each competition. "It's my constant companion during a shoot," he said.
"By the way," he added, "your Kestrel is sitting in the direct sunlight and will give you all sorts of weird readings." Kestrel instructions state that environmental conditions should be captured, and then updates turned off if the Kestrel is not exposed to ambient airflow.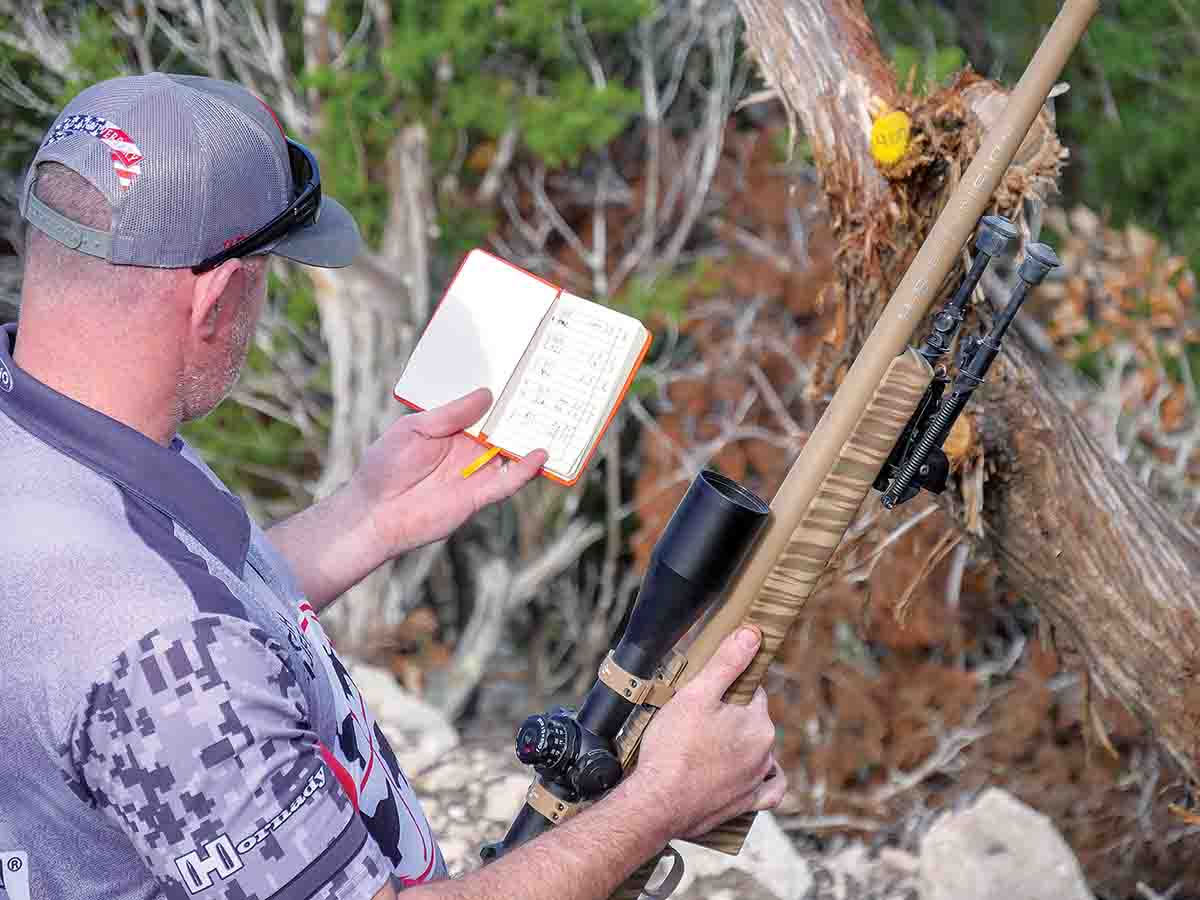 Every time target direction changes, the direction should be updated so the Kestrel provides a windage hold relative to wind direction; I never saw anyone do that. Instead, they took an initial bullet drop compensation and windage hold for a target with their Kestrel, then a final mental correction for wind speed and direction moments before firing a shot. Most everyone dialed up their Kahles scopes to compensate for bullet drop at targets 300 yards and farther. They held off to counteract for wind using the .5 and 1 MIL spacing hash marks along the horizontal wire in the scope's SKMR3 reticle.
I hit targets at 1,000 yards, but a few shots, and sometimes more, were required to do it. The Kahles scope's elevation turret precisely dialed up and down and there was no problem there. But the ever-changing wind proved difficult. The FTW folks were watching through spotting scopes and calling the shots. Over the blasts of gunfire, they yelled out windage corrections, which helped to connect with the next shot. The SKMR3 reticle is in the scope's first focal plane, so hash mark spacing remains constant at all magnifications. Reticle size does shrink as magnification decreases, to the point where the spacing becomes indistinct. That was never a problem as I kept the scope at its highest magnification, even for shots at 250 yards. I turned down magnification only to find targets hidden in the trees or among the rocks, then twisted it back up to aim and shoot.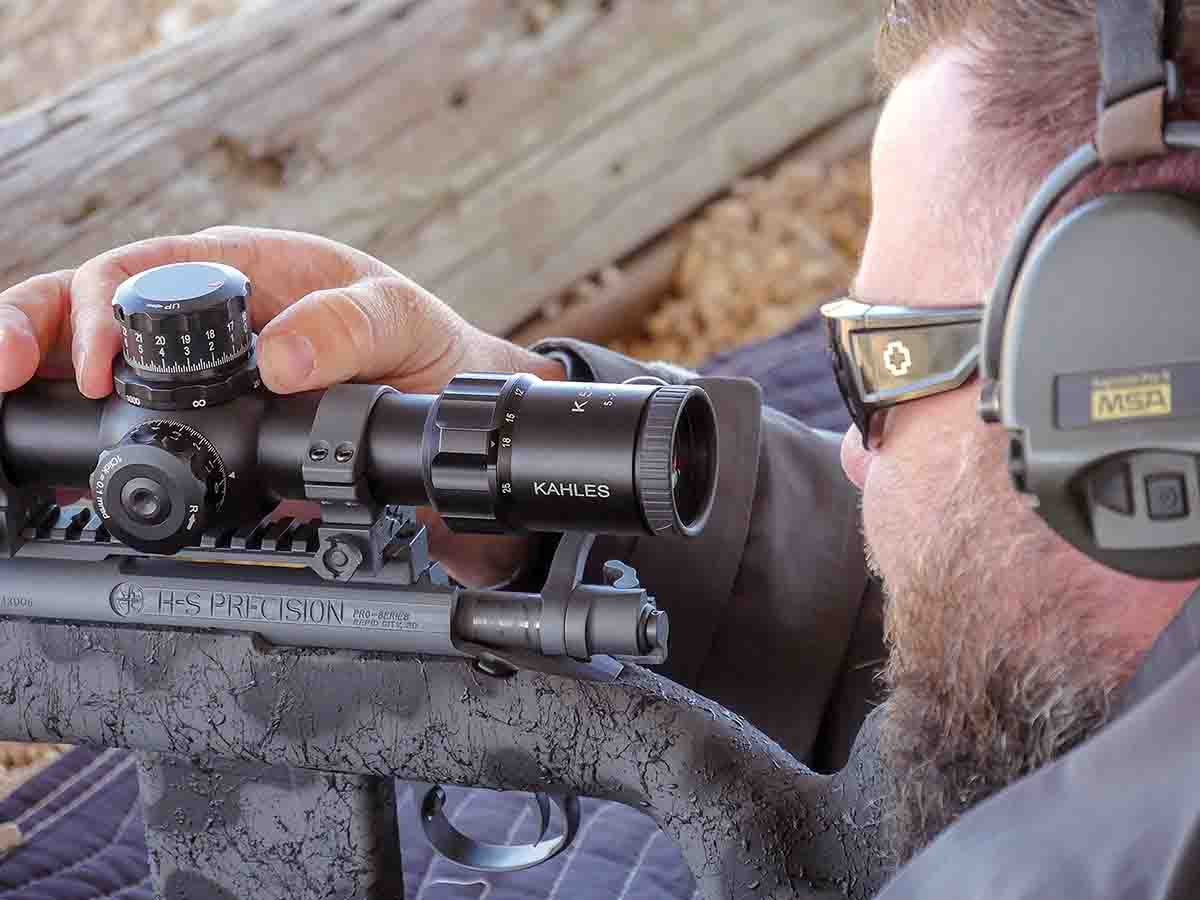 The FTW staff staged an informal contest, shooting prone among paired shooters that consisted of the first shooter firing at targets starting at 250 and going out to 350, 450 and 600 yards. After all the targets were hit, his partner shot at the targets in reverse order.
Jeremy Kisner and I teamed up. Kisner ran his targets near to far without a hitch. I hit the two farthest targets. The contest was called to a finish while I was searching for the 350-yard target hidden in brush across a canyon.
We moved to shooting from improvised rests of tree branches, logs and rocks. Just days before, Philip Velayo had retired from the Marine Corps as a Scout Sniper and Scout Sniper instructor. When he walked up to a shooting position, he took a moment to survey the distant targets and the possibilities for supporting his rifle and himself. Once he had everything figured out, he consulted the range card strapped to his wrist for the scope's elevation adjustment and windage hold for a target's distance and fluidly took a position, firing a moment later. For some shots he wedged the forearm of his rifle between the branches of a tree. Other times he padded his rifle's forearm with a small shooting bag on a rock or stump. He always positioned himself as close to the ground as possible, or against a rock or tree trunk. One series of shots was on a steep hillside with targets on a far slope across a canyon. Velayo went from one shooting station to the next ringing each steel plate like it was a bell.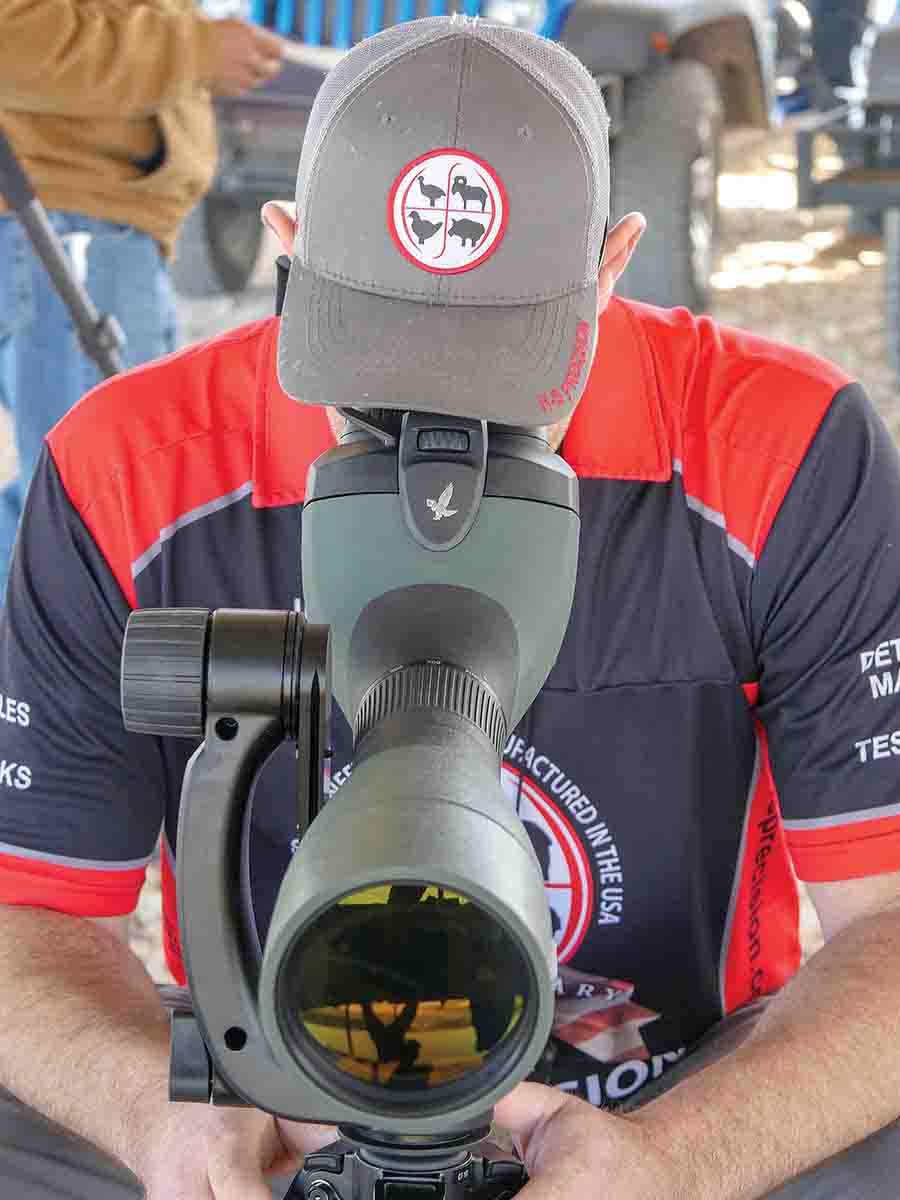 Velayo was an excellent instructor and surely showed more patience with me than Marines under his command. He emphasized determining the target range and wind, consulting the range card and adjusting the scope to compensate. "Don't forget to adjust your scope's parallax for the range, too," he added. In the kneeling position, with the rifle on a rest, he suggested kneeling on both knees and squatting back as far as possible on your feet, or wedging a pack between your backside and legs. Standing, he suggested locking the knees so the legs are straight and supported by your bones.
Velayo showed that everyone has to start at the beginning when shooting long range, and every step forward results in ringing the plate of success.