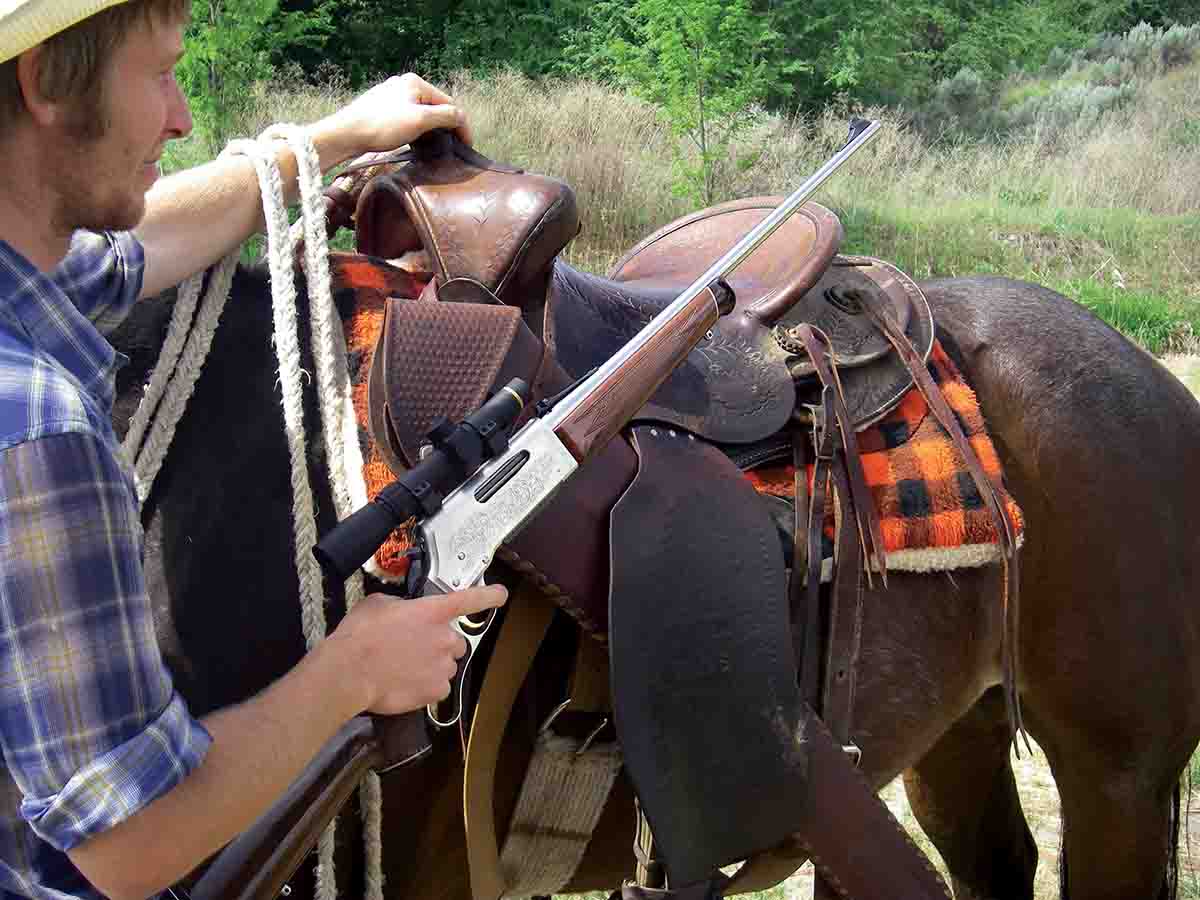 The Browning Lever Rifle (BLR) series has been in production for almost 50 years during which the rifles have evolved with a number of changes and improvements. Additionally, they have been offered in variations that include limited editions, Takedown, Tactical and Lightweight versions. Both short and long actions are available, and the BLR has been chambered in a large number of popular cartridges that range from the .222 Remington to .450 Marlin. Popular modern magnums such as the .300 WSM and .300 Winchester Magnum have also been available. According to company representatives, the BLR series is currently enjoying a surge in sales, which is understandable as it is reliable, handsome and accurate.
Lever-action rifles have traditionally been chambered for cartridges containing bullets with a flatpoint that serve to prevent possible cartridge ignition in tubular magazines. However, by 1895 Winchester offered the Model 1895 lever action designed specifically to house modern cartridges containing spitzer-profile bullets, and Savage introduced its Model 1895 (actually built by Marlin) that soon evolved into the Model 1899 (Model 99) that was produced for almost 100 years. Beginning in 1955 Winchester offered its Model 88 lever-action rifle, and Sako introduced its Finnwolf in 1962. While both were intended for the .308 Winchester and similar short-action cartridges with spitzer-profile bullets, they each had a relatively short lifespan and were discontinued.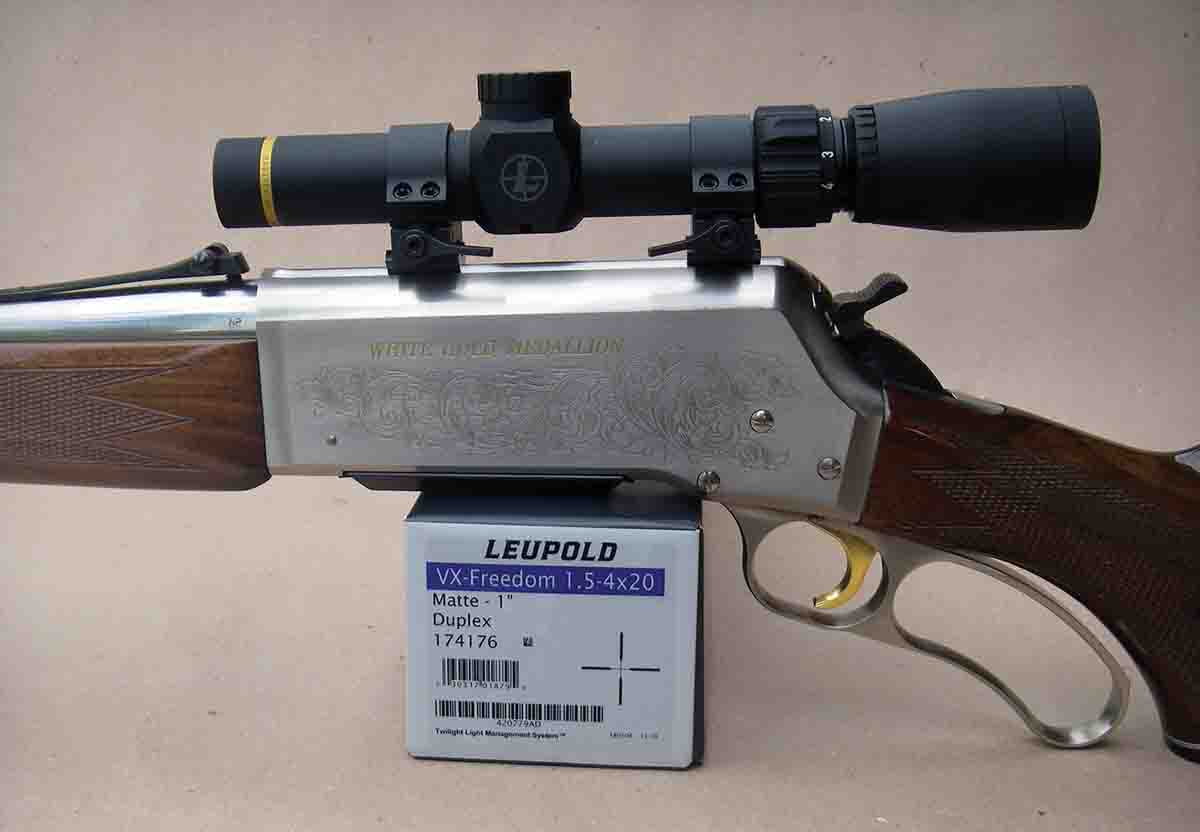 The story of the BLR actually began in 1966 when preproduction rifles were manufactured in the U.S. by TRW in Cleveland, Ohio, for Browning Arms Company. The exact number of rifles is unknown but was probably between 50 and 250 units, and they are generally considered collectible prototypes. Regardless, that business arrangement was ended by 1968.
After significant design changes, the BLR was announced in 1969. Full-scale production appears to have begun in 1970 at the Belgium-based Fabrique Nationale plant and continued through 1973. It is unclear exactly when manufacturing was moved to the Miroku plant in Japan, but full-scale production was underway by 1974. With this move there were only minor technical design changes between Belgian and Japanese rifles. (A tip to improve feeding with original BLRs is to always use FN magazines in Belgian rifles and Miroku magazines in Japanese rifles.)
The BLR was a totally new design (Karl R. Lewis was the primary engineer) and not a copy of any previous firearm. It was designed specifically to handle modern, high-pressure, spitzer-profile cartridges with ease, such as the .243 and .308 Winchesters, the first two cartridges offered. Its unusual strength (at least for a levergun) came from a unique rotating (upon opening and closing) bolt head that featured eight locking lugs, or rather two sets of four lugs that opposed each other on the bolt head and locked directly to the inside of the solid steel receiver. The bolt face was countersunk and featured a plunger ejector and a Sako-style extractor. The bolt body was controlled by a unique rack-and-pinion gear system that was "driven" when the lever was operated. The action featured a relatively short "throw," making it easy to operate while holding the rifle to the shoulder.
The receiver featured side ejection and a solid top for in-line scope mounting. Incidentally, the trigger was uniquely housed inside the finger lever, which stays within the lever assembly while the action is worked. This was supposed to prevent possible pinching of the finger; among experienced levergun shooters this selling point was moot. The box magazine was detachable and had a capacity of four rounds plus one in the chamber.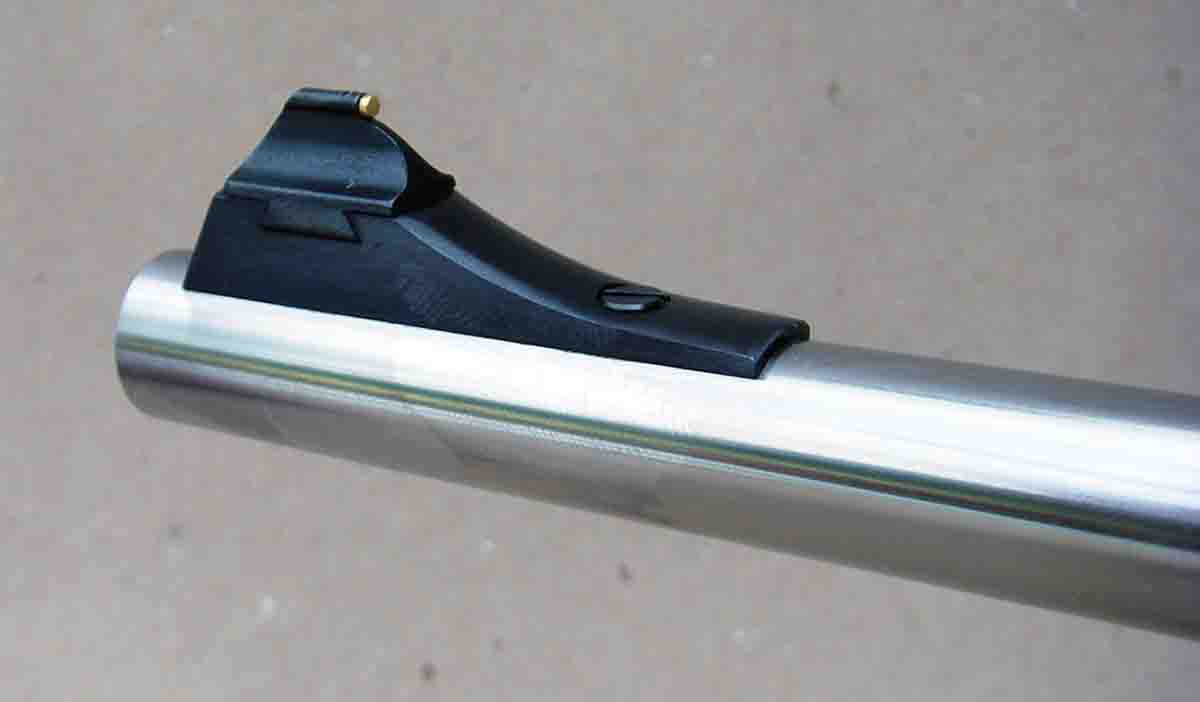 BLR hammer function remained the same as traditional leverguns; a full-cock position that is ready to fire, half-cock that serves as a safety and fully forward that is generally referred to as the "fired" or "down" position.
The two-piece American walnut stock was checkered. Belgian-manufactured versions featured an oil finish while Japanese guns were finished with a high-gloss polyurethane. Other than the alloy barrel band and trigger, all metal was steel, polished to a bright blue finish.
The barrel quality was high, and as a result the BLR earned a reputation for accuracy, especially when compared to more conventional leverguns. Since the 1970s I have owned and fired more than a dozen BLR, BLR 81 and BLR Lightweight rifles in many calibers and have always found them accurate, often grouping under one inch with premium factory loads or carefully tailored handloads.
The original BLR was a good rifle; however, it had design shortfalls that were corrected in 1981 with the redesigned BLR 81. The receiver was changed from a concave shape to flat-sided, and the magazine was reshaped to fit almost flush with the bottom of the receiver. While this improved the rifle's looks, the new magazine design locked more securely in place, was easier to remove and reinstall and fed cartridges more positively.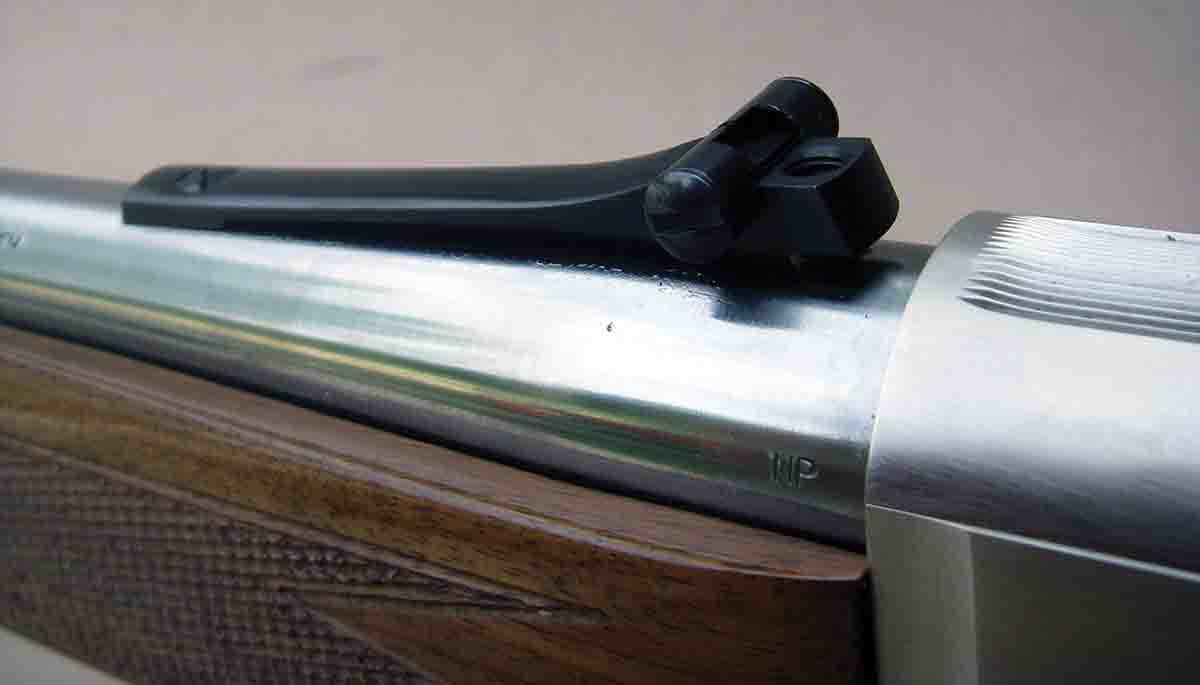 Beginning in 1991 a BLR 81 Long Action became available and housed the .270 Winchester, .30-06 and 7mm Remington Magnum cartridges. The next design change was major and occurred in 1995/1996 with the introduction of the New Model BLR Lightning that featured a curved-lever pistol grip and aluminum receiver. A New Model BLR Lightweight with a straight-grip lever appeared in 2003. (These guns are also known as BLR Lightweight 81, etc.) Initially it was designed for short-action (.308 Winchester) length or shorter cartridges; however, it soon became available in a long action for standard and magnum cartridges and short magnum cartridges. The receiver width was increased from about 1.180 inches to around 1.340 inches. Due to the aluminum receiver, the locking lugs necessarily had to lock into the steel barrel breech to retain sufficient strength and durability, rather than the receiver as found on previous models. The bolt head was changed from eight lugs to six forward lugs, and the bolt body was fluted to correspond with their "travel" inside the receiver when the action is worked.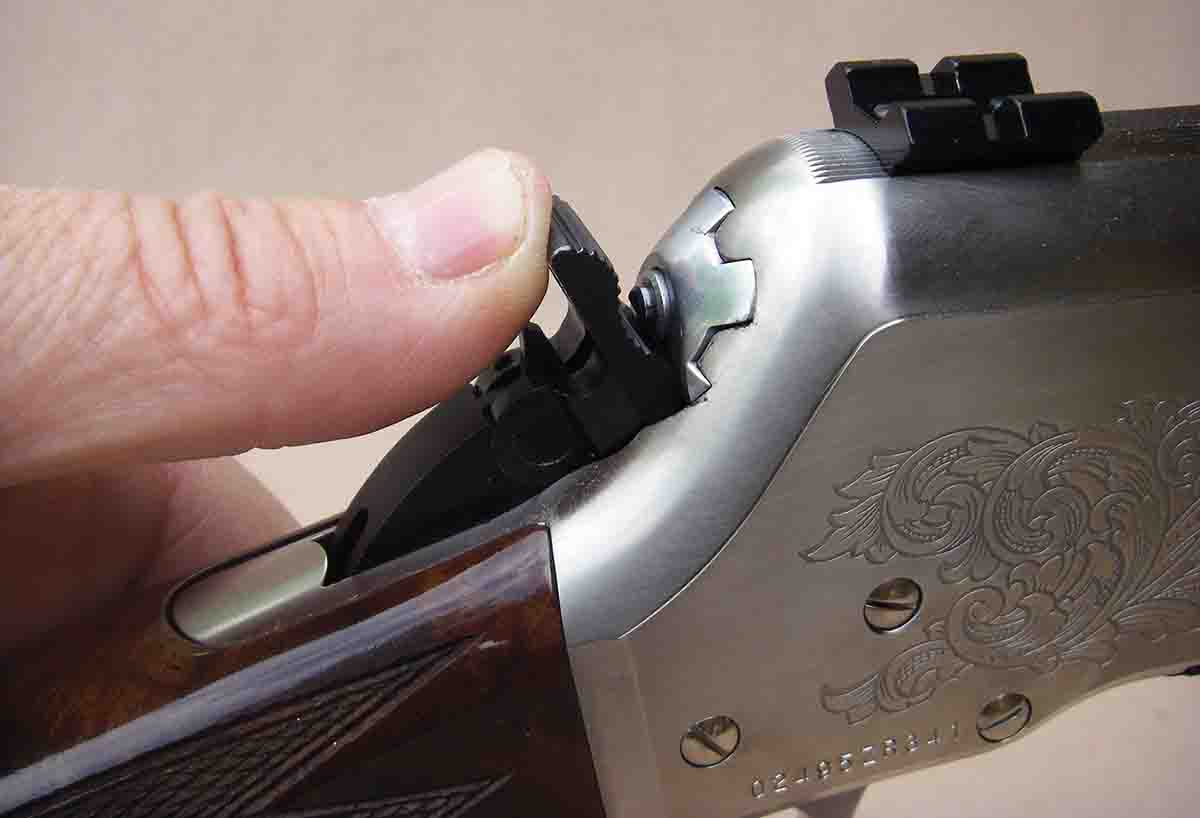 While there are many additional and technical action design changes, most significant to shooters is the fold-down hammer, which is unlike any previous design. It has four positions that include full-cock, half-cock, folded and fired (or down) position. The full-cock is ready to fire. The half-cock is a "safe" position; however, in this position the hammer spur can be pushed forward with the thumb, as it actually pivots to achieve the "folded" position. In this position the hammer actually rests on the bolt body below the firing pin, making no contact. In either the half-cock or folded positions the rifle cannot fire; however, to fire the rifle the hammer is easily pulled back to the full-cock position.
Another notable change on select models includes the elimination of the barrel band. Rather, the forearm is mounted with a screw that attaches to a barrel-mounted assembly. Otherwise the forearm is free floating.
Working the action of BLR Lightning and Lightweight rifles results in a distinctly different "feel" than the former BLR/BLR 81 models. While the new design retains the rotating bolt head, rack-and-pinion-driven action, trigger travel within the finger lever, etc., the lever features a pivot that can easily be felt when the action is cycled.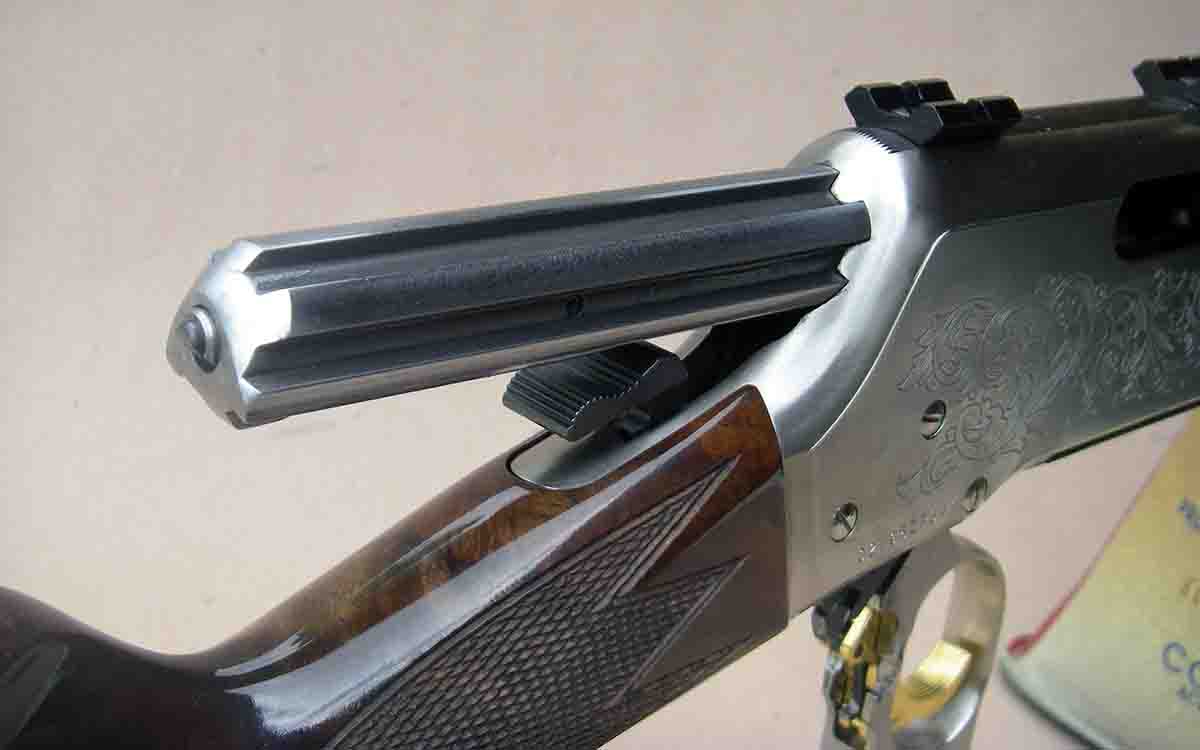 In the years since the various alloyed receiver BLRs were introduced, there seems to have been nearly countless variations including stainless and blued with stock options of walnut, laminated hardwood and camouflage with both straight and curved pistol grips, and even a Monte Carlo version. Barrel lengths have been offered from 16 to 22 inches, with sights being standard; however, there has been at least one variant without sights. Other models have been offered with Picatinny rails and flash hiders.
One especially interesting version includes the Takedown, which has been produced in short and long actions, stainless and blue finishes and with several stock options. It can be broken down in just seconds by pulling a small lever down with a finger to disconnect the locking bar, releasing the barrel assembly. The barrel and forearm can then be pulled forward from the receiver. Unlike many takedown designs, it locks positively, is extremely easy to operate and holds zero when reinstalled. I have suggested to Browning to offer multi-caliber barrel combinations for enhanced versatility.
Browning has kept the BLR series interesting for shooters, hunters and collectors by offering special "limited production" versions. For 2018 the top-of-the-line BLR White Gold Medallion rifle has received considerable attention. It features a nickel-finished receiver with machine engraving, a 20- or 22-inch stainless steel barrel (depending on caliber), a curved finger lever and pistol-grip stock.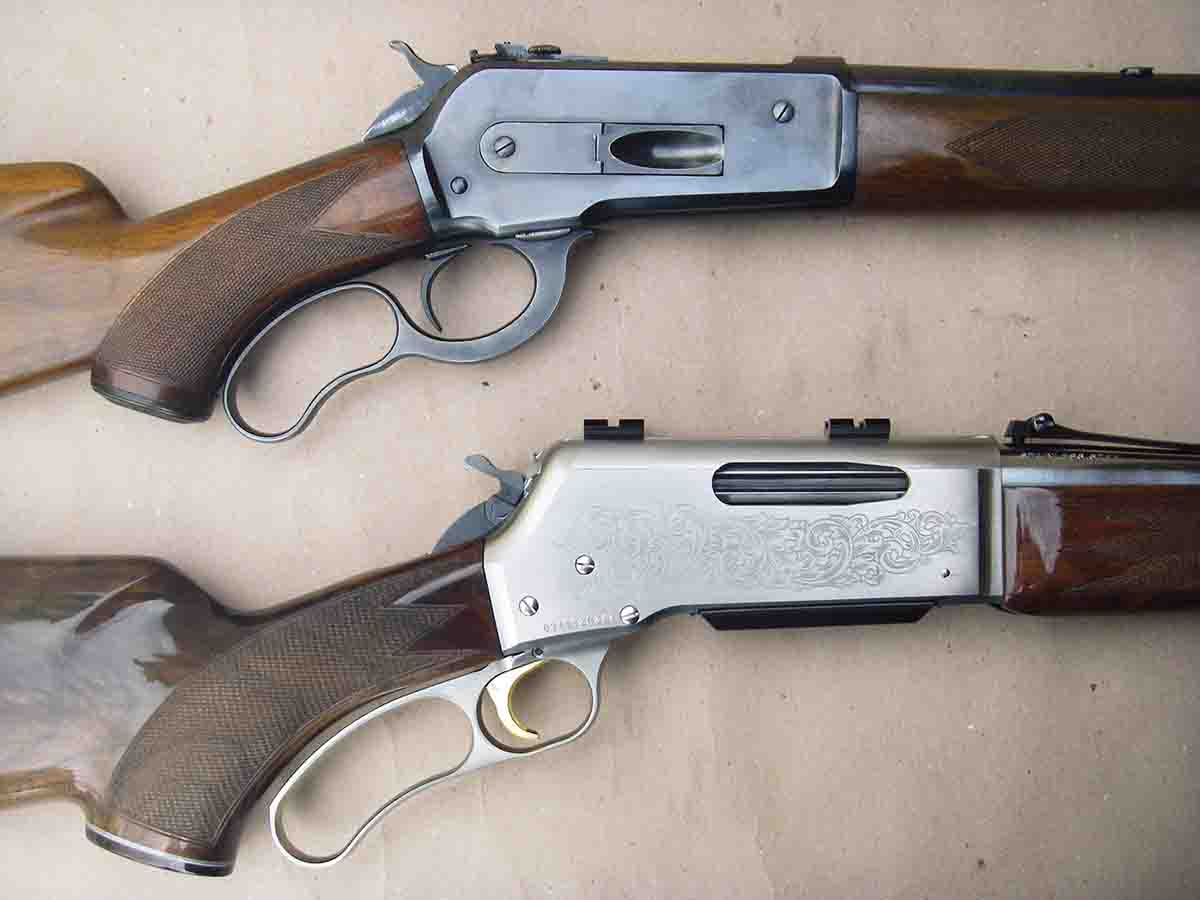 The grade IV/V American walnut stock is beautifully figured with cut checkering on the Schnabel forearm and pistol grip. The forend and pistol grip are further enhanced with a rosewood cap, and both are fitted with a white spacer.
The front sight consists of a ramped base with dovetailed gold bead (easily changed to suit individual eyes or shooting applications) while the rear sight is robust and fully adjustable for windage and elevation.
The trigger broke at six pounds, and although it was fairly crisp for a mechanism that "disconnects," I am certain that Browning could specify a lighter pull from Miroku.
The White Gold Medallion is chambered for the .243 Winchester, .270 WSM, 7mm-08 Remington, .308 Winchester and .300 WSM, with the test rifle used here chambered in .308 Winchester.
As previously indicated, BLR rifles have historically been fitted with top-quality, hammer-forged barrels, but the details and changes in manufacturing during the past half century are too entailed to discuss here. Current barrels are precision button rifled, heat-treated, chrome-moly steel and air gauged for extreme uniformity. They are also checked multiple times to assure perfection in their mirror-like internal finish, and for straightness.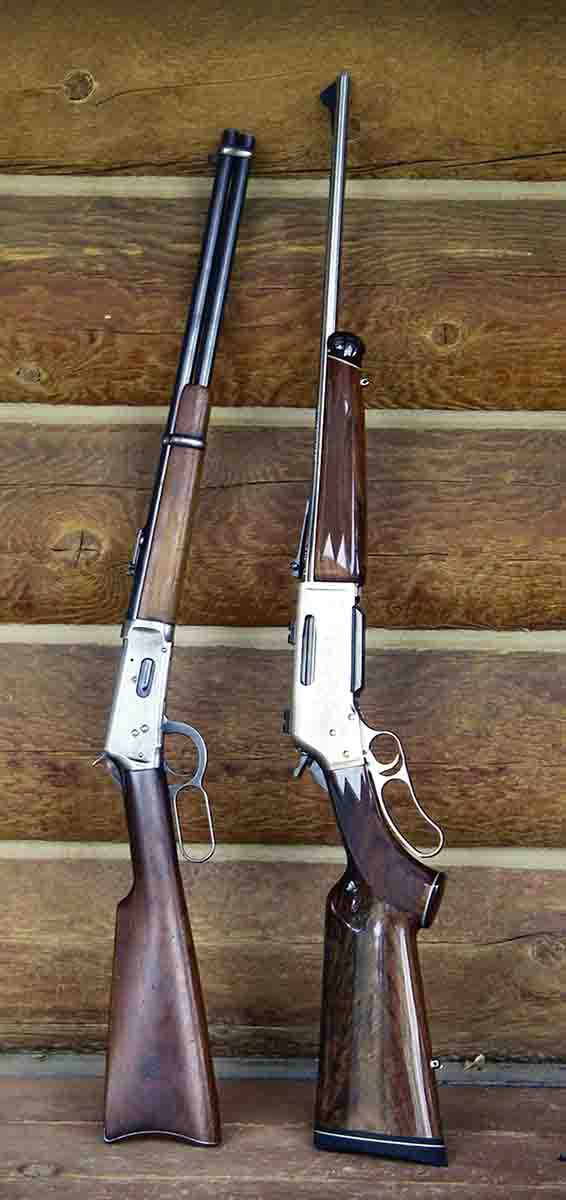 When installing optics on my personal BLRs, I usually choose a low-power variable such as a 1-4x 20mm or 1.5-5x 20mm; they are compact, lightweight, fit easily into a rifle scabbard and do not interfere with the leverguns' balance. To test the BLR White Gold Medallion, a new Leupold VX-Freedom 1.5-4x 20mm scope was installed as it has replaced all VX-1 and VX-II scopes for 2018. VX-Freedom scopes are still built in the company's Oregon plant, with all models retailing for less than $400. New manufacturing processes have allowed Leupold to increase overall quality and offer more positive .25-MOA click turrets while retaining their recoil-resistant design – all at a lower price. Also included is Leupold's Twilight Management System that is engineered to match the human eye and is appreciated by hunters that deal with a variety of colors in low light conditions. The Freedom scope also features a new distinguished appearance that is attractive on sporting and tactical rifles alike. The scope performed flawlessly throughout various shooting sessions. Weaver two-piece bases were installed along with Leupold QRW rings that permit instant detachment and reinstallation while maintaining zero.
From a sandbag rest, with my left hand resting directly on the sandbag and holding the forearm firmly, the BLR was evaluated for accuracy with factory ammunition and handloads. After initial sight in, which took about 20 rounds, the bore was cleaned using Bore Tech Copper Remover. A couple of fouling shots were fired, then a four-shot group was fired using Hornady 155-grain A-MAX factory loads. The chronograph recorded an average velocity of 2,788 fps while the group measured 1.210 inches center to center. The barrel was allowed to cool before another group was fired, which clustered into .988 inch. Next up was Black Hills .308 Winchester Match loads containing the same 155-grain A-MAX bullet; accuracy was virtually identical to the Hornady load. Moving up to the Nosler Custom 165-grain Ballistic Tip, the BLR again produced several groups that consistently hovered around one inch.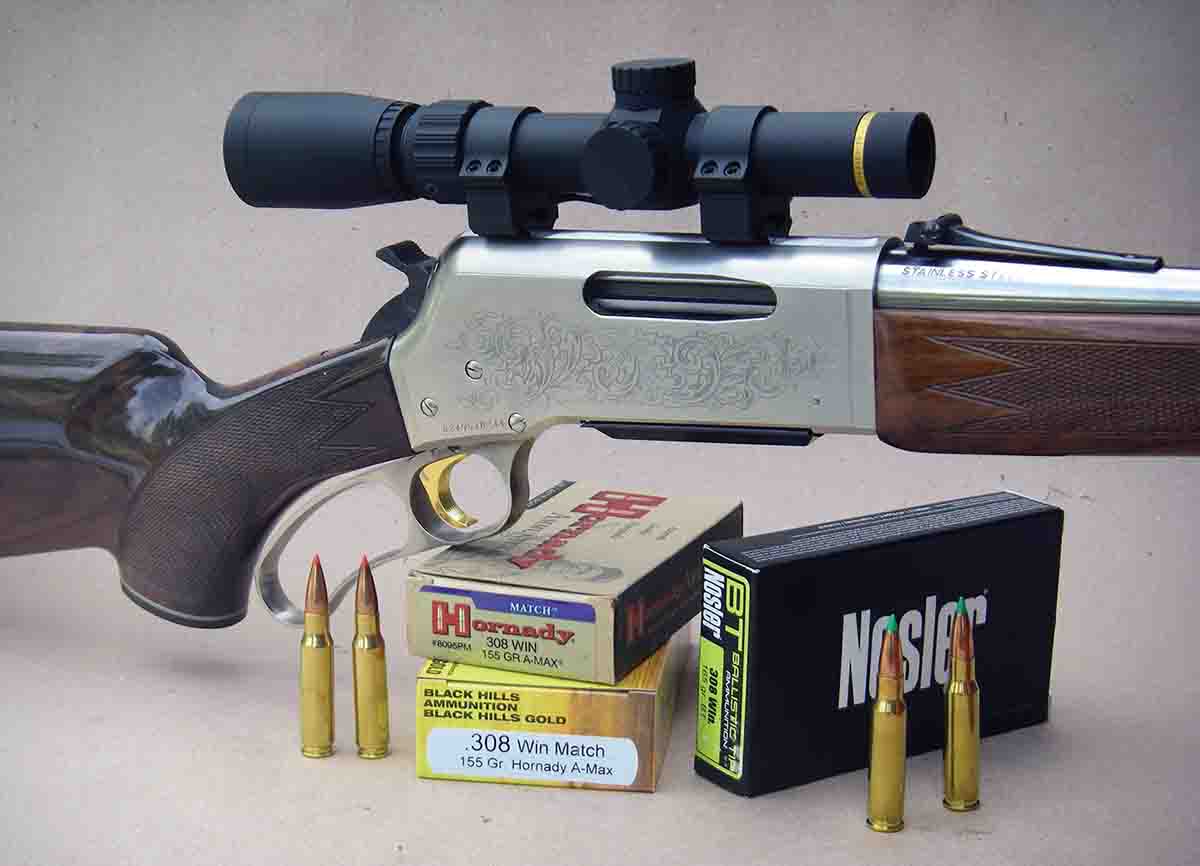 A few handloads were also tried. All loads were assembled in Nosler once-fired cases primed with CCI BR-2 primers. To assure easy, reliable chambering, they were full-length sized using an RCBS small base sizer die. Starting with the Hornady 150-grain GMX bullet, 45.5 grains of Hodgdon Varget powder reached 2,777 fps and produced groups that were between one to 1.5 inches. The Nosler 165-grain Ballistic Tip bullet was loaded over 45.0 grains of Varget for 2,683 fps and near-MOA accuracy. Last, the Sierra 180-grain spitzer bullet was loaded with 45.5 grains of Accurate 2520 powder for 2,687 fps, and the three-group average was 1.22 inches.
With the rack-and-pinion action, rotating bolt head, disconnecting trigger, push-down hammer, etc., the BLR is not a simple action and should never be disassembled by amateurs, as it can even challenge experienced gunsmiths.
Nonetheless, the BLR is handsome, functions smoothly and is accurate. It is suitable for both right- and left-handed shooters, is lightweight and chambered for many popular hunting cartridges. It is rapidly approaching a half century of continuous production, making it a modern classic.