When first considering takedown rifles, my thought was, Why? To me, the concept just seemed a way to introduce a possible lack of precision into a rifle. As is usually the case, when something is viewed without experience, initial attitudes are wrong. My first two experiences with take-downs proved that.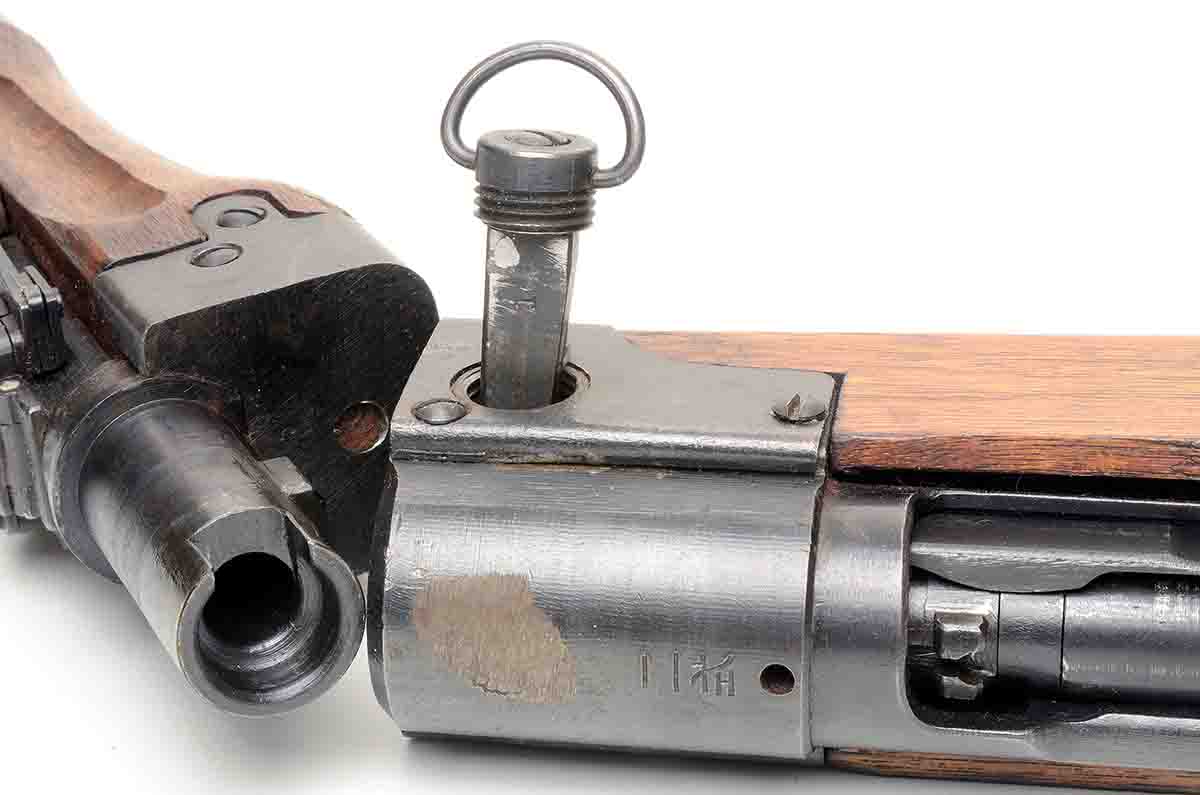 On my single trip to Africa long ago, a takedown Winchester Model 1886 .33 Winchester was part of my rifle battery. It was in two pieces when I brought it out in the hunting camp. The guides, trackers, skinners and perhaps even the cook watched closely as I showed them the two pieces. Then it was assembled, and I demonstrated how it was loaded and functioned. This resulted in chattering in at least four different languages. The Winchester had been perfectly zeroed at home, and after assembly in South Africa, test firing showed it still was.
The .33 was only used on a gray duiker, and there was no surprise that it was flattened at about 50 yards. The surprise was that in both camps in which I hunted, the owners offered to trade me some of my costs for that Winchester levergun.
My next hunting experience using a takedown rifle came years later with a completely different type. At a gun writer hunt for nilgai antelope in South Texas, a custom rifle company was a partial sponsor and rifle supplier. For sighting in before our hunt, all rifles were laid out on a table. Hanging back, I watched while others chose, and then I took the last one. It was a takedown built on a World War II Japanese Type 99 action. Such rifles were intended for the country's paratroopers. It had been rechambered to .35 Whelen, and it carried a Leica scope. As I remember things, the sighting-in target was at 75 yards, and the Arisaka/Whelen put three shots in a nice .75-inch triangle a couple of inches high. The next day, after 10 hours bouncing around in one of those elevated hunting rigs they use in that part of the world, a small group of nilgai cows stood up about 200 yards away and ran dead away from us. My first shot with the .35 broke the last one down. It raised its head, and the second shot broke its neck. Both shots went exactly where aimed.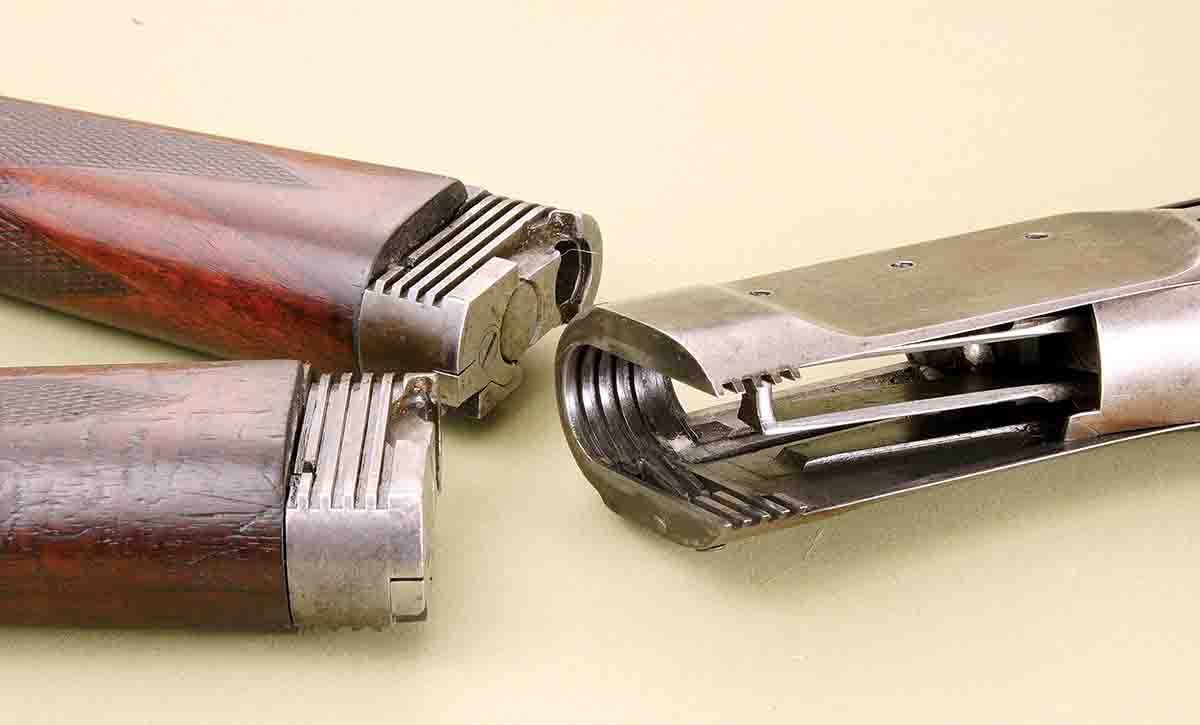 If one studies rifles and their usage in the late nineteenth century, the purpose for takedowns becomes apparent. Anyone traveling more than a minor distance from their abode in those days went by train. By the last few decades of the 1800s, affluent sportsmen were making trips to western states for larger game than the whitetail deer available throughout most of the East. Takedown rifles were developed for ease of traveling by those hunters.
There seem to be no documented details as to exactly who first developed takedown rifles. Custom gunsmiths were likely making them prior to the advent of factory-made rifles. As America's premier rifle manufacturer of that era, Winchester Repeating Arms likely introduced the first off-the-shelf takedowns. Winchester's first takedown offering was the Model 1886, and the manufacturer followed with the Models 1892, 1894 and 1895.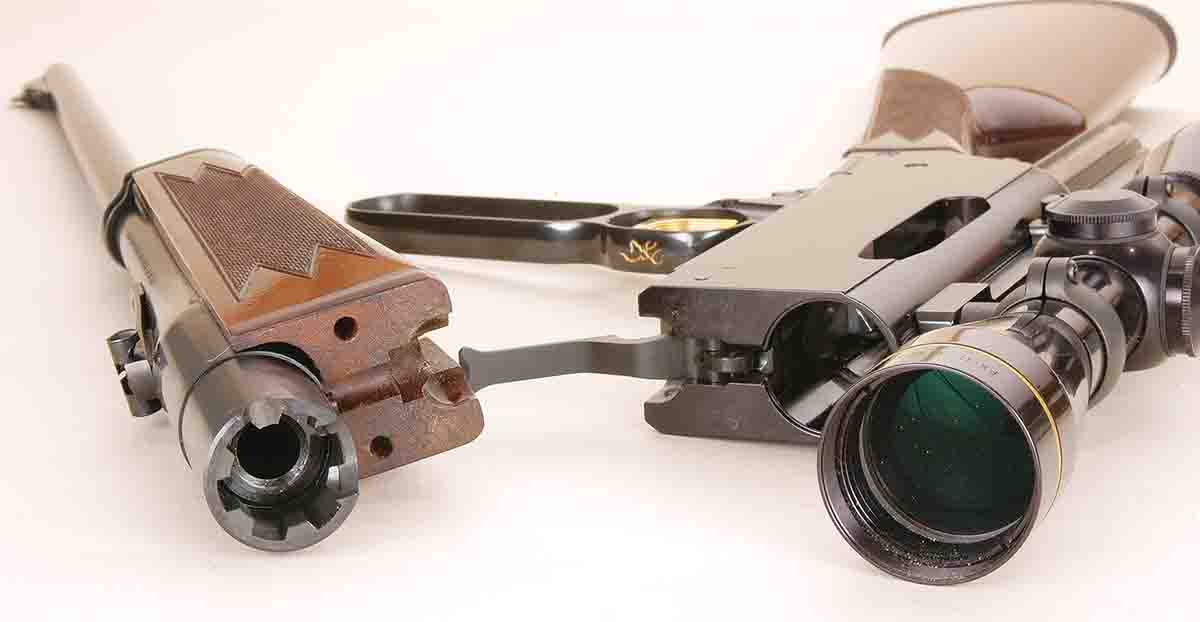 The method developed by the company to quickly remove and replace a rifle barrel was the use of interrupted threads. Barrels are threaded as normal but with two wide, smooth spaces. Here is how the system worked: With tubular magazine leverguns, there is a folding lever at the end near the muzzle. When folded out it becomes a handle. With the action open it is turned in a counterclockwise direction to unscrew the magazine tube. Then pivoting the barrel to the left aligns the smooth thread portions, allowing the barrel to slip forward. With the Model 1895's internal box magazine, there is a sliding button at the joint of the barrel to the frame. Pushing it forward allows the barrel to be turned so the smooth thread portions align.
Detractors of takedowns say that dismounting and remounting the barrel often is bound to cause looseness, and thus poor accuracy. Winchester considered this eventuality and put screws in the metal plate where the two rifle halves mate for tightening if the joint becomes loose. The company warns in its catalogs not to mess with them unless there is discernible barrel looseness.
Another plus came from the takedown idea – caliber options. If case heads and overall lengths of cartridges were the same, extra barrels could be added. For instance, in the Model 1886 Extra-Light takedown, .45-70 was the sole chambering initially. Later, after the .33 Winchester appeared, dual barrel sets were sold. Likewise with Model 1892 takedowns; one frame could handle both .38 and .44 WCFs (.38-40 and .44-40).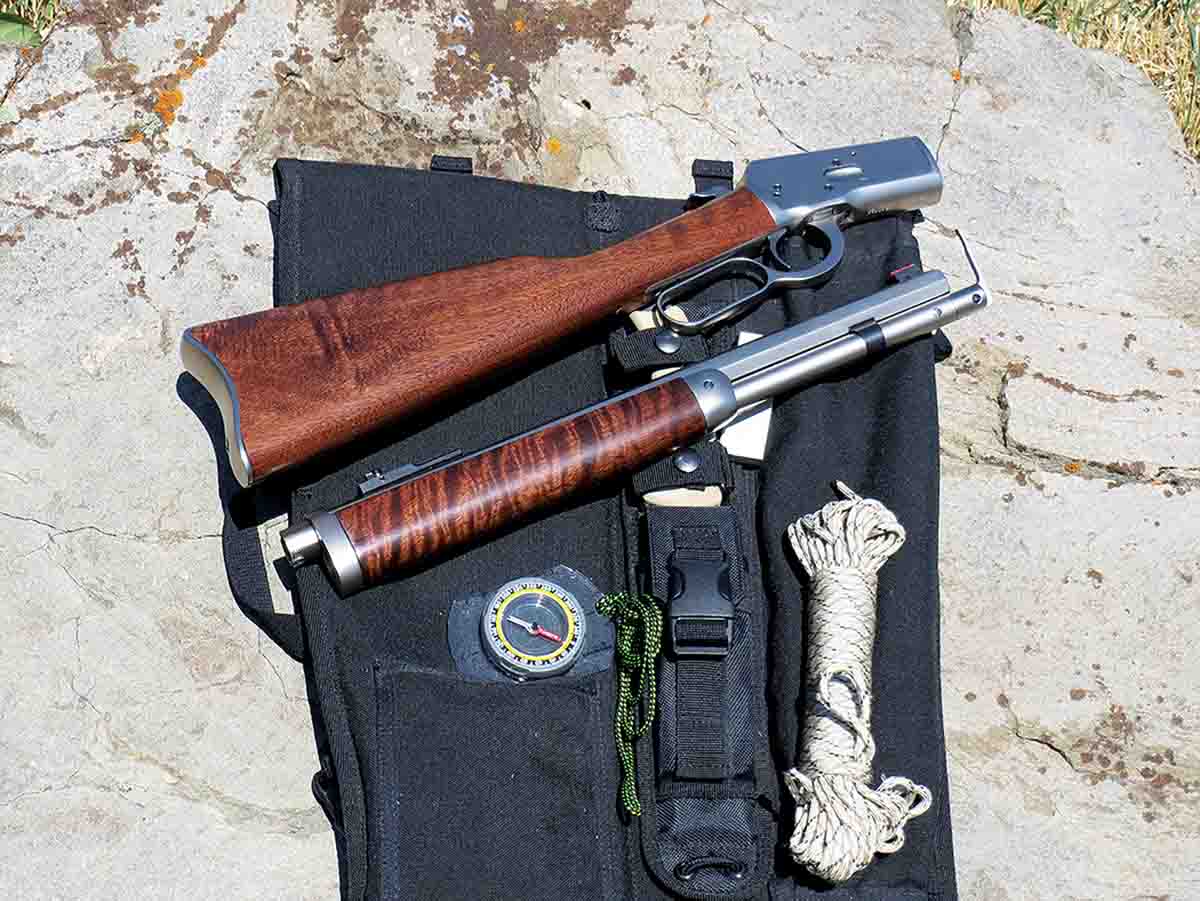 Over the years I have encountered two other methods used for quick-detachable barrels. The Japanese Type 99 barrel and frame used no threads at all. The two halves were joined by a rectangular shaped plug inserted from the right side. It was then turned clockwise, locking it in place. The idea was for paratroopers to jump with the rifle disjointed in a case and then quickly assemble it upon landing.
Another method of disassembly is on a Burgess rifle owned by a friend. It came with two .44-40 barrels. They have U-shaped male portions that slide into U-shaped female portions on the receiver and snap in place. A thumb tab is the release.
Takedowns still seem to have a place with modern riflemen. Browning offered its large-size Browning Lever Rifle .30-06 with an interrupted lug system. Andy Larsson of Skinner Sights has also assembled "Bush Pilot" kits, the heart of which is a Chiappa Model 1892 .44 Magnum with a 16-inch barrel. The rifle I bought functions perfectly.