Today it seems everyone is in love with pinpoint accuracy – especially rifles that are accurate out to 500, 1,000 and even 2,000 yards. Riflemakers large and small are turning out shooting machines that are extraordinarily accurate, placing their bullets in tight clusters at distances measured in furlongs.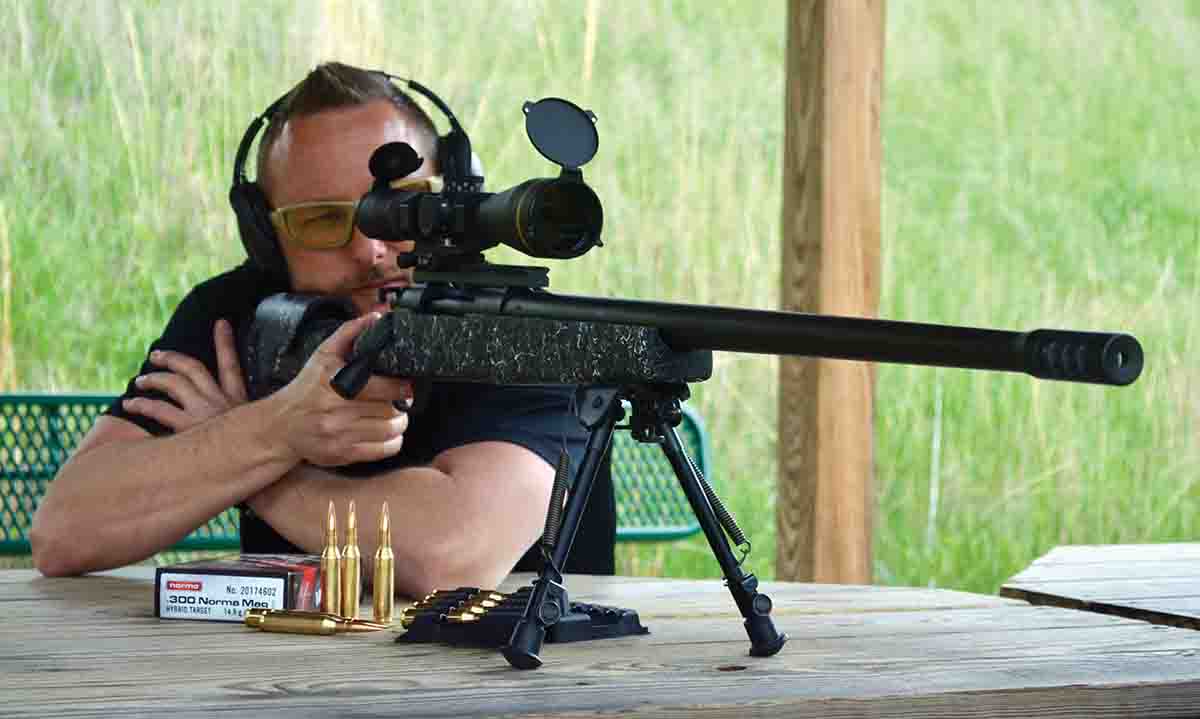 Unfortunately, too many of these rifles are about as ergonomic as a Vickers gun and aesthetic as a car jack. There seems to be a general feeling that, to shoot really well, a rifle has to look like a stripped-down, all-business assembly of mechanical parts. Most of these are bolt actions, at least the really long-range versions for seriously big cartridges, but they are angular creations with hard corners and sharp edges with bolts that scrape, clank and grind. Or at least, they seem so to me.
It need not be that way and if you want proof, look no further than Montana Rifle Company of Kalispell, Montana. Not only is it making match and long-range rifles that are astonishingly accurate, the company is doing it with the most revered bolt action in American history: the pre-'64 Winchester Model 70.
To be exactly precise, the Montana is a Model 70 clone with a few changes (such as the bolt release) that incorporate some features from the Mauser '98. But overall, in looks and operation, it's a pre-'64.
Although the Model 70 is admired by rifle enthusiasts, Winchester collectors, custom-rifle aficionados and gunmakers alike for its good looks and smooth operation, the Model 70 also has a long and successful history as a target rifle. From 1936, when it replaced the Model 54 in the Winchester lineup until the 1960s, Model 70 National Match rifles and "bull guns" were serious competitors in matches out to 1,000 yards. They were also used as sniper rifles by various branches of the military.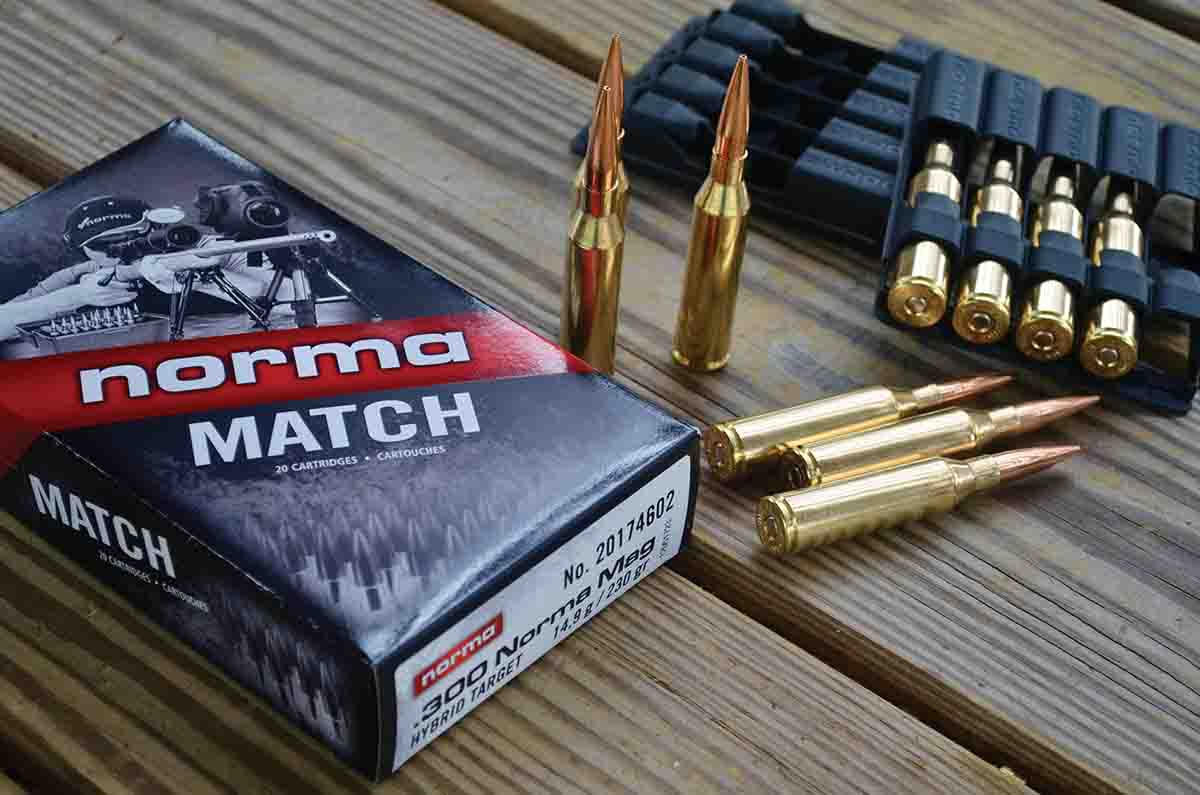 Some readers may immediately insist that accuracy standards in those days were different than now, and to an extent this is true. But in 1996 Kenny Jarrett built a custom rifle for me on a Model 70 action (the post-1993 return to the pre-'64 design). It was/is a .257 Weatherby Magnum that meets Kenny's standards of accuracy, which is consistent .5-inch, three-shot groups at 100 yards.
Given the Model 70's history and the level of respect it commands, it's surprising that more riflemakers have not produced Model 70 clones. Aside from the Montana, the only major one I know of is the Dakota 76, which is a combination of Model 70 and Mauser '98 features and was aimed at the high end of the custom-rifle market.
Montana Rifles went the other way. Beginning in 1999, as prices peaked for pre-'64 actions to be used as the basis for high-dollar custom rifles and factory-original pre-'64 rifles attracted increasing collector interest, Montana began producing rifles that were comparable in price to what Winchester charged in its heyday. In other words, rifles for the masses – the low-dollar you and me.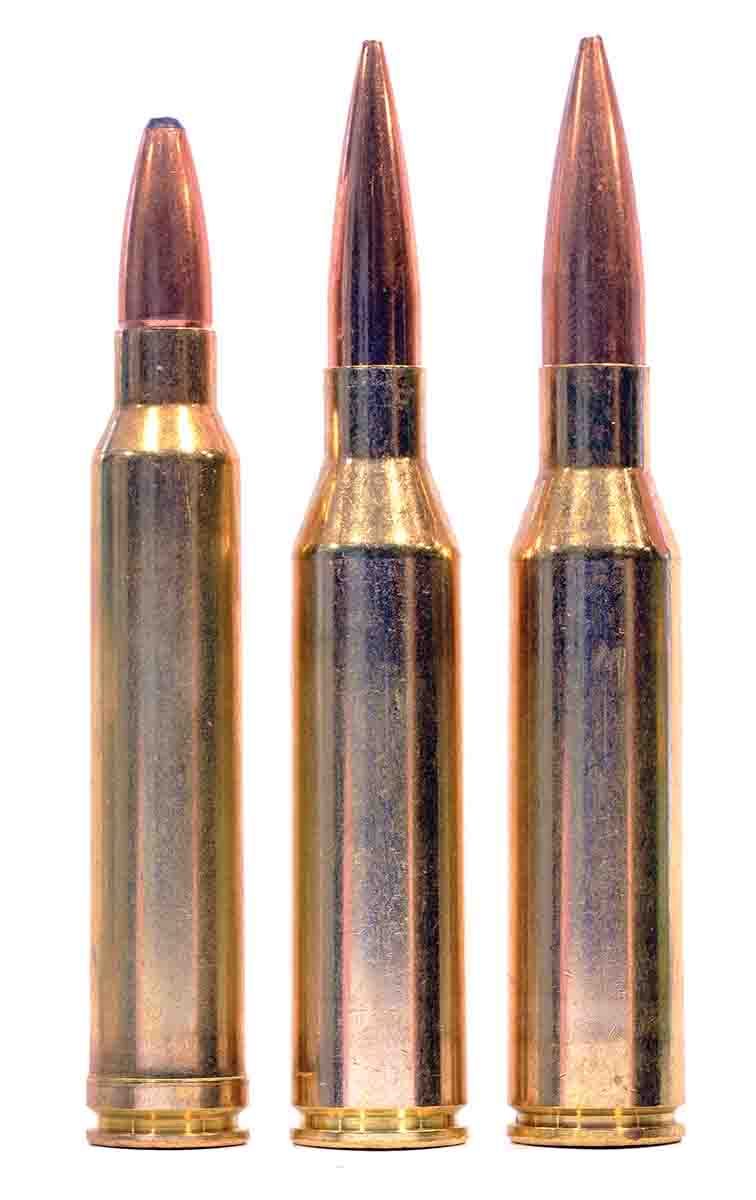 The Montana Rifle Company's major product is not finished rifles but barrels – button-rifled, carefully lapped and sold by the thousands to other riflemakers. The company recently changed hands, purchased by a small group of investors, but no immediate changes are planned either to its products or its operation. If anything, we will probably see an increasing range of models. The details and specifications of the current models are available on the company's website (
montanarifleco.com
).
The two rifles reviewed here are the Seven Continents Rifle in stainless steel (SCR-SS) and the Montana Tactical Rifle (MTR).
Montana has improved on the original Model 70 by producing different sizes to accommodate longer or shorter cartridges, just as the old Mauser-Werke did with its sporting rifles. They are also available with tailored magazine boxes, depending on the cartridge, and in left-hand models.
The SCR and MTR are both built on the Professional Hunter action (comparable to the original Magnum Mauser), complete with double-square bridge and action ring, and long enough to accommodate anything up to the .505 Gibbs. My test rifles were chambered for Norma's two new entries in the long-range tactical field, the .300 Norma Magnum (MTR) and .338 Norma Magnum (SCR-SS). There are some essential differences.
The SCR is intended as a hunting rifle and is fitted with the original Model 70 trigger. The stock is a hunting-style composite. The action and barrel are matte stainless, and the barrel is 28.5 inches long, including its seamless, removable muzzle brake. Unloaded, without a scope or sling, it weighs 9 pounds, 14 ounces.

The MTR is a tactical rifle with a heavy(!) 28.5-inch barrel and a removable brake. Unloaded but fitted with a Leupold target scope, it weighs exactly 17 pounds. Unlike the SCR, it has a Timney trigger. Its massive tactical stock has an adjustable comb and length of pull.
The triggers on both rifles were a little heavy for my taste when they arrived, but both were readily adjusted to a crisp 3.0 pounds, give or take an ounce. The Model 70 trigger retained an angel-hair of creep while the Timney has none.
The other really noticeable difference is in the bolt handles. The MTR has a long tactical-pattern handle with an oversized bolt knob while the SCR, instead of the graceful swept-back handle of the Model 70, has a straight handle like the Magnum Mauser. On such a large action it looks entirely appropriate.

Both rifles came from the factory fitted with Picatinny rails on their square action surfaces (bridge and ring), but unlike the old Mauser, these surfaces have integral dovetails as well as being drilled and tapped for conventional scope mounts; the user has no shortage of options.
Unlike the pre-'64, the Montana action has no integral guide on the bolt, leaving the left action rail solid and rigid. The bolt release is reminiscent of the long-ago Sako action and is distinctly more elegant than the original Winchester. At this point, each rifle needs to be treated separately.
When the rifles arrived, I took them out to my friend Burt Reynolds, who manages the Top Gun Sportsman's Club in Lonedell, Missouri. Burt is more of a tactical rifle enthusiast than I am, and I wanted his opinion. He immediately installed a bipod on the front sling swivel of the MTR, fitted it with a Leupold VH-6 HD 3-18x 50mm scope and set it up on the counter for all to see. For the next week, everyone who walked in immediately asked what it was, how it shot and how much it cost.
The MTR .300 Norma Magnum was tested at 100 yards with Norma Match ammunition loaded with Norma 230-grain Hybrid Target hollowpoint bullets rated at a muzzle velocity of 2,985 fps. On my chronograph, it averaged 2,872 fps. With that bullet and velocity, the weight of the rifle was a welcome recoil dampener – along with the muzzle brake.
Anything that needs to be known about a rifle's accuracy can be learned at 100 yards; beyond that, too many other factors, such as wind, come into play. The rifle was more or less sighted in when we started shooting, but we wanted to refine it to be dead on at 100 yards, after which adjustments for range could be done with the scope; that was Burt's department. Three of us took turns shooting the rifle, with the other two calling the shots. It was uncanny to watch how each scope adjustment was reflected exactly in the position of the next shot. We came to expect such precision that it almost seemed rude to shoot an actual group with it, as if we doubted its abilities.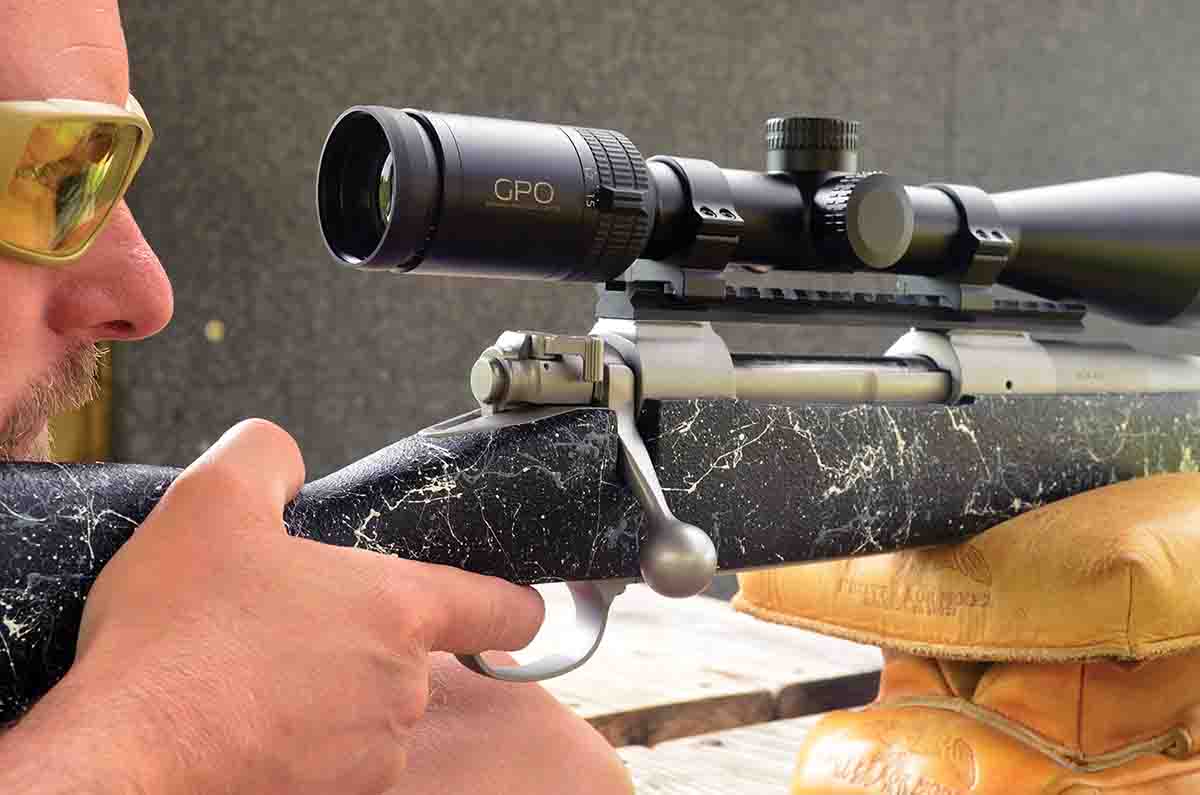 After the final adjustment, Burt fired one shot that neatly clipped the crossed lines in the center of the target's white 2-inch bull, so for the next shot I asked him to put it in the same hole, but slightly to the left so we would know it actually hit the paper. His next shot was, indeed, slightly to the left, but about .125 inch more than I intended. Obviously I did not express myself very well.
The SCR .338 Norma Magnum was a different proposition. We used Norma Professional Hunter ammunition loaded with 300-grain HPBT bullets at 2,650 fps. Again, the chronograph registered a slightly slower velocity of 2,549 fps. Since my collimator would not fit with the muzzle brake, we bore-sighted it at the range the old way – on sandbags, looking through the bore, then moving the reticle. The first shot was 2 inches down from center and we adjusted from there – fire a shot, adjust the reticle, fire another shot. Like the .300, the .338 was so predictable in its reaction to reticle adjustments we just assumed, in spite of a gusting 20-mph wind, that the bullet was going to go where it was supposed to, and it always did.
The third member of our testing team, Wayne, is about my age and loves fine rifles. We each did some shooting and spotting, and one thing we all noticed and commented on was just how slick and smooth both actions were. We could keep our cheeks down on the stock, look through the scope and work the bolt with just our fingertips, effortlessly opening, ejecting, feeding and closing. Throughout the shooting session, the rifle hardly budged. Those Montana actions are as silky as a finely tuned pre-'64.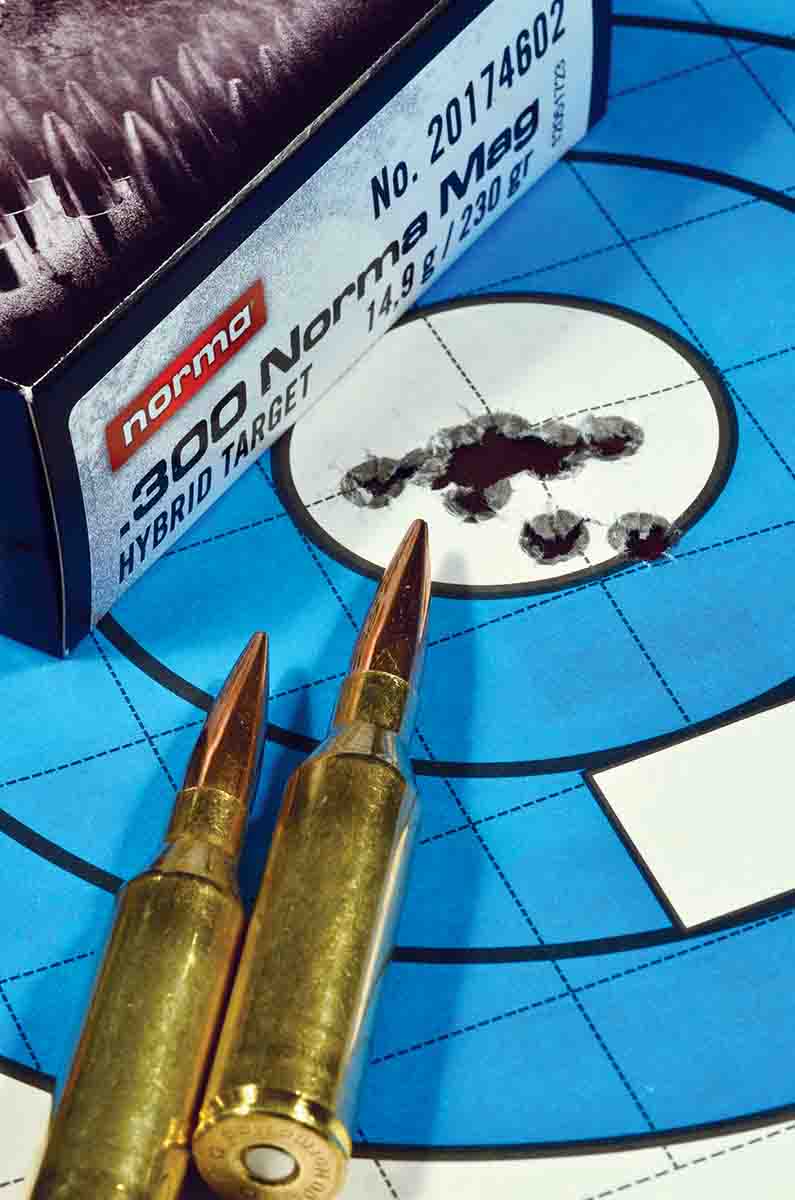 The afternoon was not without hitches. The .300 and .338 Normas are based on the .416 Rigby case but are short and fat in the style of new super-accuracy cartridges. They tended to rock back and forth in a conventional box magazine, and the bolt can ride over them if the base is angled down slightly. This usually happened if they were loaded one at a time. When the magazine was fully charged and the bolt was worked smartly, it occurred rarely.
This has now been changed in the design, and the MTR is fitted with a detachable magazine that aligns the top cartridge with the chamber – problem solved.
Two other difficulties were experienced. In early testing, Burt had four misfires out of 20 cartridges with one box of Norma Match, and even double-struck one of those four without effect. The same thing happened to me later with one round of the .338. I suspect it is a combination of primers seated a little more deeply with a striker tuned to minimum impact for minimum disturbance. When I start reloading for these cartridges, I will keep that in mind.
In my experience, such glitches are not unusual with target rifles and ammunition, where everything is so finely adjusted that reliability can suffer. As well, both rifles and ammunition were prototypes put together on special order. In fact, the .300 Norma Magnum Match ammunition was not even listed on the company's website until this review was almost finished, and the cartridge was not yet listed as a production item for the MTR.
Everything else – from the three-position safeties to the floorplate releases, from feeding to extraction and ejection – worked to perfection. Again, they reminded me of what a pre-'64 Model 70 action feels like after it has emerged, polished and purring, from a good custom shop. And, to a dyed-in-the-wool rifle lover, they are a breath of fresh air in an endless stream of undoubtedly accurate, but soulless, mechanical creations.