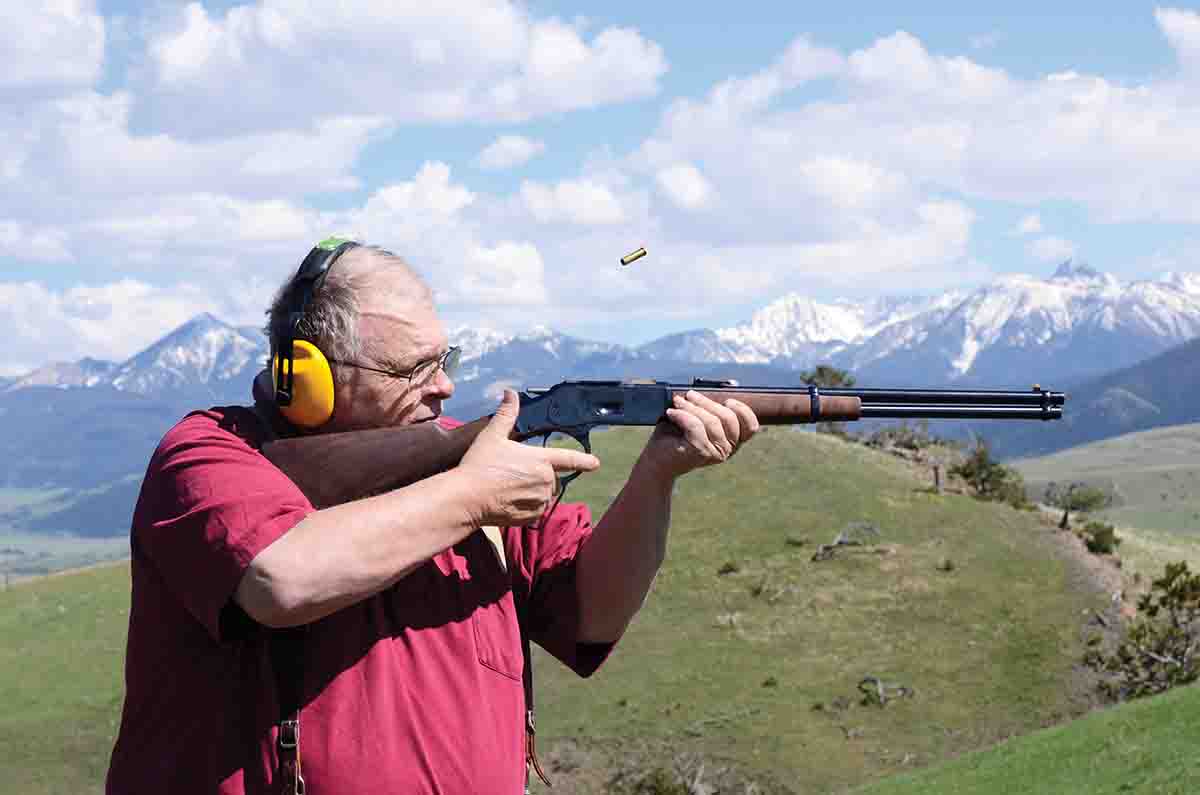 A Wolfe Publishing Company re-print of a Winchester catalog from 1899 shows saddle ring carbines (SRCs) priced lower than any of the company's other standard model leverguns. Model 1873 prices were $17.50 compared to $18 for a round-barreled rifle, or $19.50 for one with an octagonal barrel. These days, on the collectors' market standard SRCs bring substantially higher prices than standard rifles with either type of barrel, when in comparable condition. Some say the price difference results from fewer carbines having been made. One-third of the nearly 750,000 Model 1873s were SRCs. Others think it was a century of movie usage. That's not a strong point. Older westerns often featured Model 1892 SRCs in a timeframe when Model 1873s were proper. My take is the fact that, on the whole, SRCs of all models saw much harsher treatment than rifles. This factor seems to be especially prominent with '73 SRCs.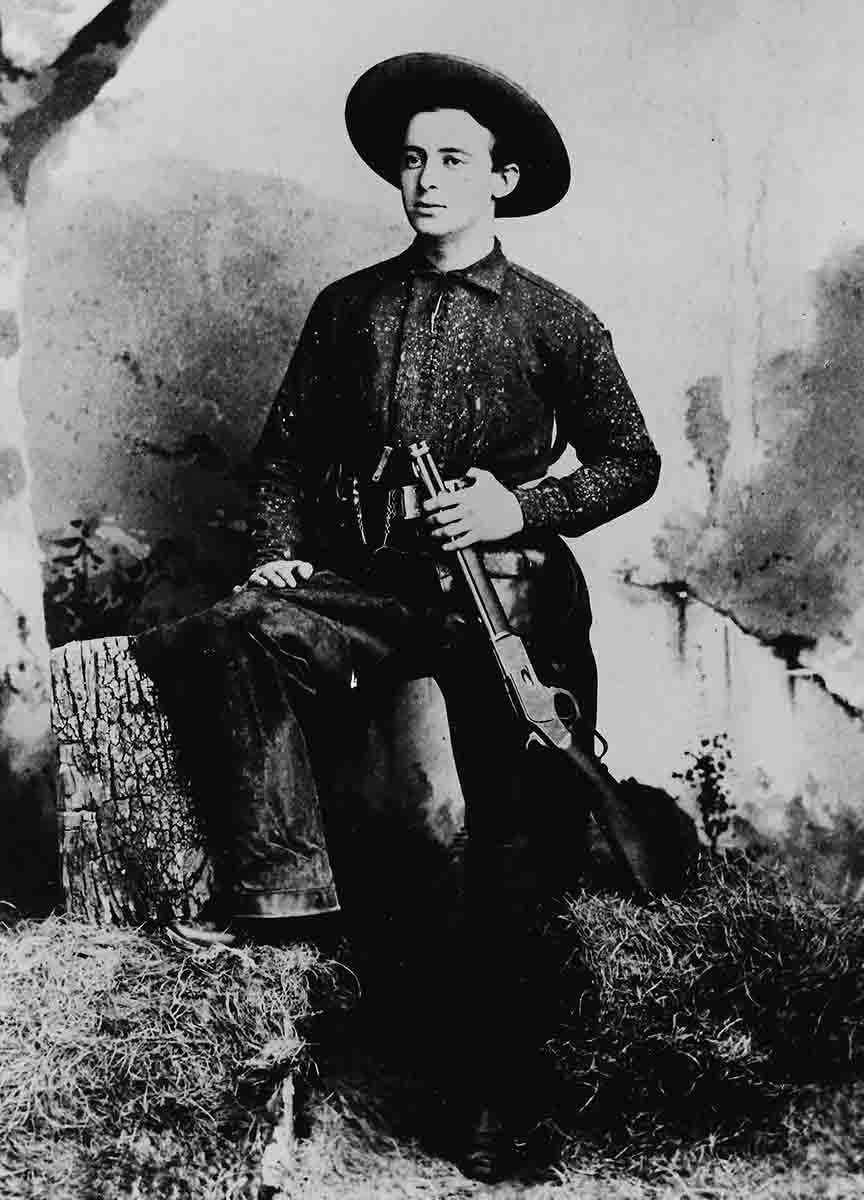 What exactly constitutes a saddle ring carbine? My desk dictionary defines carbine as "a short, light rifle." Winchester Repeating Arms put its own definitions on rifles and carbines. Rifles had deeply curved, crescent buttplates. SRC buttplates had much shallower curves and were wider to boot. Rifles had steel forend caps. SRCs had steel barrel bands to secure forearms. Rifles had buckhorn-type rear sights adjustable for elevation in 50-yard increments using notched sliders. SRCs had ladder-type rear sights on which sight bars could slide up for increased elevation. Front sights on rifles were blade types dovetailed to barrels. For SRCs, studs were brazed to barrels into which blades were set. Windage could be zeroed on rifles by drifting the front sight or rear sight, or both, laterally in their dovetails. Only the rear sight on SRCs could be drifted.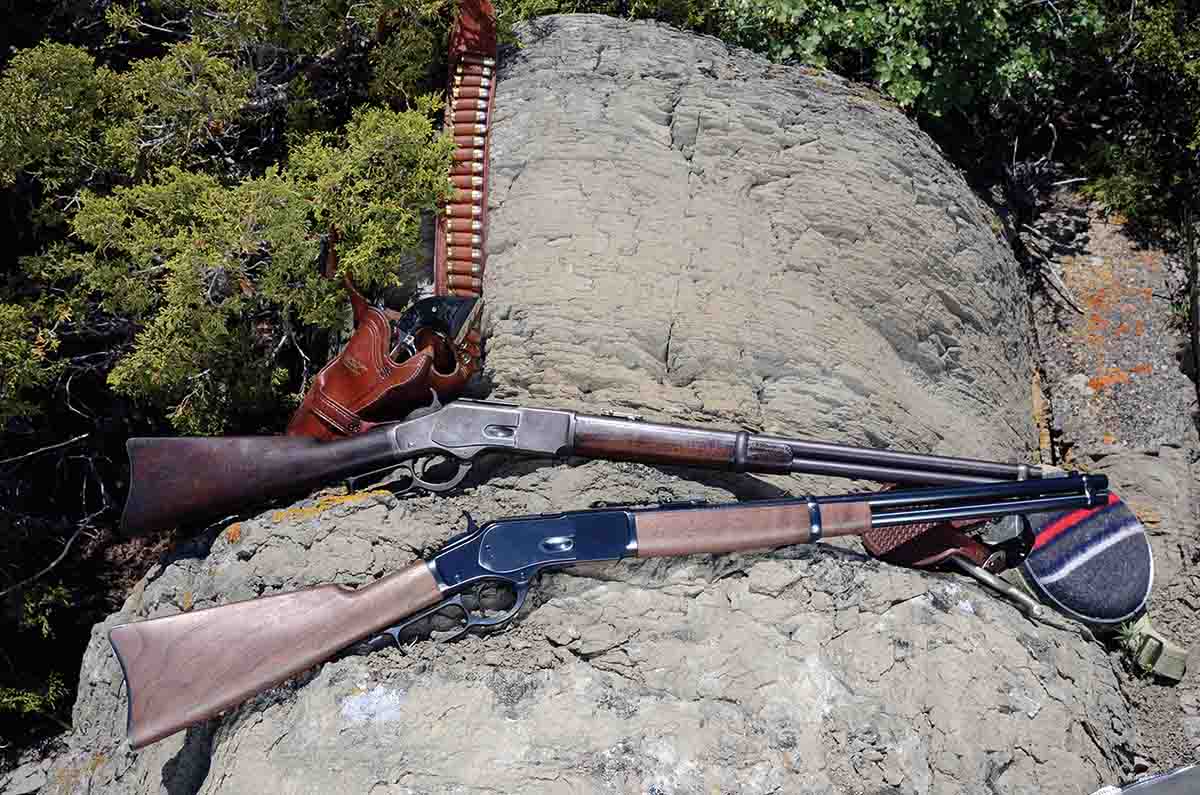 Barrels for rifles could be round (standard) or octagonal or half and half. The last two options cost extra. Rifle barrels could be as short as 12 inches and as long as 36 inches, but the standard length was 24 inches. SRC barrels were also round but much lighter in weight. Standard length was 20 inches. Barrels down to 12 inches were available, but if longer ones were offered I have never heard of it. Rifles were sold with steel parts blued, or with actions, buttplates and forend caps color casehardened at an extra cost. Saddle ring carbines were blued. Again, if color casehardened actions on SRCs were offered, I've never seen one.
Rifles were chambered for .44 WCF (.44-40), .38 WCF (.38-40), .32 WCF (.32-20) and both .22 Short and Long rimfires. SRCs were not made as .22s. Both rifle and carbine steel buttplates had trapdoors for storing jointed cleaning rods, but only in .38 and .44 caliber. Winchester rated a standard round-barrel rifle at 8.75 pounds, an octagonal-barreled rifle at 9 pounds and a standard SRC at 7.25 pounds.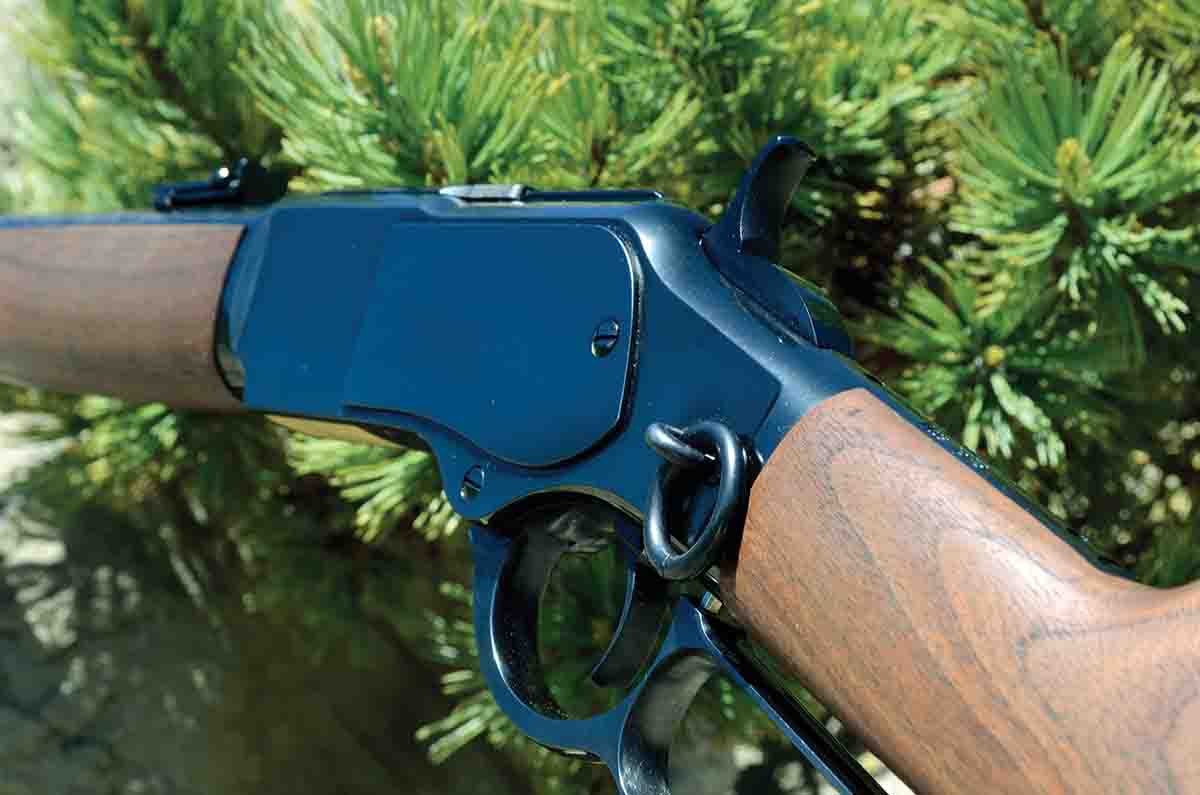 I happen to have samples of all three of these original Winchester Model 1873s in my racks, so they were weighed. The SRC was right on at 7.25 pounds, but the full-length rifles were actually lighter than normal. Both weighed 8.25 pounds.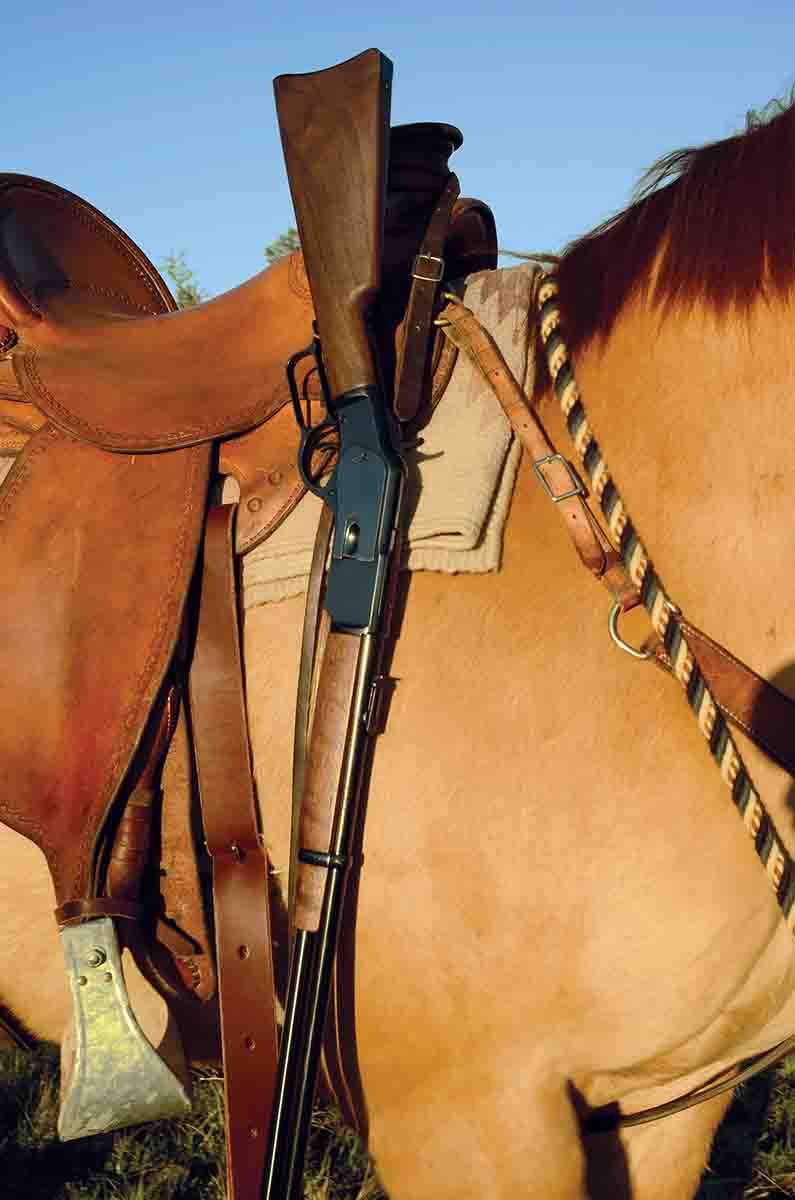 Now, if Winchester's determination of whether one of its leverguns was a rifle or carbine was not confusing enough, consider that the company would sell longer or shorter-than-normal barrel lengths. One of the most common deviations from standard was a rifle with all the features, but it had a 20-inch barrel – the same as carbines. However, the barrel was not a lightweight as used on SRCs. They were the same diameter as barrels sold on rifles. Winchester called these Short Rifles.
Now fast-forward 90 years from when Winchester officially dropped the Model 1873. That summer I attended a firearms industry get-together, and one of the guns being fired was a Browning-Japanese (Miroku) manufactured Model 1873 .38 Special/.357 Magnum. It was in Short Rifle configuration with a 20-inch, round barrel. I was only able to fire 10 rounds through it and thought it was a nicely made replica, as all the Miroku leverguns have been. Furthermore, this one lacked any sort of lawyer-dictated external safety. These have been the chief criticism thrown at Miroku/Browning/Winchester leverguns over the years.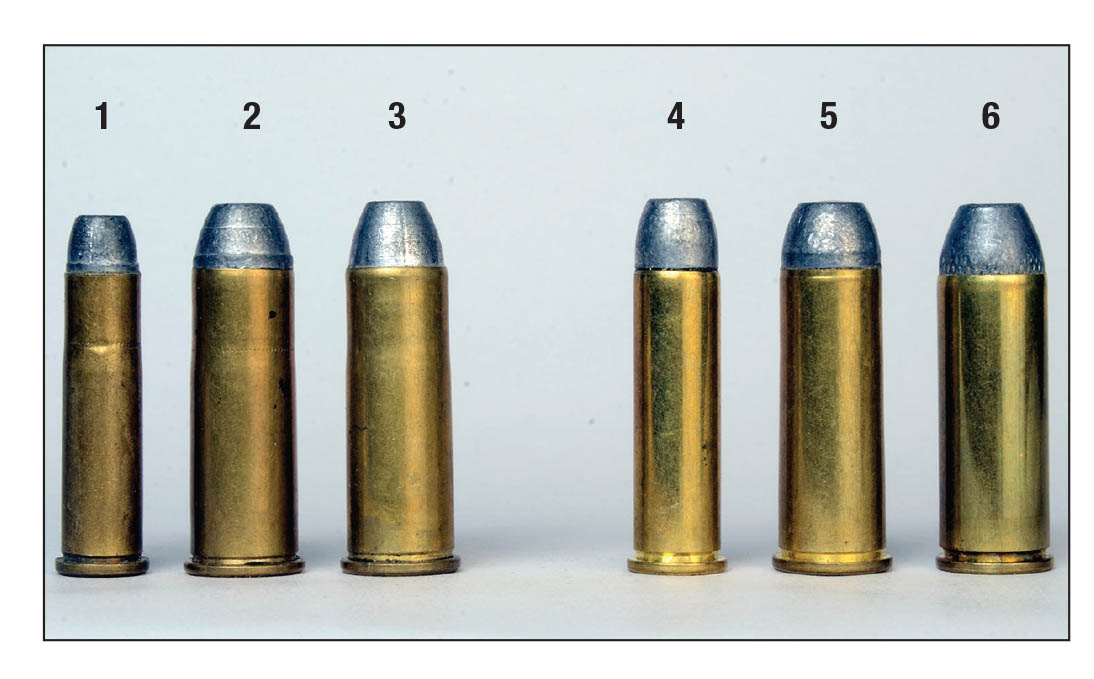 I admit freely that '73 Winchesters are my favorite among Old West leverguns. A chief historical interest is the fight between Indians and the 7th U.S. Cavalry in Montana in June 1876. Archaeological work at the Little Big Horn Battlefield has determined that no fewer than eight '73 Winchester .44 WCFs were fired in that fracas. Of course, many more Henry and Model 1866 .44 rimfires were used by the Sioux and Cheyenne warriors, but .44 WCF is a modern handloader's dream compared to .44 rimfire, hence my favoritism.
Four busy years passed until my interests returned to these new Model 1873s that are actually stamped "Winchester." I was pleased to see that .44-40 had been added as a cartridge option. Besides Short Rifles with 20-inch, round barrels, there were now octagonal barrels, others with pistol-grip stocks, and some options included very fine color casehardening of the action, buttplate and forend cap. Checkering was also offered on some versions, and .45 Colt was an option in all versions. I asked Browning to loan me a Model 1873 .44 as quickly as possible in any form available; it turned out to be a Short Rifle. It was covered in Rifle No. 295 (November 2017).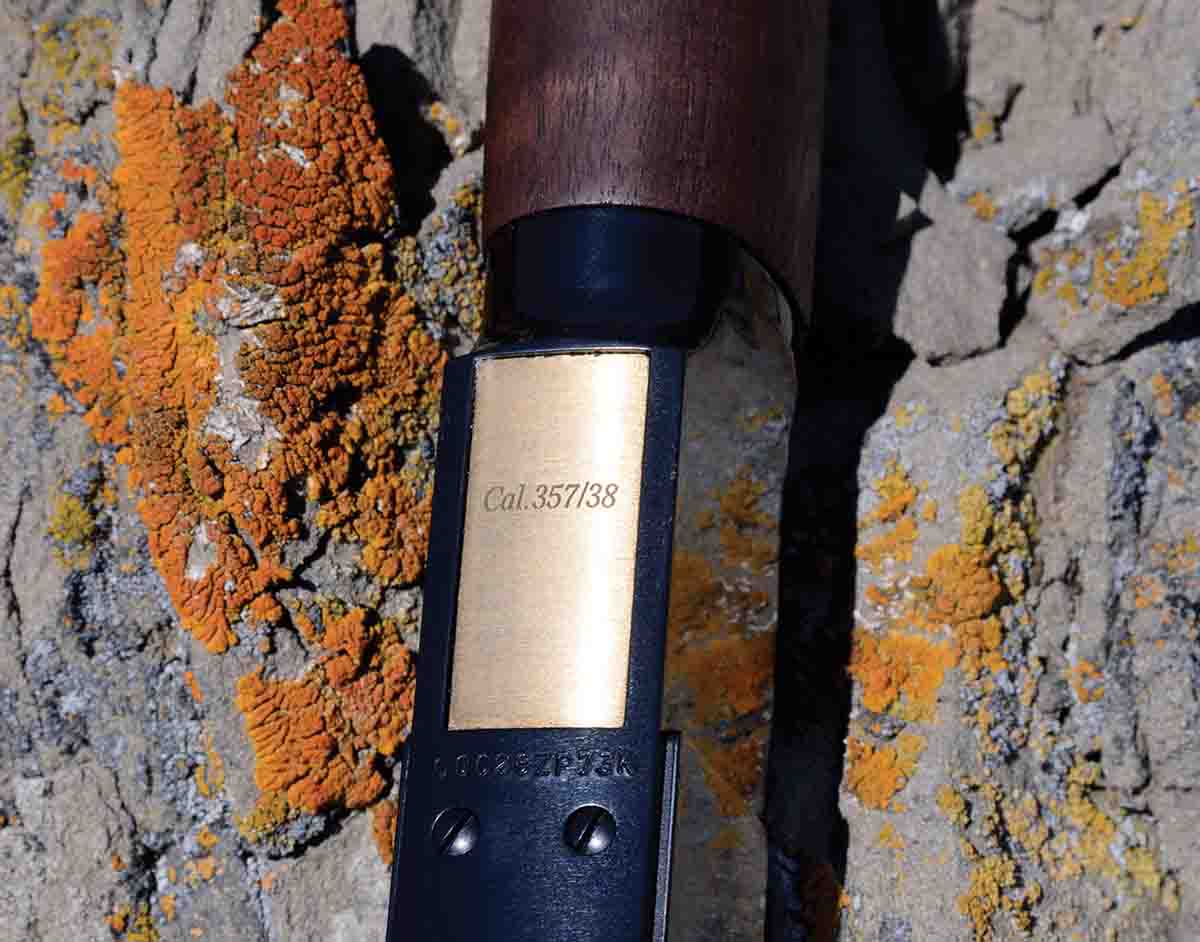 Maybe I'm just slow to catch on, but the ink on that article had hardly dried when word reached me that Browning now had SRC '73s. A loaner was requested, but this time I wanted it to be .38 Special/.357 Magnum. This particular levergun may be the one that breaks tradition's grasp on my soul. I have always eschewed owning a replica of the '73 Winchester by any maker if it was chambered for a cartridge not from its original period. That limited me to .44-40, .38-40 and .32-20. That's not the same as saying I had never owned or used replica leverguns in more modern calibers, but I reserved the '73 for tradition's sake.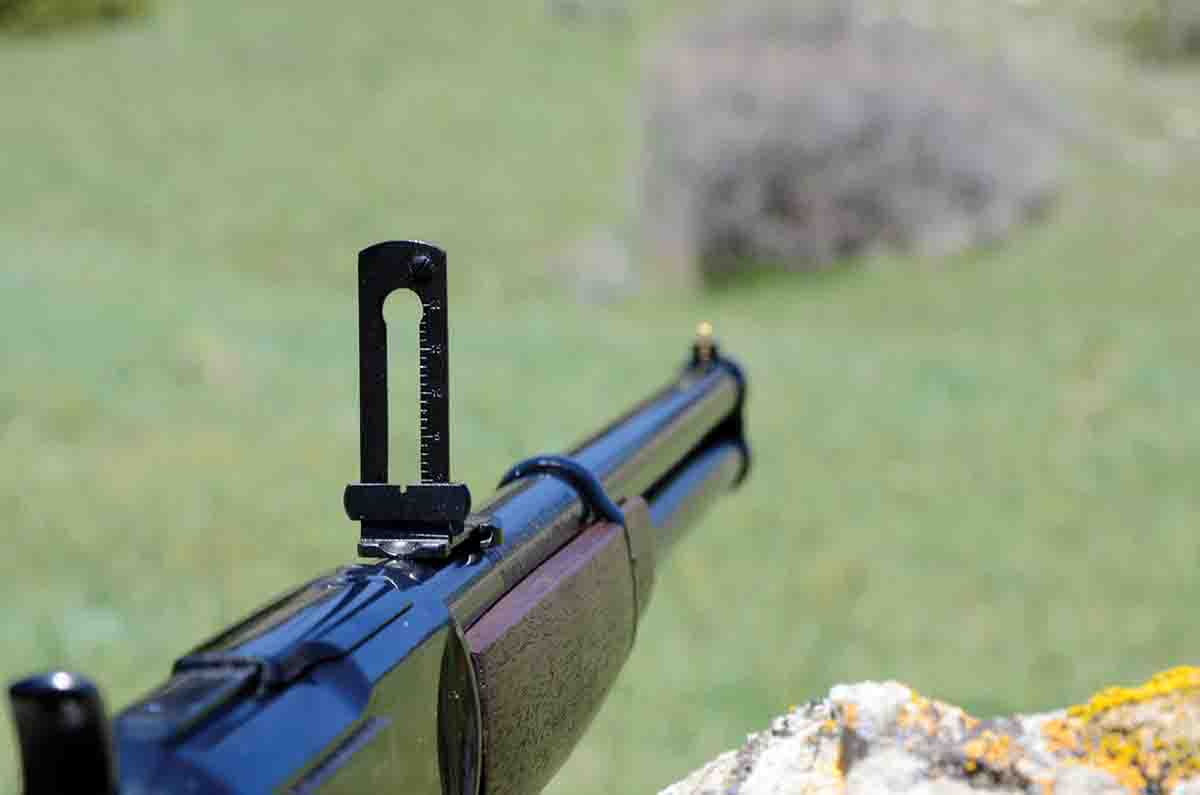 What pleased me so much about this new Winchester SRC .38/.357 is that it is a straight-shooting, smoothly functioning "light rifle" that is very easy to hit with. Except for one cartridge, where the extractor slipped over an empty .38's rim, leaving it chambered, it functioned just as well with .38 Special rounds as .357 Magnums. The .38 Long Colt can safely be fired in .38 Special and .357 Magnum revolvers, and it's actually safe to fire in this new '73, but forget about the .38 Long Colt functioning. Cartridge case heads are pushed from the magazine tube into a brass cartridge lifter, tying up matters until the cartridge is fished out of the loading gate.
Here are some particulars of the new Winchester SRC '73: Overall length is 38.5 inches with a 20-inch, round barrel, and weight is 7.25 pounds. Those dimensions are identical with my original SRC .44. Its barrel diameter at the muzzle is .635 inch, and the original's is .650 inch. Length of pull is 12.75 inches on both carbines. Wood-to-metal fit is good but not outstanding. Conversely, the metal fit, polish and deep blue finish are outstanding. As befits an SRC, the stock wood is straight grain, oiled, American walnut. The buttplate on this new SRC is noticeably narrower than my original's. It is 1.25 inches wide compared to 1.45 inches for the 120-year-old sample.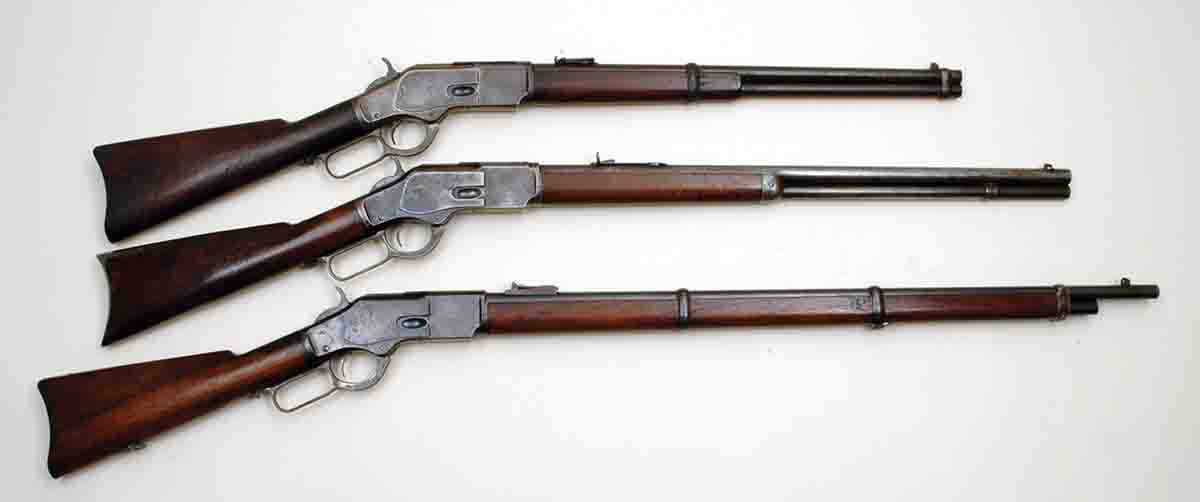 One place where the new gun outperforms the old one is smoothness. Right out of the box, it feels like it has been slicked up by a professional gunsmith. (My original '73 .44 SRC dates to the 1890s and is considerably rougher internally – perhaps from being out in the weather.) Trigger pull averaged 4.75 pounds and was perfectly crisp.
Magazine capacity is 10 rounds of .357 Magnum or .38 Special. I was able to cram 11 .38s into the magazine, but that jammed up the tube with a cartridge head sitting too far back.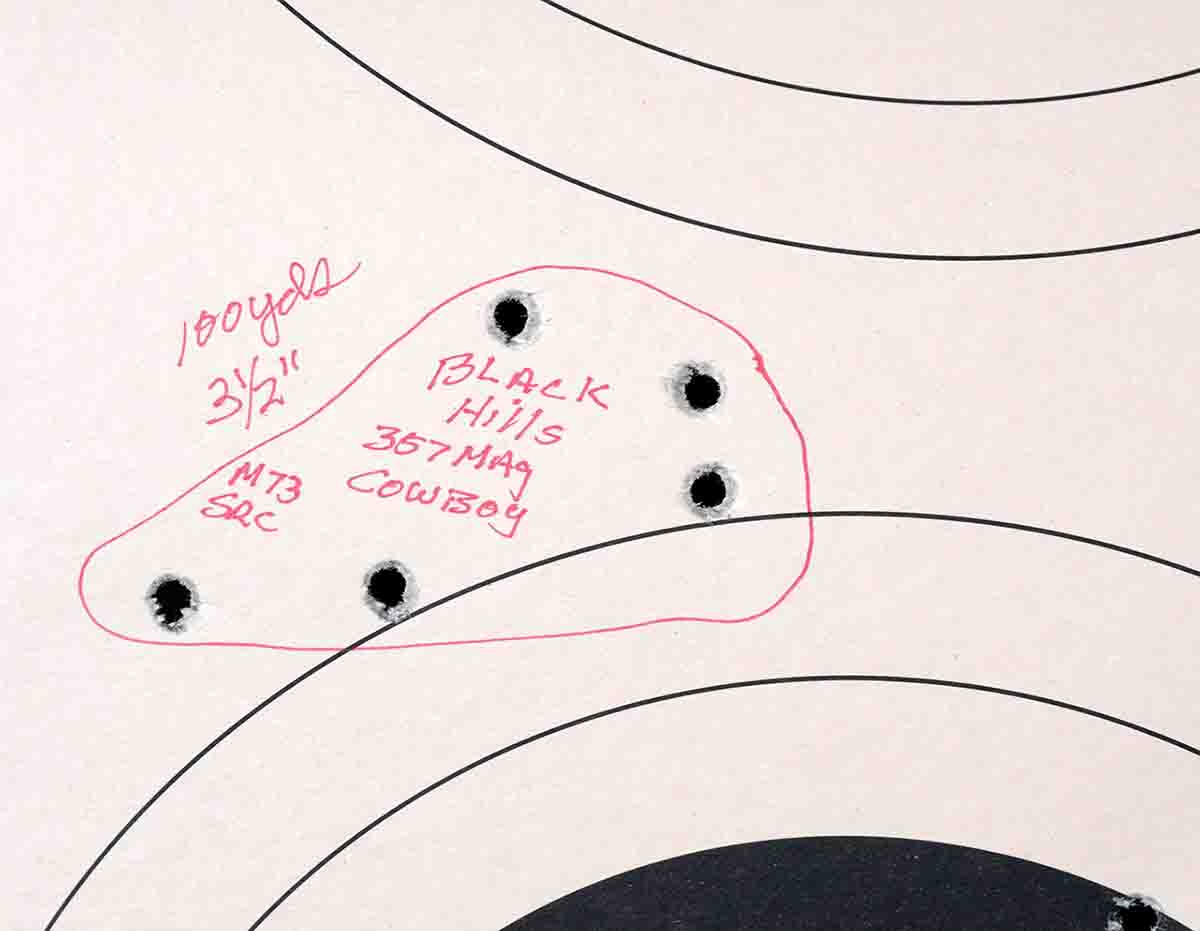 Firing this new .38/.357 SRC provided an opportunity to compare velocities from it and a revolver. The revolver was a Colt SAA .357 Magnum made about 1969 with a 4.75-inch barrel length. Both handloads and factory loads of each cartridge were fired, and the results are in the accompanying table. The carbine's velocities topped the revolver's by about 200 to 250 fps with most loads.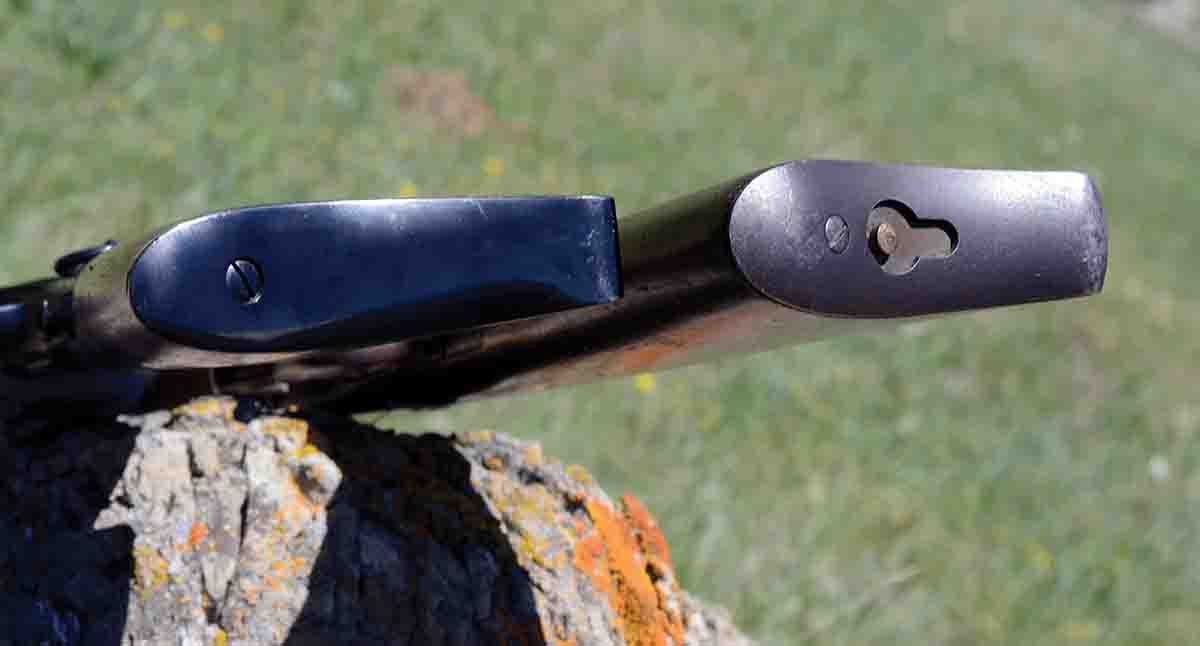 Quite often, SWC bullets are warned against use in leverguns because their sharp shoulders hang up on chamber edges as they are lifted from the magazine. Not so with this '73 replica. Brass cartridge lifters on '73s raise a cartridge in line with the chamber, and then the bolt shoves it straight in as the lever is closed. I shot SWC, RN, RNFP and JHP bullets from the sample SRC '73 without a bobble.
As to shooting groups, I freely admit that these days I have some difficulty with open sights. That said, I still shot some pretty decent groups with both .38 Special and .357 Magnum factory loads and handloads. Decent is defined here as about 3.5 to 4 inches at 100 yards. There were also a few larger groups. Some lead-alloy bullet loads shot well and others did not. For instance, Hornady's .38 Special 140-grain Cowboy load shot well. CCI's Trailblazer 158-grain .38 Special Cowboy load did not. Black Hill's 158-grain .357 Magnum Cowboy load shot nicely, but handloaded 158-grain SWCs over 14.5 grains of 2400 grouped at about a foot.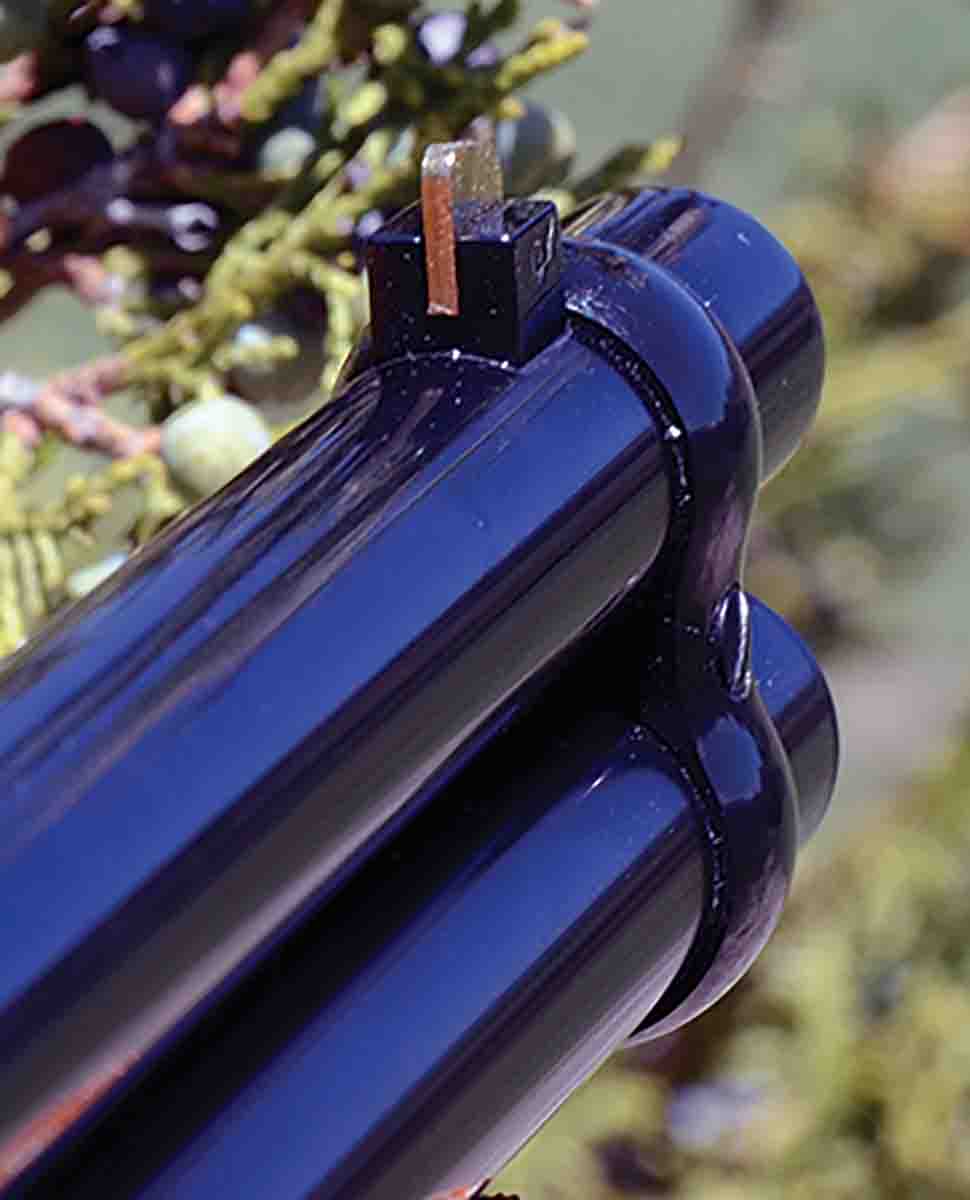 Here's a bit of opinion that so far has not been backed up by shooting results: If this saddle ring carbine belonged to me, I would buy a large quantity of .357 Magnum brass and only use it in this carbine. Some years back, when Yvonne and I were active in cowboy action shoots, I gave her the previously mentioned Colt SAA .357 Magnum to use solely with .38 Special cartridges. After several hundred rounds without diligent cleaning, that .357 Magnum was needed for some chronographing. The longer rounds would not chamber fully, and they still would not chamber after cleaning. I had to put a brass brush in a drill to clean the chambers. Getting such a brass brush into an SRC's chamber would be a difficult chore.
Browning will likely sell plenty of these carbines to cowboy action shooters, and I do not doubt it will also sell them to historically minded folks for use in hunting deer or varmint control. If a .357 Magnum revolver is adequate for deer hunting, certainly a .357 Magnum SRC would be fine out to 100 yards or so.