While the term "nontoxic" sounds somewhat weird when applied to hunting bullets, some people believe eating game killed with lead-core bullets can be harmful to their health. However, a large-scale study in Germany and Switzerland found hunters had about the same lead levels in their blood as nonhunters.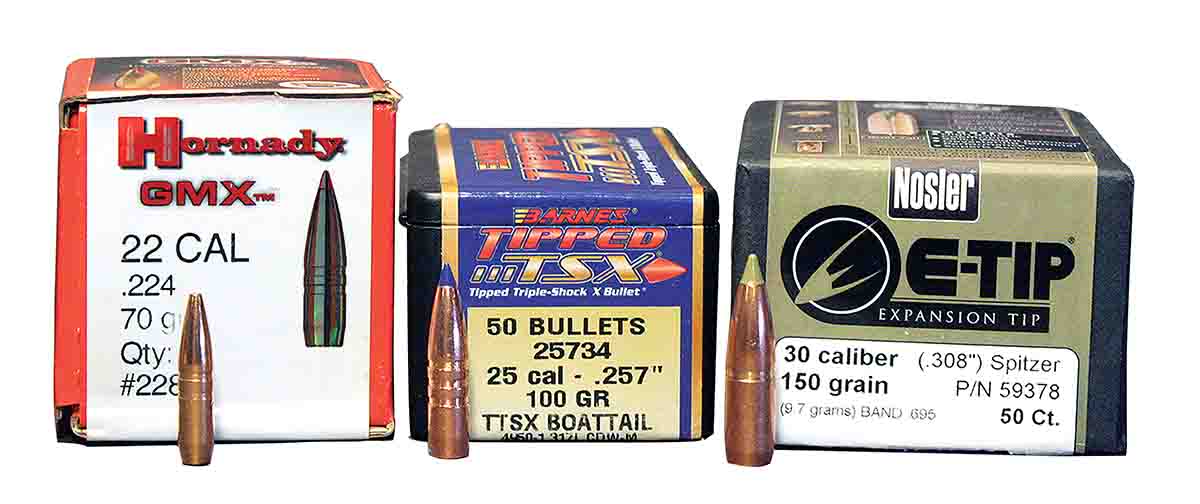 Another, less general "study" took place in our own household when my wife, Eileen, had her blood tested annually for a medical condition. Despite the fact that the meat we eat comes almost entirely from big game, her lead levels were far lower than average for adult Americans, and at the time we primarily used lead-core bullets. I shot my first big-game animal with a nontoxic bullet in 1995, and during the next decade – the period when Eileen got tested – we put a total of 55 big-game animals into our freezers; only 23.6 percent of them were shot with nontoxic bullets.
Still, nontoxic bullet requirements keep increasing for other reasons. In 2019, for instance, only lead-free bullets will be legal for hunting in California, mostly to protect the state's endangered condors. As a result, many companies now produce lead-free bullets, along with centerfire and rimfire ammunition.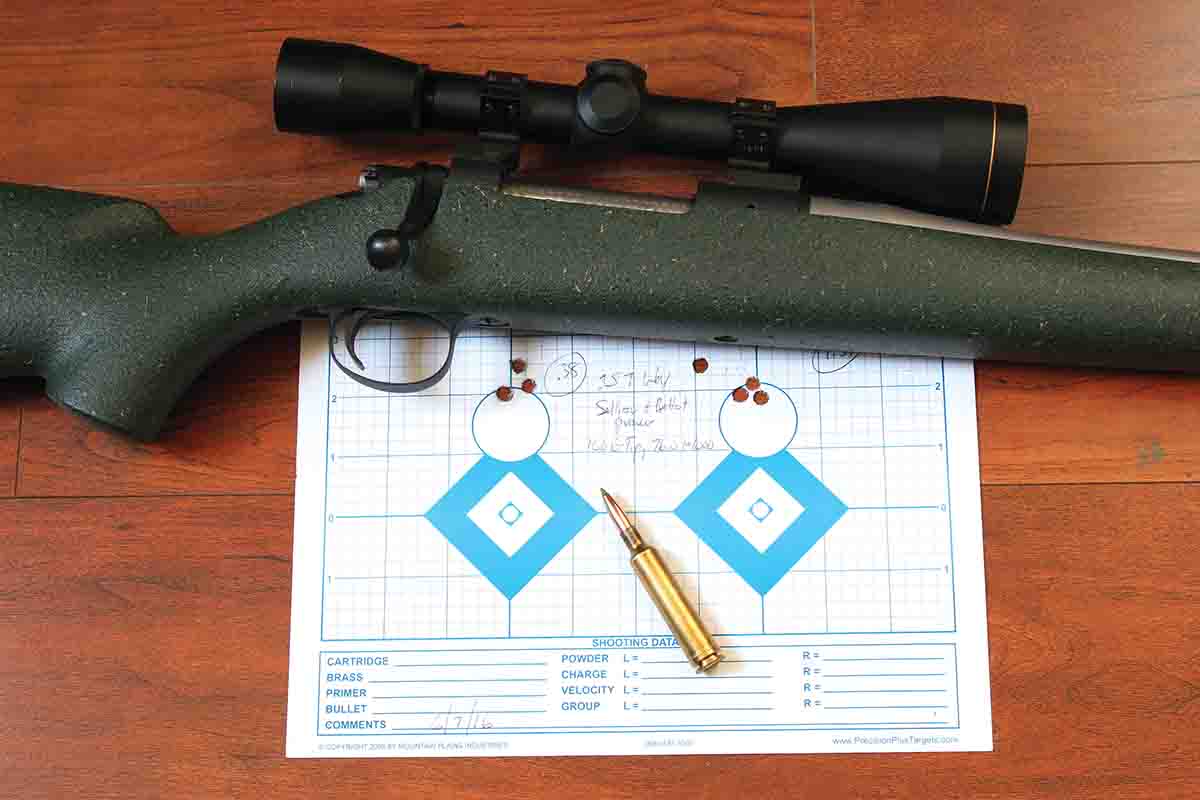 This abundance of new bullets is one reason we have used far more nontoxic projectiles in our recent hunting: I have to field-test rifle bullets, and Eileen avidly assists in the research. As a result, of the 21 big-game animals we have put into our freezers over the past five years, 15 (71.4 percent) were taken with lead-free bullets.
The second reason we use more lead-free, big-game bullets is they are all "monolithics," made of copper or copper alloys, so they do not fragment as much as conventional expanding bullets, ruining less meat in smaller animals like pronghorn and deer, and penetrating deeply in larger animals like elk. The nontoxics used during the past five years included Barnes TTSXs, Cutting Edge Raptors, Hornady GMXs and Nosler E-Tips, and they normally tear up noticeably less meat than lead-core bullets.
Velocity and shot placement also affect meat loss, and one rare exception was a mule deer buck Eileen took in 2014 with a Barnes 100-grain TTSX started at 3,150 fps from a New Ultra Light Arms .257 Roberts. Despite aiming behind the shoulder as the buck stood broadside at 100 yards, the bullet still ruined a lot of shoulder meat. On the other hand, some of our moderate-velocity, lead-bullet loads result in very little meat damage, especially the Speer .35-caliber 180-grain Hot-Cors handloaded to 1,900 fps for an old German 9x72R combination gun, and any of the lead-core 286-grain bullets I use at around 2,400 to 2,500 fps in various 9.3mm cartridges.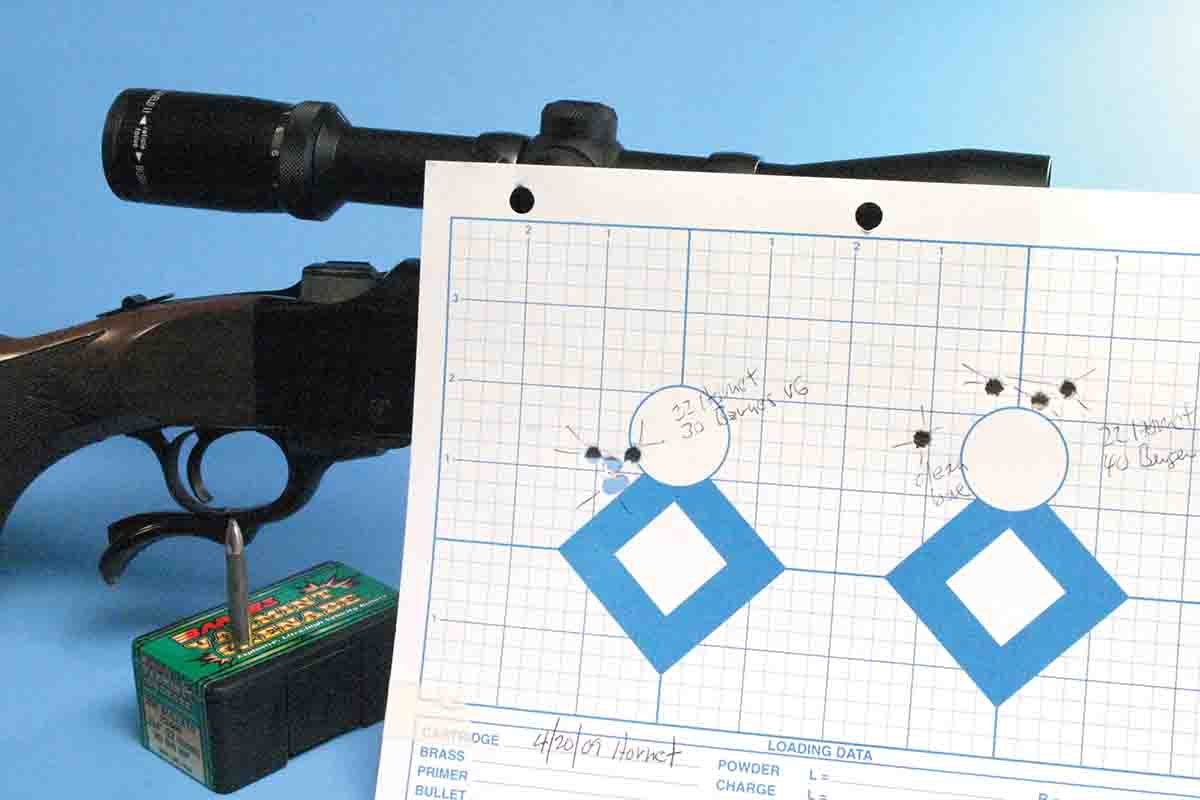 However, because monolithic bullets destroy less tissue, on average they do not kill as quickly as lead-core bullets. In an analysis of my big-game notes since 1995, rib-shot animals taken with monolithics have traveled an average of slightly beyond 50 yards after the shot before falling, while the fastest average kills come from lead-core bullets that fragment considerably – and the more they fragment, the sooner animals tend to drop. As an example, Berger hunting bullets often fragment violently. The average travel distance for big-game animals shot through the ribs with Bergers has only been 18 yards; the percentage of instant drops from rib shots is also considerably higher.
That difference may be shrinking as more monolithic big-game bullets are designed to fragment more. This is a recent development, because many hunters believe the major reason monolithic expanding bullets penetrate so deeply is their tendency to retain all their weight, or close to it. It is common, for instance, to recover expanded Barnes TSXs weighing exactly what they did before being fired, but X-Bullets did not always perform that way.
About 15 years ago Randy Brooks told me he originally designed X-Bullets so their petals would break off, resulting in more internal damage. Many big-game hunters considered higher weight retention a real plus, so, like any good businessman, Randy decided to please his customers and reengineered the X. Recently, however, I've learned that some (but not all) Barnes Xs are now made so the petals are likely to break off, not necessarily to do more damage but to ensure expansion at longer ranges due to the increasing popularity of long-range hunting.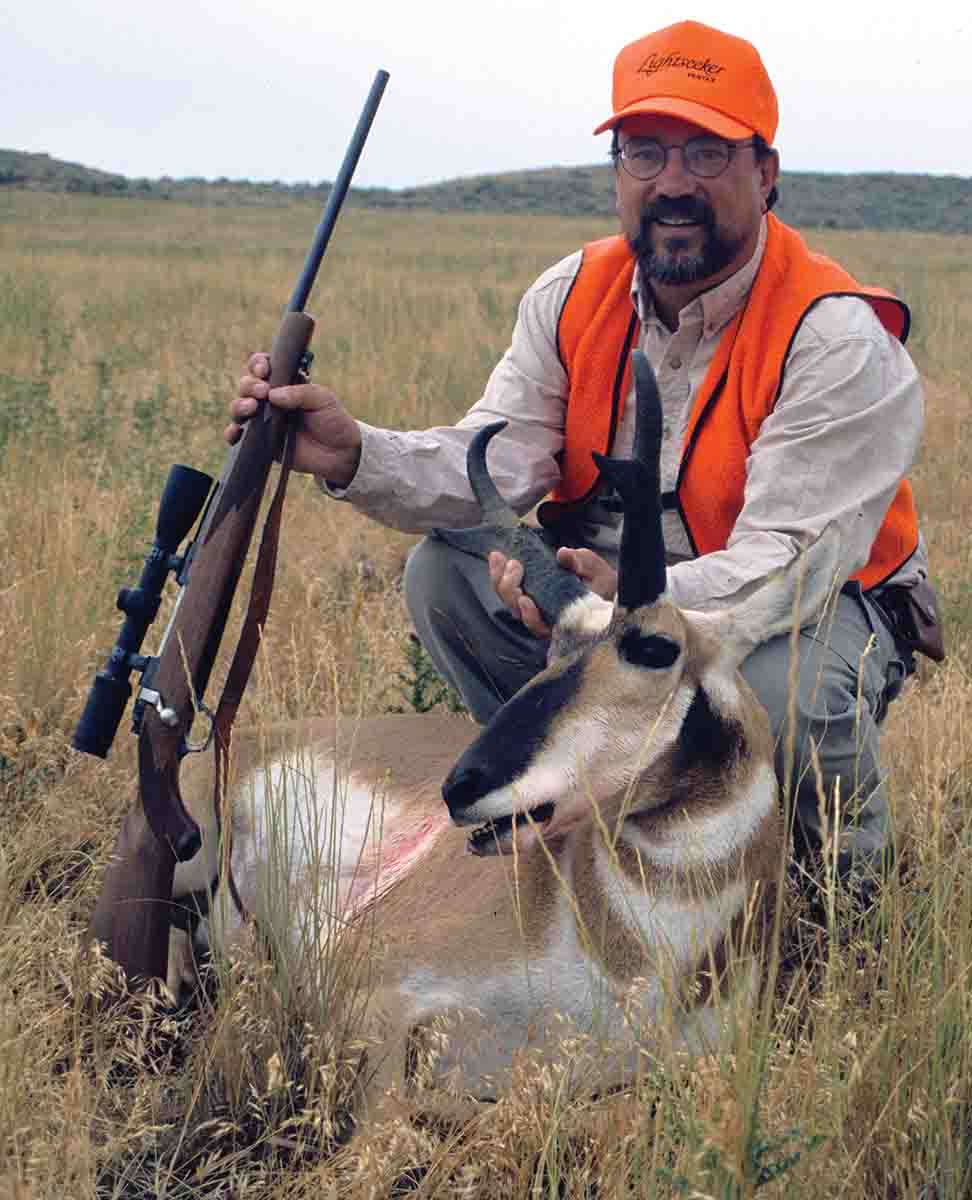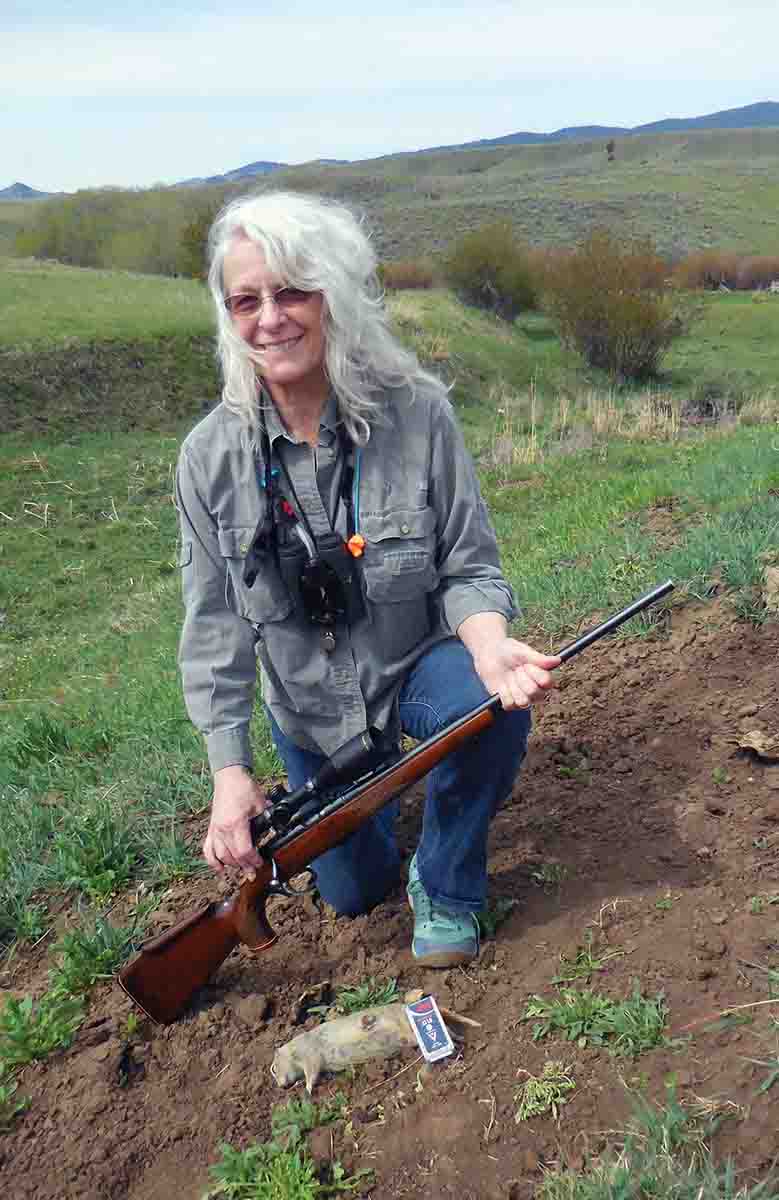 On the other hand, Cutting Edge Raptors are designed to do more internal damage, with thinner petals that break off easily. Eileen and I have taken a few big-game animals with Raptors and have been impressed with the results, but so far have not taken enough game with pure rib shots to say with any degree of certainty the broken-off petals resulted in quicker kills. The first animal was a pronghorn shot at around 150 yards with a Raptor from a .22-250 Remington. The big doe collapsed where it stood, but during field dressing we discovered a chunk blown out of the lower edge of the spine as the bullet passed through the lungs.
Some hunters claim petals from Barnes Xs, Hornady GMXs and Nosler E-Tips break off most often when hitting heavy bone, usually a shoulder, so the fragmented petals do not result in any internal damage. That's often the case, but there are exceptions. The most recent was a big cow elk Eileen shot in 2017 with a 130-grain Tipped TSX from her Kilimanjaro Rifles .308 Winchester. The cow stood quartering toward us at about 250 yards, and the logical shot placement was through the near shoulder.
The bullet landed just above the shoulder joint, breaking the thick end of the scapula, and ended up under the hide in the middle of the far ribs with all its petals broken off – including one found only an inch from the bullet. I have even found petals at the edge of exit – not entrance – holes.
Shoulder shots also tend to blow fragments of bone through the vitals, so it's often hard to tell whether internal damage came from petals or bone. All we know for sure is the cow fell quickly, staggering only 20 or 25 yards before falling. On the other hand, a big axis deer I shot in Texas with a similar shoulder shot, using an original Barnes 120-grain X-Bullet from a 6.5x55, went about 40 yards before falling, despite the bullet losing all its petals – farther than a heart-shot whitetail buck I killed in Montana four months later with the same rifle and load.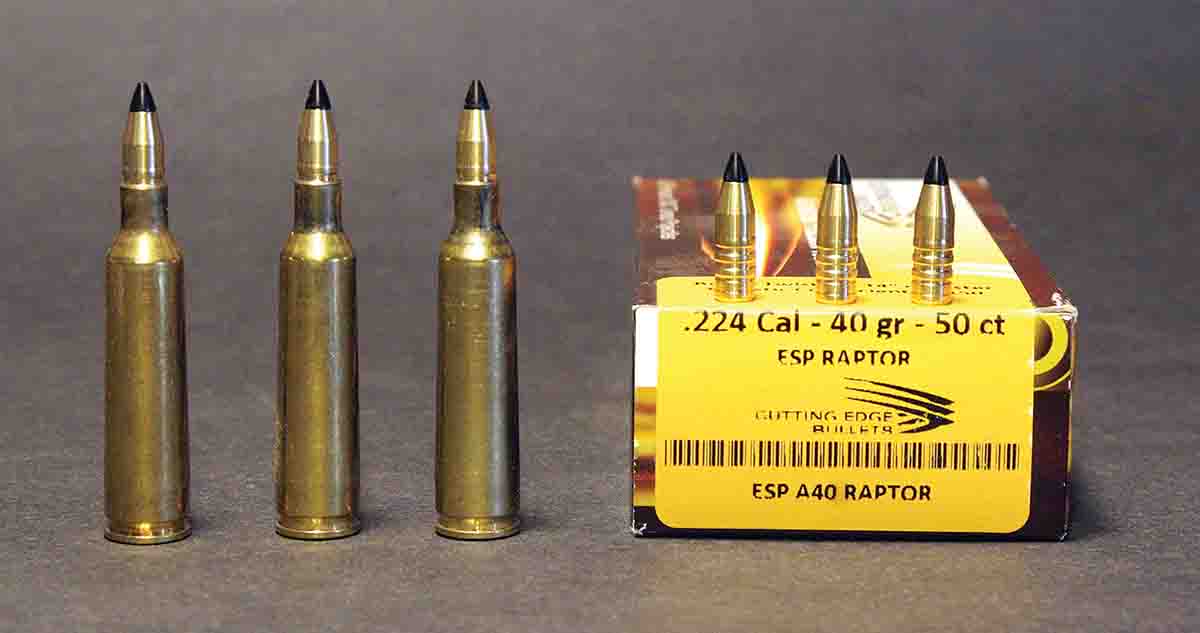 Hollowpoint monolithics Occasionally fail to expand, or expand completely. We have seen this happen a few times, and so have good friends, but so far all such failures have occurred with bullets from 6mm to .30 caliber – not with .22-caliber monolithics, or any bullets over .30. Our theory is the recoil of 6mm to .30-caliber cartridges is enough to batter the small hollowpoints at least partially closed on the front wall of the typical bolt-action magazine box, but the recoil of typical .224 centerfires is too mild to result in tip damage. The hollowpoints on medium-bore bullets tend to be much larger, and hence more difficult to batter closed.
This is admittedly only a theory, but monolithic bullets with pointy plastic tips almost never fail to expand. In fact, I've only heard of one instance, from a Montana friend on an elk he had to shoot twice. The first bullet was recovered with the plastic tip bent at an angle but otherwise intact, while the few unexpanded hollowpoints recovered did have the holes battered at least partly closed. Whether this was due to magazine boxes or ribs is another question.
One other potential problem with monolithics is ballistic coefficient. Because they are made of relatively light copper metal, they are longer for their weight than lead-core bullets, and contrary to what many hunters believe, bullet length is the major factor in bullet stabilization, not weight. As a result, it is more difficult to stabilize long monolithics with really high ballistic coefficients.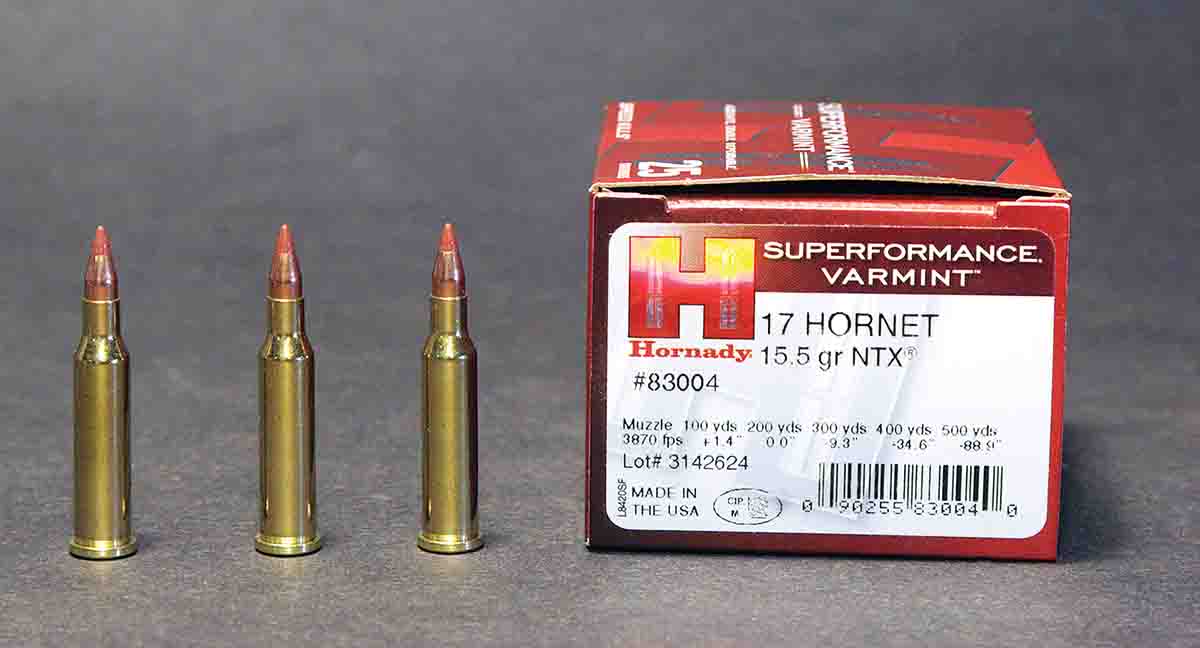 However, that is changing as rifling twists in factory rifles continue to tighten, and at "conventional" hunting ranges a lighter, faster monolithic results in a flatter trajectory still desired by most hunters. Over the past decade or so, adding plastic tips to monolithic bullets helped increase ballistic coefficient along with expansion.
Obtaining sufficient expansion with nontoxic rimfire and varmint bullets is not as difficult. Monolithics do not expand as easily as lead-core bullets, so most manufacturers make bullets for smaller game out of some sort of copper mix surrounded by a thin jacket. CCI offers both .22 Long Rifle and .22 Magnum Rimfire ammunition with nontoxic, hollowpoint bullets made of a combination of copper powder and polymer, and both have been tried on ground squirrels during the past two summers.
The .22 Long Rifle Copper-22 load features a 21-grain bullet at an advertised 1,850 fps, and from Eileen's Anschutz Model 54 it expanded very similarly to lead hollowpoint ammunition. I used the TNT Green .22 Magnum load in my Ruger American rifle; a 30-grain hollowpoint at 2,050 fps. It was plenty accurate and in the Ruger shot to exactly the same place as lead-core ammunition, but on ground squirrels the bullets did not expand much. In fact, the first several "gophers" shot made it back into their holes. Finally one dropped in the open, showing a wound channel only slightly larger than .22 caliber. However, the bullets expanded well on rabbits so are probably designed more for larger game, which makes sense in the .22 Winchester Magnum.
I also field tested a bunch of Hornady NTX .17 HMR ammunition on both ground squirrels and prairie dogs. Hornady's website states the NTX bullets feature a "frangible copper alloy" core, and the company is not kidding. Point of impact, accuracy and violent expansion were indistinguishable from Hornady's excellent 17-grain V-MAX ammunition. The advertised muzzle velocity is 2,525 fps, but they chronographed around 100 fps faster from my CZ 452.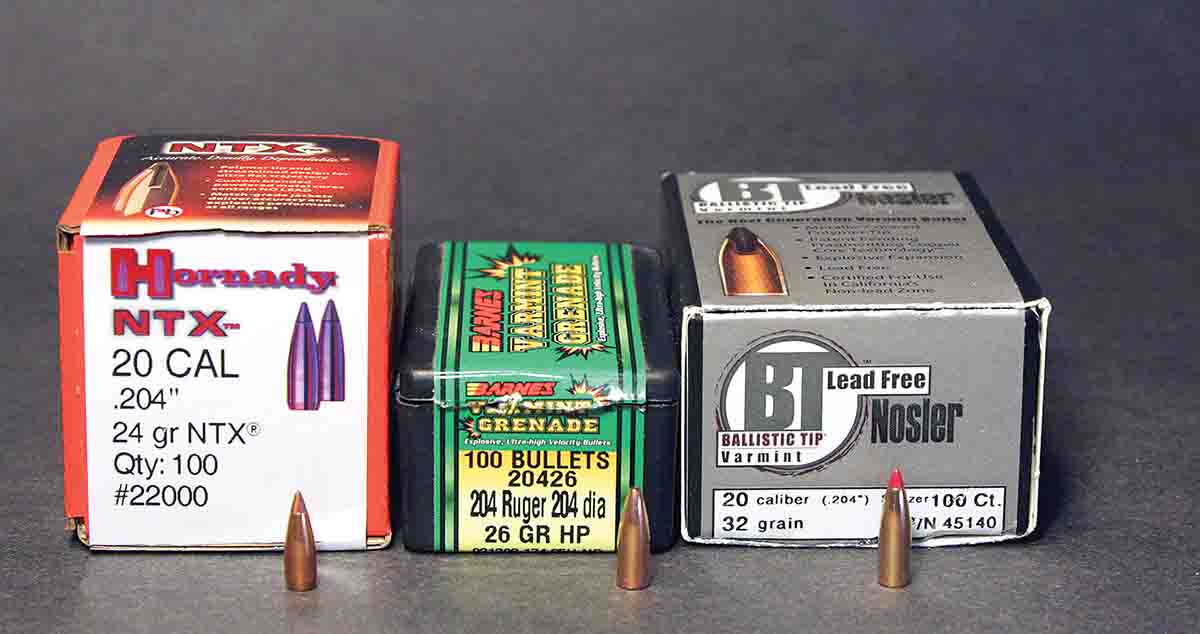 Hornady also offers a 15.5-grain NTX Superformance load for the .17 Hornet at an advertised muzzle velocity of 3,870 fps. In my CZ 527 the velocity was spot-on, with occasional rounds breaking 3,900! As with the .17 HMR load, I did not find any noticeable target or field difference between the NTX ammunition and 17-grain V-MAX factory loads.
Unfortunately, Hornady only offers the 15.5-grain NTX bullet in factory ammunition and not as a handloading component. I asked if that might change and was told, "maybe" – but Hornady is busy with a bunch of products and projects, and it sounded like a light "maybe."
While a few nontoxic .17-caliber component bullets are available, I tested only the least expensive, the Lehigh Defense 18-grain Controlled Chaos, because many varmint shooters like to keep ammunition costs down as much as possible. The Controlled Chaos is a monolithic hollowpoint designed so the nose section breaks up. Lehigh's website states it was due to "an animal control agency's request for a no-lead .243 bullet . . . Basically, the idea was to burst the bullet into numerous particles at a predetermined depth. The agency had tried copper-matrix frangible rounds and found the penetration depth and particle size were less than what was required."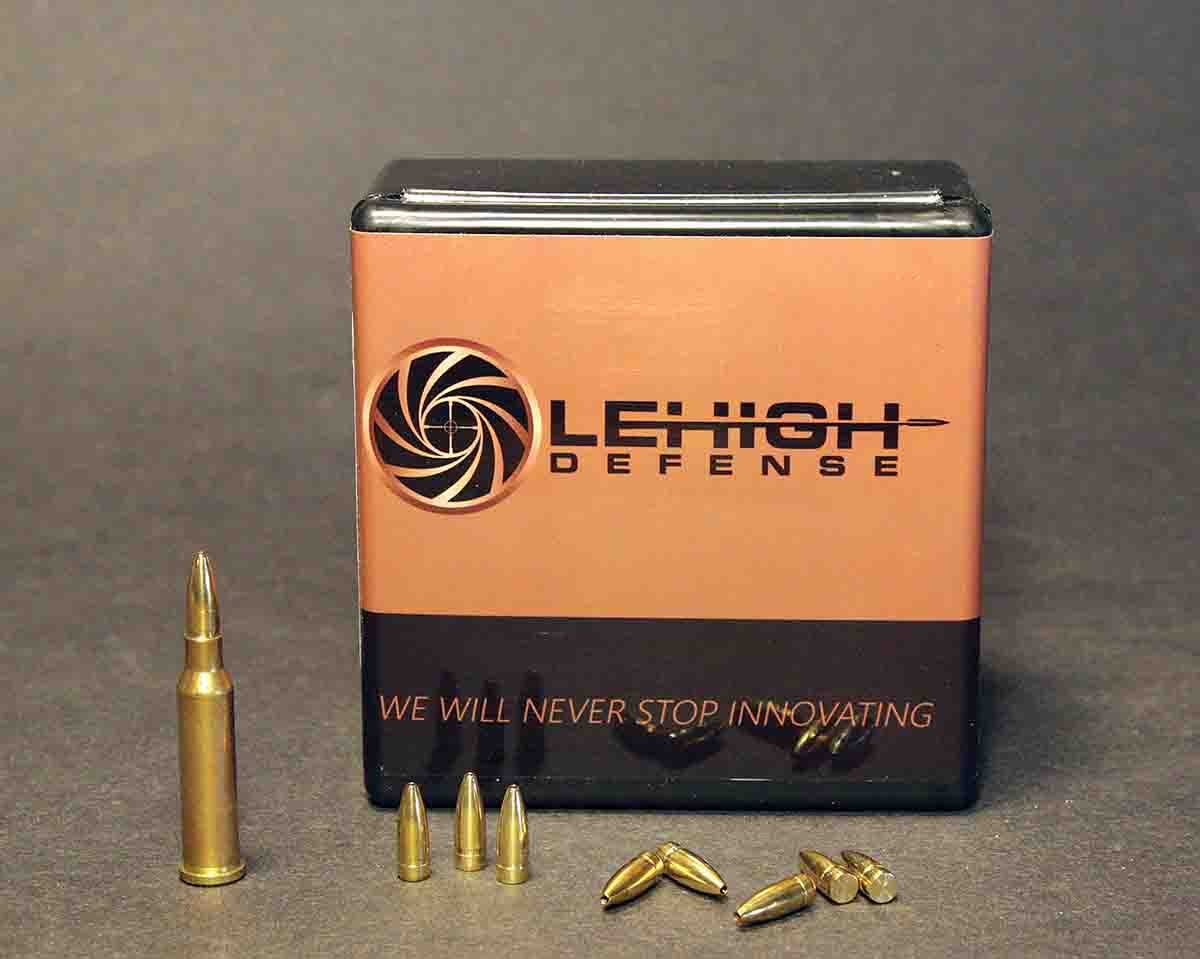 The 18-grain Lehigh bullets were handloaded for my .17 Hornet with the same charge of Hodgdon CFE BLK used with Hornady 20-grain V-MAX and Nosler Varmageddon Tipped bullets. Muzzle velocity was similar, over 3,700 fps, and accuracy was good. The Lehigh bullet expanded on ground squirrels, though not as violently as plastic-tip bullets, and they should work very well on larger varmints from jackrabbits to coyotes.
In calibers from .204 and larger, several companies offer nontoxic varmint bullets and all work very well – except, once again, they are lighter than the heaviest lead-core bullets so their ballistic coefficients remain somewhat lower. On the other hand, the lighter bullets can be driven to far higher velocities, so they shoot very flat out beyond 300 yards.
Several varmint shooters I know have had accuracy problems with Barnes' 36-grain Varmint Grenade .224 bullets in rifles with slower rifling twists, especially .22 Hornets, because the 36-grain bullet does not always fully stabilize. The solution is either the 30-grain Varmint Grenade or Speer 30-grain TNT Green. Both can be zipped right along in the Hornet, but their relatively blunt profiles result in noticeably more wind drift than heavier plastic-tip lead-core designs.
In general, lead-free bullets cost more than lead-core bullets because lead is one of the cheapest, most easily formed metals available, but the difference varies. CCI Copper-22 long rifle ammunition costs about twice as much as the popular CCI Mini-Mag hollowpoints, but CCI TNT Green .22 Magnum costs only a little more than standard .22 Magnum ammunition. Monolithic bullets cost about the same as most "premium" lead-core bullets and occasionally less, but most hunters do not shoot enough big game for the price to be a burden. Luckily, most lead-free varmint bullets are not much more expensive than conventional bullets.
If you must use – or prefer to choose – lead-free bullets for hunting, there is a practical alternative for just about any purpose.