Barrel bedding is an often hotly debated subject, with strong opinions for the virtues of free floating and equally good cases made for partial and full-length bedding. Based on the ongoing controversy, it is with certain reservations that I share a few thoughts and experiences. I am not prejudiced toward any one method, as I use different approaches depending on application and stock material. While there are autoloading, single-shot and even lever-action rifles that feature (or can be customized with) free-floating and full-length bedded barrels, my comments here are directed primarily at bolt-action sporting rifles.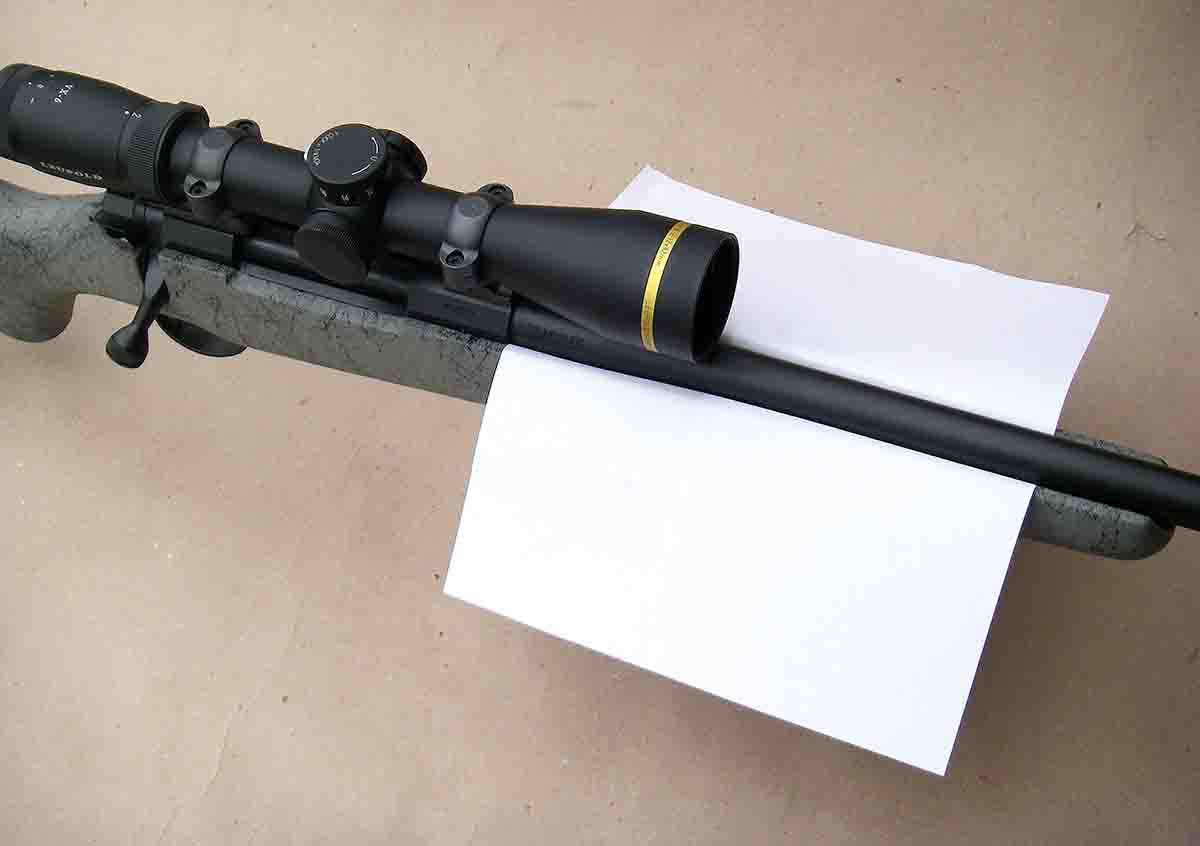 During the early days of sporting bolt rifles with "standard" weight barrels, practically all were full-length bedded with the barrel touching the stock wood. During this era, it would have been considered poor workmanship if the wood-to-metal fit was not respectably tight. Many of these vintage rifles actually shot very well. However, some small rifle producers, custom gunsmiths and target shooters began to recognize the virtues of free-floating barrels.
As World War II passed, inflation, labor and manufacturing costs rose sharply, which resulted in many major U.S. manufacturers fitting wood stock barrel channels with greater tolerances to help keep costs in check. In other words, the barrel was mostly free floating. Manufacturers retained a small pressure point inside the forearm tip. Its purpose was to help control and reduce barrel vibration.

The above method was widely common and appeared with many of the Remington Model 721, 722 and 725 rifles as well as the Model 700 when it first appeared in 1962. Most early Weatherby rifles – typically built on Mauser '98, 1903 Springfield and Model 70 actions – were essentially custom rifles with full-length bedded barrels. When the Mark V rifle appeared in 1959, however, it soon shared a similar stock/barrel relationship as the Remingtons. Winchester Model 70 standard weight rifles produced from 1936 through 1963 were full-length bedded but also featured a forearm screw that firmly secured the forearm and barrel together to reduce barrel vibration.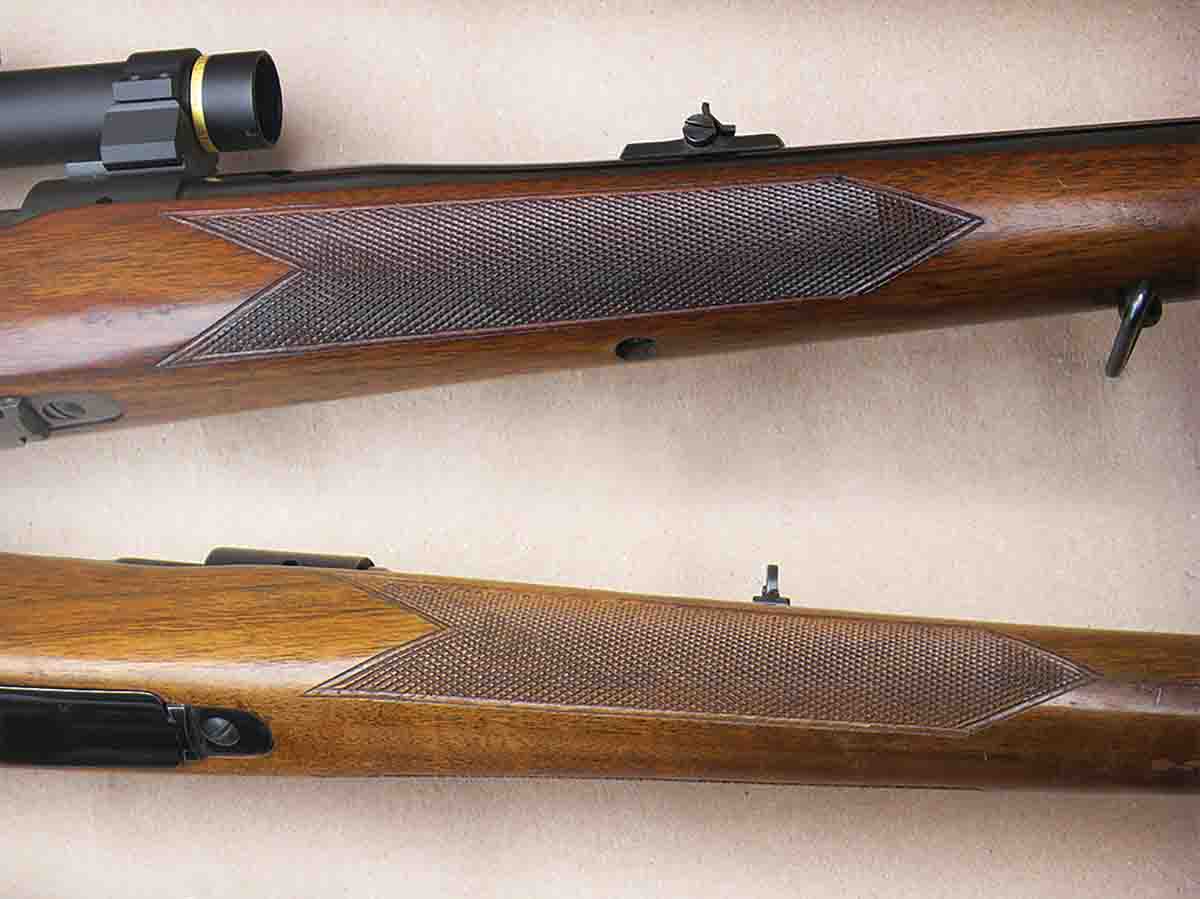 When Winchester redesigned the Model 70 in 1963, the forearm screw was dropped and the full-length bedded barrel disappeared in favor of a huge gap in the barrel channel and a small pressure point at the tip. Winchester, as a result, received considerable criticism and soon improved barrel/stock fit and appearance but still retained the small pressure point. (Incidentally, beginning in 2008 sporter-weight Model 70s were offered with free-floating barrels.) In 1968 Ruger introduced the M77 with full-length bedding, but today's M77 Hawkeye is fitted with a pressure point at the forearm tip, with the rest of the barrel channel being hit and miss in regard to contact with the barrel.
One difficulty that most rifle manufacturers have struggled with is to make barrel channels uniform. In many instances, the stocks touch one side of the barrel or the other, or the small pressure point at the forearm tip pushes against the barrel slightly cockeyed. When the rifle is fired, the barrel vibrations associated with high-pressure, high-intensity cartridges can cause groups to open up. Likewise, when the barrel heats up or there are changes in temperatures and humidity, accuracy can become poor with unpredictable fliers.
There are several options that will address such problems. The two most common solutions are to completely free float the barrel or apply full-length glass bedding. There is not a right or a wrong answer; however, the results can be distinctly different. Stock material and how the rifle will be used may influence how this problem is addressed.
Free floating effectively eliminates barrel interference from the stock. The problem is that nothing supports the barrel at (or through) its midway point, which again serves to reduce vibration. As a result, accuracy is usually (but not always) poorer when compared with a professionally bedded barrel. (Please note that I did not say the rifle was inaccurate, but rather it is "usually less" accurate than a carefully bedded counterpart.)
The advantage is that changes in temperature, humidity and elevation that may cause the stock (including wood, laminates and even synthetic materials) to warp and change pressure on the barrel, and therefore point of impact, can no longer affect the barrel. So the rifle will almost always shoot to the same point of aim day in and day out, assuming the ammunition is up to par, the barrel steel is stress relieved and atmospheric conditions are not changing cartridge and ballistics to any important degree, which are completely different subjects. For these reasons, many hunters prefer free-floating barrels as they effectively eliminate barrel pressure variables that often occur in the field.
It should be noted that many current manufacturers are producing sporting rifles with lightweight, free-floating barrels that are accurate and easily produce sub-MOA groups right out of the box. A few examples include the Kimber 84/84L, Nosler Custom 48, Winchester Model 70, Mossberg MVP, Savage 10/110 and others.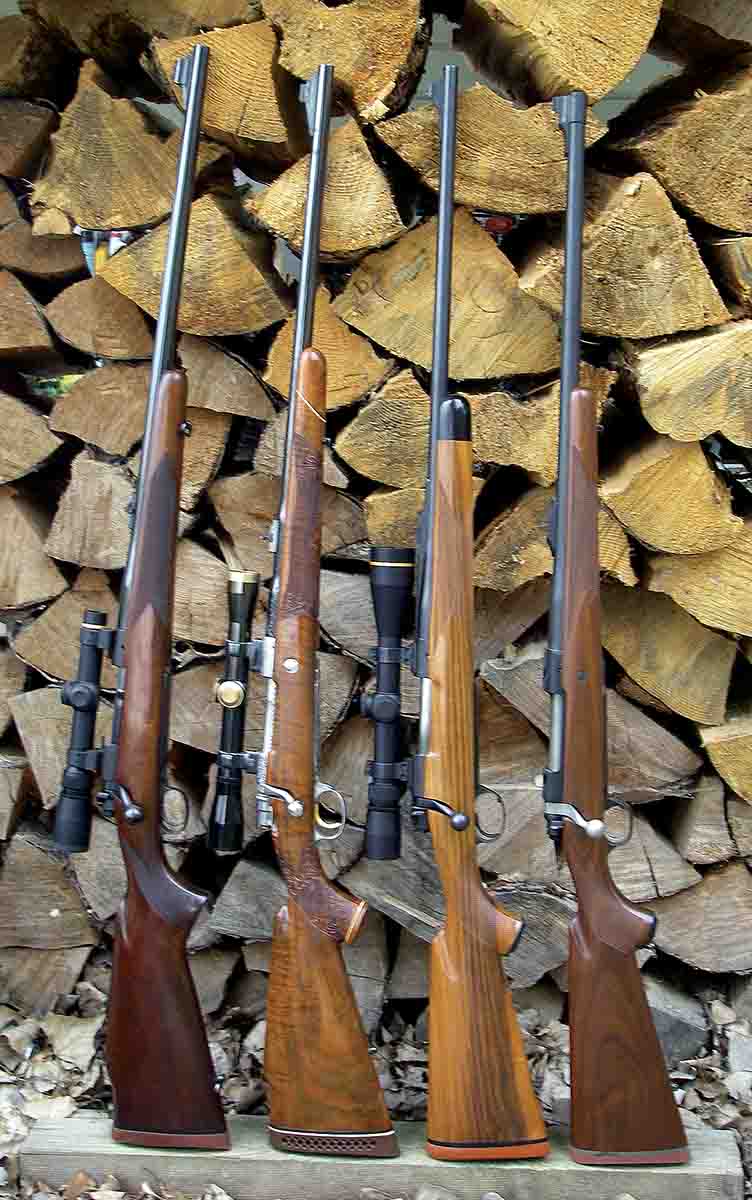 Handloaders can usually achieve good accuracy from sporter-weight rifles with free-floating barrels by experimenting with different bullet weights, designs, seating depths, powder charges and velocities to find the "sweet spot" for a given rifle. This methodology is similar to the principles of the Browning Ballistic Optimizing Shooting System (BOSS) and is always good motivation to develop handloads (or to begin handloading and subscribing to Handloadermagazine). If I can't get a rifle to shoot with a respectable degree of accuracy using tailored handloads, I then begin experimenting with bedding options.
Bedded barrels are still offered on select Remington Model 700s, Ruger M77 Hawkeyes, Weatherby Vanguards and Mark V models, and by other companies. They can be very accurate due to their ability to significantly reduce vibration. The drawback is that they can warp or swell from moisture, which causes point of impact changes. This is true with wood, laminates and even cheap synthetic stocks (which are usually weak and can warp severely from temperature changes, and even sunlight warming one side of the stock). Wood and laminate stocks can be sealed up with various products to minimize the effects of moisture.
As indicated, the small contact point inside the forearm tip in many factory stocks varies significantly in upward pressure or may be pushing the barrel to the side, either of which can degrade accuracy. A common practice is to completely remove the contact point to free float the barrel. Then begin placing temporary shims (cut from business card stock, etc.) under the forearm and test for accuracy. Shims can be added or removed until a combination is found that produces top accuracy. Once an ideal amount of pressure is found, then either permanent shims or a small glass bedding strip can be installed that duplicates the pressure obtained with the temporary shims. There is not a magic "pressure" figure (actually measured in weight), but it is generally only a few pounds at most.
A highly popular option is to remove all bedding to free float the barrel, then full-length glass bed the barrel channel – again with no more than just a few pounds of upward pressure. This procedure usually makes high-grade custom stock makers cringe, as they are craftsmen who fit the barrel to the stock channel with perfection, which in turn serves as full-length bedding. When altering mass-produced factory stocks, however, this procedure is completely acceptable, and if done correctly does not diminish the rifle's appearance. Furthermore, if a generous amount of bedding compound is used, it will strengthen and stabilize the forearm and help it resist shrinkage, swelling and warping in the field.
Several years ago my son obtained a left-hand Ruger M77 Hawkeye .30-06 with a 22-inch barrel and walnut stock. We developed a number of good handloads, which on the rifle's best days would group around one inch, but most days groups were around 1.5 inches. This level of accuracy is certainly good enough for most big-game hunting applications, but we wanted further improvement.
After carefully cleaning out the stock's barrel channel, it was full-length glass bedded using Brownells' ACRAGLAS Gel (brownells.com) with just under three pounds of upward pressure at the forearm tip. Without changing loads, four-shot groups instantly shrank to a consistent .35 to not over .50 inch. It has maintained this level of accuracy through many in- and out-of-state hunting trips on horseback at high and low elevations, and the Ruger has digested around 2,000 rounds.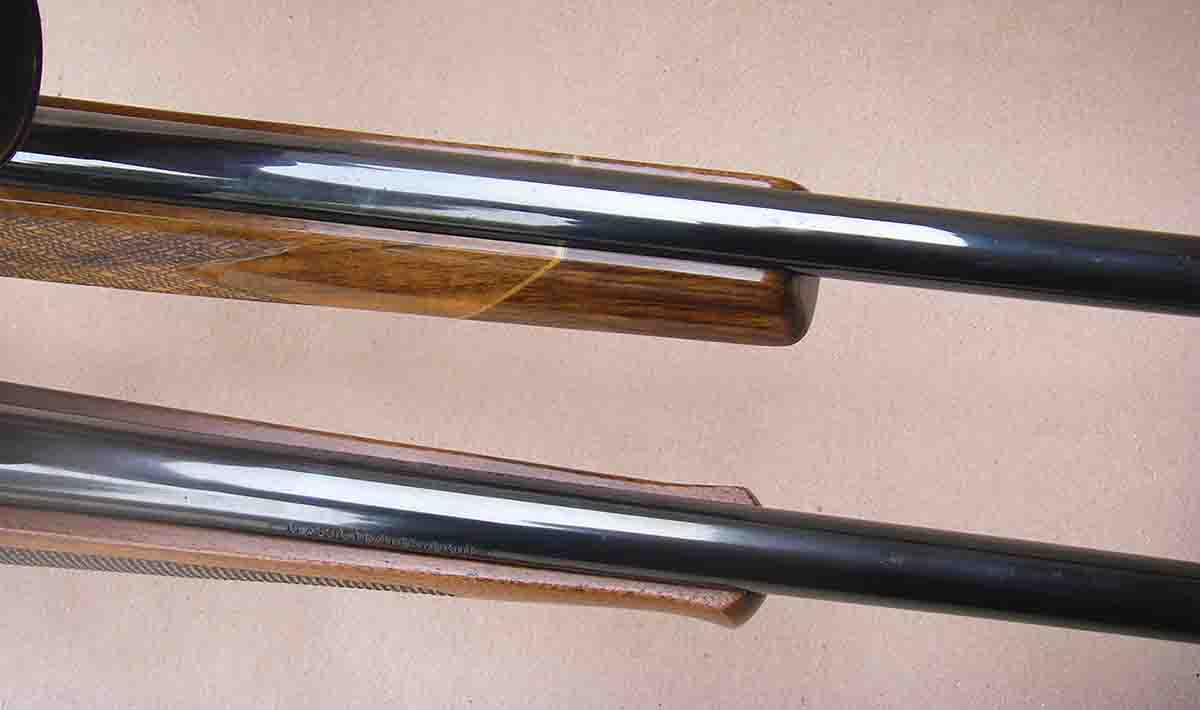 He recently developed an off-season "practice" load containing Sierra 155-grain MatchKing HPBT bullets with an appropriate charge of Hodgdon H-4350 powder. That load shoots to the same point of impact as his hunting loads containing Hornady 150-grain GMX bullets. However, this load has produced three-shot groups that measure as small as .130 inch, and it will stay inside .250 inch on demand. This extremely impressive performance is unusual for any sporter-weight rifle and barrel at any cost, but it illustrates the potential.
Another option popular in recent years is to partially glass bed the barrel channel from the receiver halfway up toward the forearm tip. This method reduces vibration but still allows the barrel to free float in the forearm channel.
Heavyweight varmint (sometimes referred to as "target") barrels are notably stiffer than comparatively lightweight sporter barrels, and as a result they vibrate considerably less when free floated, which is pretty much the standard stock and barrel relationship on all current varmint rifles. However, I do have a vintage Ruger M77V Varmint .220 Swift that is full-length factory bedded and will shoot inside .25 inch with select handloads. Nonetheless, free floating is the preferred method on varmint rifles.
The general trend from large rifle manufacturers has been to free float sporter-weight barrels as preferred by most consumers, but such rifles are also easier to produce and achieve consistent, guaranteed out-of-the-box accuracy. However, full-length and partial bedding has its place, and when done properly can produce top-notch accuracy.