The year 1751 was a long time ago; two hundred and sixty-seven years, as this is written – longer than the U.S. has been in existence. In 1751, Frederick the Great ruled Prussia and Voltaire was the cutting voice of European society.
In modern industrial terms, 1751 was prehistory. James Watt, who later invented the steam engine, was only a teenager, and the Industrial Revolution would not even begin for another 30 years. Manufacturing of all items was cottage industry, carried on by craftsmen who learned their trades through apprenticeship. Different trades were concentrated in towns of like-minded artisans whose activities were governed by guilds. The objects they produced were made one at a time, at a bench, with hand tools, by one or two skilled men.
In 1751, Lorenz Sauer set up shop in the German gunmaking town of Suhl, in the province of Thüringia, founding what later evolved into J.P. Sauer & Sohn. Still in business today, it is, after Beretta, the second-oldest gunmaker in the world. Needless to say, through 267 years, countless wars, insurrections, invasions, partitions, unifications, occupations, economic depressions and political systems ranging from absolute monarchy to communism and back again, surviving in business – particularly the firearms business – required considerable agility.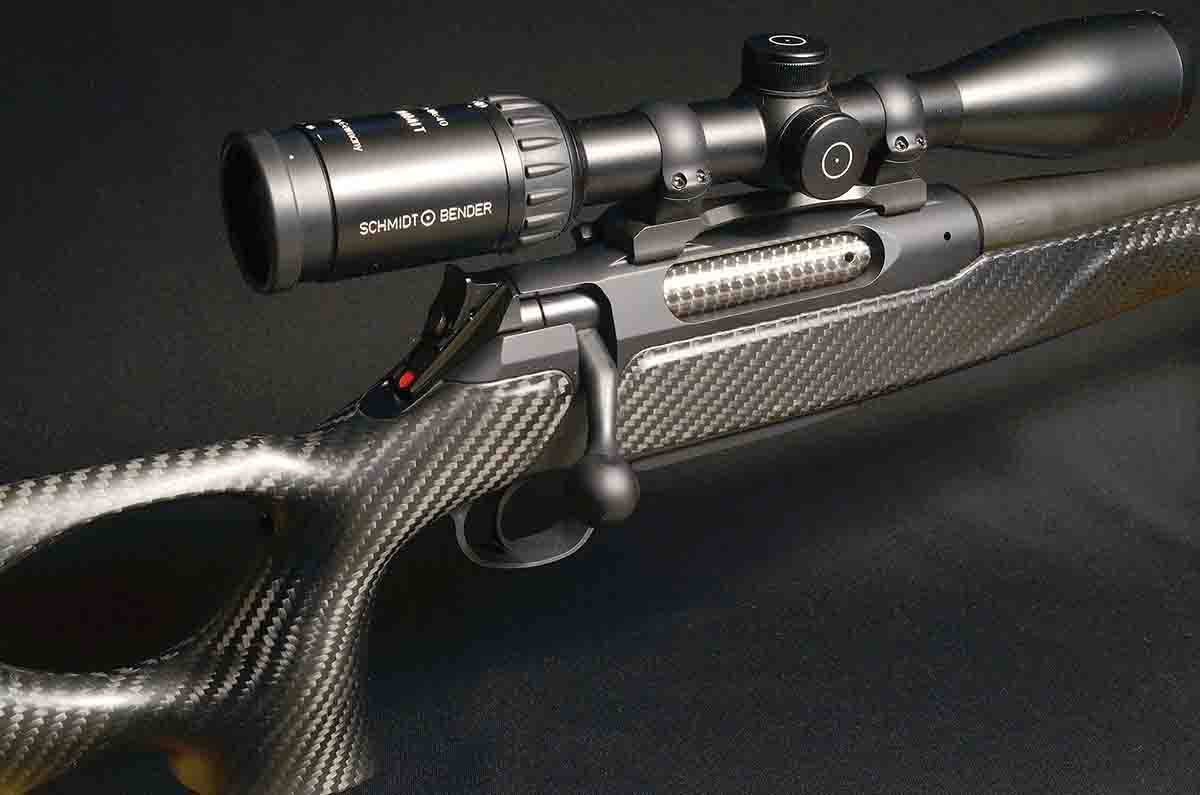 If one word could describe the way in which J.P. Sauer & Sohn accomplished this, it would be "adaptability," and not merely to political change. Sauer, more than any other gunmaker except Beretta, continually embraced not only new firearms technology, but also the technology for manufacturing them. And, all the time, it managed to maintain a high reputation: The name Sauer was, and is, a synonym for high quality.
Today J.P. Sauer is part of a conglomerate that includes Blaser and Mauser, as well as a burgeoning list of other product manufacturers. While the original J.P. Sauer was famous for its shotguns and was also involved in pistol making, its line today is almost exclusively rifles of its own design manufactured in its own facility separate from Mauser and Blaser.
The term "cutting edge" is vastly overused when writing about technological developments, but in the case of J.P. Sauer and especially its newest rifle, I think it is justified. The Sauer 404, unveiled within the last year or so, may well be, in some ways, the ultimate big-game hunting rifle.
While Sauer has built every kind of rifle and shotgun, in recent years it has concentrated more and more on turn-bolt rifles. This is not a new field for Sauer. In the 1960s it manufactured the Weatherby Mark V for that California company, and those were the smoothest Mark Vs anyone ever saw. Recent Sauer models have been of the company's own design, progressing through some similar number designations. The Model 202 was a switch-barrel takedown while the 101, which came out later, was an attempt to crack the "entry level plus" market with a quality bolt action. The Sauer 303 is not part of that evolutionary string; it's a semiautomatic aimed primarily at the European running-boar crowd.
The conglomerate of which Sauer is now a part is managed in a very interesting manner, much like three individual athletes on a school team who compete with other schools as a unit, but also with one another in individual events. Sauer has its own factory at Isny, as do Mauser and Blaser.
They share some facilities for things such as barrel making but otherwise follow their own distinct paths. Blaser specializes in straight-pull rifles (the superb R8), Mauser makes the legendary Model 98, among others, and Sauer pursues modern-design turnbolts.
From the beginning, a continuing area of concern for bolt actions has been how to have a round in the chamber with the striker cocked, held back by a safety that blocks the striker yet still allows the bolt to be worked to eject a loaded round. Mauser and Winchester solved the problem with three-position safeties; others used two-position safeties, and there have been various permutations thereof.
A few decades ago it occurred to someone in Europe that the answer was to keep the striker uncocked, and then instead of moving a safety catch to allow it to fire, a lever is pushed that cocks it when needed. This lever, or slide, is positioned on the tang where a safety catch would normally be found. I first encountered the system in 1996 on the then-new Krieghoff double rifle. Something very similar is employed on the Blaser R8. Since then it has become quite a common feature.
The Sauer 202, which is no longer manufactured, featured a conventional "cocked-striker, manual-safety" mechanism. Although beautifully made and undoubtedly ingenious, the 202 was heavy and somewhat awkward to handle, so Sauer set about designing a replacement.
The 404, according to Sauer, is the finest rifle the company has ever produced. I do not feel qualified to make such a judgment, but I'm not about to argue. I certainly agree the 404 is an extraordinary rifle.
The .270 Winchester I have for testing, fitted with a Schmidt & Bender 2.5-10x 40mm scope, weighs eight pounds exactly, unloaded and without a sling. Its hammer-forged, 22-inch barrel is almost boringly accurate, consistently keeping 10 shots of almost any good load inside 1.5 inches.
The turn-bolt mechanism works in the conventional way for feeding, extraction and ejection, and has all the legendary Sauer smoothness. The cocking lever is on the tang where a shotgun safety would normally be found. When you want to shoot the rifle, push it forward to cock it. When you fire and work the bolt, it's already cocked for the second shot. To uncock the striker, press down a small button in the lever and it pops down. When the striker is uncocked, the bolt is locked shut. To cycle the bolt without cocking the striker, push the cocking lever forward about halfway to unlock it.
The detachable box magazine is made of sheet steel and holds three rounds. The cartridges are held in line for quiet, dependable feeding.
In appearance, the 404 is rather other-worldly. Mine has an ultra-modern thumbhole stock of reptilian black carbon fiber. I used a 404 just like it when hunting in Germany a year ago and found the stock to be not only slick, but it acted like a heat sink in the cold, sucking the warmth out of my hands. This is something to keep in mind if you're a cold-weather hunter, but there are other options in stocks that I would choose if a 404 was to be my all-weather hunting rifle. Still, with that carbon fiber stock, the Sauer 404 is the most photogenic rifle I've ever seen.
Sauer has gone to great lengths to design a stock that is ergonomically sound regardless of shooting position, and it shoots equally well off a bench or from sitting, prone or offhand. The comb is adjustable for height to accommodate the use of any scope.
There are a dozen different models of the 404 (the sample on hand is a Synchro XTC), offering a wide variety of cartridges and features. All have readily adjustable triggers – even the position of the trigger blade is adjustable to suit the shooter. A takedown tool is integrated into the front sling swivel, so in a pinch you are never searching for the right gadget.
The entire 404 line has too many features and accessories available to even begin to list them here, and that's not my purpose anyway. When I was told about the 404, and Sauer's insistence that it was the best rifle they had ever made, I was anxious to see one. It's safe to say that, based on historical background if nothing else, no company in the world knows more about rifles than J.P. Sauer & Sohn. The cumulative experience of 267 years counts for a great deal, and it appears to me they've put all of that to work – along with the advantages of modern materials and CNC equipment – to fashion a rifle that will be extremely hard to beat, even if they stay in business for another 267 years.